Percentile Rank
Void Bastards is ranked in the 83rd percentile of games scored on OpenCritic.
Rating Summary
Based on 43 critic reviews
OpenCritic Rating
Based on 43 critic reviews
Score Distribution
Unscored Reviews
The magic of Void Bastards is that, while it's scary and dangerous and random, it's also within my control.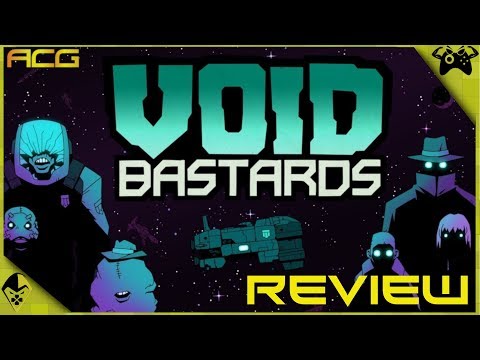 Rock, Paper, Shotgun
Unscored
Void Bastards is ultimately not more than the sum of the parts I outlined 1400 words ago, but it's worth rummaging through all the same. Just like yer da said about the bins, when he finally found those Euros.
Scored Reviews
Void Bastards is among the very best of the genre, and my favorite game of the year so far — it's an instant classic. It's as if you have infinite lives, and upon death you realize your save is 15 minutes old. Sure, you can't pick up from where you left off, but it's never anything to feel defeated about when you have to start anew. Blue Manchu has thought of everything when it comes to its systems and how they interact with each other. Centered around the story and progression, this is a wonderful experience. Without hesitation, Void Bastards is exceptional in every sense of the word.
Void Bastards is a work of art, not only in its visuals but also in gameplay. The progression is strong and the gameplay is a blast. Exploring each derelict ship was a treat, and I can't wait to dive back into the Sargasso Nebula for more fun.
Overall, Void Bastards is a great game, with a good art style, and it really hits the spot for a first-person shooter. It is a little different from other shooters with how your character respawns, and who is being used to continue the game.
Void Bastards is a terrific game that balances the joy of exploration with the fear of failure in a wonderful way. It could use some more incentives to keep playing, but it's a blast while it lasts.
Void Bastards is a pure, crystalline distillation of the immersive sim genre - all the feeling with none of the fluff. Full of variables, it invites the player to experiment and be experimented upon.
Ultimately, its minuscule shortcomings don't drag down Void Bastards from its lofty place among the greats of first-person roguelikes.
The bottom line, Void Bastards is an absolute gem and definitely worth playing.
Void Bastards is a fun and fresh mix between classic first-person shooter and modern roguelikes. Focusing on giving the player more problems than punishments, Blue Manchu has crafted a game that is fun from the beginning to the end. Furthermore, its aesthetics and graphics are simply gorgeous. One of the greatest surprises of 2019 so far.
Review in Spanish | Read full review
Geeks Under Grace
8.5 / 10.0
Void Bastards thrills just long enough before its grinding collecta-thon becomes taxing.
The price point is a wee bit high but overall if you like rogue-like elements and games where you decide how to play and what paths to take. You can't go wrong by being a Void Bastard.
The number of weapons and gadgets that you can upgrade and craft, but also the consistent combat mechanics make turn Void Bastards into a must-play title, no matter whether or not you're a fan of the shooter genre.
Void Bastards is a fantastic strategic shooter than has a wonderfully refreshing take on the FPS genre.
Void Bastards is full of personality—it's also exploding with uniqueness. If you're looking for a gorgeous survival title with unique gameplay, stellar visuals, a grand sense of humour and actually wants you to beat it; there isn't much better than Void Bastards.
Void Bastards is a roguelite shooter that encourages experimentation and smart thinking in outer space, and it mostly works to great effect.
Void Bastards is not very special, and is not the first title that mixes FPS with Roguelike, but nevertheless the final package is fun and different from most titles, and you'll probably spend hours after hours enjoying it.
Review in Persian | Read full review
Void Bastard is as satisfying as it is stylish thanks to its inventive weaponry and engaging first-person shooting.
Graphic novels and classic anime provide the inspiration for this frenzied and spectacularly smart survival shooter
It fits together disparate genres so perfectly that you wonder how nobody thought to combine them sooner.
In short bursts, Void Bastards can be a lot of fun, and even when its repetitive nature starts to kick in, something silly happens that makes you laugh and pulls you back into it.
Despite its faults, Void Bastards is still deeply enjoyable. The humor and the art style alone are enough to make this a must-have, but the combat and vast array of weapons and upgrades makes Void Bastards an experience you should not skip.
Void Bastards is an absolutely beautiful first-person shooter game but the lack of varieties for enemies and maps makes it feel repetitive.
On the surface, Void Bastards may just seem like another FPS, but there's an element of strategy layered in which sets it aside from the rest. It takes a bit of the old, mixes it with the new, splashes it with a comic style aesthetic to make a truly wonderful experience that will challenge you to make good decisions, enable you to play how you want and you get to be called a Void bastard, which is brilliant. It feels like a breath of fresh air in a sea of FPS games that all do the same thing.
Creative gameplay with a little strategy for a game that from launch stands out in the Game Pass library.
Review in Italian | Read full review
Void Bastards is a fun romp through space, mixing rogue-lite elements with a surprisingly smart shooter.
And we say almost because boarding a ship with a "shedload" of Spooks can go from quiet to overwhelming in a matter of seconds.
The Games Machine
8 / 10.0
Void Bastards is based on a neat concept inspired by many things, especially System Shock 2. Too bad it's a bit too monotonous.
Review in Italian | Read full review
Void Bastards provides a clever twist on the gameplay model popularized by System Shock 2 and BioShock, now with a procedural element to aid in long-term engagement
Void Bastards is many things when you get your hands on it, but the most important influences that it draws from all combine to form a game that feels uniquely witty, addictively compelling and satisfyingly deep to explore thanks to tight gameplay, a colourful comic book visuals and a style all of its own.
Between its compelling art direction, surprisingly complex strategic decisions, and inventive weaponry, there's a lot much to love in Void Bastards. Unfortunately, its overall structure and narrative will leave you feeling empty by the end. That's not to say you shouldn't let yourself enjoy all that this charming, stressful game has to offer. Just don't expect to feel totally satisfied once you escape to the right nebula.
Void Bastards is a project that immerses the player in a comic strip. The graphic style is captivating, as is the sheer volume of weapons and situations. Unfortunately the initial surprise of the first few hours falls very quickly, and at the end of the campaign a certain repetitiveness is accused. It remains a good roguelike FPS.
Review in Italian | Read full review
Gamerheadquarters
7.2 / 10.0
Void Bastards is a fresh experience, it takes the genre and does something fun with it.
A slightly messy first-person shooter lifted by some excellent weapons and a gorgeous art style.
Void Bastards is a good game. It plays just fine and looks amazing, but it lacks some of the "hooks" that many roguelikes drive in. It has great atmosphere, but doesn't do much to really encourage those who are experiencing it to soak it all in. The visual style is some absolute magic, but that sense of amazement does not translate into gameplay.
An interesting strategic shooter with a solid if a little overcomplicated design.
Review in Spanish | Read full review
Void Bastards, unfortunately, stifles creativity at times. No matter how you approach the game, much of your time will be spent rifling through drawers. It succeeds at evoking the best of comic book art, but will need some work before its emergent narratives approach the heights of explosive comic book storytelling.
A very compelling mix of roguelike and first person shooter, with highly distinctive visuals and pleasingly difficult tactical choices.
Void Bastards is great fun in short bursts but is, unfortunately, let down by the limited scope of its environments, with no unique ships or even distinct "boss" encounters.
Void Bastards during first 2 to 3 hours looks like a great roguelike-shooter mix, but then all great ideas are killed by repetitive gameplay and lack of the content.
Review in Russian | Read full review
Void Bastards did make me laugh, even though I ended up hearing the same insults more times than I care to remember, and its art style is simply sumptuous. It's just a shame that it's so repetitive.