Percentile Rank
Dragon Quest Builders 2 is ranked in the 94th percentile of games scored on OpenCritic.
Rating Summary
Based on 74 critic reviews
OpenCritic Rating
Based on 74 critic reviews
Score Distribution
Unscored Reviews
Builders 2 isn't the breath of fresh air the original was, but it's even more fun to build stuff, the story is simple but compelling, and when you're done with the main game, tons of optional goals on the Isle of Awakening give you a reason to keep coming back if you want to.
The Minecraft and Dragon Quest mash-up gets refined for the sequel, with a few other outside influences helping make it a laid-back joy.
Dragon Quest Builders 2 is a masterpiece. No joke. If automation was to take my job right now, at least I'd have something to lose myself in during these long summer months.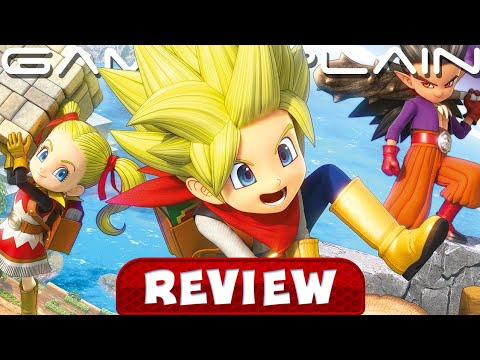 Scored Reviews
Dragon Quest Builders 2 is aptly named, as it builds upon the strong foundation of the first game, improving it in every single way. I think a couple of sections could stand to be a bit quicker, but the breadth of content and genuinely intriguing story make Builders 2 a must-play.
All the joy and satisfaction of the original, now with upgraded toys, a bigger world and a dog you can pet
NintendoWorldReport
9.5 / 10.0
The small tasks on each island can feel like chores after a while, but then suddenly they won't. The neighbors you've been helping all this time will pitch in and divide up larger projects so the burden doesn't fall squarely on your shoulders. You might think striving for the title of Master Builder is all about the monuments and landscape you leave behind, but it's actually just as much about the friends you make along the way.
We are facing a complete, long adventure, with infinite possibilities; a tribute to Dragon Quest and his legacy. It is a video game that, as a spin-off, accomplishes what has rarely been achieved: overcoming some major deliveries. And this is achieved with care, with love for the brand, and with well-implemented mechanics.
Review in Spanish | Read full review
Glitched Africa
9.5 / 10.0
Dragon Quest Builders 2 succeeded where the original game failed and kept me involved and in love throughout the entire experience. I never felt as if I was bored and the overall pace got tedious, something the original game suffered with. It is more fleshed out, has a faster pace and its multiplayer, while it takes what feels like forever to unlock, is a load of fun. I will keep going back and working on my Isle of Awakening as there is so much left to explore and discover in the game once you think it is over.
The limitless creativity and engaging experience of Dragon Quest Builders 2 easily makes it one of my all time favourite games
Dragon Quest Builders 2 is a great follow-up in every way imaginable and, dare I say, one of the best games in the entire series.
PlayStation LifeStyle
9.5 / 10.0
With so much to do, fun, engaging play and a cute, lighthearted story that takes its time to breathe, Dragon Quest Builders 2 is the best kind of sequel.
Dragon Quest Builders 2 is better than the original game in every possible way, introducing many quality of life improvements and fixing some of the biggest issues like the linear progression system and more. And with a simple yet engaging story, excellent exploration, crafting and building mechanics and multiplayer features, the game is an excellent title that no fan of the Dragon Quest series and sandbox games should pass on, even if they never played the original.The links above are affiliate links. As an Amazon Associate, Wccftech.com may earn from qualifying purchases.
Digital Chumps
9.1 / 10.0
Dragon Quest Builders 2 is a marvelous upgrade to its initial brethren. It offers up a bigger world, well thought through RPG construction, and keeps you exploring and building.
Dragon Quest Builders 2 is an absolute joy to play and will quickly engage and engross most players who enjoy action RPGs and building style games.
Players looking for a fun co-op experience or those who don't care about paying a little extra can quickly jump into Dragon Quest Builders 2 for an improved experience and a healthy dose of new mechanics and features.
Dragon Quest Builders 2 does everything right for a sequel to an excellent title. The core mechanics have been improved, so basic building remains engaging, while the minor issues with deconstruction and weapon management have been ironed out. This is especially true of combat, which feels much better than before. The addition of multiplayer is absolutely welcome, but it's limited to one island and there's no way to play the whole campaign this way. DQB2 is a treat that is just as good as the first game, and it's highly recommended for RPG fans with an itch for building and lots of time to burn.
Dragon Quest Builders 2 is a true standout in the Switch's ever-glistening library of gems. From its brilliantly-paced progression to its secrets and thoughtful world design, it's a game you can play seemingly-endlessly. As long as you have a passion to build, as long as you're eager to create, develop, and grow, there will always be something to do. It is a game I wholeheartedly recommend to any Switch owner, and with a free demo available, there's no excuse not to give it a shot.
Dragon Quest Builders 2 improves upon the original title in a variety of ways, making for a superior sequel for the building based spin-off series.
Dragon Quest Builders 2 is a quintessential example of a great sequel. It takes everything that's fun about the first game and adds more of the good stuff while removing the mechanics that didn't work the first time around. It's slow to really get started, but once it starts rolling, you never want to stop digging, building, and fighting. If you're curious about the Dragon Quest Builders series on any level, Dragon Quest Builders 2 is a good jumping-on point.
It was hard for me to imagine a way to expand on a game that was already so god but Dragon Quest Builders 2 has managed to do just that. A bigger story, new things to build, multi-player and more make this an absolutely jam-packed experience. Building game enthusiasts will love the blend of crafting and survival management, while Dragon Quest fans are sure to love the unique spin on the long-running JRPG franchise, and if you're a fan of both? Well, Dragon Quest Builders 2 is the must have game of 2019.
Overall, playing Dragon Quest Builders 2 is just as fun, if not more fun than the first one.
Reno Gazette-Journal
9 / 10.0
Dragon Quest Builders 2 takes the original's solid formula and turns it into an even more enjoyable building exercise, thanks to new additions such as farming and combat sidekick Malroth. Existing elements from the previous game also get a lot of polish, with NPCs being more plentiful and more entertaining as well. Add a greatly improved narrative and DQB2 is an example of a sequel done, er, built right. If you loved the original or are pining for a Minecraft-style game with more action and storytelling, you'll absolutely adore this one.
Dragon Quest Builders 2 is a fantastic sequel that expands on the original in almost every imaginable way
A bigger, more complex and better sequel, Dragon Quest Builders 2 is the perfect match for sandbox and action/GdR fans
Review in Italian | Read full review
Expanding on the foundations set by the first game, Dragon Quest Builders 2 is a sequel that takes full advantage of its source material. Not only is the scope of the game several times bigger now, but the improvements that are made to the story, characters, and gameplay lead to a vastly superior experience.
Dragon Quest Builders 2 is simply everything that its predecessor was and then some, with some improved mechanics, more block types to choose from and a new and more interesting story.
If you've played the original Dragon Quest Builders, the sequel is ultimately more of the same, except polished in very way
Dragon Quest Builders 2 improves upon the first game by adding interesting new mechanics and great combat, all while creating a lively world. Combined with its incredible writing and stirring music, the end result is, simply put, just a lot of fun to play.
The Games Machine
9 / 10.0
Dragon Quest Builders 2 on Nintendo Switch can count on an addictive gameplay formula capable of entertaining for hours, both on the TV and on the go.
Review in Italian | Read full review
Builders 2 finds the perfect balance between construction games such as Minecraft and the classic RPG saga. This sequel adds new abilities such as flying, diving and an online multiplayer mode for four players.
Review in Spanish | Read full review
Dragon Quest Builders 2 is a wonderful, time consuming, engaging, joyous game. It will have you smiling ear to ear and you won't stop, not even for a minute.
Just Push Start
4.4 / 5.0
Dragon Quest Builders 2 accomplishes what it needs to do. Everything is presented in a simple and easy to understand way, that allows enough freedom to prevent the dreaded feeling that it is holding your hand. Toss in some cute visuals, comical characters and the ever popular world that is Dragon Quest and you have a winning combo. Whether you're looking to fight enemies, build an empire or just mess around, it's the type of adventure that is easy to get hooked on and enjoy. So, if you love building or just Dragon Quest in general, I strongly suggest giving this one a go or at least checking the demo out.
Dragon Quest Builders 2 is a creative marvel with a ton of ways to unleash your imagination within a huge world.
Dragon Quest Builders 2 is an admirable RPG and an admirable building game that seems to have gotten the best bits of both of its parent genres.
Almost all of my time with Dragon Quest Builders 2 has been pleasant, and I look forward to building more, either with my kids playing along or by myself, sipping a beer and relaxing after a long day.
A successful follow-up to the blockbuster RPG, delivering both more scope and new ideas.
Review in German | Read full review
Adjusting the formula of the first entry, Square Enix has created a witty, engaging and relaxing spin-off
Review in Italian | Read full review
Dragon Quest Builders 2 is a great follow-up to the original, placing you in the shoes of an amateur builder. The main story practically amounts to a fetch quest of acquiring skills and people, but that doesn't bring the game down much. Building takes the forefront, and it will definitely keep you busy.
If you like Minecraft or Lego, if you like pretty stories and personalization titles like Animal Crossing, Dragon Quest Builders 2 is a title that you should not miss,
Review in Spanish | Read full review
Dragon Quest: Builders 2 is one of the best voxel building based games you can try. This game blends long stories of Dragon Quest series with Minecraft-like building gameplay quite well and offers a very unique experience. There are improvements in most aspects of gameplay and graphics compared to the first Dragon Quest Builders. There are also some flaws like a shallow combat system and some control issues, but they are not very troublesome. If you like building based games like Minecraft or wished for a Minecraft-like game with a story, or even you're just a Dragon Quest fan, then this game is for you.
Review in Persian | Read full review
With the addition of the glider and the ability to swim, Dragon Quest Builders 2 will be your biggest adventure yet master builder.
Building on the original's strong foundations Dragon Quest Builders 2 is a sequel that improves on the original in almost every way.
Dragon Quest Builders 2 took everything that worked from the original, adorable, nostalgia-riddled experience and upped the ante with better graphical effects, a stronger progression structure, and a more mature narrative that still has the classic Dragon Quest charm
Not a revolution but an evolution of the first game on the series that would please everyone that has played that game or Minecraft, but become repetitive with the time.
Review in Spanish | Read full review
Dragon Quest Builders 2 technically makes everything right: A nice story combined with motivational mission build ups deliver a great way for creative players to express themselves. The big problems from the last game stay mostly the same: The grind and the lack of variety. If you enjoyed the first game you'll still have a lot of fun with it.
Review in German | Read full review
Dragon Quest Builders is what you would expect from a sequel. Richer, bigger, better.
Review in Italian | Read full review
Most of the time the game is working properly, though, humming along with an endless series of pleasant tasks to chase after.
With a smarter UI, much-needed quality of life improvements, and a couple of new mechanics and features, Dragon Quest Builders 2 a much leaner, more organic, and more enjoyable Builders experience, and feels like a proper realization of the experiment that the first game was.
Like Minecraft but with more constraints, this gentle, humorous adventure game mixes world-building with exploration, puzzle-solving and combat
Despite some unforgivable frustrations created through some of the quests though, the overall experience of Dragon Quest Builders 2 is very gratifying.
Dragon Quest Builders 2 feels like a cross between Animal Crossing, Minecraft and Breath of the Wild but is unique. With its relaxed pace and overall good plot and satisfying gameplay, it's an enjoyable game and solid RPG that improves upon its predecessor like a sequel should. The dialogue is funny and charming, the world is interesting and fun to explore.
Dragon Quest Builders 2 does a lot of things better than its predecessor. A better story is propped up by better characters, and even though the opening hours are slow, there's a better overall flow to the game. All in all, Square Enix has constructed a rock solid sequel that, while safe and undeniably familiar, should satisfy both returning players and newcomers alike.
Dragon Quest Builders 2 improves upon the original in almost every way, but it doesn't innovate.
Dragon Quest Builders 2 fixes many gripes of the first game while maintaining and enhancing building many large and small projects.
Review in Arabic | Read full review
Dragon Quest Builders 2 is a lovely little game, building upon the vanilla experience with a plethora of worthwhile improvements.
Charming characters, a well-tuned gameplay loop, and near endless replayability ensure that you'll be coming back to this one for quite some time, and though the performance issues are disappointing, we'd still highly recommend you pick up Dragon Quest Builders 2.
Cultured Vultures
8 / 10.0
Dragon Quest Builders 2 is a methodical adventure with a glacial pace that would have utterly destroyed a less well-crafted game. In this case, however, the strength of the visual design and the excellent writing is more than enough to gloss over those flaws.
Some building games can get boring when you finish one project without another one on the horizon, but Dragon Quest Builders 2 always has something in store for you, and a lot of the time you'll never see it coming.
Dragon Quest Builders 2 refines its formula and cuts out many of the frustrations from the first game, delivering a more structured story and rewarding pacing that lets you see your hard work gradually blossom rather than be swept away. It's an engrossing sequel that is difficult to pull away from, and now far more welcoming to start too.
If you like the building, crafting, and collecting aspects of something like Minecraft, but wanted a little more structure, Dragon Quest Builders 2 is an easy recommendation whether you're a Dragon Quest fan or not.
What we have here is an excellent title with truly addictive mechanics and some fun exploration. It's just missing that "shock to the system" quality that the original had for me. If you're new to this sub-franchise, I can guarantee you'll have a great time with this game. For returning players, as long as you're aware that this game is more of the same at its core, there's still plenty of fun to be had here.
The charming mix of Minecraft and Dragon Quest works even better the second time round, with a smart sequel that address the flaws of the original while adding plenty of new features of its own.
Dragon Quest Builders 2 retains the core of the first game and makes many little tweaks that improve things for the best, but it still has the same glaring weakness.
Dragon Quest Builders 2 takes just about everything that made the original so enjoyable and improves upon it.
It's a game that fans of the first game won't be disappointed by, and the perfect way for newcomers to get in on what looks to be a series on the rise.
Dragon Quest Builders 2 is simply an excellent companion for rainy summer days.
Review in Swedish | Read full review
Satisfying questing, fun NPC interactions, and the joy of building combine to make Dragon Quest Builders 2 a delightful sandbox adventure.
It's easy for me to say Dragon Quest Builders 2 is a good game because it'd be a lie for me to say otherwise. The groundwork laid by the first title is still sound, but it just didn't grab me the same way its predecessor did. That doesn't mean I'm going to stop playing anytime soon -- I still have my home island to complete -- but it does mean it's not going to get my undivided attention for weeks-on-end like the first game did.
PlayStation Universe
7.5 / 10.0
While an extremely guided and structured experience, Dragon Quest Builders 2 maintains enough of the charm of the franchise to be worth a look for fans. Players accustomed to free-play modes in other building sims will chafe at the story mode, but patient players that don't mind a simple battle system and chatty NPCs will still find plenty of content here to enjoy.
In a perfect world, [the Nintendo Switch] release would have been tuned for a more stable frame rate and power consumption. Hopefully the frame rate can be addressed in future patches because Dragon Quest Builders 2 on Switch is the perfect game for the system but in a not so perfect port.
Dragon Quest Builders 2 is a sequel in every level : wider, deeper but also way more talkative than the original, the game sticks to the original formula, adding a new multiplayer mode and a first person view. Needless to say, every fan of the Dragon Quest franchise will be pleased by this vast spin-off, but Square Enix should have tried a tiny bit more to make it appealing to all the other players.
Review in French | Read full review
Still, though, I had a really good time traveling through the world that has been brought to life within Dragon Quest Builders 2. If you're looking for a good game that has plenty of content to keep you logging in every day, then this is one title you'll want to check out.
Overall, Dragon Quest Builders 2 is a good game but not a great one.