Percentile Rank
Metal Wolf Chaos XD is ranked in the 31st percentile of games scored on OpenCritic.
Rating Summary
Based on 44 critic reviews
OpenCritic Rating
Based on 44 critic reviews
Score Distribution
Unscored Reviews
A masterpiece of absurdist theatre, and a damn fine double-A mech game too.
Scored Reviews
As much as people may look at this game as a meme and a novelty, Metal Wolf Chaos XD is more of a gem in the rough, a severely underappreciated title in FromSoftware's excellent library of mech games. The exaggerated patriotism, over-the-top dialog and impressive parody of popular culture is only a mask for its true facade - a surprisingly tight and very well-made mech game that's sure to please any fan and non-fan of the genre. The memes are only the tip of the iceberg.
Metal Wolf Chaos XD is an exercise in pure Americana filtered through the cheesiest anime imaginable.
Metal Wolf Chaos XD is the game every From Software fan should play.
Review in Italian | Read full review
Overall Metal Wolf Chaos XD is a blast from the past that sometimes leaves you wondering if the past should stay buried. It is a neat little shooter with some fun mechanics and decent gunplay, but the story is out there and is not meant for anyone looking a serious epic story. It feels better with a controller versus using keyboard and mouse, but could be played both ways. At $24.99 USD it's a good price for a good game that may have you questioning things and scratching your head, but you'll be having fun while doing it. Give Metal Wolf Chaos XD a try today!
Overall, Metal Wolf Chaos XD is a decent enough port of a cult classic mecha game but misses the mark over the Xbox original.
It's clumsy and filled with flaws, but it's precisely these imperfections that make it so interesting.
Metal Wolf Chaos finds new life on PC, PS4, and Xbox One with Metal Wolf Chaos XD. And while it's not a full remaster, it does more than enough to become accessible for the first time in its existence. The work done to bring this to modern systems and give people a chance to finally play it by removing the complications of obtaining the original Japanese game and hardware, is so appreciated. Metal Wolf Chaos XD is bonkers from start to finish, only getting crazier by game's end. It very much feels like an unearthed time capsule, but Metal Wolf Chaos XD offers much in the way of replayability and absurdity that I couldn't help but love its zaniness.
Metal Wolf Chaos XD is a time capsule from 2004 that allows its recipient to survey the United States' enthusiasm for boisterous violence and blind patriotism. The President stomping around in an eight-gun mech suit and delivering outrageous dialogue while suppressing a coup is nakedly hyperbolic, but it's also a lens to an outsider's interpretation of mid-aughts American culture. Metal Wolf Chaos, in addition to presenting a clumsy but capable action caper, has only improved with age.
The Games Machine
7.7 / 10.0
It's easy to understand and justify the state of worship that Metal Wolf Chaos XD has managed to unintentionally create during the last fifteen years: an insane setting, a pungent satire aimed at the American society and a good technical realization, all at the service of an enjoyable third-person shooter. However, the latter ingredient didn't age very well: Metal Wolf Chaos XD is quite easy, somewhat spartan, and the weapons fail to convey the right feedback.
Review in Italian | Read full review
Even if you suffer from bone spurs, going to war as the kickass President Michael Wilson in Metal Wolf Chaos XD is supremely enjoyable.
Metal Wolf Chaos fulfills this criteria because of its unique premise that wouldn't be out of place in the late '80s, combined with From Software's penchant for mechicular (I just made this up) combat. If you hate old games and crave the newest visual advancements, avoid it. For everyone else: there is something here you can sink your teeth into that's more than just a novelty relic.
Metal Wolf Chaos XD is the definition of a cult classic video game. While nothing the game does could ever be considered truly exceptional or innovative, somehow all of its absurd elements have combined to create something truly memorable
While Metal Wolf Chaos XD does get a recommendation from me, it comes with some caveats. The audio issues really should have been addressed as part of the remaster, and the PC port isn't particularly good. Metal Wolf Chaos XD is an outrageous, goofy, and yet fun-filled cavalcade of delights.
Devolver Digital and General Arcade have slapped a new coat of USA flag paint on From Software's patriotic action game without smoothing out any of the imperfections that come with a combat system that's aged less than gracefully over the past decade.
After 15 years, Metal Wolf Chaos XD doesn't quite live up to the hype, but it's still a worthwhile experience for fans of the genre.
Cultured Vultures
7 / 10.0
Metal Wolf Chaos XD isn't some grand revolution of the third person action genre. It's a 15 year old game where a president in a mech suit fights giant tanks, and that's fine by us.
Metal Wolf Chaos XD is definitely a child of its time. It's an over the top action fest that has a few issues with it, but can provide a decent amount of entertainment. Perhaps the most interesting thing about the game is seeing FromSoftware's early work and recognising the systems the company would settle on to make the big leap to the more famous follow-ups in the Soulsborne style of games.
I had some pretty violent mood swings while playing Metal Wolf Chaos XD. I laughed, I smiled, I grimaced, and I yelled in frustration. At the end of the day, a lot of this comes down to simply playing a 15 year old game. Few of them age well and most of them coast on nostalgia.
Metal Wolf Chaos XD isn't particularly lengthy or challenging, but it's very entertaining and downright hilarious. As long as you're okay with playing what's mostly a straight port of an Xbox game from 2004, there's a good time to be had here.
Metal Wolf Chaos XD is a totally unique experience that is worthwhile for anyone who's a fan of early 2000's action, or satirical and off-the-wall humor.
PlayStation LifeStyle
7 / 10.0
Metal Wolf Chaos XD does show its age on PS4, but with an overblown and strangely topical narrative, absurdist humor, unaltered so-bad-it-is-good dialogue, and enough destruction to initiate impeachment proceedings, it is no wonder that this third-person relic has earned enough attention over the past decade (and a half) to get this remaster made; further solidifying Metal Wolf Chaos' cult status.
The game isn't really supposed to be about anything, yet in that ambiguity it captures the specific madness of our present.
Metal Wolf Chaos XD isn't big or clever, but if you want to get your kicks as a mech shooting and blowing things up while being an all-American patriot, then there's only one choice - believe in your own justice!
FromSoftware's once Japan-exclusive Xbox title, Metal Wolf Chaos XD, has finally made it to the west 15 years after its original release.
Metal Wolf Chaos XD is a product of its time and certainly needs to be treated as such. Its main selling point is in the charm of putting the player as the President of the United States that uses a giant robot with 8 giant weapons against his own country army led by the Vice-President after a coup.
Review in Portuguese | Read full review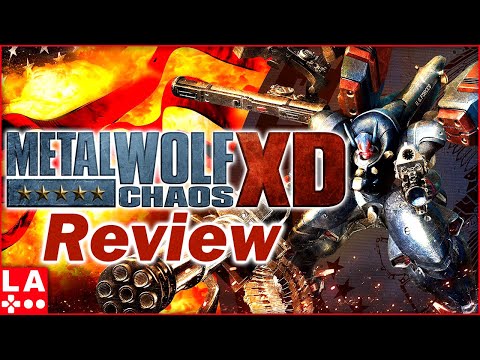 Metal Wolf Chaos XD is a priceless artifact, a flawed gem the size of your fist that must be seen to be believed.
Metal Wolf Chaos has more than earned its place in video game history, but playing this XD rerelease in 2019 is a blast from the past that's pretty hard to swallow.
PlayStation Universe
6.5 / 10.0
Metal Wolf Chaos XD showcases the beginning of FromSoftware's iconic game formula. But, fifteen years on, the campy narrative and unpolished gameplay keep this from being a classic revival and a great re-release. It isn't too polished, but if you want to see the beginnings of From Software's beloved style, Metal Wolf Chaos XD is a solid way to do just that and only that.
Metal Wolf Chaos XD is the right opportunity to recover a small cult hidden from most people, finally ready to appear in a global audience.
Review in Italian | Read full review
Metal Wolf Chaos XD shows its age in pretty much every way, but its enjoyable and simplistic gameplay loop is enough to give you something to chew on. Alongside one of the most insane narratives in all of video games, it's a From Software joint that needs to be seen to be believed.
Recommending Metal Wolf Chaos XD is something that is hard to do. It's objectively not a very good game. But it's not unplayable, either, and it's hard to not get swept up by its overall ridiculousness. Like a movie that's so bad that it's actually quite good, there's something about Metal Wolf Chaos XD that makes you fond of it despite its flaws. So, if you like strange curios and want to unravel one of the craziest stories ever committed to video game form, you should maybe give it a go. Everyone else, however, is probably better off giving it a wide berth.
Difficulty spikes and repetitive mission design prevent it from joining the ranks of From Software's modern-day masterpieces, but altogether it's a competent mech action game.
Metal Wolf Chaos XD is a bare bones HD upgrade that brings the bonkers cult classic West for modern consoles, including its cumbersome gameplay and outdated designs.
There's a certain "so bad it's good" charm to Metal Wolf Chaos XD, but unless that's explicitly what you set out to find, there's not much for you here.
FromSoftware's 2004 title finally arrives to the west, packing a delightfully cheesy story wrapped around dated gameplay.
The ridiculous premise of Metal Wolf Chaos far outstrips what its gameplay can deliver, but this international release is still good for a laugh.
New Game Network
50 / 100
Metal Wolf Chaos XD has moments of entertaining mayhem, but they are hidden beneath layers of dated gameplay, nonsensical story, and gated behind a high asking price. Instead of being able to potentially discover a lost classic, mech fans get a rusted out blast from the past.
Ultimately, your enjoyment of Metal Wolf Chaos XD will come down to how much you are willing to stick with some archaic design choices in order to see more of the ridiculous story and the few levels that do hold up.
It might all seem amusingly camp watching it on YouTube but playing this outdated and clumsy action game is nowhere near as entertaining as it looks.
In this slightly upgraded 2004 game, you rampage as a robot President – discharging your bazookas, missile launchers and railguns in the name of freedom
The infamous From Software Xbox game finally makes its way to the West, and it's just as odd as we've been led to believe.
Clunky controls, terrible on-screen litter and the slow pace just kill any semblance of enjoyment for me. Even the nonsensical plot and voice acting don't make me want to play this again.