Percentile Rank
Battlefield Hardline is ranked in the 52nd percentile of games scored on OpenCritic.
Rating Summary
Based on 82 critic reviews
OpenCritic Rating
Based on 82 critic reviews
Score Distribution
Unscored Reviews
if you go into this wanting a Battlefield game? I guarantee you're probably going to come away disappointed. A shooter, this is not, and if you try to play it as a shooter you're going to find a pretty short, boring campaign.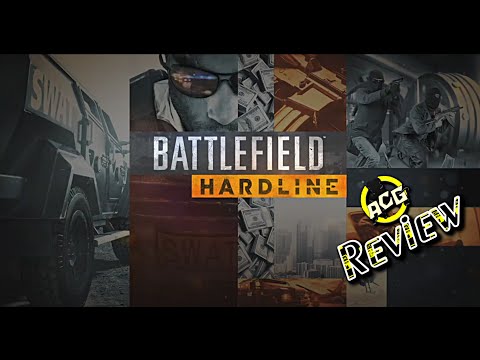 [T]here's a lot to like about Battlefield Hardline, while there's stuff there that won't thrill you. It feels like Visceral really discovered the game they wanted to make during development, so you see some brilliant ideas that make for great gameplay, but while also being stuck with what is expected of the Battlefield franchise
A messy but fun shooter that struggles to combine military tools with police life.
Rock, Paper, Shotgun
Unscored
TotalBiscuit, The Cynical Brit
Unscored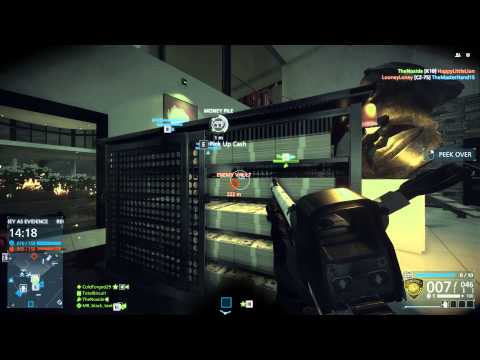 Battlefield Hardline doesn't want to be a hero. It wants to be a toy. And despite what Harry Zimm might think, that's okay.
Eurogamer
No Recommendation / Blank
No Recommendation / Blank
Mar 22, 2015
Hardline is a solid entry in the series, and the fact that it seems to have launched without technical issues is notable though not really something that should need to be commended. It's doubtful that it will end up as more than a stopgap for fans, however.
There are some who can dominate Battlefield's multiplayer with an Olympian efficiency, but the overwhelming majority are marooned in the middle, where the concussive sound of bullets and the smoldering plumes left by grenades aren't signs of domination but reminders that you're still on your feet, not dominating the world, but surviving in it for another few seconds. There's genuine awe in these moments, a beauty particular to video games, demanding respect for scale and the necessary investment of thought, coordination, and time to accomplish simple acts like moving a duffel bag from A to B. It's a poetic antithesis of the game's story mode, proof that order can more easily come from conflict than from conflict's preemptive repression.
Scored Reviews
As it stands, Battlefield Hardline's slick single-player campaign makes it worth your while. Its well-paced, good looking,and a treat to play. Visceral Games' subversive take on the series might be a B-side to the usual military fare we're used to, but playing cops and robbers was never this fun.
Battlefield Hardline takes the franchise to a totally new level with the inclusion of "cops" and "robbers" that is pure fun!
Battlefield Hardline is a two-pronged success, with a killer cops-and-robbers story backed by a speedy take on competitive play.
Battlefield Hardline takes a fresh look at the traditional warfare gameplay with a focus on combat between criminals and cops. The single-player campaign makes for a compelling and innovative approach to the traditional Battlefield gameplay with an increased focus on multiple victory paths and stealth. A variety of new game modes and redesigned progression system make for some of the best online multiplayer gameplay found in a Battlefield series game. Battlefield Hardline is a worthwhile entry in the series that shouldn't be passed over by fans.
This is the 10th Battlefield game, and at this stage in the franchise's history, it isn't easy to come up with fresh takes. Visceral Games has done that.
Battlefield Hardline has an amazing single player campaign, with some very unique ideas. Where it fails the most is when it quits trying to be different from past installments.
Hardline is certainly a different Battlefield experience, but it retains a lot of the core mechanics that should keep fans of the franchise content. The action is faster, less strategic, and less deliberate than it's predecessor, but there is a reason why this isn't titled Battlefield 5.
Whether your a fan of the Battlefield series already, or looking for something new to try, you certainly can't go wrong with this one.
If you're looking for a fun, solid-though-not-brilliant cop drama to play through that then lets you jump into multiplayer and be the cop or the robber, this is the game for you.
The campaign pulls in some strong performances from its actors and earns points for its open-design. The campaign gameplay, however, leaves much to be desired. Still, it's a step in the right direction for future Battlefield games. Hardline may not revolutionize the Battlefield brand, but it fixes many of its biggest problems.
Just like BF: Vietnam and BF: 2142, it does not reinvent the wheel, but it does enough unique things to be called its own, and if you're looking for chaotic multiplayer fun, you can never go wrong with Battlefield Hardline.
Battlefield: Hardline can be ridiculous, with stealth and arrest mechanics that stretch the very limits of credulity. All the same, the single-player campaign works brilliantly as the video game version of a big, dumb action thriller. Cracking set-piece firefights are mixed with stealth, escape and exploration, and there's scope to play some sequences your way, not just follow the objective marker. Multiplayer, meanwhile, is fiercely enjoyable, and in Hotwired boasts one of Battlefield's finest hours. Look past Hardline's minor faults, and you'll find the best all-round Battlefield since the great Bad Company 2.
Although Hardline probably won't result in any Battlefield converts, it will provide fans with plenty of entertainment.
It's easy to dismiss Hardline out of hands as being too far removed from Battlefield's typical setting to be worthy of the name, but even as Visceral ride on the brands coattails, they've had the confidence to adapt that core gameplay to suit a new setting. That's not just true of the multiplayer, but also the single player story and its compelling tale of drugs and police corruption.
A mighty fine bite-size Battlefield experience that takes a franchise synonymous with being a military shooter and establishes it in new territory. Battlefield Hardline is not as grand or epic as you'd perhaps expect a core Battlefield title to be, but it's certainly a damn fine alternative.
Battlefield: Hardline may seem like simply an expansion to the fourth entry in the game, but after diving in I enjoy it a lot more than the previous effort. The campaign is a breath of fresh air, and the multiplayer adds enough to make it stand out.
Battlefield Hardline was a fantastic entry in the franchise. It was fresh, new, stealthy, comedic, and overall a damn good time to play. There's a little something for everyone here.
Battlefield Hardline is easily the most complete game in the franchise since Battlefield: Bad Company 2's release five years ago. The story makes you actually care about the characters and introduces some much-needed new gameplay with the addition of stealth and non-violent takedowns. It's not the strongest story you'll see, but the positives far outweigh any negatives that the stupid AI and cliched story provides.The multiplayer is genuinely refreshing, and whilst veterans of the franchise may notice the missing game modes and vehicular combat that they are used to, the majority of gamers will find the fast-paced and amusing action to be fun-filled.Visceral's first attempt at taking control of the Battlefield series can only be seen as a success, and whilst it maintains the unique feel of the series, they've added a fresh and new twist to every aspect. Just as Forza Horizon's differences perfectly compliment Forza Motorsport, EA may have finally found a winning combination to compete with Call of Duty.
Minor gripes like the netcode and kill trades aside, the game delivers an online experience that can be cathartic, tense, and ultimately an adrenaline rush – something that echoes the core tenets of a "Battlefield" game.
While Hardline isn't the Battlefield you may be used to it offers a unique approach that will surely please fans of the genre. The campaign is a big step up from previous entries and while the multiplayer anarchy has been trimmed down, the gameplay in its place is more tactical and intimate.
Battlefield Hardline is a fresh experience in the series that manages to pull off its novel concept of cops vs. criminals. It still has technical issues and the story may not be for everyone, but its multiplayer mode is a blast and, so far, isn't suffering from the many technical problems that affected past titles.
Battlefield Hardline transcends its mod-ish origins to offer a compelling spin on a venerable franchise.
Skip the single-player campaign and jump straight into the refined multiplayer
Battlefield's first foray into stealth makes for a fresh campaign, and the multiplayer has something for everyone.
New Game Network
80 / 100
With two great new multiplayer modes, solid maps and interesting gadgets, Battlefield Hardline carefully folds a police theme into the franchise. The result is a chaotic and rewarding experience.
Battlefield games have always featured huge maps and plenty of vehicles. Hardline strays from that formula to provide a different experience that is still fun, but it would almost be more impressive if it wasn't a Battlefield game and wasn't held to the same standard. In other words, Hardline is a great game if considered on its own merits, but it's not the best Battlefield game.
Battlefield: Hardline tries very hard to be something fresh in a world of familiarity. It just doesn't quite have the chops to pull it off, at least from a campaign perspective. It's cool to have enemies with cones of vision, the option to arrest without killing everyone in sight, and to encourage a more methodical, tactful approach.
A hard campaign (if you play on the hardest mode) and breakneck multiplayer are a good time, if often infuriating.
Cheat Code Central
3.8 / 5.0
I think, oddly enough, that Battlefield: Hardline appeals to you the most if you aren't a traditional Battlefield fan. To be honest, I have long been over Battlefield's traditional military shooter roots, and since Hardline breaks from that formula, I enjoyed it far more than I have any other Battlefield title yet. If you are looking for something different and experimental, and you enjoy single-player more than multiplayer, then Battlefield: Hardline is a pretty good recommendation for you.
Even with a new setting and a new developer, Battlefield Hardline is still a Battlefield game which means it can be a rough road to travel for more casual shooter fans. The story campaign is fun but has zero lasting appeal once you beat it and the multiplayer is something you can only really enjoy for the long term if you're willing to invest in the game's Premium service or you have a dedicated group of friends to play with. Battlefield Hardline may have taken strides to shake up the core Battlefield experience but, in many ways, it's still more of the same old Battlefield, for better or for worse.
Hardline might not reinvent the wheel the series rolls on, but it certainly makes it spin a whole lot smoother. Speeded up gameplay, an opened-up single-player, and a robust suite of new multiplayer modes lends itself to the best Battlefield to date—though that's not saying much, a decade later.
Geeks Under Grace
7.5 / 10.0
While Battlefield Hardline is fun and has some cool set pieces, it's not really an improvement over Battlefield 4. Weak story, poorly written characters, and scaled down multiplayer make Hardline feel generic and rushed.
PlayStation LifeStyle
7.5 / 10.0
Thankfully, while Hardline might be a more different than veterans may have hopped for, it does enough of its own to come off as a solid start to a new type of Battlefield. Although, it does need to be said that with it being such a departure, it's easy to see that it is still trying to figure itself out when put against its more militant and seasoned counterpart. Fans of the series will find many moments that harken back to the heart of franchise if they are willing to try something new and are are able to make a few gameplay adjustments. Anyone trying out a Battlefield title for the first time will find a game that's much more accessible than any of the other ones in the past, but much like the previous ones, if you're getting in the helicopter, please practice in an empty lobby before crash landing with your whole team on board.
I'd love to see Rescue and Heist establish a community of players, because they're great modes done well.
Visceral have create a perfectly good functioning Battlefield game in Hardline. It shoots as good as the best of them, the car-chases are fun, and the small tweaks made to the core formula are very welcome. But a little refinement does not mask that this is a very similar game to what we bought in 2013; despite the strong efforts to make a variety of new game modes, you can't shake the feeling of playing classic Battlefield. And quite honestly, Battlefield without tanks and jets is only half as fun. Curiously the single player campaign is the most interesting element, which is surely due to the studio's strength in solo-play design from their days on Dead Space. That's not enough to make it an essential purchase, though. Players new to the series may find the urban setting interesting and will certainly benefit from the refined mechanics. Series veterans, however, are best sticking to what they already have.
'Battlefield: Hardline' puts a clever spin on the 'Battlefield' formula, but a serious identity crisis keeps it from being a solid step forward for the franchise.
There are people that say that Battlefield Hardline is just a DLC pack disguised as a new release, but that's not quite true. It feels familiar in terms of gameplay, but fresh enough in theme and heavy enough in content that it's worth its own release. It's a decent game that gets points for originality of concept, but how much value it has is down to how much you enjoyed previous entries in the franchise, and how much you'd like to see the Cop FPS genre become a thing.
While it doesn't feel as vital as Battlefields past, inventive new multiplayer modes and a fresh, if slightly unfocused campaign make Hardline the worthy TV spin-off to DICE's big budget blockbusters.
The single-player mode starts out promisingly, but bogs down into a rather weak stealth game whose action feels hit-and-miss. Multiplayer is where the game works best, especially on its smaller maps, which can deliver truly thrilling and intense action.
While we weren't particularly impressed with Battlefield Hardline's multiplayer offering, we did like the intense ride that the campaign took us on. The story might be fairly throwaway, but the environments, set pieces, and the gameplay scenarios you'll often find yourself in are memorable and make up for the clichés and nonsensical plot details.
The Jimquisition
7 / 10.0
At the very least, it's "more Battlefield", which is by no means a bad thing – yet – and at its highest points, it's a bit of silly, Vice-inspired fun. I do not think the world will care to remember Hardline very much in future, but for what it is, it's a good effort to be more than another disposable shooter, even if that's all it really is at its core.
Against all the odds, it's the single player campaign that's proved to be Battlefield: Hardline's biggest selling point. Trying to play through as a 'good cop' by arresting baddies instead of filling them with lead is very rewarding. But the gunplay is as fun as ever if you want to play that way too. The multiplayer feels scaled down due to the smaller maps and the heist and assassination missions generally favour the defenders too much. Hotwire's car chases are essential though and will hopefully become a series regular.
The cops 'n' robbers theme often does more harm than good to the Battlefield formula, but this peculiar spin-off has just enough tricks of is own to be worth a collar.
Hardline both succeeds with flying colors, and fails miserably in various aspects of its game design but the good outweighs the bad with its sandbox style mission design, handful of addicting multiplayer modes, and rock solid Battlefield gunplay players know and love.
It wouldn't be a Battlefield game without a host of multiplayer scenarios, and Hardline is definitely no slouch in that department.
As a whole, 'Battlefield Hardline' manages to reinvent 'Battlefield' as a goofy cop drama, and as a successful one, though its ambitions and advancements are few. It does, however, succeed in freshness, a much-needed course correct away from its grim wartime roots into something far more likely to warrant repeat binge viewing ahead of the next season--er, game, even beyond its ever-lively multiplayer.
With the new opportunities available for a cops and robbers setting, Visceral didn't take enough chances and produce enough content to make this game truly great.
Battlefield: Hardline is a lateral move for the series. Even with a more ambitious single player offering, multiplayer continues to steal the show, offering best in-class gameplay when it works.
In areas where Battlefield has always excelled and pushed forward, Hardline presents experiments, rather than refinements or fixes. The result is multiplayer that feels very familiar, very quickly. But its campaign, while feeling not completely sure about what it wants to be, is more interesting and certainly all-around better than the last few years' worth of Battlefield games.
In a genre that has become saturated with Call of Duty-knockoffs, putting players on to the thin blue line is an excellent change. Battlefield: Hardline shift from the war zones to the streets helps bring a sense of originality to the series.
Battlefield: Hardline offers both returning and new players a slightly more fresh take on the classic Battlefield formula. But where the game delves into new territory, it often returns to the classic formula after getting cold feet. The strongest points of Hardline are when the game tries to be something different, but the fallbacks to old ways are where the game keeps itself from being great, rather than just good.
Even with a shift in focus and a different studio behind it all, Battlefield Hardline doesn't feel all that different from previous efforts.
As Battlefield leaves the battlefield, Visceral Games tailors the series' distinct vehicular-based multiplayer for the crime-ridden streets of Miami and L.A. with mostly positive results.
Multiplayer is, of course, the main reason that you buy into a Battlefield game, and it's generally enjoyable, even if it doesn't do anything to revolutionise the genre. However, both Activision and EA, and every other FPS developer that aspires to become the top dog franchise, needs to learn that if they are going to persist in putting single player narratives into their games, then they need to do a far better job. Telling a good story is not about throwing in more explosions. It's about understanding the context that the story is being created within, and then doing something with that context. That's art. That's what separates Battlefield: Hardline from a genuinely intelligent game like Spec Ops: The Line.
Battlefield Hardline is a semi-unique game in the Battlefield franchise that features an enjoyable, if forgettable, campaign and a great multiplayer mode. Those looking for the more traditional Battlefield experience will still find it here, as will those interested in Hardline's twist on the franchise.
Post Arcade (National Post)
7 / 10.0
Hardline's release was smooth, and although it did feel like a modified BF4, it also plays like something novel and worthwhile all on its own. If you have recently built a gaming PC, and you don't yet have Battlefield 4, I would recommend buying that title first, and then grabbing Hardline down the road when the price drops.
Reno Gazette-Journal
3.5 / 5.0
Ultimately, Battlefield Hardline is a solid shooter that controls well and marks a lot of the items off the FPS checklist. At the same time, it is also faced with the same problem that confronts any new shooter in this day and age.
Devoid of any real personality, Battlefield: Hardline's single-player campaign is cheesier than an 80's pick-up line. It is however saved by a superb multiplayer that is both solid and entertaining.
Hardline doesn't sufficiently evolve interesting mechanics in the terrible single-player and is only saved by an at times enjoyable multiplayer component.
There isn't anything particularly bad about Battlefield Hardline, it's solid enough, but one cannot help but lean towards those initial detractors who were very vocal in the run up to launch. Despite a clearly big effort and no doubt a ton of money, we are still without a decent Battlefield campaign and what we are left with is a Battlefield off shoot with no long term life in it.So there we have it, a Battlefield game with weak single player and solid if underwhelming multiplayer - absolutely no one saw this coming.
In the end, Battlefield: Hardline is its own worst enemy. There are some great ideas here, but they aren't fully realized, and the game suffers for it. It's not a bad game, but it's also not an exceptional game. Battlefield: Hardline does an excellent job of being downright average. You probably don't want to pay full price for it, but it's one to keep on your radar when a good sale pops up.
Hardline does show occasional flashes of brilliance, though, so there's definitely something worth pursuing here. With a stronger emphasis on open area stages and multiplayer modes that utilize the police arsenal, Visceral could craft something much stronger in the future. Further investigation is required.
And Hardline could be better. There are shades of it here, now and then. Games in general can be better. But they never will be until we raise our expectations. When even the best of us feels limited to writing "narrative rosaries strung with beads of pure chaos," how do the least of us stand a chance?
While Hardline is tone deaf at times, mostly it is just deafening. Explosions and bombast are used not to distract from a troubling narrative as much as a stale one perfunctorily paced and reminiscent of network television emptiness.
Battlefield Hardline has a decent campaign and great multiplayer action, but a lack of personality means it feels more like an expansion than full sequel.
Battlefield Hardline did not crash during our tests and appears to function precisely as expected at this time.
As far as Battlefield Hardline is concerned, the 1980s may as well have never ended.
I have no doubt Hardline represents the best efforts of two talented studios, Visceral and DICE, to cough up a satisfying cops-and-robbers Battlefield. Despite best efforts, the pairing doesn't work.
The Angry Joe Show
5 / 10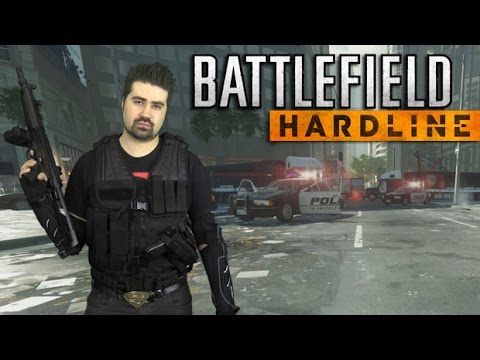 While not as bad as many had feared it would be, Battlefield Hardline simply feels unnecessary and unless you'r a diehard fan of the series, there's not much reason to pick it up.
Battlefield takes on the police state scenario embedded into modern politics and does nothing with it short of making itself appear restless.
If you prefer the sort of fast-paced gameplay that Visceral seems to be going for, Call of Duty: Advanced Warfare did a much better job of delivering on that vision.