Percentile Rank
Exception is ranked in the 52nd percentile of games scored on OpenCritic.
Rating Summary
Based on 15 critic reviews
OpenCritic Rating
Based on 15 critic reviews
Score Distribution
Scored Reviews
It's easy to pick up, it's difficult to master and offers badass bosses at the end of each world whilst sword-fighting robot viruses intent on taking over an old lady's computer to a synthwave soundtrack blasting over beautifully designed neon-infused levels.
2D action game fans will find a lot to love in the stylish Exception, especially those who enjoy speedrunning through bite-sized stages.
Exception is a Tron-like visual feast, full of inventive and dynamic action platforming that's as satisfying as it is stylish.
Despite a story that wasn't very interesting and the jumping feeling a little floaty I would recommend Exception to fans of platformers.
Exception is a fast and fluid platformer. It successfully manages to encourage players to play the game as fast as they can and does not punish them harshly upon a mistake which makes it more accessible, and the dynamic and changing design of its levels keep the experience fresh until the very end. However, it offers little to encourage replaying the levels and collect hidden items or set better time records
Review in Persian | Read full review
NintendoWorldReport
8 / 10.0
While it can be frustrating to just barely overjump something or miss hitting an enemy while you're racing through, this only encourages players to retry for a better score. The game's difficulty is perfectly balanced for either jumping from level to level to progress through the story, or to step it up a notch and go for a perfect score on every world.
PlayStation Universe
7.5 / 10.0
Exception is a fast, fluid skill based platformer that is a lot of fun. The quick levels never get repetitive and have a lot of variety to them, while the stellar audiovisual presentation never fails to impress. Unfortunately, the flow is broken up by needless bosses but thankfully they are few and far between.
Sadly, there's no way to know what life in a computer is actually like. Exception does a damn fine job of imagining it, though
It is a fun platformer that gives you a good variety in the levels and offers a unique platformer to play through.
Exception is, by and large, a great game that introduces a unique and compelling twist to the platforming genre with its transforming levels.
"The strongest feature that Exception brings with it is that no level is static in its design."
Exception is a fun, aesthetically pleasing game. But it offers little to keep the player invested. Some new game modes would be an awesome addition.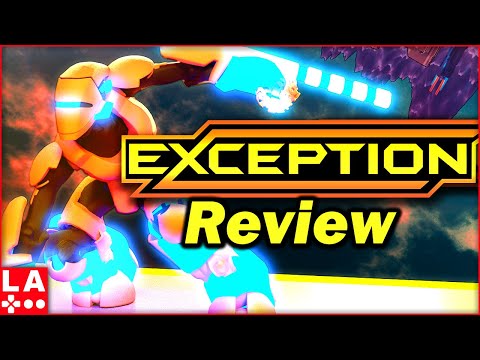 New Game Network
56 / 100
Exception is a bog-standard platformer that rarely rises above mediocrity. Its saving grace is an excellent presentation and a fire soundtrack that you should check out even if you have no interest in playing the actual game. Otherwise, look elsewhere for your platforming kicks.
Exception almost wound up being exceptional, but unfortunately is broken enough to warrant steering clear of until things are fixed