Percentile Rank
Children of Morta is ranked in the 90th percentile of games scored on OpenCritic.
Rating Summary
Based on 46 critic reviews
OpenCritic Rating
Based on 46 critic reviews
Score Distribution
Unscored Reviews
Rock, Paper, Shotgun
Unscored
My opinion of Children Of Morta has improved, and I can see it finding a happy audience. But if I wasn't reviewing it I doubt I'd have got there. It leads with its worst foot and you have to grind for hours to drag the other one into the dance.
It has charm, polish, heart, and a whole lot of promise - Children of Morta is the child who subconsciously wants to meet everyone's expectations, and is slightly tearing herself apart doing so.
Scored Reviews
Unless you simply don't like roguelike games, you should absolutely pick yourself up Children of Morta and experience it for yourself. You won't regret a second of your time with it.
Children of Morta is strong in its apparent simplicity. By the end game the player is juggling multiple additional powers, temporary buffs, held items, and a vast array of enemy types, but since everything is introduced so smoothly and cleanly it never feels overwhelming. The game is brutal without being cruel, as each failure shows some granular hint of progress—it serves as a great introduction to the genre for newcomers, as everything is explained so well, and is also appealing for veteran players, showing a different approach to a well-known classic. A bit Rogue, a bit Diablo, and all class, Children of Morta will be remembered as the gold standard for years to come.
With procedural worlds, fantastic cooperative combat, and a storyline that makes you care about the entire Bergson family, Children of Morta represents the best example of games as art. There are still a few months to go in 2019, but Children of Morta is looking like my Indie Game of the Year.
Dead Mage's love letter to rogue-like fans is certainly one for the books. A solid experience throughout, it's a definite must-buy for any who're well into the genre.
Children of Morta is a resoundingly impactful, thoughtful, and humanizing rogue-lite with an all-consuming narrative you simply can't stop chasing.
Children of Morta serves as a fine ARPG for newbies and veterans alike. A beautiful world brought alive by beautiful pixel art, catchy music, and incredibly compelling gameplay that holds the whole package together.
Children of Morta is a standout roguelike RPG with a solid central hook, satisfying gameplay, and gorgeous art style all piled on top of huge replay value.
Children of Morta is the best roguelike I've played in 2019. A strong story, exciting combat, and great characters make it a must-play for any roguelike fan.
Like Seraph before it, part of the enjoyment with Children of Morta lies not just in cleverly rampaging through wave after wave of foe, but also in the relief of surviving the ordeal through a measured balance of skill and strategy.
What you feel after completing Children of Morta is not the regular nostalgia after finishing a great hack'n'slash-roguelite hybrid – it's the feeling of leaving you family and the safety of your home. A splendid game!
Review in Polish | Read full review
Children of Morta takes the mechanics from the roguelike genre but manages to craft a trully narrative experience. An unique game that offers fun gameplay mixed with an emotional story full of heart. One of the greatest surprises of 2019 so far.
Review in Spanish | Read full review
Children of Morta is a resoundingly beautiful game that tells a compelling story of growth, forgiveness and love through a set of deep of satisfying rogue-like mechanics that only kept me invested in the gameplay but the journey of The Bergsons throughout my playtime
Children of Morta is an excellently designed action RPG that hosts some well refined dungeon crawling elements.
Boomstick Gaming
9 / 10.0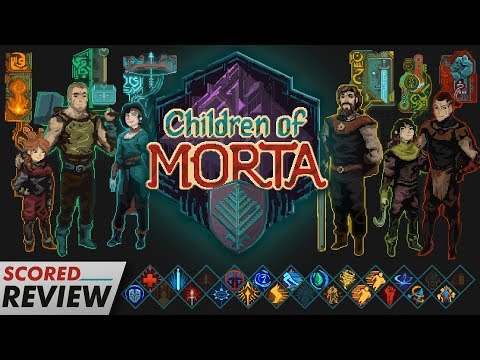 Save for the issues with RNG and the procedurally generated environments, Children of Morta delivers an exceptional experience with superior gameplay and a surprising amount of heart.
Even at its lowest, Children of Morta encapsulates the struggles, challenges and joys of family. It beautifully reminds us about acceptance, loss, and to support the ones you love.
Review in Portuguese | Read full review
Children of Morta is a well-made, standard and delightful Rogue-lite Action Game. The main theme of the game is about family and unlike other rogue-lite games that usually don't pay much attention to the story, this game offers a very good story about a lovely and mystic family. It is absolutely a game that rouge-lite (and rouge-like) fans will enjoy. However, even if you didn't play any game in this genre, I think Children of Morta worth a shot and I can easily recommend it.
Review in Persian | Read full review
Children of Morta is both a masterpiece in art and world design and a great video game. offering an emotional story, Children of Morta show how a family fights darkness together and it's gameplay reminds me of games like Diablo 2 where I couldn't stop fighting and clicking. if you enjoy action RPG games or just simply video games, Children of Morta is a must play.
Review in Persian | Read full review
Children of Morta is charming, engaging and fun. It's absolutely worth playing if you're a fan of the genre, and the Bergsons are one of the best family units in gaming. The world and characters draw you in, and the simple but engaging roguelike gameplay keeps you there. It doesn't break any molds, but it doesn't try to. Instead, the title focuses on offering what it has with a mirror polish. It has some problems and can feel repetitive at times, but any sense of weariness is lost the next time a beautiful cut scene begins.
Oyungezer Online
8.5 / 10.0
Children of Morta manages to blend family values with hack'n'slach and roguelite mechanics brilliantly, and the result is a high quality and immersive experience.
Review in Turkish | Read full review
The Games Machine
8.5 / 10.0
Behind Children of Morta's pixel art, lies an excellent hack'n'slash which has little to envy to the pillars of the genre. The RPG aspect is well defined, and the growth of the characters is never trivial.
Review in Italian | Read full review
Children of Morta is one of the best rogulite games I played in a while, so I can't recommend it enough to those who love the genre. It's easy to pick up and the story, even though it's a bit on the generic side, it will keep you hooked till the end (yes, there's actually an end to the story).
Handsome Phantom
8.5 / 10.0
Despite some repetition, uneven visuals, and derivative mechanics, Children of Morta is an absolute joy to play from start to finish. A smooth progression system, randomly generated elements, and a ton of different abilities to play with were more than enough for us to look past some of the game's shortcomings. We highly recommend this one whether you're a seasoned vet of the dungeon crawler genre, or just looking for a new and charming rouge-like experience.
Children of Morta is a fun but derivative, stylish and elegant story driven roguelite. Although the setting is quite usual, the story of the Bergsons family is heartwarming and moving, and that makes this game quite unique.
Review in Italian | Read full review
There's a sense of interconnectedness that pervades everything Children of Morta does, and while some of its decisions sometimes result in unpleasant—and arguably unfair—difficulty spikes, the story beats always revolve satisfactorily enough to be worth a little extra trouble.
Children of Morta is a really beautiful game. it also helps that gameplay is solid with enough variety and story/characters are maybe better than you expect. we wish enemies were smarter though.
Review in Arabic | Read full review
Besides some difficulty issues with the two-player mode and the melee characters, it's a pretty great game. Plus the spirit you rescue at the end of the first area looks like a giant floating vagina, so what more could you want?
Children of Morta is a solidly built action roguelite, but it's the family struggles and heart within that elevate it above the crowd.
Children of Morta's excellent combat and gorgeous pixel art are only surpassed by how genuinely human its cast of characters feels.
Children of Morta is an exceptionally well made ARPG, where the same amount of attention has been given to all its aspects, from the way it plays, to the way it's story is told, to the way it looks. Those in search for something with hundreds of hours of additional content should better look elsewhere, but the pleasure of combat (solo or co-op), and the addictive nature of rogue-likes, combined with the strong narrative, and the fantastic ultra-detailed pixel art style, gives a pretty good reason to put this on your wishlist - NOW!
While not perfect, what's there is jaw-droppingly gorgeous, plus it has heart and brains. If you're a fan of roguelikes, Children of Morta is well worth your time.
Children of Morta is an outstanding action-adventure that benefits from the added concept of family ties. Without the Bergsons, it would be an above average but unremarkable little hack and slash game. With a family for you to relate to, this is a journey where every character has significance, where every family member feels real and valuable to the whole.
Honestly? For its price there is little reason not to pick up Children of Morta, apart from the obvious case of you don't like Roguelike Action RPGs
Children of Morta is a quality game with a fantastic narrative that despite of some of its issues, offers a really good experience. But the developers' focus on balancing the experience in co-op multiplayer mode has caused some shortcomings in the single player mode
Review in Persian | Read full review
A gorgeous roguelike dungeon crawler that remains compelling and exciting throughout, despite a lot of grinding.
The secret to success of Children of Morta is that its target audience consists of all the gamers from around the world. That being said, developers tried to add Iranian elements to the game as much as they could and that's worthy of praise. Children of Morta is definitely the first Iranian game that by utilizing an appropriate artstyle, addictive and appealing gameplay and professional voice-acting has managed to bring up game industry of Iran to a global level. We hope that other game studios of Iran choose Fan Afzar as their role model and help bring our gaming industry to the next level.
Review in Persian | Read full review
Children of Morta, also published by 11 Bit Studios, presents a similarly top-down action-RPG with rogue-lite elements, retro-inspired pixel art, and immersive art direction and animation. But, like with Moonlighter before it, Children of Morta takes a different approach. The similar setup of failing, upgrading, retrying, and replaying dungeons, slowly growing in power thanks to upgrades is here, but in the guise of a story-driven party-based RPG. With combat and character progression that feels more in line with Blizzard's Diablo than it does Moonlighter's riff on classic The Legend of Zelda.
Children of Morta is a decent roguelike ARPG.
Review in Chinese | Read full review
Children of Morta is a rewarding action RPG with a lot of heart, providing you can make it through its repetitive opening hours.
Rather than simply chaining meaningless rooms in a "one-piece-a monster-a-treasure" adventure, even if, in the main, a rogue-like is always a bit like that , Children of Morta grafts us over a well-written story, with great music, dozens of cut-scenes and events that are unlocked, and a narrative made by a guy who has a voice comment animal documentaries with your neutral (especially those where we see a buffalo devoured by a dozen hyenas).
Review in French | Read full review
Based on the perspective players approach Children of Morta, it is possible to frame it either as a disappointment or as a breath of fresh air.
Review in Italian | Read full review
The Bergson's are charming but their quest is a bit too lifeless. A middling dungeon crawler elevated by its style.
Children of Morta is an ambitious, beautiful, but unsatisfying action roguelike, light on content and feeling considerably unfinished at launch.