Percentile Rank
The Order: 1886 is ranked in the 21st percentile of games scored on OpenCritic.
Rating Summary
Based on 88 critic reviews
OpenCritic Rating
Based on 88 critic reviews
Score Distribution
Unscored Reviews
Eurogamer
No Recommendation / Blank
No Recommendation / Blank
Feb 18, 2015
The Order: 1886 isn't a disaster, nor is it a particularly good game. It's a hollow diversion, entertaining but outmoded and caught somewhere between a medium it repeatedly fumbles and one it fails to effectively embrace.
Avoid it until and unless they patch in a satisfying conclusion.
With The Order: 1886, Ready at Dawn has created a compelling world, and one I'd be happy to return to if there ever were a sequel, but failed to populate it with an interesting story or engaging gameplay.
It is an unfortunate irony that a game offering a glimpse into the future of video game graphics should be so hamstrung by its limited, conventional gameplay. This is one anachronism too many — even for a steampunk game.
The Order: 1886 is an incredible tech demo for the PlayStation 4 and, like Ryse: Son of Rome on Xbox One, will likely be one of the best-looking games on the system for quite a while. It stands tall and should be commended for that. The flat characters, paint by numbers story, and strictly workable mechanics, though, keep the game from being anything more than just a technical demo of the engine Ready at Dawn has created.
Most of the time, The Order barely allows you to play in any meaningful sense. The parts where you aren't killing indiscriminately amount to little more than pushing a button to move on to the next charnel obstacle course. And while this doesn't make it any worse than hundreds of other similar shooters, it's particularly disappointing here, because The Order has the potential to be something more.
Scored Reviews
Literally no game has ever looked this good. It's strange to even write that, but The Order: 1886 raises the bar so far above its contemporaries that it stands in a class by itself. Joined by a soundtrack that perfects the mood, The Order is a cinematic masterpiece. If you want to show off your PlayStation 4 to your friends, this is the title to showcase.
The Order: 1886 is a remarkable achievement. The team at Ready at Dawn should be applauded and given the chance to bring their complete vision to life in its entirety. Breathtaking visuals, top notch performances and industry leading motion capture animate a great story to create a very special and unique gaming experience.
The Order: 1886 is not a perfect game by any stretch but it certainly wasn't deserving of the early criticism it received. Now that the release is finally here and you can play through the whole game yourself you'll find that despite some very minor misses in gameplay, Ready at Dawn sets a very high bar in terms of both presentation and story offering up one of the best experiences to date on your PS4.
Readers Gambit
8.5 / 10.0
A brilliant example of how games should look on the next generation; crisp and elegant. The Order is a succinct but enjoyable experience that deserves to be considered a stellar entry into Sony's PS4 exclusive catalogue.
Yet, this is a high-quality first chapter of a promising new IP that fully deserves a chance from all lovers of an exceptional story and tight, fun cover shooting gameplay.
In the end, The Order: 1886 is truly an exciting spectacle in a setting that we thoroughly enjoy, elevating our expectations for PlayStation 4 games to come. However, it's held back by its limited scope and abbreviated plot. It may not have the most well-rounded strengths, but it's a remarkable game nonetheless.
Since the pros definitely outweigh the cons everyone should at some point experience one of the most impressive titles in recent memory
PlayStation LifeStyle
8 / 10.0
The Order: 1886 flaunts its interactive cinematic presentation, and it plays that card well. Despite this, it will continue to incite debate about overall length, being story heavy, and not allowing much freedom for the player. If these are things that bother you, then The Order was not developed for you. The decision will need to be where each player places value in their video games. This is an immersive game for people who want to sit back — or on the edge of their seat — and let themselves become engrossed in the story of a Knight in turmoil fighting against a supernatural force. Give The Order a go yourself, and perhaps you'll find yourself diving back into it as much as I've rewatched Jurassic Park over the last twenty years. It may not be perfect, but The Order: 1886 is an immersive cinematic experience and a damned good ride worth going back to.
The Order: 1886 will embrace you in a unmatched cinematic experience and the shooting mechanics are solid. The overall short time you are actually "playing" the game is a major disappointment. There are no advancement options for weapons and the only collectibles in the game are audio logs, photographs and newspapers. There are trophies for finding them all, but no indicator of which items you may have missed. Let me be clear: I did enjoy my time spent with the title, but with no clear reason to trek through the adventure multiple times, combined with the fact it can be beaten in a single afternoon, The Order: 1886 is a rental at best.
Ready at Dawn's first foray into developing a completely new property has paid off as The Order: 1886 is among one of our favorite games to be released this year.
The Order: 1886 is an example of dying linearity. The worst part is that this style of gaming is dying, not because it's inferior, but because there are those who want us to believe it's inferior. It's just different.
Overall, The Order: 1886 is an exceptional game that can be mistaken for a film as much as it can be for a game. Ready At Dawn achieved their mission of showing how a game can be great even when priorities lie in the visual, sound and plot departments.
Just like mustaches, not everyone can appreciate what The Order 1886 was trying to accomplish, but if you know what you're going into, you just might walk away loving it as much as I did flaws and all. The Order 1886 joins my list of story driven games I'll play again and again.
Despite being set one hundred years in the past, maybe what The Order: 1886 is actually doing is showing us our gaming future.
Geeks Under Grace
7.8 / 10.0
The Order: 1886 delivers a beautifully realized and delivered science fiction story that everyone should experience. Sadly, it provides no reason to ever go back after the credits roll.
A beautifully realized world that sacrifices more involved gameplay in the name of cinematic presentation
Post Arcade (National Post)
7.5 / 10.0
At times Ready at Dawn's latest title is so efficient at seamlessly blurring the lines between gameplay and cutscenes, it's difficult to tell what portions of the game are actually interactive.
A stunning action game that relies on story and performance over padding and tacked-on game modes, The Order: 1886 will nonetheless divide gamers with its short run time and reliance on cinematic dazzle.
PlayStation Universe
7.5 / 10.0
Like Resistance: Fall of Man, The Order: 1886 comes early in a console lifecycle to set new visual benchmarks and give us creative, compelling fiction. As a game, it's significantly less ambitious.
The issue of cost is an awkward one. £40 to one person might be a huge deal, to another it could just be another drop in the ocean. It's certainly a bit expensive for my tastes, but I don't think The Order should be judged wholly on that. Like any game nowadays you won't have to wait long to pick it up dirt cheap, and The Order: 1886 is certainly a game worth a playthrough. The worth of that playthrough however, comes down to you.
A big thing The Order: 1886 doesn't have going for it is replayability. There is no multiplayer or even a co-op mode. You never really get to have fun with the two cool guns in the game. Due to how QTEs and cinematics are wrapped into the game play, speed runs are pointless. With everything taken into consideration, the game could be a good budget buy down the road.
'The Order: 1886' is bursting with creativity when it comes to design, narrative, and setting, but its gameplay is far too linear and derivative to be worth a full price purchase.
The Order: 1886 is a visually stunning technical achievement, held back by mediocre gameplay. Fortunately for Ready At Dawn they've achieved on setting the bar high in visuals, and have laid out the groundwork for what could well be one of the best PlayStation exclusive franchises.
The end result is something good, with zero glitches, texture pops, or mechanical problems with gameplay, but nothing about it is great.
در نهایت باز هم تکرار می کنم The Order 1886 به هیچ عنوان بازی بدی نیست . این اثر دارای نکاتی مثبت و تجربیاتی قوی است که در کمتر اثری می توانید آنرا بیابید و البته دارای نکات منفی نظیر هوش مصنوعی است که باز هم در کمتر اثر شوتر سوم شخصی می توانید به این شدت آنها را تجربه کنید . The Order 1886 عنوانی با پتانسیل بسیار بالا بوده است که بدلیل مشکلات و برخی کمکاری ها نتوانسته به آن پتانسیل دست یابد اما به شخصه احساس می کنم پیشرفتی که نسخه دوم Assassins Creed در مقایسه با نسخه اول و نسخه دوم Killzone در مقابل نسخه اول آن داشت را می توانیم در نسخه بعد The Order 1886 مشاهده کنیم . بازی حدود 10 ساعت برای شما طول خواهد کشید و با وجود نبود بخش مولتی پلیر و محتوای جانبی ، از نظر من ارزش تجربه و خرید را دارد زیرا این اثر تجربیاتی جالب را برای شما به ارمغان می آورد که کمتر آنرا در آثار دیگر مشاهده کرده اید .
Review in Persian | Read full review
This is a game and a concept that could benefit from a sequel. And if we're lucky, it'd give us an even deeper look at this gorgeous yet squalid Dickensian London.
The Order: 1886 features a wonderfully crafted and realistic alternate history setting with the greatest visuals and production values so far on the PS4. While the first half or so of the story really works, it's let down by the final few hours, which abandon things shouting out to be explored in favour of introducing forced plot points which do the world and the main cast a disservice. Despite that, the gunplay is a lot of fun and it's not a bad story overall, just one which could've been far better.
The Order arrives as a short, decent game, not a console savior.
Understandably, the short playtime and lack of replay value will turn off many gamers from wanting to delve into the title, but it's definitely something to try if you have the opportunity.
While not close to being a system-seller that so many expected from a high concept, expensive, first-party production, 'The Order: 1886' still managed to charm me with its atmospheric presentation and expert voice acting. It's a short, but pretty game whose engine I'd like to see in action again minus the swipe to fight werewolf boss moments. If you like your 'Uncharted' in a revisionist, steampunk setting, this game is worth a look.
New Game Network
70 / 100
Greater than the sum of its parts, The Order: 1886 makes a resilient case for games where stories still take the center stage. High quality presentation is let down by average gameplay and limited player freedom.
The lack of balance between gameplay and cinematics drags The Order: 1886 down. It's not a bad game but you will find better third person shooters on the market than The Order: 1886.
The Order: 1886 is a great game, as long as you treat it as a mindless shooter and not the bevy of innovation we were all led to believe it was. Graphically appealing, the title shows us once again, we should not judge a book by its cover.
Contemporary graphics – check Victorian setting - check Great atmosphere – check Gun-wielding, knight-slaying monsters (and rebels, mostly rebels… poor rebels…) - check However, the game left me unsatisfied and wishing for more.
These are the stories The Order: 1886 might have told, and the images that it still clings to. But in the end, the only tales it knows how to tell are those that end with the hammer cocked and a twitchy finger on the trigger.
I give this game a Hold. It's not a bad game, but the inexplicable game design decisions that bog it down, and the relatively short amount of time you actually spend playing, make it a tough sell at $60. It's one of those games I find myself liking, but even more so wishing were something more—more the game it could have been, and less the game it is.
Though a stylish adventure, The Order: 1886 emphasizes its cinematic polish at the crippling cost of gameplay freedom.
The Jimquisition
6.5 / 10.0
The world built by 1886 is an engrossing one, and if nothing else the way it's presented is fantastic, especially when it comes to the strong vocal performances and beautiful character animation. As burly English people yell at each other, one could feel they were watching something from the Sharpe series of televised adaptations, even if the dialog is intensely cliched at times – for example, there's a cringeworthy "not so different" speech from an antagonist, including a bromide, "maybe one day you'll understand."
This is The Order: 1886's downfall. It's so caught up in its orderly appearances that it fails to impress where it truly matters with gameplay and story, which is where the cracks start to show with its internal disorder.
Pittsburgh Post-Gazette
6.5 / 10.0
"The Order" will likely become a long running franchise for Sony. It will be interesting to see how it evolves. It could stay in content with being a game that is only interested in presenting a cinematic story with gorgeous graphics, or it could evolve into a game that grants players with more creative freedom. Its current form is a step back from what modern games have become. "Shadow of Mordor," "Dragon Age" and "GTA V" achieved accolades because their settings were molded and enhanced by the player's freedoms. "The Order" feels confining. Galahad is trapped between the gorgeous buildings of London with nothing to do other than play out his story. The player has nothing to do but watch.
Cheat Code Central
3.2 / 5.0
The premise is solid, the graphics are great, the voice casting is excellent, but in the end you have to ask yourself, are we buying games to watch them or to play them? This is something you need to ask yourself before picking up The Order. It's a shame, too. Werewolves are always getting a bum wrap in entertainment, and this game isn't going to help their cause.
The Order: 1886 had every opportunity to make something of the Victorian setting, but calling it cinema is like calling 50 Shades of Grey literature.
The Order: 1886 isn't easy to recommend, but it isn't impossible to endorse, and despite its familiarity, is a game we enjoyed our time with. Here's hoping The Order: 1887 pushes for greater.
The Order: 1886 is bland gameplay wrapped in admittedly gorgeous next generation graphics. It's not bad through and through, it's just disappointing.
Outside of the sleek presentation and interesting world building, there's nothing truly special about The Order: 1886. It's a shame in many ways, because I'd love to see a more tactical style of gameplay in line with Valkyria Chronicles, or a more in-depth game in general using the same engine and lore. I sincerely hope this isn't the last we've seen of this universe, but for now, it's only worth visiting once, briefly.
The Order: 1886 is a spectacular visual showcase, but its muddled narrative and gameplay make for a wasted opportunity.
The Order: 1886 ends by leaving itself wide open for a sequel (The Order: 1887, one presumes), and I'm interested enough in the series' premise that I'll definitely give it a look. But I can only hope that inevitable sequel offers the sort of improvement we saw from Assassin's Creed to Assassin's Creed II. There's a decent game here, but it does little to set itself apart from those that clearly inspired it. Here's to the future, and to differentiation.
The Order: 1886 has moments where it really shines and lives up to the potential shown in early previews of the game, but, sadly, the end product feels like it was rushed out before being finished. The story is full of unanswered questions, and there really is no replay value. Despite all its flaws, there is a story worth experiencing, and some great moments. Hopefully the studio gets a second chance, expanding the franchise and rights these wrongs, along with further developing the world in a sequel.
The Order: 1886 is a disappointing and short game that fails to live up to the hype that surrounds it. However, if you're willing to overlook its faults and sit through its abundance of lengthy cutscenes, you'll find that there's some fun to be had. It's fleeting, but it's there.
A stunning graphical showcase that can't hide a so-so game. The Order: 1886 has a great premise and a decent, albeit clichéd narrative, but the cost of its cinematic values comes in restrictive gameplay, mediocre shooting and an over-reliance on quick-time events. It's a fantastic looking game with which to show off your PS4, but it's too short and too unimaginative for its beauty to be anything more than skin-deep.
Visually astounding throughout. Graphics fans will adore every grimy nook and cranny of the Victorian London setting. Sadly though, the game around it is crushingly average. The shooting sections are fun enough but far too few and far between, and much of the game is spent watching cutscenes or being forced to walk through one, so much so that it rarely feels like you're 'playing' the game at all.
The Order: 1886 is an antique that's aged ungracefully. The presentation is sublime from the release's rousing start right the way through to its anticlimactic finish, but several shoddy design decisions detract from its otherwise exemplary gloss. The developer's crafted an incredible universe, but outside of the title's core cast, it's failed to do much of note with it. This is a property that's begging for a sequel to realise its undeniable potential – but only time will determine whether it gets that opportunity.
A decent concept, that has been marketed and presented totally wrong.
We need more game developers and publishers willing to gamble on made-from-scratch worlds and ideas, but The Order: 1886 feels like it might have fared better as a film, graphic novel or TV series. As a game, there's just not enough propping up this shining suit of armour.
The Order: 1886 is more cohesive than the 15-year story arc of Quantic Dream's last effort, but cohesion doesn't automatically result in a compelling experience. It succeeds so well in playing out like the middle episode of an unmade series that it forgets to delve deeper into the otherwise fascinating Arthurian lore and its 19th century context.
Great visuals alone do not a great game make - and there's unfortunately very little in The Order: 1886 to elevate it beyond being a pretty, but shallow and insipid shooter. It commits the one sin no interactive entertainment should: it's painfully boring.
If the setting and lore of The Order: 1886 interest you at all, the game is at least worth a rental. Those hoping for a meaty, innovative experience however need not bother as the game wastes much of its potential on rehashed gameplay systems, an unsatisfyingly thin story, and a noticeable lack of long-term appeal.
Though it nails some of the fundamentals, The Order: 1886 has been released without answering the essential question of what it offers that other games aren't already doing better.
It's amazing the mileage The Order gets from its incredible presentation and world, but that goodwill is squandered by a title that's middling to poor in most other areas.
Though impressive in some ways, The Order: 1886 fails miserably in its most important goal of keeping the player entertained for any significant length of time.
After almost two years of anticipation and endless hype, The Order: 1886 introduces itself with the bravado of a dead fish. With a premise interesting at surface level, enormous backing from Sony and technically incredible visuals, The Order seems like it would be a sure-fire hit.
The Order: 1886 shows just how good games can look on the PlayStation 4, but it's not an example of how fun or satisfying they can be.
The Order: 1886 is a boring collection of game cliches that betrays its fascinating premise.
Worthy in its (assumed) intent, and visually spellbinding, The Order's archaic, player-detached approaches to interaction and narrative make it a dated and instantly forgettable experience.
Overall, I don't think you'll be missing out if you didn't experience The Order 1886. Weighing up the pros and cons results in a heavy tip towards the cons, and with that I would say save your money for something else. There was so much potential surrounding The Order, yet it hasn't lived up to the expectations. On a positive note, there is the scope for a sequel, or prequel that if it can utilize the good aspects of this effort, and incorporate some fun, then maybe we'll have reason to feel excited about visiting this world another time.
The Order: 1886 is a paper-thin PS4 launch title delivered 15 months behind schedule. It's nowhere near as profound or innovative as it thinks it is—the epitome of all style and no substance.
The Order: 1886 unfortunately feels like that ho-hum action-adventure game that accompanies a console's first-year launch. This PS4 exclusive is by far the most stunning visually of the bunch, but is that enough for players starved for something new and original for their console?
A playable third-person shooter with a laughably short campaign, pretty visuals and no substance.
The Angry Joe Show
4 / 10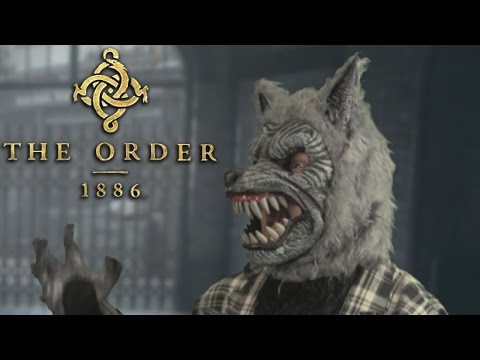 To sum it up, The Order: 1886 is best described as a vertical slice of gameplay. It shows off a lot of features but very few of them come together in a manner that's deemed as cohesive. Throw in the short gameplay length and the wasted potential of its setting, and you have a game that you should squarely avoid. Sony's exclusives are usually of high standard. This is not one of them.
Regardless of quantity concerns (which is a valid complaint), where The Order more crucially falls apart is in regards to quality. It does not matter if a game is one or one hundred hours long, you need to enjoy playing it, and The Order fails at that most crucial of tasks. This is unforgivable, and instantly makes it impossible to recommend.
The Order: 1886 isn't a terrible game by any stretch of the imagination; it's just a massive disappointment that failed to break new ground. It's a shame because you can tell that a great deal of effort went into building this alternate version of 19th century London, and boy is it gorgeous.
I have little doubt that Sir Galahad will join a pantheon of iconic PlayStation heroes that includes Crash Bandicoot, Kratos and many others. But it's going to take at least one more adventure, and a damned good one at that, before many gamers look back on The Order: 1886 with any sort of fondness.
Beneath the technical wonder this is just a dull, aimless Gears Of War clone – where the attempts at storytelling are just as boring and lifeless as the action.
The game is our best example that we can play a movie. The fact that the movie in question is a leaden, unimaginative waste is almost incidental.
The Order: 1886 is a dull, plodding experience that's beautiful to behold but spends too little time giving players a reason to stick around.