Percentile Rank
Invisible Inc. is ranked in the 90th percentile of games scored on OpenCritic.
Rating Summary
Based on 40 critic reviews
OpenCritic Rating
Based on 40 critic reviews
Score Distribution
Unscored Reviews
TotalBiscuit, The Cynical Brit
Unscored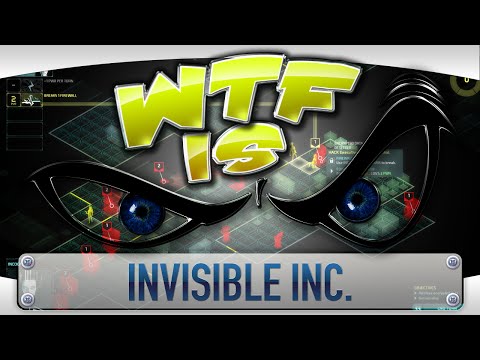 And once the final mission's done there's a scamper up the difficulty levels, alongside endless, custom and time attack modes, the latter of which works a bit like speed chess, but with people getting whacked over the head. In truth, while pleasant, this is a covering of the bases that Invisible, Inc doesn't really need. Much like the lives of one of its secret agents, this is a game defined by short, sharp thrills. It's so filled with purpose that is has no need to outstay its welcome.
Rock, Paper, Shotgun
Unscored
It's extremely rare to come across a game in which all of the details of that design intertwine so effectively. And then you realise it lets you redefine a lot of the parameters individually instead of having monolithic difficulty levels and, wow.
Scored Reviews
The turn-based stealth gameplay is empowering, but fraught and fleeting each time you dive deeper into one of the world's least architecturally sensible corporate buildings, rooms budding off rooms, some empty, some dangerous, all necessary. It's a fight to stay equally matched with your enemies and make it to the end. Things can and will go wrong. Sometimes life-saving maneuvering just delays an impending, inevitable loss as you bring the full weight of the guard down on your head. And it's almost always your own damn fault, which is why you'll try again.
Invisible Inc. has a ton of deceivingly complex interactions hidden behind its glossy exterior, and although it lets you take your time when it comes to plotting, due to its turn-based nature, it's always reminding you that you're running against the clock.
This is a tense, engaging, and cerebral strategy experience that sets a new bar for the genre.
Brutally unforgiving but impeccably designed, Invisible, Inc. brings espionage and roguelike elements together in a package that's equal parts cruel and beautiful.
The steep challenge of Invisible, Inc. Console Edition is certainly not for everyone. However, for those up for the challenge, Klei Entertainment's latest effort is a thrilling and excellently crafted adventure set in the world of futuristic espionage.
This game's turn-based stealth mechanics are perfect in every way, unforgiving and challenging. However, it's sad to see a game almost nailing it due to the roguelike campaign, which feels lazy and incomplete.
Invisible Inc. flawlessly fuses the stealth-based badassery of Splinter Cell with the tactical depth and ever present potential for catastrophic failure of the XCOM series. A beautiful Cyber-Noir turn-based espionage title that will leave you both frustrated and fulfilled.
Invisible, Inc. is a tense squad-based strategy game, simultaneously honouring and reinventing the genre with neat twists and smart design. While the main campaign is short, it's rich enough to want to play again straight way, focusing on different types of missions, going after different upgrades, or trying to free new people to join the team. The only thing lacking, perhaps, is a multiplayer mode, which could have been a fun inclusion. Overall, this is a must-play game for TBS fans, or those that feel like they might enjoy a smartly made game of hacking and heists.
In a genre that's traditionally concerned more with open combat, Invisible, Inc.'s stealth focus is a revelation. Chock full of smart game design, you're gifted plenty of options in how you approach your mission, and despite having so many tools at your disposal, it remains satisfyingly challenging, without ever crossing over into being unfair. While the roguelike progression could potentially be a downside for some, the high level of customisation around the difficulty settings will swiftly rob you of this complaint. Simply put, if you have even a passing interest in turn-based strategy games, you shouldn't let this exceptional title sneak under your radar.
Invisible Inc. is smart and stylish, and delectable for fans of stealth or strategy.
PlayStation Universe
9 / 10.0
As overwhelmingly terrifying as it can be to learn, Invisible Inc just so happens to be a ridiculously compelling experience. The congregation of turn-based strategy, stealth and roguelike seems like an odd grouping, but my word, it works so very, very well.
New Game Network
86 / 100
Among the many buttons to be found in gamers' hearts, two very common ones are "Just One More Turn!" and "Don't Let Them See Me." Invisible Inc hits these buttons over and over again, right on the money, and putting triple-A titles to shame in the art of excellent stealth gameplay.
PlayStation LifeStyle
8.5 / 10.0
If you're in the mood for something that will really test your strategy-building chops, Invisible, Inc. Console Edition should be somewhere near the top of your wish list. It's a tantalizing combination of turn-based tactics and stealth, wrapped up in the shell of an unforgiving roguelike where every single decision matters. If that sounds way too intimidating, don't worry, you're in good company — but for the people that enjoy this kind of mind-bending challenge, this is a little slice of cold, cruel heaven that shouldn't be missed.
It might not be a game for players that aren't looking to be challenged, but Invisible, Inc. is a great stealth experience despite a couple of minor setbacks.
Invisible, Inc. is highly polished and hits all the right notes with nearly flawless mechanics, difficulty settings for everyone, and loads of replay value. The predictable story and lack of a fully voiced cast are the only glaring flaws in an otherwise excellent game.
Invisible Inc's randomized and repeatable sci-fi heists create one tough, risky tactical decision after another.
Invisible, Inc. is short, replayable, fun, and a very good experience that is completely worth it's miniscule price point. Time to start it up again and try my luck on expert with no rewinds… I'm so going to die.
Klei Entertainment's tactical stealth game 'Invisible, Inc.' is a daunting and punishing experience that's just as fun as it is hard - and it is very, very hard.
Invisible, Inc. takes the formula made famous by the likes of X-Com and makes a wonderfully tight experience that you will not help but love.
Engrossing tension between empowerment and disempowerment, greed and fear, across an eminently replayable system.
Invisible, Inc. is like a tense game of hide and seek, except the repercussions for being found are deadly
Invisible, Inc. is a wonderful turn-based stealth game that deftly balances simplicity with depth.
Invisible, Inc.: Console Edition is tough. Porting quirks aside, the missions can be quite difficult if you're careless in your strategy, and the randomization means that using brute force to make your way through the title isn't feasible even at the lowest difficulty level. That difficulty is also what makes the game fun, and a more defensive approach to turn-based strategy makes things interesting. The title has a very solid presentation and promises longevity due to randomization, so strategy fans will undoubtedly enjoy Invisible Inc.
The best turn-based tactics game since XCOM 2 and a fantastic spy adventure that has an appeal that goes well beyond just strategy fans.
The game's challenge might seem extreme at first, but it never feels cheap. It forces you to think out your strategy and carefully plan each move. Invisible Inc is a sort of paradox. You have to move carefully, but you're fighting the clock at the same time. It's immense pressure that is thrilling to play out.
Other than the small text issues Invisible Inc. really is an awesome tactical turn based strategy game. It offers so many ways to tailor the itself to your playstyle whether you are a novice to the genre or a hardcore player. It has plenty of content and even comes with the expansion on PS4 for even more value. Give this one a try for sure.
Geeks Under Grace
8 / 10.0
The experiential fusion of roguelike with stealth and strategy in Invisible, Inc. is as ambitious enough for gamers to overlook its hitches and enjoy this unique take on tactical strategy genre.
It's sublime when a plan comes together, but squirming out of a nasty mess takes a higher degree of patience and pressurized innovation. Anyone can play a map enough to have near-omniscience on a level's layout and just waltz through with nary an eyebrow raised. Invisible, Inc. doesn't deny you this experience at the beginner level, but it's more rewarding when played without a net (and it also allows you to customize challenges if you truly can't deal with an anxiety-inflating alarm, for example). Play spy and nimbly case the joint, then follow up as a hard-knocking crew left to bungle your best laid schemes and tango with the consequences.
Invisible, Inc. has the right tools and the right talent, but it's not quite the flawless caper it almost was.
Though it's by no means the perfect tactics title, there's something strangely fresh about Klei's combination of turn-based gameplay and stealth. While its artstyle creates a fair amount of clutter and its constant story seems ill-conceived, there's no denying that this brutally challenging title will entertain hardcore fans for numerous hours.
Despite its shortcomings, Invisible, Inc. offers a nerve-wracking campaign in which decisions and consequences truly matter.
Invisible, Inc. gave me a few moments of feeling brilliant when I actually did manage to complete a mission, but more often than not I was left frustrated by harsh rules and insane difficulty.
It's aesthetically crisp and ninja-smooth, but the game all but vanishes from one's mind even while playing it.
Slick, addictive, yet oddly unfulfilling, Invisible, Inc. is great for dipping into, as long as you aren't expecting deep gameplay or substantial narrative rewards.