And once the final mission's done there's a scamper up the difficulty levels, alongside endless, custom and time attack modes, the latter of which works a bit like speed chess, but with people getting whacked over the head. In truth, while pleasant, this is a covering of the bases that Invisible, Inc doesn't really need. Much like the lives of one of its secret agents, this is a game defined by short, sharp thrills. It's so filled with purpose that is has no need to outstay its welcome.
Engrossing tension between empowerment and disempowerment, greed and fear, across an eminently replayable system.
Invisible Inc's randomized and repeatable sci-fi heists create one tough, risky tactical decision after another.
The best turn-based tactics game since XCOM 2 and a fantastic spy adventure that has an appeal that goes well beyond just strategy fans.
Invisible, Inc. is like a tense game of hide and seek, except the repercussions for being found are deadly
Invisible, Inc. has the right tools and the right talent, but it's not quite the flawless caper it almost was.
Invisible, Inc. is a wonderful turn-based stealth game that deftly balances simplicity with depth.
The stealth genre, deconstructed and almost perfected.
Despite its shortcomings, Invisible, Inc. offers a nerve-wracking campaign in which decisions and consequences truly matter.
The turn-based stealth gameplay is empowering, but fraught and fleeting each time you dive deeper into one of the world's least architecturally sensible corporate buildings, rooms budding off rooms, some empty, some dangerous, all necessary. It's a fight to stay equally matched with your enemies and make it to the end. Things can and will go wrong. Sometimes life-saving maneuvering just delays an impending, inevitable loss as you bring the full weight of the guard down on your head. And it's almost always your own damn fault, which is why you'll try again.
The game's challenge might seem extreme at first, but it never feels cheap. It forces you to think out your strategy and carefully plan each move. Invisible Inc is a sort of paradox. You have to move carefully, but you're fighting the clock at the same time. It's immense pressure that is thrilling to play out.
Invisible, Inc. gave me a few moments of feeling brilliant when I actually did manage to complete a mission, but more often than not I was left frustrated by harsh rules and insane difficulty.
Invisible Inc. is smart and stylish, and delectable for fans of stealth or strategy.
It's extremely rare to come across a game in which all of the details of that design intertwine so effectively. And then you realise it lets you redefine a lot of the parameters individually instead of having monolithic difficulty levels and, wow.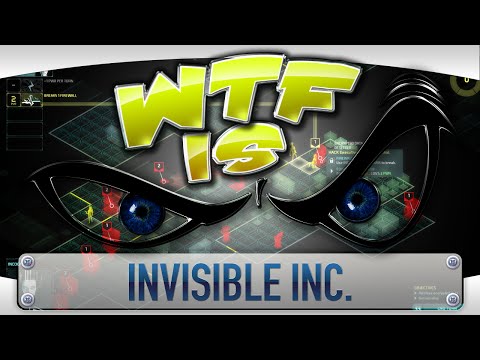 Klei Entertainment's tactical stealth game 'Invisible, Inc.' is a daunting and punishing experience that's just as fun as it is hard - and it is very, very hard.
This is a tense, engaging, and cerebral strategy experience that sets a new bar for the genre.
In a genre that's traditionally concerned more with open combat, Invisible, Inc.'s stealth focus is a revelation. Chock full of smart game design, you're gifted plenty of options in how you approach your mission, and despite having so many tools at your disposal, it remains satisfyingly challenging, without ever crossing over into being unfair. While the roguelike progression could potentially be a downside for some, the high level of customisation around the difficulty settings will swiftly rob you of this complaint. Simply put, if you have even a passing interest in turn-based strategy games, you shouldn't let this exceptional title sneak under your radar.
As overwhelmingly terrifying as it can be to learn, Invisible Inc just so happens to be a ridiculously compelling experience. The congregation of turn-based strategy, stealth and roguelike seems like an odd grouping, but my word, it works so very, very well.
The steep challenge of Invisible, Inc. Console Edition is certainly not for everyone. However, for those up for the challenge, Klei Entertainment's latest effort is a thrilling and excellently crafted adventure set in the world of futuristic espionage.