Percentile Rank
Mario Party 10 is ranked in the 28th percentile of games scored on OpenCritic.
Rating Summary
Based on 57 critic reviews
OpenCritic Rating
Based on 57 critic reviews
Score Distribution
Unscored Reviews
Eurogamer
No Recommendation / Blank
No Recommendation / Blank
Mar 15, 2015
Such is the nature of a game that's trying to offer something for everyone; invariably, there's never going to be quite enough of the stuff you like. And perhaps Mario Party's desire to be truly inclusive will always hold it back from being a classic. This is, at least, in the upper echelons of the series: a little short of the Hudson Soft heyday, maybe, but better than every entry since the fifth, and certainly superior to the anaemic eighth entry and the pointless handheld versions. Wii U owners already have deeper and more substantial multiplayer options, but few - if any - of them are quite so welcoming to all.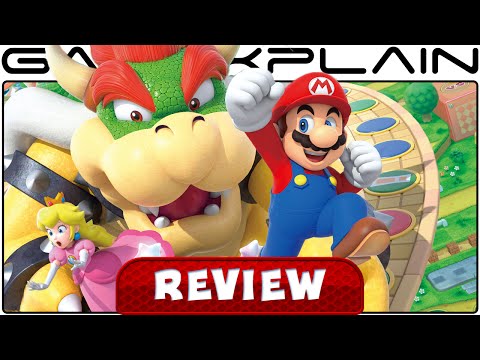 Scored Reviews
Cheat Code Central
4.3 / 5.0
Mario Party 10 does not drastically change the mold. It does not evolve things into unfamiliar territory, nor does it become some gaudy, hollow version of its former self. It's simply you everything you want it to be. I cannot rave enough about how important this simple approach is to the survival of Nintendo. Not just for this franchise, but the gaming industry as a whole. Mario Party 10 has reminded me of the purpose and importance of gaming with friends. These are the games that stand out in a field full of tortured heroes, fallen worlds, and apocalyptic destruction, and it is these games people are in desperate need of to get back to basics of gaming – having fun. It might not be that for everyone all the time, but if you ever find yourself on the brink of ending your gaming experience due to one reason or another, grab some friends and punish each other the old fashioned way with harmless fun. Mario Party 10 has that fun in spades, and will remind you why you are a gamer in the first place.
Reno Gazette-Journal
4 / 5.0
Overall, however, Mario Party 10 is a nice entry into the series that makes some nice additions as opposed to just a simple tweaking of the formula. Amiibo functionality adds something different to the mix while Bowser Mode feels like a new and welcome experience, especially when controlling Bowser. If you're looking for fun party game to play with friends and family and want to humor the inner troll within, Mario Party 10 is one bridge you'll want to cross.
Mario Party 10 expands on the ideas ND Cube had tinkered with in the last pair of games, refining the vehicle mechanic and crafting enjoyable, primarily skill-based mini-games to compete in. The inclusion of a more traditional-type mode using amiibo figures is a welcome one, and perhaps something that will be fleshed out further in the future. Lack of online aside, the game is a worthy addition to the Wii U line-up and a game-night roster. Just be sure to stock up on those amiibo!
Mario Party 10 still offers the same fun and random time that the series is known for. However, it isn't looking to fix any of the previous flaws of the series. If you want more of the same, with a cool new mode thrown in then definitely check this out.
The reality is that Mario Party 10 isn't a classic game, and it certainly does have any meat or lasting value to it beyond being the most casual of party games that you pop out for a quick bash once in a while. But that Amiibo integration is pure gold, and short of Square Enix following up on the Wii's Fortune Street (or Boom Street, depending on where you live), this will be the best digital board game released on the Wii U during its life.
Post Arcade (National Post)
8 / 10.0
The new Bowser Party mode puts one player in the role of Mario's shelled nemesis chasing four other players. He's an evil cheater, and he makes the game
It's strange to say, but they've changed the game too much and made it too much based on fate for any semblance of strategy to make a difference. Sure, changing things up in the series once in a while is all fine and good, but when you take it too far, you may lose sight of what you were trying to accomplish in the first place.
Mario Party 10 is a game that needs to be played with friends and family which is far superior than the AI. The gameplay is very reminiscent of previous Mario Party games but there are a few twists and turns from Nintendo such as the inclusion of the amiibo and full HD graphics that does give the franchise a fresh coat of paint.
Although Mario Party 10 may not be the best one of the bunch, it still features a large assortment of enjoyable games layered with plenty of fan-pleasing experiences.
Geeks Under Grace
7.5 / 10.0
Despite a few flaws, this is the essential party game for your Wii U.
Despite new technology, Mario Party 10 remains true to its roots. New modes add some flair, but odd design choices limit the overall fun.
Digital Chumps
7.2 / 10.0
Mario Party 10 is pretty to look at and it has some interesting modes (like the Bowser mode) to play, but the overall amount of content is a tad bit on the shallow side. The way that player management and competition is handled falls short of Mario Party expectations.
If you've bonded with the series before then it's a small concession to make. However, for first timers, Mario Party 10 isn't the immediate smash hit you may be expecting off the back of Super Mario 3D World and Mario Kart 8. Bringing the game to Wii U has meant a facelift and some nice new bells and whistles to fiddle around with. However, Mario Party 10 is much like the latest iteration of an established board game: although it may look different, love them or hate them, the rules are still very much the same.
The game looks great, of course, with an aesthetic right in line with Super Mario World 3D. And everything is polished enough, functional. It just isn't quite enough game to justify the sticker-price, and certainly isn't for anyone hoping to play solo. I don't say this as someone who yearns longingly for the days of Mario Party yore, but rather as someon who comes to the series pretty fresh, and is still left wanting more.
While it doesn't do much to satisfy adult players, Mario Party 10 isn't really meant to. It aims to be a chaotic, haphazard mess targeted toward kids, and it succeeds on that front in large part because Bowser Mode rewards them for being a complete jerk to everyone else. It definitely could use some fine-tuning, however, even bearing its unrepentant commitment to insanity in mind. Amiibo integration is haphazard at best, and the board game metagame breaks down the same way real board games do. Reasonably fun, and definitely more fun the younger you are.
While Nintendo could definitely have done more in terms of the new features it's implemented and the level of unique content, the overall package is good, honest fun, and the standard Mario Party mode still has a lot to offer. It's a great starting place if you've never played a game in the series before - if you want a light-hearted game to enjoy with a group of friends, regardless of their skill level, you could do a lot worse than this.
As a total package, Mario Party 10 is still good—very good, even. But it's easy to see where development took a wrong turn, where resources were allocated to the wrong areas, and why the game's stronger points aren't as fully fleshed out as they could have been.
Mario Party 10 introduces some great new uses for the Wii U GamePad and makes smart use of the Amiibo figurines, but unfortunately its main mode is still bogged down with bad ideas from Mario Party 9. If you ignore the main mode and explore everything else the game has to offer there is definitely fun to be had here, but it doesn't live up to the series' colorful, deceptively deep gameplay history.
The game's main game doesn't add a whole lot from Mario Party 9, but the addition of the fantastic Bowser and amiibo party modes makes up for that.
For many families, Mario Party 10 will be an essential addition, and is wholly recommended- for everyone else, hold on tight. Mario Party 10 is indicative of Nintendo getting the series back on track, but it's not there yet. The next one should be a return to the glory days.
There isn't much in Mario Party 10 to justify an upgrade over previous Mario Party games, but what's there is still just as enjoyable as before and Bowser Party ensures that at least one of your friends will have a great time.
Going into Mario Party 10, you should expect to find the traditional board-game / mini-game setup, but prepare to ride that see-saw of over-zealous joy and almost unbearable frustration with the new ideas that the game introduces. Either way, Mario Party 10 creates a massive hype in the living room, for better or worse, and that to me is always a winner.
In this way, Mario Party 10 is the purest embodiment of an actual board game yet seen in the series. The effort may be lost on long-time fans who play a videogame version for a reason. But there is something to playing on a screen while still feeling the weight of a toy between your fingers. Maybe this is why my poor Monopoly Iron failed to move the hearts of many: It was lighter than all the rest. With computers the size of business cards and a world's information floating in something called the cloud, we crave tangible objects. Or maybe, taken over by the spirit of competitive bloodlust, it's just more fun to hurl Luigi across the room at your buddy for stealing all of your coins. Either way: Choose carefully. Mario Party just got real.
Mario Party 10 can be fun, but it can also be downright insufferable
After 17 years, Mario Party 10 needs more than GamePad antics and amiibo support to keep the party going.
In the end, if you have siblings or friends who you could play against, Mario Party 10 can end up being a roaring good time for a while. By yourself, however, I would recommend either skipping it altogether or at least know you are dipping into a more minimal title.
NintendoWorldReport
6.5 / 10.0
If you're looking for a Mario Party game to play, you're likely better off trying to find Mario Party 9, as that 2012 release features more boards and mini-games than Mario Party 10. The Wii U debut of the series is a big disappointment, with little reason to throw too many celebratory Mario parties to play it.
Mario Party 10 is a packed game. With three main game modes, tons of mini-games, and Amiibo support there's lots to do. Unfortunately Nintendo chose to continue to dumb the game down to an uninteresting board-fest broken up by only a couple of mini-games.
Mario Party is good at creating an excuse for jovial arguments and competition with friends, but it continues to favor random chance over identifiable mechanics and tactics
Mario Party 10 is fun at times, but the experience is often dampened by its reliance on luck. The game may have a few redeeming qualities, but its strong random element and lack of compelling minigames makes this installment feel like a step back rather than the gameplay revamp that the series needs.
While there are some moments to be had with Mario Party 10's minigames, it doesn't have the depth or the challenge to hold your attention for long.
Nintendo Enthusiast
6 / 10.0
Mario Party 10 isn't a bad game, but it's not a great game that it should have been for the anniversary of the series.
Mario Party 10 has an admirable bundle of minigames and sidegames, but the lack of interesting boards and half-measure amiibo Party mode hurt the overall package. There is simply not enough meat on the core game modes, seemingly in favor of adding in a hodgepodge of concepts that are isolated from one another. It's time to give up the vehicle concept, Nd Cube, as it inherently limits the sprawling nature of the maps we once played for years on end.
Mario Party 10 is fun with friends. Running around a field with water balloons is also fun with friends. Watching two squirrels run up a tree is also fun with friends. Out of those three, I wouldn't take Mario Party 10 first.
Despite its flaws, it's hard not to have fun with Mario Party 10 in small doses. Obnoxious amiibo functionality and an overall lack of variety make it hard to recommend to anyone who's not already a fan of the franchise, but those who enjoy a bit of Mushroom Kingdom chaos with friends might just find reason enough to give it a shot.
Whilst it has made some key improvements, Mario Party 10 still doesn't feel like that much of a significant step up from its predecessors, notably because of its inconsistent GamePad support. Nevertheless, it's still a fantastic title, which will no doubt provide a pleasant alternative to the stuffy board games that it draws inspiration from. If you're in the mood for an enjoyable party game then Mario Party 10 is definitely worth a roll of the dice.
'Mario Party 10' attempts to bring together a mix of old and new ideas in order to carve out a renewed identity for itself, encountering just as many stumbles as successes.
Just make sure your Wii Remotes have those rubber cushion thingies on them before you play. Less chance of someone getting "accidentally" injured.
Mario Party 10 ends up feeling like an effort to streamline the series in the hopes to appeal to a wider audience. While Mario Party 10 is still a great party game and fun to play with friends,the fun is short lived due to small boards and a lack of any customization. The mini-games and boss fights are a lot of fun, and some of the bonus modes are a nice distraction, but those don't hold up the game on their own.
Amiibo Party is a welcome step back towards the franchise's more enjoyable past, but the main modes aren't proper board games – they're just plain boring.
Mario Party 10 tightens and polishes the series' mini-game shenanigans and introduces new game modes, for better and for worse.
The Mario Party series has always been something of an acquired taste, despite the incredibly popularity of its lead character and the obvious potential for entertaining social play, and Mario Party 10 isn't likely to change that anytime soon. There are glimmers of true brilliance thanks to the superb Bowser Party mode, but even this is too limited to have a lasting impact - the same can be said for the incredibly disappointing amiibo mode.
Mario Party has enough entertainment in it to still be a fun game to grab a couple buddies and play with, but given the choice, I'd easily pick older iterations over this title. The fact that you can go whole segments without even touching a mini-game and the hollow offerings of amiibo mode make this game a pretty big party pooper.
New Game Network
50 / 100
Mario Party 10 is a plumber bash at its most average, and that's a real shame as there still seems to be legs in the idea, if properly handled. As it is, though, you're probably better off rooting out one of the classics.
A lack of content and a failure to properly execute on some of the new ideas had me longing for the days when Mario Party games would result in brawls in my living room.
When any video-game franchise, mainstream or niche, breaks into the double digits, developers should recognize the unique milestone as an opportunity to revamp the series, especially if the latest entry is making its debut on the mother company's latest home console. Sadly, Mario Party 10 suggests the series has reached a downward-trending low.
ND Cube repeats some of Mario Party 9's winning formula, but loses focus in trying to incorporate the GamePad and amiibo figures. Ultimately, it's more snake than ladder.
Mario Party 10 feels a lot more like a lazily produced cash cow than a game that was made with pride and consumer respect.
If you appreciated the streamlined vehicle approach introduced in Mario Party 9, and have yet to bored silly by mini-games you'll probably enjoy the vast amount of content that on offer here. It's hard, however, to shake the feeling that we've seen, and played this all too many times before.
Mario Party 10 strips so much of what I loved about past games and fills those voids with hoops to jump through to get that same satisfaction. . . . I am not sure if the MP franchise is an internal joke at Nintendo, but it feels like they have been trying to slowly destroy my memories of it for almost two decades.
Mario Party 10 feels like waiting in a line that never moves forward. It's completely possible to go through an entire match as a passive observer and still win first place. Occasional mini-games spice things up but their appearance is far too rare. Don't RSVP to this party.
When playing a good skill-based minigame it can be a blast, but these moments are far too fleeting. It's a fun game to stick on when you've got company round from time to time, but don't overdo it or it won't be long before people stop accepting your party invites.