Percentile Rank
Forza Motorsport 6 is ranked in the 97th percentile of games scored on OpenCritic.
Rating Summary
Based on 68 critic reviews
OpenCritic Rating
Based on 68 critic reviews
Score Distribution
Unscored Reviews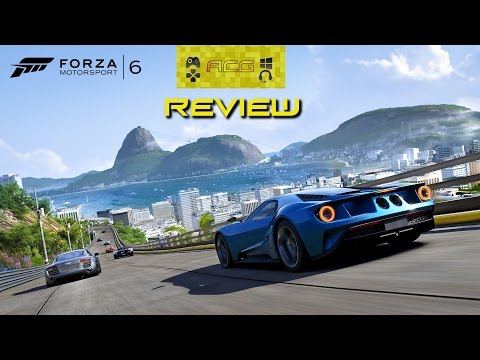 One of the most corporate games ever, Forza 6 nonetheless brings great advances like Showcases and League racing to its solid formula.
It's essentially like the previous Forzas but with more stuff and slightly tweaked handling. I like it a lot, apart from the trees which are absolutely awful. But yeah, if you like yourself some simulation Forza, Forza 6 is the Forza for you. Forza.
If you were among those that felt that Forza 5 was a small step in the wrong direction for the series, Forza 6 seems like the perfect apology letter to its dedicated fans. Everything about it, from presentation to gameplay is refined to maximize fun, and eliminate grind. If you own an Xbox One, considering yourself lucky to be able to play, what is easily the best racing simulator on the market.
If you like fast cars — any kind of fast cars — then Forza Motorsport 6 is where you need to be.
Scored Reviews
Forza Motorsport 6 is a terrific game. It misses a few minor beats, with yet another career mode that throws you straight in there, and good god the serious attitude of the game is sickening at best. But this is one of the best driving simulations out there: it's the game launch title Forza 5 really should have been. We're a bit spoiled for choice in great driving games this console generation, and Forza 6 screeches in and finds itself a place at the head of the table with consummate ease.
The Forza franchise is a prime example of a franchise that not only builds upon its strengths, but also learns and adapts from it weaknesses. Whilst Motorsport 5 served as a stepping stone onto current generation hardware, Forza Motorsport 6 excels and takes what the franchise has learned to form a racing game that is not only full of content, but also challenging and incredibly addicting. Building upon the foundations laid before it and applying a fresh new layer of features and visual effects, Forza Motorsport 6 might be a serious contender for 2015's racing game of the year, if not the prime contender.
As technically polished and fully-featured as any racing game out there, Forza Motorsport 6 transports you to an incredibly realistic racing world where there's a huge breadth of choice in terms of cars, tracks and types of driving experience. Pretty much whatever you're in the mood for, Forza Motorsport 6 has you covered.
Forza Motorsport 6 is beautiful, meticulous, dramatic and generous. It is arguably a faultless piece of driving software, and on top of that, Turn 10 have definitively proven that the Xbox One is an exceptionally capable machine when in the right hands. Serious racing fans owe it to themselves to experience Forza 6, while franchise stalwarts may find that this is the next generation Forza they were waiting for.
Rectify Gaming
9.5 / 10.0
Forza Motorsport 6 is the most realistic and true to life, dynamic racing game I've ever played
I found myself racing for hours, racking up credits, ferociously buying new cars to add to my garage, and cursing at my friend's Drivatars. Forza 6 is the new king of simulation racing.
Forza Motorsport 6 is a welcome shot in the arm for the series. Easily the best entry the franchise has produced, Forza 6 introduces tons of new online and offline gameplay that should make players want to stay in the driver's seat for as long as possible this fall.
Forza Motorsport 6 is easily the best game in the series that really makes the most of its next-gen architecture that in turn gives the player one of the most realistic driving experiences to date with some beautiful graphics and matching audio. If you want one of the most immersive racing experiences of 2015 then you really should check out Forza 6 on the Xbox One.
Turn 10's latest game leaks love for cars and car culture from every pixel. The studio didn't manage to make the Xbox One shine as much as it could with Forza 5, but with this sixth chapter, Microsoft's console is as bright as a star.
Once again Turn 10 Proves that they are the Best in Simulation Racing Game. with is Massive amount of Cars and Track to Race, Forza Motorsport 6 is the Best Racing game of this Generation.
Review in Persian | Read full review
A spectacular package that meets the high expectations of race driver wannabe's the world over. If snow and sleet were added to it, it'd be perfect.
Finally this is the Forza game that Xbox One owners have been waiting for, find it why in our review!
An amazingly fun racing sim that can be fine-tuned to be challenging for both the beginner and the seasoned racing veteran. It's fun, addictive and also strikingly gorgeous.
Turn 10 haven't raised the bar with this release - because they've already put it as high as it needs to be.
I really tried to find something I wouldn't like with this game but I couldn't. At this point in time Forza Motorsport 6 is the definitive sim/circuit racing experience that is accessible to all levels of racers on the current generation of consoles.
Forza Motorsport 6 is a game that should be a Day One purchase, and on every kid's holiday list. It should be celebrated by its leaps forward in the racing simulator genre and its attention to realism and physics. It should be yours.
With 21 authentic tracks to choose from and over 450 cars to unlock, Forza 6 has knocked it out of the park to provide gamers with an amazing experience from start to finish. Whether with the xbox controller or a steering wheel, there's so much to enjoy that you'll forget just how much time you put in.
A few niggles stop this being a 10, but Forza Motorsport 6 is a damn fine package and excels where it counts.
Forza Motorsport 6 sets a new bar in terms of visuals for a console racer. A more player-friendly progression system in single player and new online components compliment the massive track and car list.
Packed with content, modes and customizability, Forza Motorsport 6 is a grand evolution of a decade's worth of racing under the Microsoft banner.
It's fitting that the 2017 Ford GT was chosen as the feature car for Forza Motorsport 6 as both of them are refined, beautiful, and stand out among a sea of competitors. Forza has always been great, and with this release it's better than ever.
Forza Motorsport 6 boasts some of the finest racing you can find on console. Easily worth the upgrade from Forza 5.
Great new chapter of the Forza Motorsport game series. The sixth game carries all the good from the fifth addition and adds many vehicles and tracks, a great driving model and realistic vehicle behavior on the wet roads.
Review in Czech | Read full review
Say hello to Forza 6, this generation's finest racer. Turn 10's racer certainly has the looks, but it's the raw speed and intuitive handling that make the occasionally over-long races thrilling from start to finish.
With many series with more than a few sequels, keeping the interest of anyone outside the core supporters becomes tough, particularly with those that have an annual or biannual release schedule. Some have been able to stave off obscurity and keep their profits high, like Call of Duty, but these are the rarer case studies. Relevance becomes an even bigger issue with genres that depict experiences with an abundance of monotony, like sports titles. "Simulation" tuned racing games are of a similar conundrum. One one hand, the need to stay fresh and increase creativity to warrant a new AAA purchase price is side-by-side with the obligation to car enthusiasts that expect a good amount of realism. Off-the-wall driving antics and resplendent gameplay garnish that work for the likes of Need for Speed and Burnout don't have a place among Gran Turismo and Project CARS. Forza Motorsport has traditionally been closer to the latter contemporaries. The Horizon subset is afforded a little more slapdash, but such "arcade" caveats don't have a place in Forza proper. With this the 6th entry to the main thread, it wouldn't be a surprise if the proceedings felt dated and rehashed. Fortunately, the series avoided that fate this holiday. Game modes display a good amount of variety and offer diversions when the Career grind gets too tiresome. Jumping into a Showcase Event or online tilt after a tough series of single player contests is a great way to stay engaged for hours and hours. Changes made to rain and night races are the shining jewels of this iteration and are "must play" experiences for hardcore racing gamers. And the graphics package corrects the little oddities from Forza 5, creating some of the most pleasing visuals I've yet seen on the Xbox One. With one of the most anticipated software holiday seasons in recent memory upon us, making "$60 a pop" purchasing decisions will be very tough. Deciding if a vanilla racing game is worth one of those tokens is ultimately up to the consumer. What I can say is within that relatively narrow definition, Forza 6 does about everything necessary to fulfill the niche to a high degree.
Forza Motorsport 6 is, without a doubt, the best simulation racing game ever made. Not only is it chock full of content, but it's also fine-tuned to near perfection and an absolute blast to play.
The best Forza Motorsport so far and arguably the best driving simulator on consoles, with stunning visuals and a mountain of highly compelling content.
Forza Motorsport 6 is a love letter to racing fans that greatly makes up for the shortcomings of the last installment in the series. There are more tracks, racing styles, and vehicles than ever before, complemented by a robust single player campaign. These features join an already stunningly beautiful graphics engine and their already state-of-the-art multiplayer and community tools.
Forza Motorsport 6 marks the tenth anniversary of the premier Xbox driving sim, and it's perhaps the best game in the series thus far.
With improvements in literally every area, Forza Motorsport 6 positions itself as the absolute best racer on the market. There are a few oil leaks, but when compared to the upgrades, they are easier to ignore. Come for the incredible racing and showcases, stay for the best rain physics in any game, ever.
Forza Motorsport 6 is what I always wanted a next-gen driving game to be. It offers beautiful visuals, a wide variety of options, and uses real-world physics to dictate how vehicles perform. I could easily see myself playing Forza 6 for several months, or even years. I've never experienced a driving game with this level of polish, and it's unlikely anything will unseat it in the near future.
Fans of racing, casual or otherwise need to check out Turn 10's latest creation. It is by far one of the highlights for the system this fall.
We're getting to the point where denying the greatness of the Forza franchise is borderline ridiculous. The saddest part about Forza Motorsport 6 is that it will likely be brushed away by critics and gamers alike as a fantastic racing game rather than a fantastic game in general.
Cheat Code Central
4.5 / 5.0
Forza Motorsport 6 is the game everyone was hoping to have when they purchased their Xbox One the day it released. It took an extra two years for Turn 10 Studios to deliver the right product, but boy did they deliver. It is by far the most content-rich racing simulation game ever created, with enough vehicles, modes, and progression incentives for fans of the genre to lose hundreds of hours with.
Microsoft and Turn10 have done a wonderful job putting together another Forza game that is near flawless from an artistic and technical viewpoint.
Reno Gazette-Journal
4.5 / 5.0
Overall, however, Forza 6 represents a return to form for Turn 10's racing series. The addition of a large number of tracks and cars, as well as night and wet racing greatly enhances the Forza experience. The absence of aggressive microtransactions also removes a distraction that poisoned some of the goodwill players had in the last game. If you're a fan of the Forza series or racing games in general, this is one ride you'll want to hop into.
If you do need to buy any cars for an event, buying them from an event entry screen automatically tunes them up to the required performance level. Whilst some may like this streamlining, I found it detracted from the game
Forza Motorsport 6 is all about making things right after Forza Motorsport 5 was disappointment to many fans. The use of popular features in Forza Horizon 2 to make Forza 6 feel fresh was a great idea that also finally gave us the much wanted rain/night tracks that we've asked for many year. Although limited it's still great to have it. I feel like Forza 6 is taking the right steps towards bringing the Motorsport series back to the glory days of the Xbox 360, and with Forza 6 it's almost surpassing those days.
Forza Motorsport 6 ist das aktuell beste Rennspiel dank der großartigen Neuerungen im technischen Bereich und den doch deutlichen Verbesserungen in der Strecken+Fahrzeug Auswahl. Das fragwürdige Belohnungssystem und der schwache Soundtrack, verschlechtern zwar das Gesamtbild, aber sonst leistet sich der Titel nur wenig Schnitzer und hält seinen Platz an der Spitze der Rennsimulationen.
Review in German | Read full review
Forza Motorsport 6 isn't for everyone and the chances are that you will know in advance if this is the type of game that you would like to try. For those of you that have even the slightest interest in cars or racing, you'll be treated to some of the finest, most immersive racing action that you can find short of doing the real thing. With a wide choice of assists and difficulties available, it's ideal for both newcomers and hardcore racing fans alike.There are certainly improvements that Turn 10 could make, such as dynamic time of day and weather and a less linear career mode that allowed access to better cars earlier. However, they are very minor annoyances that can be easily overlooked due to the quality of everything else that the game has to offer. With stunningly detailed visuals, sound and physics to match, a huge roster of cars to drive, and new wet and night races that add another dimension to the gameplay, this is a bigger and better Forza than we have ever seen before. Forza Motorsport 6 is a masterpiece of a racing simulator that really has to be experienced to be believed.
'Forza Motorsport 6' is much more evolutionary than it is revolutionary, but it is nevertheless a significant upgrade over 'Forza 5.' Key features, like the Drivatar system, can't be found outside of the franchise, and the stealth feature that looks to have serious legs is the addition of Leagues. 'Forza 6' is more serious, deeper, and more demanding than 'Forza Horizon 2,' but I expect many players will embrace both games while others are polarized. The Stories of Motorsport career mode is a welcome change, but still feels in need of a more major shake-up. Even so, the look and feel of racing in 'Forza 6' in dry or wet, offline or online, makes the game a crown jewel offering for the Xbox One platform, and it's a game that feels teeming with content.
Barring a few technical concerns, there's absolutely no reason Xbox One owners have to not purchase Forza Motorsport 6. It's brimming with content and gives you oodles of control to tailor the experience to your skill level and preference. You might not be a fan of racing games but Forza Motorsport 6 does an admirable job of trying to change that.
Forza Motorsport 6 is the most beautiful, advanced and biggest game Turn 10 Studios have built to-date. Featuring 460 Forzavista cars with fully-detailed cockpits, 26 beautifully-created destinations and new ideas such as Stories of Motorsport, Leagues, Mods and more, Forza Motorsport 6 delivers on value to the player. There's hours of content here for the player to explore and people will fit into the Forza community in different ways.
Forza Motorsport 6 maintains the series' strong handling, robust features, and its ability to bring together players of varied skill levels. There are improvements in virtually every area, but even with additions like night and weather, it doesn't really feel like there's a standout change to push the series forward. It seems like most of the effort this time around went into getting Forza back on track.
If you can accept the fact that some Drivatars are going to be weird, and some cars will take a heaping amount of time to unlock, Forza Motorsport 6 is an awesome ride that you'll return to often. In fact, it's likely to keep you busy until the next Forza ride – potentially 7 – makes its arrival.
When it comes right down to it, Forza Motorsport 6 is a big improvement over Forza 5 and a must-have for driving simulation fans. Winning races here is all about precision and timing. If you want to showboat, stick with Forza Horizon 2. If you prefer pure skill over splashy moves, Forza 6 is your game.
Simply a better game than Forza 5 and with a lot more content to boot, Forza Motorsport 6 is an endlessly playable racer that deserves a spot in your Xbox One collection. Go get it.
New Game Network
85 / 100
Forza Motorsport 6 marks the true arrival of the franchise on the Xbox One. From an overabundance of content to great gameplay, the bar has once again been set for simulation racing on consoles.
Operation Sports
8.5 / 10.0
If ever a racing title was considered a must-have for your gaming rotation, Forza 6 is it.
Post Arcade (National Post)
8 / 10.0
Turn 10's latest racer is a bit bolder than Forza 5, but still doesn't constitute a turning point for the aging sim category
When it comes down to it, Forza Motorsport 6 offers more than any other version in the past. The game is extremely fun, and feels like the way to go if people wanted to start getting serious about simulators. The game certainly has simulation aspects, but falls behind when comparing to Project Cars or Gran Turismo. Forza 6 is certainly a visual accomplishment on the Xbox One, but the consistency with the sense of speed sets it a tad back. The game offers a lot of different and productive things to do and it rewards you with perks to keep you coming back for more.
With competition from the likes of Driveclub and Project Cars, the franchise isn't quite the benchmark it once was, but it's damn good to see Turn 10 back on track with such impressive flair.
Some of the off-track functionality in Forza Motorsport 6 is sometimes surprisingly lazily implemented but you'll tend to forget that when you're in a battle with the elements, trying to shave a tenth of a second off your laptime in your newly-tuned favourite racer, or simply gawking at the outstanding visuals. Time ebbs away when you're playing. "One more race" becomes "one more series" and then you just pop online to have a quick League race, then you just have to take on a rival's laptime real quick…and soon it's 5am and you realise exactly how much game you get for your buck. Warts and all, this is well worth the investment.
Any petrolhead should buy Forza 6 without a second thought - they will get some serious enjoyment out of it - and even those who don't know their Sierra Cosworths from their Huracans should give it a try. The racing can be as easy or difficult as you like, but however you tweak the settings the fun will always shine through.
As merely the second installment for the Xbox One, Forza Motorsport 6 not only keeps up with the high bar set by Forza 5, it capitalizes on that foundation of quality.
With the loss of some of its personality, Forza Motorsport 6 sometimes feels like a little less than the sum of many much improved parts, and there are certain quality-of-life changes that feel increasingly overdue. But these are only distractions, bumps in the road that make Forza feel "just" great when looked at from a distance.
New tracks and cars give you plenty to play with, but the re-styled career mode still doesn't provide sufficient motivation
Forza continues to be part of Microsoft's dwindling core of exclusives and while fun, it's beginning to lose its grip as sequels blend together.
This is a true showcase for Xbox One in every area except the racing. Inconsistent difficulty, random payouts and way too many dull events seriously spoil the party.
The latest in Turn 10's driving series is terrific on the track but outdated off it.
Forza 6 comes close to the finish line, but long load times, sluggish racing, and frustrating design decisions betray its gorgeous 1080p/60fps visuals.