Percentile Rank
Hitman - Episode 1: Paris is ranked in the 66th percentile of games scored on OpenCritic.
Rating Summary
Based on 86 critic reviews
OpenCritic Rating
Based on 86 critic reviews
Score Distribution
Unscored Reviews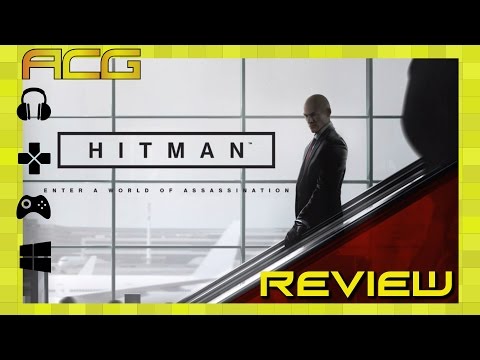 Hitman rediscovers its agency in this strong start for IO's episodic series.
All things considered, Hitman isn't a bad game. It's just overly repetitive, lacks true planning of objectives, and doesn't make sense as an episodic game.
IO's built the bones of a fantastic Hitman game—certainly the best since Blood Money (though that bar is practically nonexistent) and possibly one of the best in the whole series. Skip it for now if you're just looking to one-and-done each level, but if you were hoping for a sandbox experience? You've got one.
The first episode of Hitman is a very strong start, and it's a return to form for a series that some were worried had begun to wander.
Playing the first episode of Hitman brought back fond memories of unique kills from previous titles, with the grander and more compelling scale of the game adding tons of replayability. I don't doubt there will be those left frustrated with the game's short length, but its focus on great gameplay is where Hitman truly shines. Even though you only feel like you've dipped your toes in the water, the first instalment of Hitman leaves a lot of promise for the rest of the series.
Considering how much fun I'm having just playing these handful of missions available in the first episode, I suspect this new approach will work well, if they can keep up the high quality in future episodes.
Rock, Paper, Shotgun
Unscored
[T]echnical issues aside, it's a relief to be playing a Hitman game that is built around the idea of social stealth. The execution may be flawed but it's aiming in the right direction and the disguise system, which now tips you off when a particularly canny NPC is able to look past your clothes and see the face of a stranger, is as good as it's ever been.
While we've generally strayed from reviewing individual episodes of games here at GameZone, Hitman's approach to the episodic format is quite different. Since there is very little story to tell, and rather a whole lot of experimental gameplay that rewards multiple playthroughs, Hitman gets a pass on this.
There has never been a better way to confront, or indulge, your inner assassin.
As a standalone package, Hitman's Intro Pack is more than worth the $15, and it is plenty to inform players if they are going to want more of it. The problem is that, again we are paying for a promise of content, as opposed to the actual content. I am sure IO Interactive will deliver the goods, but it is a weird time we live in.
Scored Reviews
Returning to the open approach of older titles, Hitman is the definitive title in the franchise, offering a colossal variety of approaches and methods. The unparalleled freedom and wide-open environments come together to define a fantastic game with a long life.
Hitman's debut in 2016 is a fantastic starting point for this franchise reboot. Shaking off the mis-step that was Absolution has clearly not been easy, but Io have managed to create a brilliant sandbox that will allow you to dispatch of your target using methods from dropping a chandelier on their head (Del Boy would be proud), to blowing them away with an AK47, to making them throw up thanks to rat poison and then drowning them in the toilet bowl. Despite a particularly odd subplot that has almost literally been taken directly from the script of Zoolander, this first section of Hitman is the start of something beautiful. If Io can keep this up with the rest of the missions, then they've got a special game on their hands. Who's up for a trip to Sapienza next month?
Hitman lives up to the legacy of the original games, and redeems the series from the lows of Hitman: Absolution by taking the series to new heights.
The new Hitman carefully mixes drama, comedy, action and a well-designed location to create a world that the player will enjoy discovering and a variety of systems that are great to interact with and even break, and we can only hope that the other coming missions deliver on the promise of this first episode.
A fantastic reboot that revitalizes an aging series wonderfully, the 'Hitman Intro Pack' is packed with personality, intelligence, and absolutely wonderful gameplay. This should easily satisfy series veterans and newcomers alike, and gives me a ton of hope for upcoming episodes. I can't wait to see where IO goes from here.
If you haven't yet entered the deadly world of Hitman, IO Interactive's newest installment makes for the most approachable take on the series yet. The amount of content may seem undersized for an episodic series, but the sheer amount of ways to approach each level will have you playing them over and over again to perfect the art of murder.
Square-Enix are off to an excellent start with the first episode of Hitman, the gameplay is challenging while remaining fun and creative. Occasional performance issues do little to spoil the experience, as the level of detail more than makes up for the framerate problems. The game is accessible to both hardcore fans and newcomers alike, allowing players to choose their own play style. Not only is baldy Hitman back, he's back in style.
While the buggy AI and server issues hurt the Hitman experience, it isn't enough to hamper the core gameplay, which is fantastic.
PlayStation LifeStyle
8.5 / 10.0
Io Interactive has taken a different approach to Hitman's release schedule, and if each mission is as fleshed out as what we've seen in Paris, then there is much for fans to be happy about. There's so many ways to take on this single mission, part of the fun will be seeing other players' creative ways that they assassinate the targets. If you've ever wanted to play the part of a super agent in a large sandbox, this is as good as it gets. With a fairly robust content creation engine, and future missions promised throughout the coming year, it looks like Hitman will be the weapon of choice of stealth gamers for the foreseeable future.
Digital Chumps
8.2 / 10.0
Hitman's improved world, which includes smarter NPCs and versatile ways to complete goals, has brought the series onto a higher level of entertainment. Definitely worth a go.
The new Hitman is a love note to all the hardcore fans out there, and I love that. It embraces the idea that we should try to maintain very distinct genres, that not everyone on the planet wants action and other genre elements to invade their beloved stealth category. Furthermore, it improves on just about every aspect of the standard hunt-and-kill concept, adding more depth and intricacy while streamlining the experience and upping the immersion.
Mechanically, the gameplay feels tight and I did not have any issues with the camera or sneaking around.
It's clear that a great deal of effort has gone into making the Paris map a living, breathing world for you to play around in. The mission itself feels absolutely brimming with nuance and possibility, although it's a shame the same cannot be said for the extra modes being offered to as a distraction until episode two comes out.
Whether or not you're a fan of the series, the game will have the piano wire around your neck before you know it.
Still, there's plenty here for a certain type of person to sink their teeth into, it just might not be a method of delivery that appeals to everyone. The only doubt could be that Io Interactive doesn't deliver this level of quality every month, at which point there's only patience separating you from the retail release in 2017. Should Io maintain these heady heights though, then this will be a stellar return to form for Agent 47.
Level Down Games
80 / 100
Hitman: Episode 1 – Paris is a brilliant reintroduction to the world of Agent 47 and being a contracted killer. It's also the best feeling Hitman game to date, with the amount of possibilities present and the sense that the world is truly living. If Episodes 2, 3, and 4 (which as of present time are already available) are half as good as Episode 1 was, we're all in for an amazing experience.
Square-Enix and IO Interactive have certainly taken a gamble with Hitman, but so far it seems to paying off. With a low-price entry fee, there's enough included within the intro pack to last a good dozen hours or so, especially when you factor in user-generated contracts and other live game modes. There's certainly enough here to whet anyone's appetite, allowing IO to turn present future updates as mini-events, maintaining a constant buzz among fans throughout the year.
For $10 Hitman offers you a lot of quality content to go through. On the other hand for 60$ you will be left feeling bitter because of the lack of content currently. I'd say give it a go at the $10 price point and if you like it buy the season pass for the rest of the missions.
If the game's server issues are truly eradicated… and each of the upcoming episodes proves to be as good as Paris, then the full Hitman experience could prove to be essential
Buy it at the right time and you won't be disappointed, especially if you're a completionist. This is Hitman done right.
At the end of the day, Hitman's buzzword is freedom. There are so many things to do – and so many ways to do them – that you'll never have to persevere to find something fun to do. It's all in front of you: a bloody, disturbing playground rife with opportunity. The trial and error gameplay brings back memories of older Hitman titles, while new ideas such as the excellent Escalation mode keep things fresh. Simply put, the Intro Pack is a great buy for old fans and new blood alike – there aren't many stealth games of this calibre.
A strong start to the campaign, marred by some annoying technical issues.
The wait has been long for a new Hitman game, and good as it may be, this one's going to have you waiting even longer for the full experience.
What Hitman is now won't necessarily be what it is when the game's seven episodes have all been released, but a strong foundation is there. This game is the most authentic Hitman experience and it will ask you to become intimately familiar with each level. It is something that will test your patience, intelligence and skills, and when you put it all together will reward you greatly for it.
Destination one in Agent 47's now-episodic global travelogue shows IO Interactive know how to get Hitman back in fashion. A strong, stylish opening to the new game.
The first episode of Hitman is a solid starting point for the full game content, which is Contract-driven, with each environment focusing on a single mission with multiple objectives. This is a solid structure for the franchise, even if it's a little jarring to finish the first mission and realize you have to wait for the rest of what would have been released as a complete title.
Hitman's season premiere is a nice opening act that's centers around a luxurious world that feels authentic. If you can overlook the stagnant, often useless AI and enjoy the real fun of figuring out how to get to the kill, you'll have a great time.
After a decade of uncertainty for the Hitman series, and one sizeable misstep, Hitman 2016 is nothing short of a triumph in terms of being a course correction. Purely in terms of gameplay it is perhaps the best the series has ever been, so what will define this latest Hitman is how IOI handle the remaining episodes, and smooth out the glaring problems with server connectivity and load times.
Hitman has refined its gameplay, while having options that help newcomers, but should not upset existing fans, and as such, is a solid start that hopefully keeps getting better and upping the variety with each mission added.
We're only one episode in, but Hitman already excels as an episodic game.
Hitman: Episode One represents a magnificent return to form for the franchise
Square Enix and IO Interactive's new take on Hitman successfully blends the qualities that made the game famous with some modern innovations and remarkable detail.
Hitman is being released episode by episode, and I will reviewing each episode as they come out over the next months. Doing so, my overall rating for the game may change in the long run. I get the sense that IO Interactive is beginning to master the art of free-form assassination by providing players with the tools needed to devise a truly unique Hitman experience; thus creating depth in the shallows. One thing is certain: Hitman 2016 is fun and full of replay value.
Hitman's Intro Pack is a confident start to what I hope to be a fantastic season. With a fantastic Paris level showcasing how Hitman should be done, the game really takes you back to the roots of the franchise. I'm looking forward to playing the rest of the season, and seeing what else developer IO Interactive has to offer.
A strong start for Agent 47 that will have old-school fans in their element as they experiment with murder, although a few technical challenges still need to be taken out back and introduced to some piano wires around the throat.
Hitman manages to live up to its own reputation and may very well get even better as more content is rolled out. A fine stealth game.
Hitman returns to its puzzle-solving roots with an engrossing mix of stealth, violence, and very clever level design.
If the rest of the episodes match the quality on offer in Hitman's Paris debut, this could end up being the definitive Hitman game, its first big level already cementing itself as one of our favourite Hitman missions of all time. We can't wait for our next hit.
PlayStation Universe
8 / 10.0
This first episode strikes a fine balance between accessibility and pleasing long term fans to make this the finest slice of Hitman since Blood Money. Some technical issues do sadly mar an otherwise superb start to Agent 47's latest.
A glorious return to form for Agent 47 and the Hitman series. Even the constant server issues can't stand in the way of just how rewarding the gameplay is and the multitudes of approaches to the mission.
One thing's for sure: The more I've played Hitman's debut "episode" the more I've enjoyed it. Despite the often boneheaded AI and dire loading times, Hitman has definitely combined the best of both worlds. There's scope for it to improve in some areas as the levels are released throughout the year but this is a fun, confident start.
Cheat Code Central
3.9 / 5.0
When you're playing and engaged, Hitman is a thoughtful, well-paced, and beautiful introduction to what should be an incredible multi-part adventure. It's hard to imagine how Square Enix and IO could possibly screw up something this good. If nothing else, for $15 The Prologue and Paris Showstopper missions are absolutely worth your time and money. The stages were so lovingly pieced together and offer you seemingly endless possibilities for creative, violent expression. Even after you execute every hit every way you possibly can, you can create your own contracts or take on those of your peers for an extra challenge. It's an incredible bang for the buck, and I can't wait to to head to Italy next month.
I'm still not entirely sold on the way Hitman is being sold, in an episodic package that will open up over the next few months. Regardless, the game is off to a great start thus far, despite minor glitches and drab conversations. Agent 47 continues to be a master of his killing skills, and the first stage of the game, along with the escalation mode and Contracts, really give you a better idea of what's ahead. This is one assassination you'll want to see through to the end.
Hitman hält bereits in der ersten Episode einiges für Fans der Serie bereit und bietet eine gekonnte Mischung aus einer riesigen Sandbox und deutlich verbesserten Gameplay gegenüber den bisherigen Ablegern der Serie. Der Umfang ist zwar nur bedingt zu empfehlen, da Story Spieler eher wenig aus den vielen Möglichkeiten machen können und der Titel hat auch seine Schwächen wenn es um Realismus und Einbindung von Spieler Entscheidungen geht, aber ansonsten bleibt nur noch abzuwarten, was die nächsten Missionen für uns bereit halten werden.
Review in German | Read full review
Despite being a smart progression of Blood Money's ideas, Hitman feels unrefined and unfinished in lots of small but important ways.
Hitman tries an interesting balance of stuffing a lot into a little, but doesn't exactly pull it off with elegance. While levels are large sandboxes containing numerous death-fulfilling opportunities, they come with the extra baggage of lackluster technical performance. Without the option of going to different locations of an equal size, Hitman currently feels like a product that lacks in its offering once enemy patterns and building layouts have been memorized.
Hitman looks very promising so far even as an episodic release title, but the always-online DRM hampers it and may prove a serious black mark if it remains this unstable.
IGN Middle East
7.5 / 10.0
There is not much to say about the story for the Hitman Intro Pack, but it does leave the player at quite a cliffhanger. Impressive graphics and intuitive gameplay mechanics give this game a good replay value, but it boils down to if you would want to play the same mission over and over again before the next episode comes out.
Review in Arabic | Read full review
Stop, infiltrate, and listen. 47's back with a great new invention
Hitman is off to a good start, but the ridiculous load times and the always-online issues bring down an otherwise impressive entry in the Hitman series.
Overall, the Hitman reboot is something I expected for a stealth game. The franchise reboot installment went to a path of letting players experience what an ultimate assassin should be, it didn't disappoint, but with all the server issues plus the 90% to be always-online overthrows the long-term experience of what Io Interactive wants to give to its players. Until the servers are fixed and stable, it's the first impression that makes the game worth buying.
Hitman's pioneer episode does right by the Hitman name. Dozens of challenges and user-generated assassinations offer untold hours of replay value, even when the exotic sounds and sights of Paris lose their allure.
Playing by the rules can still be fun, and despite my misgivings I'm interested in seeing more Hitman in the coming months. Its lavish environments allow for enough outcomes and stories that I can't dismiss its decision to trade real freedom for bespoke scenarios out of hand. And most importantly, the illusion it offers of getting in and out without being seen and on your own terms lingers just long enough to be worthwhile. I'm just disappointed it was an illusion in the first place.
Hitman succeeds in providing an engaging experience that stays true to the sandbox formula established in previous games in the series. It encourages multiple playthroughs to complete secondary challenges and discover unique kill opportunities, and there's also community made missions to keep you occupied. Just keep in mind the offline experience is bare bones, the frame rate is inconsistent and there are some occasional bugs.
Plenty of promise, but this game is going to require some decent updates over the coming months.
It's understandable that the release of Hitman in episodes may cause concern as it's not something that the gaming community will likely want for its triple-A titles. Though, with this particular game, I consider it paramount that IO interactive get it right, especially after the disappointing Hitman: Absolution, which felt incomplete.
The HITMAN "Intro Pack" tries to squeeze out as much gameplay as it can from a limited amount of content. While it succeeds in doing so, it also has a tendency to become quite repetitive and long loading times have a tendency to hinder the experience. What it does do is create a solid foundation upon which the rest of the content can build.
Hitman is a mixed package. While its core mechanics are solid and brimming with potential, the insane load times and required online connection sour what could have been a proper return to the franchise roots.
All in all, Hitman is a very promising start to the reboot series. The visuals are good, the voice acting is excellent, and with the longevity promised in Contracts mode it should be a series that runs and runs. The issues with the AI can be addressed in future episodes, we hope, and if that happens then the game will certainly hit a higher score than we can give it this time. With five further episodes to come in 2016, the future's looking bright for our shiny-headed assassin.
After playing Hitman: Episode 1 - Paris, it's easy to reach the following conclusions. #1: instead of any new innovations and ideas, this new addition to the franchise just takes what made it great in the first place, and improves upon it. #2: although this is just the first step of many, it somehow feels that the complete package will be the best yet, and, #3: exactly because of this, IO Interactive must surely smooth out the many rough edges of its, otherwise, great product, especially the - currently - lukewarm plot, and, even more importantly, the many flaws of its online content.
The first episode of Hitman has a lot to offer creative assassins, but enjoying it requires you to look past an array of inconsistencies.
Stealing a staff uniform from the locker room, dropping your gun into a wastebasket so you can let a guard frisk you before he lets you into the room of a Sheik, then knocking the Shiek out, stealing his clothes, and infiltrating a high-society sale of state secrets so you can tamper with an outdoor heater and let a woman blow herself up when she goes to grab a smoke. That's Hitman's highs.
Geeks Under Grace
6.7 / 10.0
Hitman (2016) does well in immersing the player in a world where you must think and act like Agent 47 should. The meat of the game is found when returning to the location and discovering the many options there is to subdue the targets. While perfect for hardcore gamers and completionists, its long load times is the one thing holding it back.
The Game Fanatics
6.7 / 10.0
Yeah, Hitman is back with a more stealth-balanced system, but this being an episodic experience seems to have IO Interactive stuck now without a real story or reason for players to come back. Still, there is fun to be had in the various killing approaches and Agent 47's slightly different approach to acquiring said opportunities.
Post Arcade (National Post)
6.5 / 10.0
Based solely on the over-before-you-know-it first installment, Io Interactive's decision to segment its latest assassin adventure appears ill conceived
The Hitman Intro Pack is satisfying to play, there just isn't enough of it. This ought to be rectified by the second episode next month, and by then its servers should be stable as well.
Many believed Hitman would fail as an episodic release. As it turns out, a single massive map full of opportunity more than makes up for the staggered release schedule. Still, it stumbles with unexpected online requirements for a single player game and other technical issues.
Hitman Intro Pack will cost you $15, with each upcoming location carrying the retail price of $10. Time will tell if this is a good business model. However, from what we can tell at the moment, a majority of users aren't quite happy with having yet another triple-A game that's chopped up and essentially being delivered one bit at a time.
At its core, Hitman is a worthy entry in a series that's been consistent. However it's hamstrung by way one glaring problem. The game's need to push you online and punish you for playing without an Internet connection is appalling. Coupled with frequent server disconnections, there's no way we can recommend Hitman at this point in time. Hopefully IO Interactive and Square Enix get the message from the slew of negative customer reviews on Steam and public forums and fix things. Until then though, you're better off waiting.
IO Interactive has setup something potentially more impressive for future releases, with gameplay we've come to love and a taste of what feels like infinite possibilities spread throughout a single scenario.
There's only so much fun you can get out of playing the same level over and over again