Percentile Rank
Kingdom Hearts III is ranked in the 94th percentile of games scored on OpenCritic.
Rating Summary
Based on 108 critic reviews
OpenCritic Rating
Based on 108 critic reviews
Score Distribution
Unscored Reviews
Good news: it's not the worst game ever made. Not by a long shot. It just has a lot of baggage.
Eurogamer
No Recommendation / Blank
No Recommendation / Blank
Jan 29, 2019
Overwrought, unsatisfying storytelling takes the shine off a gorgeous and ambitious finale.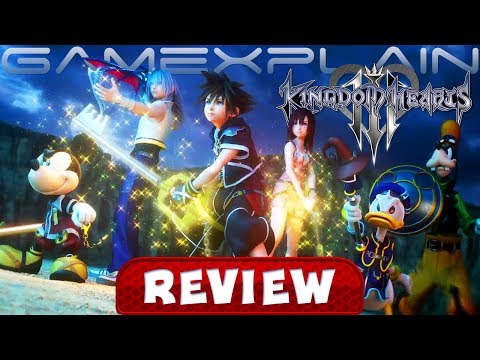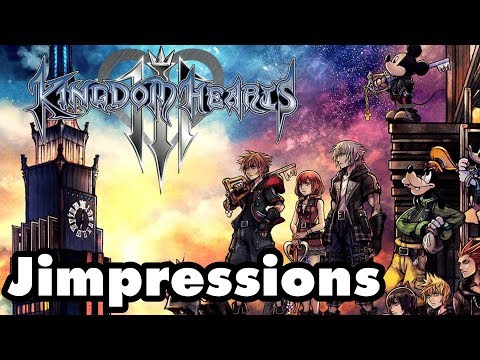 Fans of the series will continue to fall in love with this recent installment. Kingdom Hearts 3 plays similarly as its predecessors, while bringing new elements to the gameplay that make it feel fresh.
Scored Reviews
As much a love letter to the fans as it is a brilliant blend of the best from previous games in the series.
PlayStation LifeStyle
10 / 10.0
I had my doubts about this game, as I already mentioned. I never once thought there was a way Square Enix could live up to the hype the company has built up for this game. But bravo, it has done it and then some. The developer has refined and perfected the combat. It kept its silliness in tact. It kept in the darker themes and deep moments of self-reflection that we all need every once in awhile. It's, quite frankly, the best Kingdom Hearts game Square Enix has ever created.
Kingdom Hearts III is an experience that's been worth waiting for, with this entry serving as one of the series' finest moments. Although the tangled storyline and horde of characters may be unapproachable to newcomers, the colourful, mind-boggling variation of the weapons and attacks in your arsenal is a truly dazzling spectacle, and undeniably fun for the duration of this 30-40 hour long epic. For long-time fans, this is a grand send off that completes the current story, with a particularly memorable finale that gives those fans exactly what they've been waiting for. With a killer soundtrack and an amazing array of enemies and worlds to boot, this could be 2019's first must-play hit.
Battle through some of Disney/Pixars best known worlds as you try and save the universe from the Heartless!
Kingdom Hearts 3 is epic, bold and ambitious. It's a brilliant conclusion to the saga. Kingdom Hearts 3 isn't only the best game in the series but the best Square Enix game since Final Fantasy XII.
Kingdom Hearts 3 is a fantastic title that is a great addition to the Kingdom Hearts franchise and is truly a game for everyone.
Great voice acting, fluid combat, fantastic graphics, and all the little details that are easy to miss make Kingdom Hearts III the crowning jewel of the series, and one every single fan should experience.
The Games Machine
9.5 / 10.0
Kingdom Hearts 3 succeeds in the difficult task of being up to the expectations, without shaking up its foundations but improving on the strenghts of the previous chapters. Spectacular in the artistic direction, exhilarating in the fights and fulfilling on the narrative side, to be fully appreciated Kingdom Hearts 3 requires however that its public is aware of the intricate background of the saga. After waiting for so many years, recommending the last adventure of Sora, Donald and Goofy would only be a negligible formality.
Review in Italian | Read full review
This is it, the epic, emotional and satisfying conclusion to one of gaming most beloved series. Kingdom Hearts III is everything we could had hoped for (and even more), but it's biggest achievement is that, even by today's standards, it's a one of a kind experience that can only be described using one word: magic.
Review in Spanish | Read full review
In short, Kingdom Hearts 3 is a memorable story driven masterpiece that, despite its flaws, delivers a fun story-driven action RPG into one neat little package.
Square Enix has a habit of developing highly anticipated titles for decades, with Final Fantasy XV and Kingdom Hearts III taking 10+ years to complete. Like Noctis' adventure, Sora's venture was worth the wait. Providing an epic journey through diverse worlds with amazing boss battles, Kingdom Hearts III rarely stumbles in its 40-hour journey. The long cutscenes and the lock-on system can become frustrating but these are minor issues for this masterpiece. Kingdom Hearts III may have taken over 14 years to release but it was well worth the wait.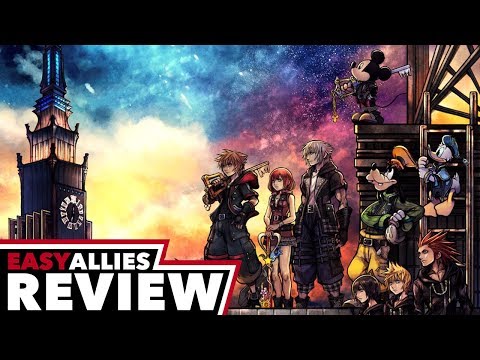 Level Down Games
9.5 / 10.0
Kingdom Hearts 3 is a technical marvel and was well worth the wait fans of the franchise have been complaining about. Thirteen years is indeed a long time, but things are starting to feel like we're back on track and maybe, just maybe, it won't be that long again until we see another mainline entry in the franchise.
With higher stakes, Kingdom Hearts III is a lot of spectacle in the best way possible. It isn't afraid to go big, but it also doesn't forget what made fans fall in love in the first place
Kingdom Hearts III is a visual spectacle that presents playable versions of the various Disney worlds in a way that has never been attempted by a video game. It has a convoluted story that might confuse newcomers but once you dig deeper into it, there is a surprising amount of depth underneath it backed by a refreshing combat system.
Kingdom Hearts 3 is probably the best game in the Kingdom Hearts franchise. Each of the Disney worlds in this game is very well implemented both graphically and gameplay-wise. There are a lot of gameplay mechanics that makes the game interesting and exciting until the very end and this comes with gorgeous and beautiful graphics. There are few problems in the game that are not very important. One of these problems is that maybe the newcomers to the series will have problems understanding the story in the first few hours. The other one is the game is maybe not very challenging for Hardcore gamers. Anyway, If you have good memories with Disney Animation and Films or you're a fan of the Kingdom Heart Franchise, then you absolutely should buy Kingdom Hearts 3.
Review in Persian | Read full review
Square Enix are masters at world-building and it really shows in Kingdom Hearts 3. It's a truly epic game and well worth your time. Especially if you're already a fan.
It's an unerring tribute to everything Disney and what the Kingdom Hearts series has become, and despite its few flaws creates an interesting blueprint for where the series could go next with gameplay and story.
The game is filled with moments you're going to want to talk to family, friends, and random people on the internet about for months and years to come. It's a truly shared experience.
The wait for KH3 was very long, but believe me when I tell you that it was really worth it.
Kingdom Hearts III is a dazzling display from Square Enix; the best game in the universe, and among the best from the legendary studio.
After seventeen years, the Dark Seeker saga finally comes to its emotional conclusion.
Kingdom Hearts III plays up to the series' strengths, leaving one hell of a closer for fans.
For all the new in Kingdom Hearts 3, there is plenty of the old too. The action combat is more satisfying than it's ever been, even if it's a tad easy to skate through the main storyline. For longtime fans of the series, all those emotional payoffs that have been building for 17 years await. For newcomers, buckle up: because you're in for a wild ride of bonkers Disney interactions and some exciting boss battles.
Kingdom Hearts III takes the series to astonishing new heights. With exhilarating combat, fantastic Disney worlds and a smart approach to an unavoidably convoluted story, it does everything it needs to not only please hardcore fans but anyone up for a solid action JRPG. Against all odds, this might be the perfect Kingdom Hearts game.
Fans have been waiting a long, long time for Kingdom Hearts III and the wait was worth it. Smoother movement and combat, better graphics and large worlds for players to explore feel great, while the story finally ties up many many loose threads that the various prequels, sidequels, alsoquels and the like have added to this spiderweb.
Kingdom Hearts III is an absolute triumph, conquering the darkness that plagued the series' past and standing firmly in the light. It's not just a great Kingdom Hearts game, it may very well be a game that gets revisited in December.
The prospect of Disney parks and reality are two very different things. No-one thinks about the crowded places, the huge bills, or the huge waiting times. They think about the Disney magic. Kingdom Hearts is very much the same. There are some negative elements, paramount of which is the utterly incomprehensible story and the repetitive gameplay. However, like the parks, all those negative elements are soon forgotten when experiencing the game. Each of the Disney worlds completely captures the magic of the movies, plucking the heartstrings and embracing the nostalgia. This is exactly what fans of the series wanted and, best of all, somehow, someway, all the crazy plot threads are dragged together, kicking and screaming, into an utterly satisfying conclusion. The prospect of Kingdom Hearts III being the end of the road is a sad one. Sora's tale may be over, but there are so many other Disney worlds left to explore. The world needs a Moana level with Mau'i helping to take on a huge Tamatoa boss. Wreck it Ralph deserved its own levels, as did The Incredibles, and so many more. Here's hoping, one day, Kingdom Hearts will return.
Kingdom Hearts 3 is a well-crafted title that has something for everyone. With a collection of fun Disney adventures and fun gameplay, this is the finest entry the series has seen in recent memory.
All in all, Kingdom Hearts 3 is already one of the best games for me personally in 2019. Because of the childhood memories, the staging, the fun fights and the great mix of epic square fantasy and the winking Disney style
Visually stunning, Kingdom Hearts III it's all about being cool while delivering us the best conclusion for a long-time series.
Review in Italian | Read full review
Kingdom Hearts 3 delivers the conclusion to the story started nearly 20 years ago in extraordinary ways. It has the best gameplay of the series, wraps up all the storylines and still finds room for some surprises.
All-in-all, fourteen-year-old me and modern twenty-seven-year-old me are pretty happy with Kingdom Hearts 3. It's a JRPG cover band of Disney's greatest hits from the past 30 years and doubles down on everything that gives the series its identity, from over-the-top combat to overly-complex plotlines that make little to no sense.
I loved my time with Kingdom Hearts 3, embracing its melodramatic storytelling, whimsical selection of worlds and enjoyable combat right until the very end.
The Disney side is still the best side of Kingdom Hearts, and Kingdom Hearts III nails that part. But even it's story, as ridiculous as it is, gives fans emotional moments and satisfaction. I wouldn't say it's better than Kingdom Hearts or Kingdom Hearts II, but Kingdom Hearts III is magical enough to resonate with this big Disney geek.
Kindom Hearts III is like a giant Disneyland Park. The game keeps its promises and will delight all the players who will buy it. He renews the combat system in a very good way, but has few minors flaw making the experience not totally sastisfying even if it's a very good trip. KH 3 is generous in its content, offers a nice conclusion and the fans will really enjoy the game. The newcomers could feel a little bit lost though, but this title is without any doubt one of the great games of the beginning of this year.
Kingdom Hearts 3 has been a long time coming, leading some fans to wonder if it would ever finally get there. The long wait proved to be well worth it though, with a satisfying ending they've been wanting for years, while also managing to setup the future of the franchise as well.
A true tribute to the fans of the saga, this episode traces the end of Sora's journey through the exploration of new worlds, more beautiful and vast than in the past, with a strong respect for the Disney worlds from which it is inspired. In short, Kingdom Hearts III is an imperfect work but overflowing with heart.
Review in French | Read full review
Kingdom Hearts 3 oozes Disney charm and magic both in and outside of combat.
Kingdom Hearts III is finally here, and the story of 7 guardians of light and 13 forces of darkness is now over. A story full of exciting, happy and sad moments that tries to show us that friendship is a force so strong that can defeat just anything.
Review in Persian | Read full review
The fact that Kingdom Hearts III even managed to release could be considered a miracle in of itself, but what's perhaps even more surprising is that the finished product defies all expectations. As an unforgettable experience, Kingdom Hearts III is exceptional, essential, and most of all, undeniably special.
Kingdom Hearts 3 delivers an amazingly fun and intense experience in a long-awaited title that lives up to the hype.
Kingdom Hearts 3 is not the grand finale as someone hoped for, but nevertheless it's the decent ending of the Xehanort saga. The game wraps up all the story lines in a really nice, even kind manner, but leaves a few bridges to the future of the series.
Review in Russian | Read full review
Kingdom Hearts III has the magic you are waiting for. Square Enix has achieved the best episode of the series. Sora, Donald and Goofy are now very fast and take you through a lot of endearing experiences and characters. His script continues to have problems but everything else is a memory that will stay forever.
Review in Spanish | Read full review
A great conclusion to a long running chapter brimming with imagination, variety and plain fun, but can't avoid being saddled with a convoluted and poorly-told story and occasional bouts of boredom. An uneven experience, albeit one that more than makes up for it with some of the best moments of this generation.
Review in Arabic | Read full review
The final chapter of Sora's story is full of surprises, but it absolutely delivers something that fans have been waiting years for and Square Enix certainly know how to bring a person to tears in a very beautiful way. But the studio has gone above and beyond by giving players so much more to do then just the core story, with a variety of extras to jump back in to. Kingdom Hearts 3 is a thoroughly enjoyable experience that you'll find yourself wanting to come back to for more.
Kingdom Hearts III is exactly the sequel it should be. Despite the absurdly long production time, it manages to hit all the right notes and feel like a satisfying and enjoyable conclusion to Square Enix's most confusing story. It's charming, it's funny, it's emotional, and it's a boatload of fun to play. It has its flaws, including a low difficulty level and a borderline incoherent story, but they're not enough to detract from the enjoyment of Sora's big adventure with Donald and Goofy.
PlayStation Galaxy
9 / 10.0
Overall, despite its flaws, Kingdom Hearts 3 is a definite must-have for any PS4 owner. It plays out great, it looks good, and it's fun. To most, that's all they're looking for.
The Outerhaven Productions
While it doesn't quite live up to the ridiculous levels of hype set out for it, "Kingdom Hearts 3" delivers satisfying resolutions to a long story. Most importantly, it's an incredibly fun game with a wide variety of activities to take part in and beautiful Disney worlds to explore.
Kingdom Hearts 3 was an unforgettable experience and as a long-time fan, it was everything I could've hoped for. Terrible story pacing aside, this is a special game and a fitting end to an over decade-old saga.
Fans of Kingdom Hearts will find an amazing conclusion to the series so far. Newcomers, meanwhile, will still find a fun game but may be confused by the plot.
Fans of the series have been waiting for this game for a long time, and Kingdom Hearts III will not disappoint them.
Without a doubt, Kingdom Hearts is a satisfactory chapter in one of the most beloved JRPG franchise. It has some problems that could have been ironed out, but it still a great and magical experience that can be enjoyed by fans and newcomers alike. It was worth the long wait.
Review in Spanish | Read full review
This is the purest vision of what Kingdom Hearts is all about: absolute joy.
Kingdom Hearts 3 is a fulfilling evolution and resolution of the franchise that shows it's still full of heart.
Kingdom Hearts III is a marvel of presentation filled with heart and charm, but might not quite be the dramatic finale that fans have waited half their lives to see come to a close.
Kingdom Hearts III offers a visual spectacle, an epic journey and a worthy conclusion to patient fans. Old-fashioned elements of the franchise that already feel dated, such as camera problems and an unbalanced pace in story, are still present. However, there is much to enjoy here, with great gameplay, some of the best Disney worlds to date and a lot of epic moments. Kingdom Hearts III may not be a perfect game, but it's a worthwhile journey for those who waited so long.
Review in Portuguese | Read full review
Kingdom Hearts 3 was a good game and an enjoyable experience, but it's not the best Kingdom Hearts game in the franchise. There is plenty of room for improvement, and hopefully we will see that room explored if KH3 ever gets a final mix release.
Fans of the series have nothing to fear here, and even newcomers can jump in and enjoy their time with it without having too much of a problem following the story, and even if the story is not your thing, the combat will keep action fans and RPG players entertained throughout. This is the best Kingdom Hearts game to date.
Reno Gazette-Journal
8.5 / 10.0
Kingdom Hearts 3 is no small world after all, featuring a ton of Disney characters and areas for you to connect with. Figuring out the story can be like wrapping your arms around a giant boulder festooned with tons of zippers. The floaty combat also can be a bit slippery to get an adequate handle on at times. It's stunning visuals, wonderful sound and epic grand scale, however, make this a magic carpet ride you'll want to get on board with, whether you're young or young at heart.
Kingdom Hearts III is a lot of things. One thing it definitely is not is a bad game. It's a solid entry to the series and can even bring about some strong emotions for those attached to the characters.
Kingdom Hearts III is a great action game that takes us to new worlds with proven gameplay. It extends the story and complements it with new factions
Review in Slovak | Read full review
The pulsating heart of the product is in fact also represented by the wanderings of the hero through the brilliant licenses Disney and Pixar, capable of supporting and embellishing a fresco so undoubtedly epic but also imperfect, wounded by the gears of time. If we add to the recipe a frenetic and engaging combat system, the final result, in which the two souls of the crossover are mixed, therefore takes on a pleasantly bittersweet flavor.
There's nothing quite like Kingdom Hearts. It's like the most elaborate fan fiction of the Disney universe – a digital walkthrough of the movies with a loosely connective narrative tissue that just doesn't matter much when all is said and done. If you embrace that it's all nonsense to serve you up a delightful nostalgic romp through some of the greatest and most beloved family films, you're not going to be disappointed.
It is the triumph of the whole saga, with a story woven meticulously from chapter to chapter
Kingdom Hearts III is a masterful game when it succeeds and a mediocre one when it simply doesn't.
Kingdom Hearts III might not be the best final entry possible (and knowing this series, a "Final" mix of the "final game" is easily an option), but I'll dearly miss Sora and his friends. Despite all of the absurd twists and turns, the character missteps and the complete lack of some series-defining cast members, there are very few creations out there that make me smile this often.
Kingdom Hearts 3 is as bizarre as it is brilliant, pulling together loving recreations of Disney and Pixar films into a strange action RPG package.
New Game Network
80 / 100
Kingdom Hearts III may not be the tour de force that fans have been craving for so many years, but it's brimming with beauty, variety, and setpieces that effectively utilize a fantastic combat system.
Kingdom Hearts 3's impenetrable lore doesn't stop the last chapter of Sora's story from being a fun frolic through beloved Disney worlds.
Still madder than a box of frogs, but its magical Disney charms make it worth the long wait
I've gotten some sense of closure after the credits rolled in Kingdom Hearts 3 and it wasn't quite what I wanted, but that doesn't make it unworthy of being experienced. It's hard to say this game was worth the long wait, as the story is still a mess, but Square-Enix showed some real love in crafting this experience. There's definitely some highs, and quite a few lows, but seeing this journey through is ultimately satisfying. And if you've been in it for the long haul, then you'll probably come away pleased.
Fans who have stuck with this series for a significant part of their lives will find a worthy conclusion that touches on each character equally and offers some satisfying closure.
Cheat Code Central
4 / 5.0
There is so much game here in Kingdom Hearts 3, and it's all coming from the mind of an auteur with far too much power. But if you dare to take that plunge, as much of an investment as it is, there is a great adventure to be had here. So much adventure. Probably too much.
I recommend the game even to newcomers, though at least a cursory knowledge of the events of prior titles is mandatory. It's a must-have for fans of the series, though I'm sure most of the die-hard Kingdom Hearts fanatics have already finished it by the time of this review.
PlayStation Universe
8 / 10.0
Kingdom Hearts 3 is a lot to take in, from the intricate narrative to all the nods to Disney. As a whole, the game has some shortcomings, but its charms and heart have something immersive enough for everyone.
Newcomers to the series will be baffled by the complexity and bizarre nature of Kingdom Hearts III's story. Despite this, if you like good combat and want to visit Disney World, you can do far worse than this title.
When the game is over, you're left with a strange feeling of completions and melancholy, and that should be proof enough that you've experienced something worthwhile.
Merlin'in Kazanı
80 / 100
Despite all of important missing features, Kingdom Hearts 3 is following the former games footsteps. If you like the JRPG genre and Disney movies, the game contains all the thing you like to see. But if you are not JRPG type of gamer, stay away as much as you can.
Review in Turkish | Read full review
Kingdom Hearts III is game with a beautiful visuals and incredible soundtrack that is designed for fans of a multi-volume series first and foremost. They finally got answers to many important questions. It will be difficult for other players to understand the plot without important explanations as story progresses.
Review in Russian | Read full review
Kingdom Hearts 3's addictive combat systems makes taking on waves of Heartless exciting and rewarding even for players who have no idea what is happening.
Kingdom Hearts 3 continues to inspire despite a lot of carelessly inserted new disney worlds and attractions. Even when the game doesn't hold up to the expectations after this long wait, fans will still get a worthy conclusion and the solid action-rpg gameplay is still good enough to hook up newcomers.
Review in German | Read full review
Kingdom Hearts III is the biggest, boldest, flashiest entry in the saga—one that builds upon the gameplay systems of its forebears in a kaleidoscopic carnival of action RPG jubilance.
Its been a long wait for Kingdom Hearts III, and now that it's finally here, I can say that it's a solid entry for the series, and definitely one that fans should check out.
Cultured Vultures
8 / 10.0
Despite its flaws, Kingdom Hearts 3 provides a more than fitting ending to Sora's chapter and its presentation will leave a lasting impression on long-time fans. With careful lessons learned from its past, Kingdom Hearts' future has never been so bright.
Kingdom Hearts 3 at its core is just good fun. It has a messy story to tie up but does a good job of it for the most part. Their are some pacing issues, but thankfully the combat is good enough to pull you through those moments. It's also one of the best looking things I've ever played and it's worth looking at if nothing else.
If a strong narrative is crucial to your action role-playing game experience, look elsewhere. However, if you can stomach Kingdom Hearts 3's poor story-telling, it's a slick, fantastic adventure featuring diverse worlds and stellar combat.
Kingdom Hearts 3 offers a fascinating adventure with some stunning optics that offer absolute fun when playing it but the plot is slow and does not live up to the level of noise the game has created.
Review in Arabic | Read full review
Oyungezer Online
7.8 / 10.0
It'snot a top quality game, but it doesn't have to be one to conquer the hearts of longtime fans. If you're new to the series, this is just a "good" game for you. But if you're an old fan, KH3 is "the" game you've been waiting for.
Review in Turkish | Read full review
Flickering Myth
7.5 / 10.0
Often as infuriating as it is entertaining, Kingdom Hearts III bolsters the series' trademark commitment to nonsense, both for better and for worse.
It still has the heart and Disney magic that I've come to love from the series. However, it also didn't mature in anyway alongside me. The combat while fluid and flashy feels like a downgrade from past games due to its lack of challenge, even on the hardest difficulty. Then the story has highs and lows. Some worlds were woven wonderfully into the plot. Others felt like an ad placement for their respective movies.
Kingdom Hearts III is a confusing and sometimes tiring fireworks display of ambition and passion. The charm and wholesome nature of the Disney worlds, the flashy and frenetic battles, the gargantuan scope and scale of it all, all of this works in its favor to be something really unique but there's a lot dragging it all down too.
Kingdom Hearts 3 offers a unique adventure which remains unrivalled by any other IP due to its crossover nature
Can any game live up to a decade of hype? Kingdom Hearts III tries, and its meticulously-recreated Disney worlds, jam-packed combat system, and wealth of minigames offer a ton for players to explore. However, the game's bizarre pacing, an abundance of cutscenes, and an unrewarding story may leave players more bewildered than satisfied by the end.
The final game in the series goes out with more of a whimper than a bang, but there's still plenty of heart, and the combat never fails to entertain. There're some wonderful visuals and plenty of Disney surprises, and although the story is a mess when it strays into the series' lore, it's still fun.
And even though its combat-heavy gameplay isn't quite enough in isolation, set against the rich backdrop that each of Kingdom Hearts 3's worlds provides, it will still somehow manage to draw me back in for a long time.
An easy 8, maybe even 9/10 for long time fans, but for most people points will be lost in the story department. It's never too late to catch up, but DO NOT start here!
Kingdom Hearts III is a product of a development hell. It has too many ideas, too many characters, and too many mistakes holding it back. It is a fun experience that I recommend just for how addictive and smooth the combat is. Kingdom Hearts III is a fun game, it just easily could have been a great one.
This mashup of animated film stars and Japanese action heroes has new characters to enrol, but beyond exciting theme-park action the connection between worlds feels superficial
A confused and confusing mess of terrible storytelling, simple action, and endless fan service that will delight existing players but baffle new ones.
The little that's good here isn't enough for one to shake off the faulty nature of the game's narrative and thematic machinery.
Kingdom Hearts III is a beautiful hunk of sugary writing, convoluted plotting, and repetitive combat that's reliance on beloved IP exposes it's shallow core.