Fans of the series will continue to fall in love with this recent installment. Kingdom Hearts 3 plays similarly as its predecessors, while bringing new elements to the gameplay that make it feel fresh.
Kingdom Hearts III is a product of a development hell. It has too many ideas, too many characters, and too many mistakes holding it back. It is a fun experience that I recommend just for how addictive and smooth the combat is. Kingdom Hearts III is a fun game, it just easily could have been a great one.
Kingdom Hearts 3 offers a unique adventure which remains unrivalled by any other IP due to its crossover nature
I've gotten some sense of closure after the credits rolled in Kingdom Hearts 3 and it wasn't quite what I wanted, but that doesn't make it unworthy of being experienced. It's hard to say this game was worth the long wait, as the story is still a mess, but Square-Enix showed some real love in crafting this experience. There's definitely some highs, and quite a few lows, but seeing this journey through is ultimately satisfying. And if you've been in it for the long haul, then you'll probably come away pleased.
Kingdom Hearts III is a great action game that takes us to new worlds with proven gameplay. It extends the story and complements it with new factions
Review in Slovak | Read full review
Kingdom Hearts III is a confusing and sometimes tiring fireworks display of ambition and passion. The charm and wholesome nature of the Disney worlds, the flashy and frenetic battles, the gargantuan scope and scale of it all, all of this works in its favor to be something really unique but there's a lot dragging it all down too.
Kingdom Hearts 3 is a technical marvel and was well worth the wait fans of the franchise have been complaining about. Thirteen years is indeed a long time, but things are starting to feel like we're back on track and maybe, just maybe, it won't be that long again until we see another mainline entry in the franchise.
The prospect of Disney parks and reality are two very different things. No-one thinks about the crowded places, the huge bills, or the huge waiting times. They think about the Disney magic. Kingdom Hearts is very much the same. There are some negative elements, paramount of which is the utterly incomprehensible story and the repetitive gameplay. However, like the parks, all those negative elements are soon forgotten when experiencing the game. Each of the Disney worlds completely captures the magic of the movies, plucking the heartstrings and embracing the nostalgia. This is exactly what fans of the series wanted and, best of all, somehow, someway, all the crazy plot threads are dragged together, kicking and screaming, into an utterly satisfying conclusion. The prospect of Kingdom Hearts III being the end of the road is a sad one. Sora's tale may be over, but there are so many other Disney worlds left to explore. The world needs a Moana level with Mau'i helping to take on a huge Tamatoa boss. Wreck it Ralph deserved its own levels, as did The Incredibles, and so many more. Here's hoping, one day, Kingdom Hearts will return.
No Recommendation / Blank
Jan 29, 2019
Overwrought, unsatisfying storytelling takes the shine off a gorgeous and ambitious finale.
Kingdom Hearts 3 is a fulfilling evolution and resolution of the franchise that shows it's still full of heart.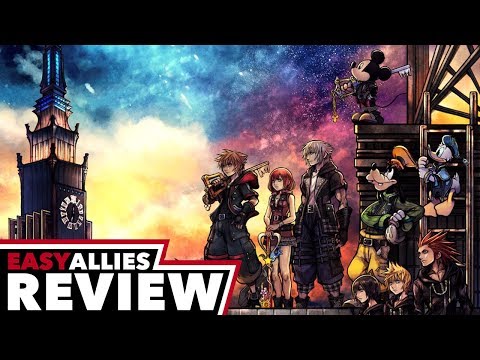 A confused and confusing mess of terrible storytelling, simple action, and endless fan service that will delight existing players but baffle new ones.
Still madder than a box of frogs, but its magical Disney charms make it worth the long wait
With higher stakes, Kingdom Hearts III is a lot of spectacle in the best way possible. It isn't afraid to go big, but it also doesn't forget what made fans fall in love in the first place
Kingdom Hearts 3's impenetrable lore doesn't stop the last chapter of Sora's story from being a fun frolic through beloved Disney worlds.
Kingdom Hearts 3 ends the series with a whimper
Good news: it's not the worst game ever made. Not by a long shot. It just has a lot of baggage.
For all the new in Kingdom Hearts 3, there is plenty of the old too. The action combat is more satisfying than it's ever been, even if it's a tad easy to skate through the main storyline. For longtime fans of the series, all those emotional payoffs that have been building for 17 years await. For newcomers, buckle up: because you're in for a wild ride of bonkers Disney interactions and some exciting boss battles.
The game is filled with moments you're going to want to talk to family, friends, and random people on the internet about for months and years to come. It's a truly shared experience.
Kingdom Hearts III might not be the best final entry possible (and knowing this series, a "Final" mix of the "final game" is easily an option), but I'll dearly miss Sora and his friends. Despite all of the absurd twists and turns, the character missteps and the complete lack of some series-defining cast members, there are very few creations out there that make me smile this often.