Percentile Rank
Attack on Titan is ranked in the 63rd percentile of games scored on OpenCritic.
Rating Summary
Based on 78 critic reviews
OpenCritic Rating
Based on 78 critic reviews
Score Distribution
Unscored Reviews
Omega Force and Koei Tecmo should be fully commended - I didn't think we would ever get a good Attack on Titan game, let alone a great one.
Eurogamer
No Recommendation / Blank
No Recommendation / Blank
Sep 5, 2016
Attack on Titan: Wings of Freedom isn't very deep, but its wonderful movement system and presentation make it exhilarating in short doses.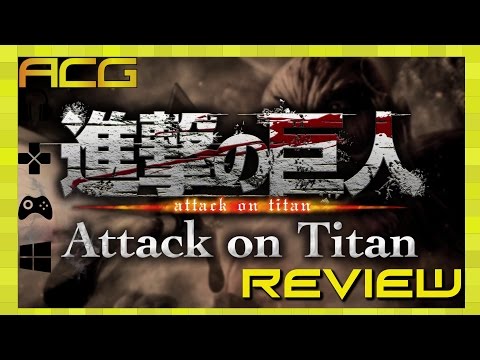 Scored Reviews
A.O.T: Wings of Freedom (it isn't named Attack on Titan for trademark issues within the UK, like the 3DS game before it) is a near-perfect way of bringing the series to consoles, and is by far one of the best licensed games I've played.
Chalgyr's Game Room
9 / 10.0
Attack on Titan surprised me. I am more used to licensed properties, especially those in the anime world, being sub-par at best. Shingeki no Kyojin destroyed that expectation, stomped it into oblivion, then chewed on the remains. Serious, intense, fast, and incredibly challenging at times, Attack on Titan really shines when you are swinging from one side of a map to the other in the hopes of rescuing a comrade in distress. Though the Epilogue introduces a horrible looking and frankly dumb new titan, it still provides some good after-action, well, action.
Attack on Titan: Wings of Freedom impressively captures the finesse and chaos that the anime conveys. With its Spiderman-like grappling system and simple combat, the game should be a welcome addition to fans of the series and gamers alike.
Omega Force has created something really special here. Between the presentation that perfectly captures the soul of the Attack on Titan anime and the action that immerses players into every scene, this is a definite home run.
Attack on Titan is an impressive feat, nailing the movement of the anime and that satisfying feeling that you get when taking down a titan is captured almost perfectly. There's a few minor flaws here, but for fans of the series, you're hardly going to notice.
Attack on Titan is a unique experience for me. It's a great game based on a boring series and because Omega Force was able to make me care about Attack on Titan, I'm going to have to score it appropriately.
Attack on Titan is as high-flying and fun as the anime it's based on.
Pure Playstation
8.9 / 10.0
"If you don't get hooked on the gameplay, you may find the game repetitious in the latter stages, but by then you'll have gotten your money's worth regardless. Ask yourself one question before passing this game up; will I ever have another chance to bloodily slice limbs off of grotesque naked men (without doing serious jail time)?"
Attack on Titan is an excelent game and the best one published by Koei Tecmo. Its gameplay mechanics are perfect, as well as its design. This game is a must-buy for the fans of the manga/anime.
Review in Spanish | Read full review
Attack on Titan is an excellent take on the beloved anime. It is fast-paced, looks great and offers a ton of online and offline content for you to enjoy. While the game does struggle a bit on PlayStation Vita as it forces it to its limits, the PlayStation 4 runs smoothly without a hitch. We both had a great time playing the game for our Attack on Titan review, and we hope to read what you thought of the game once you get a chance to play it!
Omega Force have packed a solid title: the game that all fans of Attack on Titan deserved. Despite a tricky control scheme, the game shows a very solid and fun gameplay.
Review in Italian | Read full review
Cheat Code Central
4.2 / 5.0
There is no question why Attack on Titan is garnering such acclaim in many different media forms. It has an interesting cast, a gripping narrative, and is shrouded with questions that just beg to be answered. The gameplay, while repetitive, is enjoyable nonetheless. If you have even a shred of interest in the series, immersing yourself in this video game will satisfy your craving to be a part of story from start to finish.
Attack on Titan offers players an incredible amount of content. With numerous game modes, an intriguing story, unique gameplay, interesting characters, and a plethora of side quests/objectives, Attack on Titan is loaded with well over 70 hours of gameplay (and that's probably on the low end of estimates).
Keep in mind that even though you're not battling "one million troops" at once, Attack on Titan still sticks to tried-and-true Omega Force sensibilities. It has light RPG elements, but it's still a hack-and-slash, and those of you who aren't down with Warriors games will probably get bored after several hours.
PlayStation LifeStyle
8 / 10.0
Attack on Titan is an excellent example of a passion project made right. It's not a simple cash grab, but created with care for fans of the franchise and newcomers alike. It captures the precise feelings I get watching the anime without sacrificing anything for the interactive or visual experience, from the terror of the Titans to the rush of zipping through the air inches away from certain death. While it could have had a more robust RPG system and and a much cleaner HUD, these aren't big enough issues to detract from the titan amount of fun that Attack on Titan is, each and every nape I cut.
If you are a fan of the Attack On Titan series then this should be a no-brainer, get it and enjoy it. If you don't know the series but enjoy fast paced high intensity action, pick it up and have a good time. Attack On Titan impressed me multiple times and is just plain fun.
Wings of Freedom erzählt die Story des Animes vorlagentreu nach und fängt mit seinem Kampfsystem, der 3D-Grafik und der treibenden Musik die Atmosphäre prima ein - häufige Kameraprobleme und Eintönigkeit trüben die Freude jedoch etwas.
Review in German | Read full review
Attack on Titan has, arguably, the best possible flaw: a desire for more of it! With some fast-paced and outright enjoyable fighting, the game is an outright joy. The story won't hold much surprise for fans, but, at the same time, it's still a good one. The question really isn't so much 'Is it enjoyable?' but 'Is it long enough to justify a purchase?' Sadly, the answer isn't clear enough of a yes, but almost everything else is very solid and well-made.
'Attack on Titan' focuses on a single idea and nails it absolutely perfectly. The game runs the risk of feeling repetitive at times, but it smartly mitigates that by injecting enough variety into each mission and playable character. While the game isn't without its flaws, at its best, it's an extremely exciting action game with some of the greatest movement mechanics I've ever seen. 'Attack on Titan' is both perfect for series' fans and a terrific game in its own right, and absolutely shouldn't be ignored.
With Attack on Titan, Omega Force has managed to craft a wonderfully exhilarating game full of action and suspense that closely follows the source material. It's leaps and bounds above their Dynasty Warriors franchise. I feel very empowered whenever I play the game, and undertaking missions in online co-op takes it to a whole new level. Spoiler alert: Yes, you do get to play as a Titan!
Attack on Titan is a game that is mainly built for fans of the anime and manga. It manages to capture the look and feel of the series with its execution, even though it is not perfect. At its core, the game is a fun hack and slash experience that should not be missed by the fans.
In spite of the flaws, Attack on Titan is a great way to introduce people to Omega Force (that is, if they didn't play the excellent Hyrule Warriors) and hopefully it'll introduce more people to Dynasty Warriors as well.
Attack on Titan: Wings of Freedom is absolutely superb and is all the fans could have hoped for—and more. Exhilarating and addictive, it manages to do justice to the source material and deliver moments fans will adore. A must-buy for any fans of the series and even worth picking up for newbies, too.
A chaotic and fun swing and slash experience, that has something for new and old fans of the series. High speed action, that wears after a bit, but enough mode variety to keep completionists going. The upgrade system lacks depth which detracts from the mission reward structure.
PlayStation Universe
8 / 10.0
Look, it's very simple. If you are a fan of Attack on Titan, you will want this game and if you're not, you should probably knock a point off the score below and try it anyway. Regardless of where you fall however, the evidence is telling; though somewhat starved of game modes and a little tarnished by some repetitive side missions, Attack on Titan remains the best game Omega Force has put out in *years* and is an accomplished action effort quite unlike anything else the Japanese developer has ever done.
You'll be genuinely challenged by what's on offer in A.O.T, and there is most definitely a strong sense of satisfaction from slicing through the monstrous titans. Given that this is the first attempt at a very different kind of game for Koei Tecmo, I'd say that Attack on Titan franchise is in good hands going forward.
Overall, I really enjoyed playing Attack on Titan. Being able to traverse the environment and fluidly take out giants felt great. While there are some glitches and it could get repetitive for some, I can still happily recommend this to any curiously minded gamer and doubly so if you are an Attack on Titan fan.
While it's not the best point of entry for newcomers, Attack on Titan is the video game adaptation that series fans have been waiting for.
I didn't think AoT fit well into Omega Force style of game, but I'm happy to say that playing the game has proven me wrong... for the most part.
Though it may feel a bit repetitive at times, the game's impressive emphasis on story, varied cast of playable characters and welcome customization features will keep all but the most jaded players engaged from start to finish. If you're a fan of the series who's been eagerly anticipating a proper Attack on Titan game deserving of the name, this is the experience you've been waiting for.
Attack on Titan: Wings of Freedom isn't just a faithful adaptation of the popular series, it's also one of the fastest action games this year.
I personally love the AOT mythos and have read the tankobons and watched the anime
Koei Tecmo's Attack on Titan is certainly the game that fans have been waiting for. It delivers so much of what fans love about the show, and really does a great job of putting you right into the action. Of course, that action is extremely chaotic and repetitive, which also means the game can be as well. This is a problem when it leads to fumbling with the controls, or having to frantically work the camera. However, that is a small price to pay for an Attack on Titan experience like this.
An entry that encapsulates the feeling of taking down a mighty Titan while bathing in its blood.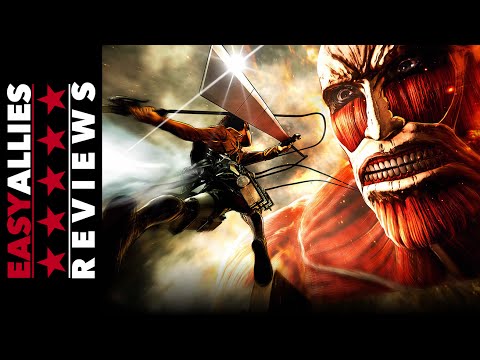 Though Attack on Titan: Wings of Freedom can get repetitive after quite a few hours in, there is a ton of mindless fun to be had from just speeding across expanses of land and taking down dozens upon dozens on giant foes. Even if you aren't a fan of the anime or manga, Wings of Freedom is a very enjoyable experience.
Attack on Titan is an enjoyable title featuring fluid gameplay, enjoyable action sequences, and a story mode that all can enjoy.
For franchise fans, this is a no-brainer, capturing the feel of the AoT world and its messy, visceral combat. For everyone else, this is a maybe; combat is fluid and takedowns are satisfying, but gameplay can get monotonous. Try before you buy.
A great way to re-experience the first season of Attack on Titan in game form, and Omega Force have done a fantastic job making you feel like a complete badass despite repetitive missions.
Of course fans of the series will appreciate the game even more, as it's a quite faithful representation of what you have seen on TV. It's rare, but anime-inspired games that do justice to their source material exist, and while Attack on Titan is far from perfect, it's definitely one of those.
Attack on Titan is a fun game that takes what you see on the screen and manages to successfully translate it to your console. Great for both fans of the franchise and those who are interested in checking it out.
Attack on Titan was a shock for me. It isn't going to revolutionize any genre, but there truly is little else like it out there. Fans of the anime are sure to enjoy the attention to detail in almost everything, and like most Warriors games there is enough of an RPG element to keep battles from becoming too much of the same thing over and over.
Attack on Titan from Koei Tecmo does a very good job of introducing the series to new players through compelling and fun action. Fans of the series may not find many surprises in the story, but it is still worth playing none-the-less. While it suffers from similar repetitive gameplay as its Dynasty Warriors predecessors, I found it to be enjoyable from start to finish. There is just enough variation among Titan types and characters to make things feel slightly different each time.
A unique genre entry that takes the combat the Musou series is known for and scales the size of enemies rather than the number of them on the battlefield.
Attack on Titan: Wings of Freedom is a valiant attempt to capture the feel of AoT that is unfortunately encumbered by some underwhelming elements. The game's easy difficulty, as well as pop-in and some questionable A.I. ultimately drag the experience down a few notches. These issues aside however, WoF boasts a strong story mode, terrifying Titans, and solid gameplay that shows the utmost respect for what this franchise has so quickly become.
Slaying titans is a satisfying, bloody mess thanks to fun and fast combat. The meat of the campaign follows the anime through fun missions and features varied playstyles for each of the characters that matched their personalities well. While the epilogue suffers from serious pacing problems, being able to get through some of its more tedious missions with friends make the extra content a little less of a pain.
Attack On Titan is definitely the most interesting Omega Force developed hack and slash game, thanks to the unique movement system and combat mechanics which require more than simple button mashing. Sadly, this doesn't prevent the game from becoming repetitive due to uninspired maps and lack of mission variety. The game offers plenty of fun anyway, just don't expect a masterpiece that can still feel fresh after 20 or more hours.
In conclusion the game works very well because the style of play is what Koei does best, and that's just the kind of developer this game needed, I'm very pleased with the game as a whole, Attack on Titan was a very anticipated series which meant it had high expectations, this probably deducted from my overall enjoyment of the series, however the game definitely reignited that fire by making it immersive and putting you at the center of the series, I found myself totally addicted to playing the game, despite occasionally being bogged down in mission ranking and items gathered screens after each mission and the slightly overdone dialogue that was probably a little bit more than necessary. I only tore myself away from the game once, and that's a high score in my books, definitely worth looking into, definitely worth buying, but perhaps not worth the $90 price tagged slapped on it, $60 would be the go. Overall though, a pleasure to play and to review also.
Attack on Titan: Wings of Freedom knows exactly what it is. It has perfected the most important elements, seemingly at the cost of other systems. The story closely follows the anime series and adds a little extra, so if you're a fan you'll be happy with the accurate retelling. If you've never watched the series, this could be a good way to dive into the franchise.
AOT: Wings of Freedom" is a story-guided action game based on the original manga series Attack on Titan
This is hands down the best Attack on Titan game you'll find anywhere, though that in itself doesn't make it a must-have. Whether or not it clicks depends entirely on whether you can get to grips with the finicky combat, and how easily you deal with doing the same thing over and over.
Attack on Titan is a good game, but not a great one. It does a tremendous job of adapting the anime's excellent action scenes to an exciting set of game mechanics, but struggles to extend that fun core into full-length game. Any given fifteen seconds of Attack on Titan is excellent, but those fifteen seconds are repeated again and again until they're no longer compelling.
It may be repetitive, but flying around with the ODM gear and cutting up Titans is just fun enough that it never really became a huge issue
Attack on Titan is a mandatory experience for the fans of the anime. Koei Tecmo creates a good combat system and fighting with titans is amazing but in the game, everything feels sketchy and gameplay is starting to get boring by time.
Review in Persian | Read full review
Attack on Titan: Wings of Freedom deserves a lot of praise for accurately capturing the feel of the anime and translating it to video game form. Unfortunately, once you get past the accurate representation, there isn't much to the game. You'll kill the same Titans in the same environments with the same tactics over and over, and there's little to no deviation. There's enough interesting content to last you through the story mode, but it wears out its welcome long before you finish the epilogues. Fans of the anime should get a good amount of gameplay out of this, but only the most hardcore will keep going after they're finished.
The game very accurately depicted the anime and nailed the speed and ferocity of slaying titans, although I do find the price point to be just a little bit too high for what the game actually gives you in content.
After watching the first season of Attack On Titan I just wanted more. Now almost two years later A.O.T. Wings of Freedom is released and it is everything I wanted! But is it all that great?
All in all, Attack on Titan: Wings of Freedom is a smart adaptation that replicates the action of the series without resorting to a typical hack n' slash knockoff. The cluttered camera and controls take some adjusting, but otherwise this is the first real attempt at successfully adapting the colossal anime hit in videogame form and is another proud notch on Omega Forces' belt (it also increases the anticipation for Berserk, their next anime offering later this year).
This is a game that's content to let players do only one thing: kill a hell of a lot of Titans.
The Outerhaven Productions
To my surprise, Attack on Titan: Wings of Freedom turned out to be perhaps the best anime adaption to ever make its way over to a video game. There's always a concern when a game is created around an existing license. Especially since those few games of recent that featured either an anime or cartoon didn't fare too well. Thankfully, this isn't the case with Attack on Titan: Wings of Freedom. It may be a bit too restrictive as it doesn't really stray from the anime or manga. In its defense, it really didn't need to as the world that was created is full of over the top action and a really odd-ball story, both of which are just fine for a video game.
While not without its issues, Omega Force did a really good job bringing Attack on Titan into the realm of gaming.
New Game Network
68 / 100
Attack on Titan provides fun, giant-slaying action for the first few hours, but lackluster characters, shallow missions, and grinding upgrade system prove to be the rock that toppled Goliath.
The Jimquisition
6.5 / 10.0
In short bursts, Attack on Titan can be a fun distraction. It definitely looks and feels like the animated series, runs through its narrative nicely, and features lots of stuff to unlock, upgrade, and play through. Sadly, almost every mission feels just like the last one, and with very little to shake up the process.
This is the best game based on the popular anime series Attack on Titan, but with repetitive combat, it gets dull fast.
Attack on Titan is an enjoyable experience that is worth a playthrough, but it could've been so much more. It surprises with solid combat mechanics and features some exciting and action-packed gameplay moments, but its presentation, story, characters and content outside of the campaign are severely lacking.
A.O.E. Wings of Freedom is a game exclusively made for fans. However, the gameplay is too weak to lift the fortunes of the product. Good enough for fans: the others would not have reason to postpone the production limits.
Review in Italian | Read full review
As a huge fan of the Anime, I really enjoyed this game and I'll probably keep playing it for a long time, which is why I'd highly recommend it to any other fan. However, if you didn't watch the Anime, or did so but didn't like it, then I don't think this is game you'd enjoy.
Review in Arabic | Read full review
Attack on Titan takes a decent stab at the nape of the series' neck, but repetitiveness, a lack of difficulty, and a high price mean it misses the mark a little too much. Still: if all you want to do is be Mikasa, swing around, and chop down Titans, you'll probably rather enjoy it while complaining. I did.
Attack on Titan is a fun, unique, and different yet familiar style of game that keeps pulling me back in for either new equipment material to farm or just to boost around the environments. It got me interested in the series more so then ever before and shows that the Dynasty Warriors-like gameplay can still provide a unique and interesting take on the genre depending on the set up and added mechanics.
It's an accomplishment in itself that Attack on Titan: Wings of Freedom is a robust, sensible game that does the beloved show justice, and it should be the groundwork guiding potential sequels. Commandeering any character is an absolute joy with the excellent control scheme and host of activities that fight for your attention on the battlefield, but this initial depth gives way as the title runs low on gas several hours in, failing to refuel and catch up with your sustained interest. Initially, fans will eat this one up – the story and visual presentation acting as delectable dressing – but even the best of meals lose their allure over time if that's all there is to swallow.
Attack on Titan's latest gameplay iteration doesn't win any technical achievements, but is a fun, faithful adaptation that can rope you in with its traversal alone.
As the game is now, though, Attack on Titan is just another middling title that fans of the license may enjoy, but others will struggle to complete.
If you're looking for a quick distraction that will stick a plaster over the gaping wound of your desire for Attack on Titan season 2, then Wings of Freedom may stem the bleeding. Unfortunately, extended play might cause a few injuries of its own, because for a game about giants and verticality, the game's long-term experience is woefully flat.