Percentile Rank
Total War: Warhammer is ranked in the 95th percentile of games scored on OpenCritic.
Rating Summary
Based on 66 critic reviews
OpenCritic Rating
Based on 66 critic reviews
Score Distribution
Unscored Reviews
With the most exciting unit roster yet, Creative Assembly's latest is a godly blend of franchises.
Rock, Paper, Shotgun
Unscored
It feels exactly the way a Warhammer-themed Total War game should feel, and creates tons of dramatic battles and storylines over the course of each campaign. But to reliably generate all that excitement and tension, it secretly disconnects many of the strategic systems that hold good Total War games together.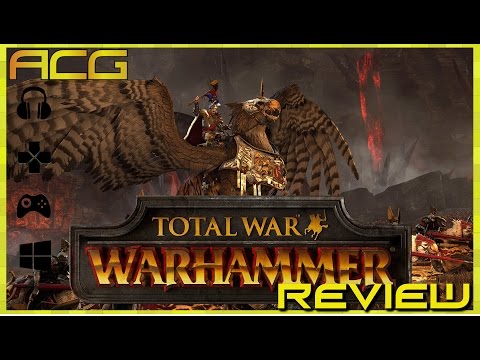 As it is, if you like strategy games but you haven't tried out Total War yet, this seems like a pretty good entry point. And if you're a longtime fan and you're feeling burned out, this refreshing take is probably just what you need.
Scored Reviews
Digital Chumps
9.6 / 10.0
Total War: Warhammer is not only a great Total War game, but one of the greatest strategy games of all time.
This is one epic game. A great fantasy battle circus, the new CA title is quite the visual experience, while remaining tactically engaging.
Review in Italian | Read full review
Total War: Warhammer is more like that starting set you get in the tabletop, you start with it, you play it to death then you start expanding and getting the other parts of the game. It is a good base which more can be built and expanded upon, and with the planned list of expansions being very long and the active modding community, there is no doubt the game will eventually get to be a great game.
Total War: Warhammer is the Total War's great entrance to the fantasy settings. This game has very different races and each one of them offers you a huge amount of gameplay. Developers has greatly combined fantasy elements like magic and flying huge units into the standard usual Total War gameplay and we know have a full-fledged gameplay which is the result of more than 15 years making total war games. If you want to know how is a massive battle between Karl Franz army and an Undead army led by Mannfred von Carstein, then get this game.
Review in Persian | Read full review
The Warhammer universe blends with the tactical gameplay of Total War to create one the best real-time strategy games ever.
This is Warhammer, and the marriage between its lore and ideas, with the gameplay of Total War makes for what could honestly be one of the best entries in the entire franchise.
Chalgyr's Game Room
9 / 10.0
I have historically been extremely critical of the Warhammer/Warhammer 40k franchise so when I first learned of Total War: Warhammer I was a bit skeptical. I love the Total War series and with the exception of Total War: Attila they have produced some of the best strategy titles to date. Attila was not bad, just not up to par with previous titles and that, along with the abysmally bad pile of Warhammer crap that has come out in recent years, had me seriously concerned for the franchise. Fortunately Total War: Warhammer is actually really, very good. So good that it almost washes the bad taste of over a dozen horrible Warhammer/Warhammer 40k titles out of my mouth.
Total War Warhammer is a another great success for Creative Assembly. The factions are extremely diversified and, although some beloved units are missing, the variety of strategies and playstile is impressive. The RPG-Style hero management, the new flying units, the introduction of side quests and of a loot system: every feature intelligently expand the classic formula of Total War.
Review in Italian | Read full review
Warhammer's fantasy elements add colour to Total War's already impressive framework, with a strategy game that is both deep and tactical but also fun and attractive.
A charismatic, challenging, intricate strategy game that brings the Warhammer world to life.
If you are a Total War fan or if you love strategy games, I can wholeheartedly recommend to give it a try, even if the shift away from a historical setting might make some frown. The gameplay, the flavor and charm of the setting, and the depth of options are definitely worth the effort to move a bit outside of the history comfort zone. On the other hand, if you are a Warhammer fan, I guess you don't really don't need my recommendation, you're most probably already playing it and enjoying the hell out of it.
As a piece of creative work, Total War: Warhammer is more than an ideal partnership between two iconic franchises. As well as nailing the look, feel and atmosphere of the Games Workshop universe, Creative Assembly has delivered a strategy game that will keep series fans busy for hundreds, if not thousands, of hours, while also giving Total War newcomers a good – if not quite perfect – leg-up into the world of deep, grand strategy. It adds new mechanics and refines old ones, and improves greatly on the series' terrible reputation for stability issues at launch.
Total War: Warhammer is an excellent representation of the Warhammer Fantasy setting, and the multi-tiered layers of strategy make it a compelling game to play.
I still feel as though I've only scratched the surface of this game, and when I've finished writing this, I'm going to go play more of it. Truly, Nurgle loves his children.
Total War: Warhammer is quite possibly the most exciting strategy game to come out in a long time. It's a huge change for such a long running franchise, brings in so many new features that work so well, and looks downright stunning as huge numbers of fantastical creatures create all manners of havok across the battlefield.
The Outerhaven Productions
It's been said: if you love Warhammer, you'll love this game. The attention to lore and detail is simply too fantastic to not admire. If you have any attachment to either franchise or even the RTS genre in general, this is definitely worth the buy.
As terrible as I am at Total War: Warhammer, I couldn't ask for a deeper, more robust Warhammer title. Prepare for some frustrations with such a complex campaign, but also prepare to lose hours of your life as you wonder, "But what if I handled that like this…" as you reload your last save for the umpteenth time.
Total War: Warhammer is the most interesting, most polished, and most enjoyable Total War game to date. Depending on which camp you come from you may have a slight learning curve, but its definitely worth it as this game has plenty to sink your teeth into if you're a fan of strategy, high-fantasy, or both.
Total War: Warhammer is the best Total War game in a long time. It harkens back to the Rome I and Medieval II type of Total War game, which have been considered some of be the best.
Warhammer is an excellent turn-based strategy that takes the best of Total War and Warhammer, and melds them together wonderfully.
Total War: Warhammer is a lot of fun, but keeps the complexity that can make Total War titles intimidating for new players.
Creative Assembly has shown that they have great respect for the universe that Games Workshop has created and I can't wait to see what they do with the IP next. Who knows, maybe next time we'll get a Total War game set in the Grim Darkness of the 41st Millennium, where there is only war.
You'll want to play [all the races], and probably will. And for that reason alone Total War: Warhammer is a fantastic game, and one that no fan of either franchise should pass up.
Imagine the developers took down a can of paint labelled "WARHAMMER" and poured it on to the Total War franchise. That is exactly what this game is and that is why I love it.
Where other Total War games were a battle of who-cares-which-type-of-men versus another bunch of men, Total War Warhammer makes you want to see the fight unfold. To witness how the trolls spit acid at dwarves or undead crumble to dust as you charge them with your knights.
Total War: Warhammer provides a fresh take on two of the most compelling strategy and tactical franchises in history, creating an excellent mash-up that's well worth your time.
Total War: Warhammer is a lovingly-crafted representation of the Warhammer world that is ripe for players to forge their stories in. It's a must-buy for every Warhammer fan and Total War aficionado and is potentially the best release from the studio since the original Rome: Total War.
Total War: Warhammer manages to keep fans of both the Total War and Warhammer franchises happy, delivering excellent strategy gameplay and the best Warhammer video game to date.
Where the previous Total War instalments have tried their best to faithfully recreate 15th century Japan or 200 BCE Rome, Warhammer's setting is a love letter to the devotees who painstakingly create miniature figures, infused into a game that combines high strategy and micro-management.
Total War has been striving to capture this feeling of Epic iteration after iteration and looking to a historical context for inspiration. But it's the realm of fantasy, the Warhammer universe and its wonderful storytelling, where I think the formula has found its true home. This is probably the best Total War game to date, and certainly the best Warhammer game. Put together the two make wonderful companions. Some of the minutiae of the campaign can be a bit of a slog, but the real artistic genius of this game is when the lore of Warhammer becomes the brush to paint broad strokes across the canvas of the Total War foundation. The end result is Epic. Fantastic battles that can be enjoyed alone, or that become the spearhead of a richer narrative in the Campaign.
Total War's mechanics and the Warhammer setting complement one another beautifully, and Creative Assembly has mostly nailed the execution. Total War: Warhammer is the best representation of the Warhammer universe there has ever been in a video game, and the best entry in the Total War series for some time.
If strategy games and massive battles are your thing, this is an excellent and entertaining choice that effectively captures the strength of its source material
Total War: Warhammer is the game you've always wanted to happen. Well, celebrate, because now it finally has!
Gaming Masters
8.6 / 10.0
Deep hero progression and a well-executed Chaos invasion round out a campaign that, while it has some flaws in set-up and pacing, fulfilled all of my deepest fantasies of seeing giant, impossible armies clashing amidst the shrieking of griffins and the glow of flaming meteors summoned from the sky. It's just a damn good time.
If you find real history a bit bland compared to glorious nonsense made up by strange British people then Warhammer is the Total War for you.
Despite performance quibbles and a repetitive endgame for the campaign, Total War: Warhammer is an exciting strategy game that stands on its own. The four factions offer unique playstyles with compelling strategic options, and the hero units, fantastic creatures, and monstrous enemies make for spectacular battles that are almost as much fun to watch as they are to command.
Total War: Warhammer mixes computer and tabletop effortlessly into a fantasy bloodbath. With four diverse races, plenty of character and a promise of much to come, it's hard to not recommend this to anyone who's ever dreamed of playing armchair general in the High Fantasy realm.
Strategy players can revel in the light that is Total War: Warhammer. Aggressive turn based conquest gameplay mixed with oceans of real-time clashes between foes taken from the depths of Warhammer will capture the eyes of many gamers who may have turned blind to it's table-top counterpart, and at the same time allows old fans to play a slightly different version of the game with people from all over the globe both competitively and cooperatively.
Total War: Warhammer is definitely impressive for a casual like me, and I definitely plan to spend more time with this game during the summer lull so I can learn the other factions and the Chaos order, which thankfully I wound up getting free during launch week but it sucks that it costs people if they didn't buy it early.
After some mishaps in the past, Creative Assembly delivers one of the greatest Total War games ever. Its bold, its factions are unique and it's a perfect fit for both Warhammer and strategy fans.
Review in Portuguese | Read full review
Total War: Warhammer is a well-thought out iteration of the Total War franchise, which means that those that are still on the fence on buying the title should expect a release that is everything one may expect from a polished Total War title… for better or worse.
Fantasy tabletop warfare meets historical strategy simulation in a game that should be inaccessible but ends up exciting
The Total War formula mostly acts as a functional framework on which to construct the violent, mystical world of Game Workshop's Warhammer. This is the most dramatic departure Creative Assembly has taken from their typical playbook with the series, and it needed to be; a game about a warring fantasy kingdom must feel different than one about the rise of the Roman empire. For the most part, it does.
If you still enjoy the campaign aspects of Total War then you will find Warhammer simply brilliant, the Warhammer license makes this the most interesting Total War game in years. If the promise of the most exciting battles isn't enough to stir your loins then this is just a game of more research trees, resource grinding and shoddy diplomacy, the same you have played for the last decade.
With four strikingly different races, Creative Assembly have done a fantastic job in bringing the Warhammer tabletop game's fantasy setting, variety and tactical trade-offs to life. Those thematic differences have also been infused into the campaign in several ways, but there's perhaps a little too much common ground, and you can see the same fundamental framework beneath the surface. With plenty more races still to explore and stories to tell from this world, Total War: Warhammer does little to disappoint as this fantasy project is made reality.
As a Total War game, Total War: Warhammer comes off as being a bit confined in terms of bounds, yet varied within said bounds. Boasting a lot of options, it is a genuinely enjoyable experience as it does take advantage of its licence. As a Warhammer title, it is a solid and enjoyable experience even if it's quite clear a lot was filed off either to make it work as a game or for future DLC. As a whole? It's a good new direction for the series to head in, and, hopefully, will let it expand beyond the confines of history into new, fantastical realms.
Total War: Warhammer just feels right in most every way, even if it can get slow or frustrating at times. Despite a few annoying caveats and some performance issues, most of the game's features are enjoyable, enticing and immersive.
There's no denying that Total War: Warhammer is an enjoyable and accomplished title. But it's also one that takes few risks, and so a sense of what could have been occasionally floats over its crowded battlefields.
Total Warhammer doesn't tamper with much, but it injects enough personality to revive a series that's been steadily collapsing under its own weight.
Outside of Shogun 2, Total War: Warhammer is my favorite Total game to date. Developing this project must have been a massive undertaking, because it somehow manages to not sacrifice the core tenets of the series while staying true to the ever-expanding source material of the Warhammer universe. After nearly two decades of historical battles, having the chance to command a magical undead army is a breath of fresh air.
Total War: Warhammer vereint gekonnt den komplexen Taktik-Part der Total War Reihe mit der umfangreichen Fantasy Welt von Warhammer, liefert sich aber dann doch einige unangenehme Schnitzer in Sachen KI und Gameplay. Sowohl Total War als auch Warhammer Fans werden aber über die kleineren Fehler hinweg sehen können und auch für Neueinsteiger bietet der Titel doch einiges an Hilfen um in die beiden, doch sehr umfangreichen Welten einzutauchen.
Review in German | Read full review
New Game Network
76 / 100
Total War: Warhammer is a polished entry that breaks away from traditional history with some good novelty value attached to its new setting, though excessive streamlining of the campaign and reduced battle scenarios notably detract from the experience.
There's a lot to love about this game but at times it really can feel like too much effort.
The match-up of Warhammer and Total War is as harmonious as hoped, adding tremendous faction diversity and fantasy flavour to the familiar series mechanics. It's technically sound too, but several old flaws (like AI blind spots in sieges) remain. An invigorating addition to the series, nonetheless.
When you walk away from Total War: Warhammer, you'll feel like you've played yet another decent Warhammer game. It has the attention to detail and adherence to lore that fans of the IP look for, but without many of the compelling qualities that are needed to substantiate AAA games in a release-heavy year like 2016.
Total War vets will be right at home here: most everything from battles to the campaign map, for better or worse, is going to give you that Total War déja vù
Total War games past have expanded, changed and morphed over time and this will doubtless be similar. As it stands, Warhammer is a worthy addition to the series, particularly as a melding of two universes we've long wanted to see collide. And before long, as the patches roll in, it could be even more than that.