Percentile Rank
Anno 2205 is ranked in the 38th percentile of games scored on OpenCritic.
Rating Summary
Based on 29 critic reviews
OpenCritic Rating
Based on 29 critic reviews
Score Distribution
Unscored Reviews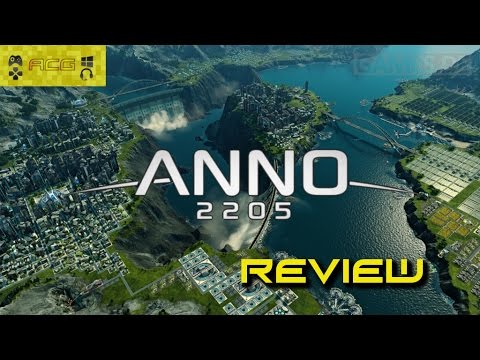 Scored Reviews
Anno 2205 earns a high recommendation for city-building and economy-management enthusiasts. The game builds upon previous series installments by refining the gameplay to further improve its best elements. In particular, the addition of the Arctic and Moon environments provide the series' best-yet sandboxes for building cities. City-building fans can rejoice: Anno 2205 is the next game they need to pick up.
If you are at all on the fence on finding a game which can deliver a rich experience and dozens of hours of gameplay with a great mix of resource management, city building and RTS combat, this just might fit the bill.
Anno 2205 is a crazy amount of fun, with a wide variety of locations, activities and a fairly rich campaign it's hard to put down.
I've been addicted to 2205 all week, but remain disappointed Blue Byte doesn't push its ideas further with each new entry. The future's impressive. Just not quite as different as you might think.
Post Arcade (National Post)
8 / 10.0
If you're a long-time fan of the series though, you'll probably be a bit put off by some of the changes and a very real drop in difficulty. It likely won't be enough to knock your favourite version of the series off of your hard drive, but at least it could sit comfortably beside it.
Anno 2205 is a solid city-building and economic management game, one that provides an addictive experience. As the end game draws on however, some players may experience fatigue and move on. Fans however, will find a sim that will eat up dozens of hours of their time, especially if they are out to establish a perfectly balanced economy.
Anno 2205 is good city builder with an interesting take on the future of humanity and with plenty of humanity, the kind of video game that a player can spend tens of hours with as long as he is interested in making all his cities run at peak efficiency all of the time.
Anno 2205 certainly offers enough to keep your time consumed. If you are looking for quick battles, you might want to pass on this. There is a ton of growth and micromanaging in the game as upgrading units, factories, and trading is only half of the game. There are no quick combats to jump into, as the combats are incorporated with the progression of your colonies. The game is slow paced as building a sustainable economy is the key to spreading out to other colonies and doing the exact same thing again, just with different environments and resources involved. The more structures that become available to build, you will need resources from different areas for these to thrive. People will also leave your areas and abandon their homes if you cannot please them. This game offers a bit of everything from the real time strategy universe. If you have the time on your hands, Anno 2205 is worth the investment if you are a strategy fan.
Anno 2205 is a fun and fulfilling game, it's excellent to watch your colonies grow, but after your first one or two playthroughs it's going to become a little too much of doing the same thing. It's in dire need for extra maps and areas with a little more competition thrown in from either the AI or multiplayer competition.
Anno 2205 has so much going on and makes all of your tasking varied and interesting. One game is three different building sims with real-time strategy naval battles peppered in and everything moves in a way that makes it compelling and addictive instead of overwhelming. It's an ambitious improvement in a lot of ways over Anno 2070. Unfortunately, the technical issues keep it from being the perfect entry in the series that it wants to be.
An ideal gateway into the city management sim, but with too little room for forward-planning.
Anno 2205 is a decent continuation of the franchise that instead of simply recycling its predecessors brings some revolutionary elements to the table as well. However, after a longer period of playing, the bitter taste of untapped potential remains in your mouth.
Review in Czech | Read full review
Even if some of it feels a little extraneous, like trying to keep investors and executives happy with god knows how many future toys and bits of entertainment, Anno 2205 is still absorbing. Plus it looks fantastic to boot, with animation and visuals that are some of the best ever seen in this type of game.
Anno 2205 is a stellar city-building experience that rewards and demands precision in planning. It makes the compromises that real city management requires central to its mechanics, and the strong environmental theme helps to make it contextually relevant today.
Anno 2205 offers plenty of enjoyment, but may not appeal to the hardcore strategist.
Anno 2205 is a satisfying city builder for those who may think that Cities: Skylines can be a bit complex. It looks great, building your cities is a breeze, and managing resources is easy. Unfortunately, once you've finished the campaign, there's not much left but more optimization and expansion. No mods or DLC make this a rather finite game.
Anno 2205 is an engaging and strategic city builder with a forgettable story and too little motivation beyond profit.
Anno 2205 is a gorgeous looking economy builder with an impressive scale and scope. A few poor gameplay decisions tarnish the overall experience, but it will no doubt still have city-building devotees glued to their computer screens.
There's definitely a market for this game, but I completely understand why so many long-time fans are so upset.
Anno 2205 succeeds where many in the genre have failed in creating an interesting looking world that the player can care about. Experienced players of the city sim and strategy genres won't find anything new here, though, instead finding one of the most rudimentary offerings in terms of mechanics on the market today.
A minor entry in the venerable city building series, which has some interesting ideas and visuals but too little in the way of gameplay depth.
Anno 2205 seems like it had promise but was subsequently scaled back on release. It's a decent diversion with some more than decent visuals but you'll crave so much more, especially after Cities: Skylines.
Playing Anno 2205 gives one the feeling that something is missing, like a half-written novel or a song containing only the chorus. The possibilities of the setting are barely scratched upon, while the city-building, as competent as it is on the surface, leaves a lot to be desired for challenge.
Still, glorious though Anno 2205's cityscapes may be, a game that justifies the banality of numerical mechanics through visual sensation alone is inevitably one that provokes the question of whether or not it needed to exist at all. From this respect, Anno 2205 might have more in common with Photoshop or Illustrator than with its predecessors; for me, its most compelling purpose wasn't doing something, but making something. Whether or not that makes for a fulfilling experience is an open question; that Anno 2205 could be so much more is not.
Anno 2205 wears a distant future sci-fi aesthetic, but does nothing of substance or import with the premise.
This may be a bit harsh, but, at the end of the day, positives in favour of Anno 2205 are hard to come by, while shortcomings are abundant. Everything about it feels like a sleazy, cheap, cash-in title made by a company seeking to wring the final few coins out of a franchise it doesn't care about than a legitimate attempt at a game. It feels like the developers simply slapped on some pretty graphics in the hopes of fooling people, marked the price up to off-set the lack of an online shop, then kicked it out the door to sucker people into paying far more than they would have otherwise for such a boring and underwhelming title.