Percentile Rank
Everybody's Gone to the Rapture is ranked in the 73rd percentile of games scored on OpenCritic.
Rating Summary
Based on 72 critic reviews
OpenCritic Rating
Based on 72 critic reviews
Score Distribution
Unscored Reviews
An enjoyable funeral walk through a depopulated English countryside, chasing beams of light.
When the games of this fall start rolling out, we're going to have plenty of opportunities to shoot, stab, and blow up everything we can get our crosshairs on. For now, exploring a sunlit village in Shropshire, England feels like a good, short diversion.
As the game continues to pull these wonderful tricks of staging, the world of things that The Chinese Room has created settles into a more comfortable balance with the game's other elements, giving ground when needed to the human - and the inhuman - drama that's unfolding. Counter to my own expectations, this is not a particularly complex story to follow, but it is told with a wonderful assurance and a disciplined eye.
"Everybody's Gone to the Rapture" is an ambitious game that is fundamentally about the acceptance of death. It shows how video games can tap into the ordinary without unwieldy mechanics (I'm looking at you "Heavy Rain"). Though It doesn't offer the intellectual workout of another first-person perspective, story-first game such as "The Old City: Leviathan" it is the best scored, most accessible argument for how video games can prosper as narrative sandboxes.
Then, after an increasingly desperate three-hour session of sparkle-seeking, Rapture crashed, and I gave up, unwilling to keep pretending that I cared. The screen froze on an image of a road emblazoned with the word "SLOW," like it was mocking the torturous pace of my progress. If only Rapture had such a puckish streak, its sluggish march might have been more bearable. Instead, I found myself wishing that I could go to the rapture, too.
Everybody's Gone to the Rapture is an absolutely stunning game, but once your initial awe for the visuals begins to fade all you're left with is a drawn-out narrative that has you wandering from one story set-piece to another.
Birth. Movies. Death.
Unscored
If you think walking slowly around an empty village sounds like a load of bollocks, this probably isn't the game for you. It's more of an immersive narrative than an action-packed piece of entertainment, and if the PS4 wasn't already struggling with frame rates in this version, I'd say it's ideal for virtual reality.
Spend this game's five-hour runtime catching up on a better story game you might have missed.
Rock, Paper, Shotgun
Unscored
The best way I can think to sum up this feeling is to say I enjoyed Everybody's Gone To The Rapture far more on PS4 and that was because after the first chapter I lay on the sofa watching and listening and luxuriating while my companion dealt with the controls.
Scored Reviews
Is Everybody's Gone to the Rapture a game, an experimental piece of interactive fiction, or is it perhaps even art? Whatever it is, the experience it delivers is a memorable one. It's gorgeous to look at, fantastic to listen to, and spins an intelligent and somewhat esoteric sci-fi mystery that's truly gripping through to its very end.
The Chinese Room has managed to create one of the most insightful, meaningful, and emotional games that we've seen in some time, perhaps forever, and bravo to Sony for taking a real punt with something so completely arthouse.
Everybody's Gone to the Rapture is an extraordinary piece of work, with things to say about pacing, writing, world-building and the communication of emotion that feel profoundly valuable to the industry. Along with its peers in this curiously expanding genre of being-in-the-world simulators, it will undoubtedly feed more furious debate about what games should be and what playing them should involve, but its great achievement, for me at least, was to render any such question spectacularly irrelevant during the time that its experience lasted.
Everybody's Gone to the Rapture's greatest accomplishment is making you care for its departed characters. Their personal stories give you an incredible glimpse of what life was like in their little corner of the world. They're not the nicest group of people. They can be selfish, stubborn, and downright stupid. But that's what makes them feel real and memorable. The most tragic part? You can't do a damned thing to save them.
It's not hard to see why this won a number of BAFTA awards… it is one of those examples that comes about from time to time of gaming being art. A true visual novel that draws you in and leaves you wanting more. Fantastic voice acting and musical score really just provide icing on the cake here. Very worthwhile!
Everybody's Gone to the Rapture is a wonderfully poignant, moving sci-fi journey. A fully realized world, excellent writing, superb voice acting, beautiful music, and a compelling, intriguing mystery are more than worth a few technical difficulties and some subpar mechanics. If you have any interest in narrative driven adventure games, you're sure to find a new favorite here.
One of this year's easy contenders for game of the year, and for less than £16. That's what, a curry and pint?
Everybody's Gone to the Rapture is a masterwork – a gorgeous and subtle experience, which treats you as an adult, without ever indulging in pretence. It cares about its characters enough to give them interesting and meaningful things to say, while also playing host to some truly breathtaking art direction and music.
Everybody's Gone to the Rapture is an interactive work of art. Those of us who can be demanding when it comes to the realm of virtual storytelling might spot some minor flaws. Aside from those flaws, and beyond those who complain about the speed and lack of input commands, the game stands tall in its efforts to reach a new level of interactive storytelling.
What Everybody's Gone to the Rapture accomplishes with the well-worn post-apocalyptic genre is remarkable.
The studio behind Dear Esther and Amnesia: A Machine for Pigs have achieved audiovisual and narrative excellence with their latest adventure.
It's not a perfect game – There are some cheesy, overly melodramatic scenes that border on Soap Opera-esque levels of ridiculousness and the resolution will most certainly be unsatisfying for some – But it's almost a perfect experience.
It won't be for everyone, but for those that love Everybody's Gone to the Rapture, it'll stay in the memory for a very long time indeed.
If you can let go of semantics and get involved in a story you don't control directly, then there may be something for you. It's a moving story told through gorgeous graphics, excellent voice acting, and a transcendent musical score that pleasures your ears during poignant moments. And yes, you basically just walk around much in the same way you can boil many games to just doing any number of repetitive actions. Give this a try. You may fall in love.
As light on gameplay as it is, Everbody's Gone to the Rapture is as beautiful as it is thought provoking. It's hard to find fault with its technical prowess, showcasing just how detailed interactive media can be, but on top of this we have a narrative that is disjointed yet somehow works wonderfully as it increases curiosity, and music that is poignant in all the right ways. If Dear Esther was pretentious, in my eyes, Everybody's Gone to the Rapture can only be described as enrapturing.
Everybody's Gone to the Rapture has a subtlety and nuance that is extremely refreshing. Calling this a "game" is doing it a great disservice. It is an experience. Thusly, this might not be everyone's cup of tea. However, those that chose to invest their valuable time in this 5 hour gem will be rewarded with one of the most compelling experiences in recent memory. The truth is out there, just waiting to be discovered. Don't miss out.
Offering a rich atmosphere and meaty philosophical concepts. . . Everybody's Gone to the Rapture paints a different kind of doomsday to all preceding incarnations
Stunning production values and superb graphics and music collide in a fascinating work of interactive science fiction. Some many be put off by the lack of real interactivity and the slow pace of the gameplay, but more will find the story as interesting and resonant as the way it's told. Is it a game? Who cares? It's a stunning experience, whatever you want to call it.
An exceptional story, told via one of the most vivid game worlds around.
An unforgettable experience, Rapture deserves to be played by anyone with a fondness for stories.
Even without any engaging mechanics (mostly walking around listening and interacting), Everybody's Gone to the Rapture's world is incredibly engrossing.
Games are at their best when they subvert expectations, or challenge longstanding norms. While Everybody's Gone to the Rapture mostly accomplishes this by questioning traditional videogame storylines, it stumbles, and falls back on the very thing it's critiquing. That, however, doesn't detract from the overall worth of the human experiences that underpin it.
While it has its problems, Everybody's Gone to the Rapture is a memorable, emotional ride through post-apocalyptic England, rife with mystery, intrigue, and a sense of the unknown.
Everybody's Gone to the Rapture excels at building a dense world, evocative tone, and rich cast of characters. Its five hours are filled with some really great exploration, discovery, and memorable moments. Piecing together its web of heartbreak, loss, and ultimate revelation provides a great experience. Everybody's Gone to the Rapture rewarded my patience with a fulfilling journey.
When it comes to immersive experiences Everybody's Gone to the Rapture is definitely one worth exploring and will leave you pondering it even after you've finished. It's a nostalgic, sci-fi mystery and is one of the finest indie games to grace the PlayStation 4 in 2015.
New Game Network
85 / 100
Everybody's Gone to the Rapture is an incredibly engaging piece of fiction. Its investigation into humanity and relationships far exceeds its desire to wow you with action. It is a slow game, a contemplative game, and it's one of my favorites this year.
Everybody's Gone to the Rapture is really more of an experience than it is a game. There is replayability in going back to see if there are any clues you might have missed, but the game already does a decent job of making sure you see what you need to see.
Everybody's Gone to the Rapture is about discovering a story on your own, piecing together the details as you stroll through the countryside. What begins with curiosity in trying to explain what exactly happened soon gets you wrapped up in the lives of who it happened to.
Everybody's Gone to the Rapture's take on interactive fiction is admirable, even in its struggle to manage personal discovery alongside narrative composition. I love its calamitous tranquility, I identify with the plights of its characters, and I'm enamored with its confident storytelling, but its reluctance to disclose its disposition adversely affects its capability. Everybody's Gone to the Rapture is at the front of the line, although I can't help but wonder if it could have started its own path.
Rapture's audio design is top notch. The sound design is truly one of the reason's why the game creates such an amazing and believable atmosphere.
Games that attempt to push past normal boundaries and focus on the joy of simply playing have to go by a different set of rules for engagement, and The Chinese Room has offered something that reminded me of Journey – I didn't know what to do then, so I simply moved, explored and found the story on my own. But while Journey fostered a connection with others, Everybody's Gone to the Rapture left me feeling completely alone as a player and desperate to find out why. The answers came slowly, and they might not be utterly satisfying at first, but that's what can happen when you go where everyone is not.
[I]f you're the patient sort who likes to slowly explore every nook, or who craves a gaming experience that's less exciting and more thoughtful, Everybody's Gone to the Rapture might be the light in the dark you've been looking for.
PlayStation LifeStyle
8 / 10.0
[I]f you're looking for an interesting method of storytelling full of drama, then you will want to check out Everybody's Gone To The Rapture. This is a video game as a piece of literature. Some may call it art, but I like to think gaming has evolved beyond such a contemporary definition. The Chinese Room had a story to tell, and they have done so in such a unique fashion that I eagerly await their next adventure.
Rapture's biggest weakness is bigger still, because those who are put off more thorough exploration will get less out of it than others. Some players will reach the end without knowing half the story. But maybe that's okay. You get as much as you put in, after all, and the variety in experiences will give people something to talk about.
Beautiful and intriguing, frustrating and flawed, Everybody's Gone to the Rapture is nevertheless still worthy of your time.
This is a world that has seen an unfathomable change and walking through this empty world that still has elements of life lingering around is a unique experience that I doubt you will get anywhere else this year.
If you enjoy games with impressively rendered visuals, an excellent score, and a story that is both compelling and moving then Everybody's Gone to the Rapture will provide you with a bountiful return on your investment.
This game is pure art, whichever way you look at it, whoever, it's frustratingly slow pace eventually does tire the player. There is lots of hidden content if we choose to explore off ways, and since we have no clear indication of where to go next, this is something i even encourage. It reminds me a lot of the The Day of the Triffids novel, and Lost, the tv series. This is a game to be played slowly, relaxed, no rushing, you are not going to be able to anyway.
Review in Spanish | Read full review
A leisurely stroll through a beautiful apocalypse. Rapture is stirring and heartfelt, but may be too slow and hands-off for some.
Like The Chinese Room's previous work, Everybody's Gone to the Rapture will no doubt prove an acquired taste, but the game is bolstered by strong, character-driven writing and a desire to experiment with boundaries no other developer, indie or established, is willing to engage.
Paste Magazine
7.5 / 10.0
Everybody's Gone to the Rapture feels trapped by its medium, forced into one of a handful of approved genres because that's what is expected of videogames. The Chinese Room knows how to create vibrant worlds, and fills Rapture's with a number of believable characters. If they trusted fully in these characters and their lives, or the audience's willingness to be fascinated by them without a sci-fi hook, Rapture would have been stronger for it. Anybody interested in games as a storytelling medium should play it, even if its light is reined back in right on the verge of transcendence.
Everybody's Gone to the Rapture has an original and engaging story to tell over its roughly 5 hours of play time. If you enjoy narrative-driven games it could be worth a look, but it's not a huge step forward for the genre.
Post Arcade (National Post)
7.5 / 10.0
My experience with Everybody's Gone to the Rapture was one of delight and wonder punctuated by many unfortunately long stretches of interface frustration.
I personally love the idea about how the developers used this instead of showing us what has happened during the apocalypse, since it adds more drama to the game. The game showcases each character's trait, depending on what predicament they're in. The idea of "how the people would react/feel about the tragedy" is certainly the strongest point in this game. The gameplay's simple feel makes it a bit boring and lackluster, though, since you can't run and there aren't really any other mechanics present in the game, but you won't be able to deny that the game's story would most certainly be aesthetic.
Everybody's Gone to the Rapture contains astounding humanity beneath its flaws
Eavesdropping on the echoes of the village's former residents is worthwhile, but the overarching mystery leaves a pretentious aftertaste
Fans of slower-paced story games will enjoy it, but others may very well lose their patience.
Until quite late on in the game, I struggled to figure out what I thought about Everybody's Gone to the Rapture. An absolutely stunning piece of visual art, it's somewhat let down by its impossibly slow pace, and the ease of which key plot points can be missed. It felt at times like I would rather have been "in the moment" of the apocalypse, experiencing the titular Rapture first hand, rather than piecing together the events after the fact. A game in which you sometimes struggle to find yourself caring about some of the people involved, but with enough atmosphere to enable life on the Moon, Rapture really is a mixed bag. If you want a change of pace from the regular "shooty bang" fodder, then it's worth a look, even with its (very obvious) flaws.
It's a shame that Everybody's Gone to the Rapture falls for the trap of slowing players down to force engagement because it does the exact opposite. There's plenty to latch onto here, but the slow movement speed and technical problems distract from the otherwise moving story.
PlayStation Universe
6.5 / 10.0
Everybody's Gone to the Rapture spins a good yarn, but it does nearly all the spinning, leaving little for the player. Its impact falls flat after trudging slowly across a world with little of substance for players to find, explore, or interpret.
A sci-fi short story masquerading as a video game, and while it's often fascinating and beautiful it makes even other walking simulators seem fast-paced by comparison.
Everybody's Gone To The Rapture really tried to be something more powerful than a video game. It tried to be art. However, instead of becoming a Mona Lisa, it felt as though the paint was still awaiting its first brush stroke. It never quite got there, but if it ever achieved that first stroke, it was bound to be brilliant.
An engaging story, gorgeous environment and well-written characters can't distract from the fact that Everybody's Gone To The Rapture's gameplay is buggy and lethargic.
Geeks Under Grace
5.7 / 10.0
As much as this game could have been a great suspense story, it falls short in making clear what the story is about.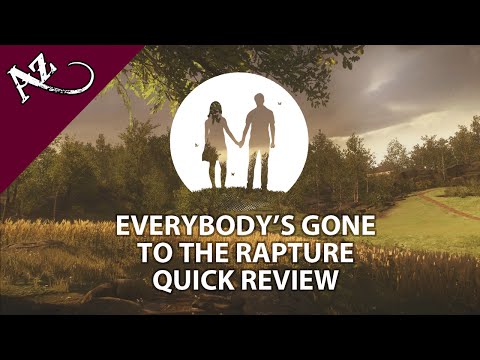 Rapture deals with mature, human subject matter -- failing relationships, aging, death -- with notable verisimilitude before acquiescing to its lurid, fantastical bent. The latter feels disconnected from the initially analog apocalypse and your thoughts on Dear Esther will likely echo off this ornate end. What Rapture does well feels slight. Interwoven character sketches stretched out like clippings of a short story dropped every mile.
Everybody's gone to Rapture… but sadly not everyone will like it.
The Jimquisition
5 / 10.0
Everybody's Gone To The Rapture really is a walking simulator, and possesses all the traits associated. Really nice soundtrack though.
As with Dear Esther before it, it offers up an admirable and atmospheric experience that simply isn't all that much fun to play.
Nice as it can be to look around the world of Everbody's Gone To The Rapture, its story is dead, empty, and filled with redundant notions of player engagement.
Walking simulator as a term started as a dismissive joke, and Everybody's Gone to the Rapture is the punchline, a shaggy dog effort determined to mock the idea that games need players. It's not meta. It's not clever. It's banal and tedious and if your narrative focused do-nothing game wouldn't work as a halfway interesting short story, then it won't be better just because you force people to walk slowly around a wholly un-interactive game space while you drip-feed them unconnected plot points.