Percentile Rank
Gravity Rush Remastered is ranked in the 76th percentile of games scored on OpenCritic.
Rating Summary
Based on 48 critic reviews
OpenCritic Rating
Based on 48 critic reviews
Score Distribution
Unscored Reviews
Priced perfectly, Gravity Rush Remastered is a wonderful way to get excited for the sequel bound for the PlayStation 4.
Eurogamer
No Recommendation / Blank
No Recommendation / Blank
Feb 5, 2016
This unimpeachable PS4 reissue exposes some rough, rudimentary design in Sony Japan's cult adventure, but its charm and originality endure.
Gravity Rush Remastered is a damn fine example of thinking outside of the box when it comes to traditional 3D platformers, and I'm super glad that both Sony and Bluepoint gave PS4 owners the ability to experience the game, if they were previously unable to.
Though it's a little awkward at times, it's never truly annoying, and the many virtues of the PlayStation 4 and the DualShock 4 help to make the game feel more natural and fluid in action than on the Vita. The sequel looks like it's really really going to flesh out the ideas at play in the original, when it releases later this year, but until then, Gravity Rush Remastered is the best way to play or revisit one of the Vita's most distinctive games.
Scored Reviews
PlayStation Universe
9.5 / 10.0
An utterly superlative remastering effort turns one of PS Vita's crown jewels into one of PS4's most engaging and compelling titles. As fresh today as it was on its original release nearly four years ago, Gravity Rush Remastered is absolutely unmissable.
Going into this game, I did not expect to like it as much as I do. There is a fast travel system, but I rarely used it. I preferred flying around and collecting gems on my way as I went to different locations. Sometimes the free range of gravity could be disorienting. This was mostly in battles or challenges where there was more of a rush to completing a task. This made me just want one button that I could orient myself to the world, without losing place. This game is a lot of fun if you get the chance to play it.
Man kann prinzipiell von Remakes und Remastered Versionen halten was man will, aber im Fall von Gravity Rush: Remastered lohnt sich ein Kauf auf jeden Fall. Wenn ihr den Titel bisher auf der Playstation Vita ausgelassen habt, solltet ihr den Titel auf jeden Fall nachholen.
Review in German | Read full review
One of the best Vita games becomes one of Sony's best PlayStation 4 offerings. While its portable origins mean the game never truly pushes the console on a technical level, Bluepoint has refreshed and reworked the original Gravity Rush with the care it deserved for its debut in high definition.
And thank God (or perhaps that should be "thank Kat", without getting too spoilery) that despite being a bomb on the PlayStation Vita, Sony saw enough strength in the material to give it another go. People, please, buy it. We need more of this kind of game, but publishers like Sony need revenue from them to make that happen.
A superb action game that does far, far more than just depend on the novelty of gravity switching. It deserved so much more than to be ignored on Vita, and you simply must play it on PS4.
Nonetheless, Gravity Rush Remastered is an endearing piece of digital goodness that warrants your attention. You'll want to spend as much time as possible in Heskeville long after you're done with the main plot line. Sony might have laid it on a little thick with remasters to prop up a seemingly threadbare lineup of exclusives, but Gravity Rush on the PS4 is exemplary. There simply is no reason for you to miss out on it this time around.
Gravity Rush Remastered is a fantastic port of an already fantastic game. The updated presentation is beautiful and nothing was lost in translation when putting a handheld game on the consoles. With tons to do and additional content, Gravity Rush Remastered is a fantastic addition to any gamer's PS4 library.
Digital Chumps
8.8 / 10.0
Gravity Rush is captivating early on and maintains that level of interest throughout. It's addictive, well-paced, fun as hell, and has a nice steampunk world with a great soundtrack. The remaster is good, although straight-forward, and at $30 it's a purchase well worth considering.
Gravity Rush Remastered is an excellent port of the original Vita exclusive to PS4, with unique gravity-shifting gameplay mechanics that lends to fun aerial exploration - all with a distinctive European comic book aesthetic.
A unique game play experience at a more than fair price. The game runs at a smooth 60fps with no dips and features the same captivating story and gameplay that made the original release a suprise hit.
Some people complain that the last thing we need these days are HD ports of "games gone by," as it were. However, Gravity Rush Remastered provides a hell of an argument that they're still worthwhile, especially if they're done the right way. This is an ideal way to become introduced in the series, and it'll get you excited for the sequel to come. No need to, ahem, flip out.
Those looking for something new and exciting definitely need to give this a shot now that it has a second chance.
I love the fact that Gravity Rush exists. How rare is it these days to see a major publisher produce something so wholly original, so defiantly non-commercial? The game has its shortcomings, it's true, but they're the sort of things that sequels are made to iron out. While I'd prefer this remaster have taken a crack at shoring up the game's weaknesses, the technical improvements it brings more than justify its existence. If you've never played Gravity Rush, you need to play this remake... and if you have played it, this version offers an improved enough experience to justify a second visit to Hekseville.
Despite the issues I have with the story and combat, there's still something special about Gravity Rush. And it's a damn shame that more people haven't gotten the chance to experience this game before now, simply because it was a handheld exclusive.
Few games have made exploring an open world this much fun, and the last time I enjoyed searching areas for collectibles this much was in Infamous: Second Son.
Gravity Rush may have been the must-play game on PS Vita but, in coming to PS4 it is now one of the top titles on that system, as well. Each platform has its selection of games everyone needs to experience, and Gravity Rush Remastered is one of those. It doesn't last too long, but from start to finish this is a joyous romp, featuring a charming set of characters in a fascinating world, with fluid, mesmerising gravity-based gameplay that controls that much better on PS4. Packed-in DLC content and fun side missions with online leader boards add to the already excellent value, so make no mistake in picking this one up and preparing for Gravity Rush 2.
In the end, Bluepoint deserves credit for managing to bring out the best in an already-pretty-good game, allowing PS4 owners the chance to experience the charm of Gravity Rush unhampered by the limitations of its original platform.
Fun, innovative, and unique, Gravity Rush is well worth your time, bringing an original action-adventure from the small screen to a bigger one.
Gravity Rush Remastered is about what you'd expect. The slicker visuals and boosted frame rate lead to an even cleaner and more satisfying experience, though its portable roots are glaringly obvious the more you play. If you've got a PS4 but not a Vita, you definitely owe it to yourself to give it a shot.
Gravity Rush Remastered brings one of the PlayStation Vita's most significant exclusives to the TV screen, and it is by far the best way to experience the game.
Gravity Rush Remastered is a very solid adventure game whose charm really comes from movement. It may take some getting used to before it becomes effortless, but taming your personal gravity field is one of the better experiences in a video game. While the title could use more variety as far as missions go, they still make good use of your powers, and the story that goes along with it is told well enough that you're motivated to see where it goes next. It does a good job of whetting people's appetites for the upcoming sequel, and those who want to experience something distinctive will have a good time with this title if they missed it the first time around.
PlayStation LifeStyle
8 / 10.0
Gravity Rush Remastered attempts to update the 2012 portable original for a 2016 home console experience, and it's mostly successful in doing so. Though some elements feel like relics of its portable past, like comic-book-style cutscenes and a lack of voice acting, there's no denying it's still a hell of an aesthetic accomplishment. Yoshiaki Yamaguchi's gorgeous art style shines through in both the excellent character portraits and the city's uniquely colorful districts, and Kohei Tanaka's lively soundtrack evokes the same sort of childlike whimsy you might expect to find in a Ghibli film. The gameplay can be a bit disorienting with its whirling camera and shift-happy combat, but there's still nothing quite like the sense of freedom you get from soaring around Hekseville's bizarre monsters and creative locales — and it's a feeling of childlike joy that makes Kat's first adventure worth playing in spite of its flaws.
One of the best-loved games on PS Vita scrubs up well for the PS4, with an HD update that does justice to its vibrant anime steampunk style and fantastic art design. The Dual Shock 4 controls arguably improve on the original system, while the floating, rushing, Navi-bashing gameplay is undiminished by the move to the big screen. It's a little on the lightweight side but bolstered by the bundled DLC and budget price. Get it now, then get ready for the sequel.
However, what the developers are doing with a remaster is not simply to squeeze more money out of the consumer; Gravity Rush: Remastered is giving people the opportunity to experience what is genuinely an interesting and entertaining game, one that they might have missed because of the platform on which it was released. Now, with a shiny new entry on the PlayStation 4, Gravity Rush can reach a wider audience, and if Gravity Rush 2 improves at all upon the first, that's ultimately more of a benefit to the gamer, rather than the developer.
Despite some shortcomings, Gravity Rush still holds up well and is a great experience overall. The gravity manipulation mechanics are engaging, it's fun to explore every nook and cranny throughout Hekseville and the visuals have been enhanced to take full advantage of the PS4 hardware. If you haven't played Gravity Rush yet, now is the time to do so.
With improved visuals, smoother performance, and all the previous DLC bundled in; it's safe to say that Gravity Rush Remastered is the definitive version to play for anyone who has yet to try it out.
Taking to the skies is a fun but slightly rocky experience, but was fun through it's 10+ hour flight.
The Jimquisition
7.5 / 10.0
While most of this generation's avalanche of double-dips have felt cynical and unwarranted, Gravity Rush truly benefits from a change of system and a chance to reach a comparatively huge audience. It is, simply put, a better game than it used to be, and I can't complain about that.
The core of what Gravity Rush is is still here and still great, but what problems the game originally had aren't fixed by the visual update, and some of them are even made worse.
Beneath the fluff and frustrations lies a truly unique game with a wondrous world and a central mechanic that can often cause moments of pure exhilaration. It's a fun, but deeply flawed experience.
A solid remaster of a good game means that Gravity Rush genuinely feels at home on the PS4.
An excellent remaster of an imperfect but hugely endearing action adventure, that completely justifies the ongoing plans for a sequel.
Fun Gameplay with an amazing soundtrack makes this game a lot of fun, however, the story doesn't feel complete
Gravity Rush Remastered is a great upgrade from the PS Vita original thanks to a solid 60fps 1080p presentation. The joy of exploring the world of Hekseville is still very much intact, with the gravity shifting ability once again acting as the main source of fun and enjoyment. However, the boring missions combine with poor combat mechanics to make for a lesser experience than the concept deserves.
Gravity Rush's acrobatic heroine and fairytale metropolis feel at home in the PS4 remaster of the 2012 Vita hit.
Gravity Rush Remastered will have you purring at the potential that its sequel looks set to fulfil, but it's a fine release in its own right. The mission variety's not quite there and the plot's paper-thin, but the traversal's some of the finest that you'll find on consoles full-stop, and the audio-visual achievements are outstanding across the board. It's an excellent first attempt, then, so irrespective of the laws of gravity, the only direction for this promising property is up.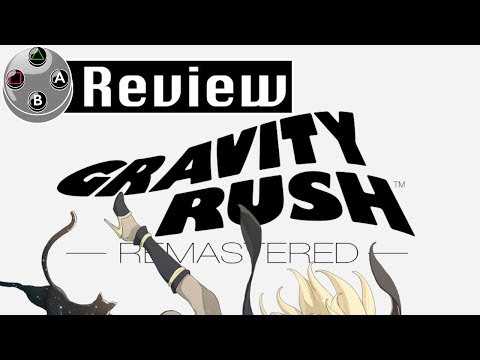 Paste Magazine
6.8 / 10.0
But that idea has so much potential, and when it's implemented eloquently I'm uplifted by it. When it gives you tasks that complement your powers, Gravity Rush transcends its mediocrity through the sheer power of flight. But then it tumbles back down into complacency, leaving me to wistfully pine for the skies again.
Gravity Rush is a treat for the eyes, but still an uninspired game with boring mechanics.
Review in Italian | Read full review
It shouldn't be cutting corners, and it's silly that the four major zones are all still so faded, dull, and repetitious.