Percentile Rank
Teenage Mutant Ninja Turtles: Mutants in Manhattan is ranked in the 5th percentile of games scored on OpenCritic.
Rating Summary
Based on 53 critic reviews
OpenCritic Rating
Based on 53 critic reviews
Score Distribution
Unscored Reviews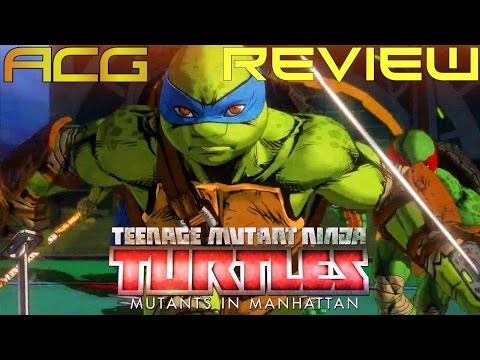 Eurogamer
No Recommendation / Blank
No Recommendation / Blank
Jun 1, 2016
Platinum Games and Teenage Mutant Ninja Turtles might be a dream pairing, but a co-op focus makes for a game that's strangely compromised.
In the end, Platinum didn't need to do much to make Mutants in Manhattan a worthwhile experience. All it had to do was respect the source material, create some satisfying combat mechanics, and honor the series' local multiplayer origins. It failed largely at all three.
Scored Reviews
It's not going to blow anyone's socks off, but for a TMNT fan, this beat 'em up is still a decent time when partnering up.
Cheat Code Central
3.4 / 5.0
I understand that it would have been difficult to keep free-roaming intact in a few of the levels without developing a dynamic split-screen system, but that would have been really nice to see and I can't help but feel like Platinum missed a huge opportunity there. Be that as it may, this is still a game that you'll love to play with your buddies. It's a mindless, campy, action-packed, Saturday morning cartoon that you get to control, and that's exactly what we want in a Ninja Turtles game. Rent this one first and see how you like it, or else wait for a sale - it's hard to pay $50 for a game that you can beat (on normal) in less than 7 hours. If you have even one friend who might like to play with you, though, it's totally worth it, and all of the upgrades and secrets will keep you occupied for months.
Teenage Mutant Ninja Turtles: Mutants in Manhattan is, at the very least, a serviceable co-op brawler infused with plenty of fun nods for longtime TMNT fans. However, its high price-point, lack of couch co-op, and repetitive gameplay are hard to ignore, making it a game which is best bought at a drastically reduced price.
TMNT: Mutants in Manhattan is a game that had the potential to be as superb as last year's Transformers: Devastation. Instead, due to a movie releasing this week in theatres, it's clear that Activision rushed Platinum Games to push it out quickly. What's here isn't bad, but it needed to stay in the pizza oven a little bit longer for sure.
Ultimately, all that's wrong with Mutants in Manhattan was that it couldn't meet Platinum's own stratospheric standards.
Controlling the turtles is fun, but the structure of the levels, missions, and bosses leave much to be desired
In the end, it's a good game for being licensed but at the same time feels like it was in a bit of a rush. Activision trying to make it out in time for Michael Bay's next adaptation, when more cooking time in the "pizza oven" would have helped.
TMNT: Mutants in Manhattan is a huge missed opportunity, that should have and could have been so much more. Turtle Power this is not!
Geeks Under Grace
5.7 / 10.0
Those looking for a game that will recapture the glory days of the arcade TMNT, Turtles in Time, or Hyperstone Heist will be sorely disappointed. Those looking for a for a beat 'em up and are willing to settle for some middling gameplay with great trademarked characters might be interested in Mutants in Manhattan—ideally at a discount.
The AI doesn't do a poor job of controlling the other teammates, it just feels more natural to have real players as part of your team.
Mutants in Manhattan does just enough fan service to make TMNT fans almost forget how mediocre this game is.
Another misstep with the TMNT franchise leaves me wondering if anyone will ever make a good Turtles game again. As is, Mutants in Manhattan works, but it's just terribly boring.
You could refer to Teenage Mutant Ninja Turtles: Mutants in Manhattan as the best TMNT game in years, but that really doesn't mean much. While there's a moderately entertaining co-op experience underneath the lazy level design, short game length, bland missions, occasional bugs, and minor kinks in the combat system, the quality and value most certainly aren't in line with what we expect from a $50 game. Sure, it could be worse (look at the last three TMNT games, for example), but it's especially heartbreaking considering Platinum's history of delivering fantastic action games. This is not Bayonetta. It's not even Transformers: Devastation. Don't shell out your hard-earned cash when you could spend it on delicious pizza instead.
The Platinum spark exists in Mutants in Manhattan, which is why it's tragic the developers couldn't spend the same resources they would on original IP like Bayonetta. As licensed games go, you could do much worse, but this TMNT outing feels like a collection of good ideas in need of a second pass.
One of Platinum Games' more disappointing offerings – too short and too simplistic.
The Outerhaven Productions
I can only recommend this for only the hardcore of Teenage Mutant Ninja Turtles fans. For everyone else, you may want to think about putting down $40 dollars (PC) or $50 for consoles and instead try to rent or wait until the price drops. Sadly it seems that Platinum Games either doesn't excel when it comes to licensed games and should focus more on their own IPs, or at the very least take a pass when it comes to doing video game adaptions of tv shows.
This could have been the TMNT title for which all of the fans have been waiting, but sadly it is another missed opportunity and a dip in form for the usually brilliant Platinum Games. The level design and watered down combat leaving the game feeling more like a button mashing grind than the deep combat intensive hack and slash that it could have been. What remains is a distinctively mediocre title that might appeal to some hardcore turtle fans, but from a gamer's perspective, there's very little to recommend other than some easy achievements. There are certainly better hack and slash titles out there. For a full priced title, that's not much of a return on investment despite the short campaign.
Teenage Mutant Ninja Turtles: Mutants in Manhattan's charming visual style doesn't make up for repetitive level design and combat that would leave even Master Splinter frustrated.
Given how much I was hyped for the game, Teenage Mutant Ninja Turtles: Mutants in Manhattan is a bitter disappointment, meeting only some of the expectations I had and feeling like it was heavily rushed through development to meet a deadline. It's not Platinum's worst by any means, as it certainly looks and sounds the part, but the combat and level structure leave a lot to be desired. This is a classic case of a game that is more of a cowa-bummer.
I'm looking forward to Platinum Games returning back to what they do best—creating original games with unique settings and fast character-action with crazy combos to learn. They can certainly make these licensed games look fantastic, but nearly everything else they leave little to desire.
Does a good job of showcasing the spirit of the turtles, but never reaches its potential and will let you down with repetitive combat, lack of local co-op and bland environments.
As I sit through Teenage Mutant Ninja Turtles: Mutants in Manhattan, why does this marriage made in heaven bore the hell out of me?
Even with a super-short running time, the repetitiveness that pervades Teenage Mutant Ninja Turtles: Mutants in Manhattan makes this fight a slog. I've heard all the jokes the team has to tell and have marveled enough at the rogues gallery of bosses – both of which I could've done by watching this game on YouTube rather than playing it – so I'm not planning another trip to Manhattan.
New Game Network
48 / 100
TMNT: Mutants in Manhattan is a repetitive hack n' slash that forces the player time and again into encounters with samey enemies against a paltry selection of passionless backdrops. It's really only saved by the bosses, but the amount of filler you'll need to sift through to fight them just keeps a'coming.
But even with the admittedly enjoyable boss fights, all the letdowns of Mutants in Manhattan gave me an impression that this was just another rushed game. The mechanics were simple to understand; but it surely lacked the local co-op mode, and missing the satisfying achievement that each hack n' slash / beat 'em up game should always have.
That exact design decision is emblematic of most everything wrong with Teenage Mutant Ninja Turtles: Mutants in Manhattan. It does its best to spread little content as far as it can possibly go. It's a very short game that still manages to be far too long. The anchovies on the pizza is that it doesn't even necessarily succeed where Platinum Games usually excels. Cowabummer.
Reno Gazette-Journal
2.25 / 5.0
Underneath TMNT Mutants in Manhattan's shell are solid mechanics that could have been a great foundation for a technical brawler. Those technical elements, however, don't get as much play as the game typically devolves into a four-turtle free for all. Add the lack of local co-op and you have a missed opportunity, especially given how the game nails the Ninja Turtles' visuals. Overall, the game just can't quite figure out whether to provide a solid single-player adventure or hectic multiplayer brawler.
Chalgyr's Game Room
4 / 10.0
The boss battles help to alleviate the repetition and there are some secret ones that can be unlocked if you meet particular criteria that serve as the primary reason to replay levels. Admittedly, some of these were pretty cool and gave me a nice sense of satisfaction when they occurred, but at the end of the day Teenage Mutant Ninja Turtles: Mutants in Manhattan is little more than a visually stylized button masher with little of the heart that has made the Turtles so enduring over the years. I love most of the titles that PlatinumGames produces, but TMNT is a rare miss for the developer.
Teenage Mutant Ninja Turtles: Mutants in Manhatten is both basic and overly complex, delivering almost none of the magic that made previous four-player Turtles games so memorable.
Teenage Mutant Ninja Turtles: Mutants in Manhattan is a very disappointing action game which isn't worth bothering with. Platinum didn't put its best foot forward with this one, and it's evident from the get go.
TMNT Mutants in Manhattan stayed faithful to the comics in terms of art style and funny dialogue, but it failed everywhere else. There's a lack of innovation, and the replay value of this short game is shot by the fact nobody will want to play it again. If you just have to have your turtles fix, and can't get the NES/SNES arcade games, wait for this to hit the bargain bin.
It's clear that Teenage Mutant Ninja Turtles: Mutants in Manhattan was aiming to be Left 4 Dead with Ninja Turtles, which does sound awesome, but it's too focused with cramming in elements from other games as well, including the classic TMNT arcade brawlers and Arkham Asylum (down to the Detective Vision and stealth takedowns).
PlayStation LifeStyle
4 / 10.0
The ultimate disappointment is that Teenage Mutant Ninja Turtles: Mutants in Manhattan has a solid base. A good game could've been made with these combat mechanics, but sadly some abysmal level design makes this 4-hour game a complete chore to play. When an uninspired boss rush level is arguably the best part of the game, then you know something went wrong.
Mutants in Manhattan looks flashy and captures the spirit of the Turtles, but the campaign is over in a flash and the combat is boring and uninteresting.
One of Platinum's worst games so far, with dull and repetitive action that doesn't do the heroes in a half-shell any justice at all.
Overall, Mutants in Manhattan just feels a little lazy, one of the very last levels recycles all the previous bosses you have fought and you have to beat each one again before moving on. They are exactly the same, but much easier now that you have upgraded. Whilst the combat is fun at first it quickly grows old, there are a lot of small missed opportunities which could have made this game really fun. Sadly what we are left with is the bare bones of a hack and slash game with the Turtles branding.
Mutants in Manhattan is so aggressively dull and sub-par there's little to no joy to be taken from playing it. Like a coloring book, it's nothing more than a shallow collection of non-stimulating activities and disconnected clichéd references created with the purpose of alleviating mild boredom.
Platinum Games's take on the Teenage Mutant Ninja Turtles is a mediocre hack-n-slash romp that ultimately fails to become anything more than just that.
As mentioned above the game is only about 3 hours long and unless you want to get an S rank on all 9 stages on all difficulties there's really no reason to replay it at all.
Teenage Mutant Ninja Turtles: Mutants in Manhattan is an utter disappointment, failing to return the game to its arcade roots. Perhaps it would have fared better as a side-scroller, dropping the regrettable meaningless tasks, and instead featuring the four turtles battling countless of Foot Clan ninjas until you reach the boss. The combat doesn't feel smooth as the game is limited to 30FPS, instead of the typical 60FPS that PlatinumGames deserve. There are collectible comic book covers to find, but the game's over before you know it and is almost fully priced as well.
Perhaps after such goodness in licensed games such as 'Arkham' and 'Mordor' I have become spoiled, but I really thought Platinum could deliver a great (or at least good) Ninja Turtles title, especially after their decent work with the Transformers. Sadly, I was mistaken. This is a very short and very weak rendition of the Turtles. With the exception of perhaps the youngest and most devoted fans of the pizza-loving reptilian brothers, it can be easily skipped.
There is no way to justify TMNT: Mutanti a Manhattan: the combats are noisy and puzzling, it looks like the system has been made to confuse the players, and it keeps reminding how shallow the game developing has been. The few good aspects just fade away in front of its low-level production.
Review in Italian | Read full review
Teenage Mutant Ninja Turtles: Mutants in Manhattan's greatest sin isn't that it's a bad game that feels like the result of minimum effort. It's that it takes a great concept, and makes it unrelentingly boring in every way possible.
Aside from the graphics, everything here stinks, which makes sense because a lot of the game takes place in the sewers, and also because this game is crap.
The Jimquisition
3 / 10.0
The only positive point I can make is that I didn't completely hate it.
It's with a heavy heart that I have to say that this game is utter garbage of the hottest variety.
The developers veer beyond the cartoonish nature of the TMNT television series and straight into the absurd.