Percentile Rank
Gears of War 4 is ranked in the 90th percentile of games scored on OpenCritic.
Rating Summary
Based on 133 critic reviews
OpenCritic Rating
Based on 133 critic reviews
Score Distribution
Unscored Reviews
I liked this game. A lot. As someone who loves the Gears franchise and found myself frustrated with its recent direction, it's good to have a proper Gears game that feels like a new chapter in the original saga.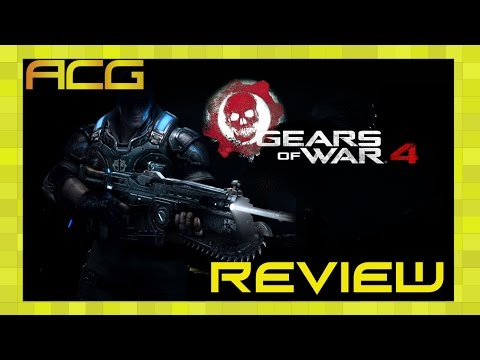 A cautious revival but a very worthwhile one, which creates a great foundation for future games.
Rich in content and a joy to play, Gears of War 4 is one of the year's best games and, arguably, Microsoft's greatest eighth generation exclusive so far.
Gears Of War 4 doesn't reinvent the chainsaw, and it doesn't need to
Gears of War hasn't changed, not really. I'm left wondering what a true metamorphosis of Gears could look like, how this series could go about defining a new generation of video games. It's a lot to ask. Gears of War might continue as on as it has, a single revolution followed by a lifetime of refinement. It's enough.
Sorry all of you "Pokemon Go" players, "Gears of War 4" is my social game of the season.
Gears of War 4 is an excellent game. Not only is it a fine looking title, but it plays smoothly and has a rock-solid frame-rate. The suite of multiplayer modes and the new Horde Mode are the icing on the Chainsaw Cake.
The most complete Gears game to date containing something for nearly everyone.
Gears 4's achievements are in its intimacy and understanding of its history. Much of the game finds you in cramped, isolated corridors, fighting things you don't understand for reasons you haven't had time to process. It's not a war so much as an attempt to crawl out of an abyss, alive for one more day. Gears has never felt as hopeless and frightening as Gears 4, nor has it ever recognized its characters' mortality as effectively.
Scored Reviews
A gleefully gritty, gruesome, and grand continuation of the franchise.
Honest Gaming Reviews
10 / 10.0
After narrowly escaping an attack on their village, JD Fenix and his friends, Kait and Del, must rescue the ones they love and discover the source of a monstrous new enemy.
As a complete package, Gears of War 4 is everything I could have asked for and more. Yes, I've got a few slight gripes with the lackluster final fight in the closing moments of the campaign and Horde 3.
Real Game Media
9.9 / 10.0
Gears of War 4 takes everything from the Original games and evolves it . Making it not only feel fresh and new but making it work effortlessly. Visually it's the best looking game to come out this year.
Entertainment Buddha
98 / 100
Gears of War 4 packs a great story, interesting new characters, and very sound gameplay. Its visuals are stunning to say the least, especially if you have a 4K TV that supports HDR and the Xbox One S. It's definitely one of 2016's best, and should be played even if you've never played a Gears of War game before.
Gears of War 4 is about family, it is about returning to the planet Sera, on the way to a new generation of fighters, led by the son of Marcus Fenix.
Review in Spanish | Read full review
Gears 4 is smoother all around than past games while retaining that heavy weight to characters.
Gears of War 4 is a return to form and easily the best game in the series thanks to new weapons and an all-new class-based Horde mode that will keep you coming back for more.
Gears of War 4 is the Gears revival that fans have been waiting for, and proof that the franchise is in the right hands.
Gears of War 4 improves pretty much everything the series has ever offered. A great game with even a better multiplayer.
Gears of War returns with a bang. Consistently thrilling and relentlessly entertaining, Gears 4 is comfortably one of the best shooters of the generation so far.
The campaign is too familiar at times, but the gameplay is top notch. All multiplayer modes showcase high levels of depth and reasons to come back
Rectify Gaming
9.3 / 10.0
Gears of War 4 is a remarkable entry from The Coalition giving fans exactly what they want
I never expected to compare Gears of War 4 to The Force Awakens, but I couldn't be happier to do so. Like the latest chapter in the story from a time long ago in a galaxy far, far away, Gears of War 4 is directed by a new generation of creators, shares a lot of similar narrative structures to the beloved first piece of the trilogy it succeeds, and is an experience you'll walk away from with a big smile on your face – in campaign, Versus, and Horde modes alike. It's about as good of a franchise reawakening as I could've hoped for. J.J. Abrams would no doubt appreciate what Gears 4 accomplishes.
The Coalition has made a proper Gears of War. GoW 4 has a new setting and enemies but everything else there is what made this franchise an instant classic on Xbox. One of the best TPS out there on Xbox One or PC.
Review in Spanish | Read full review
Gears of War 4 just may be the console seller that you've been waiting for. Gear Up!
Gamerheadquarters
9.2 / 10.0
Gears of War 4 proudly moves forward while retaining and respecting what made the first three games so strong.
Gears of War 4 delivers on all that it had promised, a wonderful campaign with twist and turns, leavings us wanting. The multiplayer feels fresh and is worth playing to get better at for competitive modes; along with a horde mode that will test you but make you feel accomplished when it's all finished.
Gears of War makes its grandiose return on Xbox One and PC, those sorely missing the series can rest easy knowing that the franchise is back and better than ever.
The main draw for many a player will be [Gears of War 4's] suite of online options which are very nearly flawless
The Coalition did a great job with Gears of War 4 and looks to be taking the franchise in the right direction; I look forward to seeing what they have planned for Gears of War 5 and Gears of War 6.
Despite that pressure, The Coalition have proved with Gears of War 4 that the team is more than capable of providing an experience that falls in line with the titles that came before it by staying reverent and faithful to the original games (sometimes to a fault), but with enough layers of intrigue and new additions to make Gears of War 4 an admirable continuation of the Gears story. Like with the relationship of Marcus and J.D. throughout the game, Gears of War 4 sticks close to the legacy of its predecessors, but along the way is on the way to writing one of its own.
Gears of War 4 is exactly what you've come to expect a Gears of War game to be over the years -- an impressive visual showcase in the campaign, with the accompanying competitive and cooperative modes to keep you busy long after the credits roll. Its good to finally see a new Gears of War game on the Xbox One. The wait has been long for Gears of War 4, and now we've seen that the wait has been worth it.
The new installment of the Gears of War saga is just what the fans were expecting after Judgment. Even though its story mode is a bit short, its gameplay mechanics and graphics will make you fall in love with Gears of War 4.
Review in Spanish | Read full review
Gears of War 4 represents the next level of classic Gears of War gameplay.
Despite a few shortcomings in script and development of new characters, Gears of War 4 really shines in terms of gameplay and visuals. There's plenty on offer in both single and multi-player modes and the visuals are as stunning as expected. Easily one of the best games of this generations and a must-have for Windows and Xbox gamers.
Review in Persian | Read full review
There's no underestimating the amount of effort The Coalition has put into Gears of War 4. The result is one of the best shooters you can get out there on Xbox One and PC. It's personally my favourite cover-based third-person shooter that I've played, and despite some flaws, it's an incredible package with a great campaign, competitive and social multiplayer modes, and an addictive Horde experience. There's few shooters that I really enjoy my entire hands-on with, but Gears of War 4 is one of them. It's an incredible experience all-around, and with the addition of new Gear Packs, collectable cards, and the promise of free post-launch maps, there's a lot of reasons for fans to keep coming back.
If anything, Gears of War 4 shows that The Coalition can handle the series going forward. From the single-player to the co-op and multiplayer, every aspect of the game sings with quality as they successfully blend old traditions with new mechanics. There's already a ton of content in the game, which is great at giving you many possible ways to access it all. While the PC is the preferred platform to play the game, the Xbox One version is no slouch, as it still comes up with a solid experience. Overall, action fans will have a blast with this title.
Gears of War 4 looked at the series' core formula and figured that if it wasn't broken, don't fix it. Most of the additions The Coalition put onto that core simply helped enhance and refine something that was already great. A couple of missteps were made, but this is still a great overall entry in the franchise.
Gears Of War 4 does everything required to bring the franchise roadie-running into 2016 without losing what made it so good to begin with. One of the best games on the Xbox One.
Geeks Under Grace
9 / 10.0
Gears of War 4 is a return to form for the beloved franchise. It takes everything the series has done so well over the years and adds plenty to keep things fresh without bogging down the ride.
Gears Of War 4 is another incredible entry in the Gears Of War series. I'm happy the team took the extra time to get their first new Gears Of War title on the Xbox One as the extra time seems to have paid off. Like I said in the review, I wasn't the biggest fan of the campaigns in previous Gears Of War titles but in Gears Of War 4 I was extremely impressed. I feel Gears Of War 4 made some great changes to the series without moving away too far from what made the series so successful. Fans of the old games will be pleased with this entry in the series while new fans will be impressed with what's being offered in Gears Of War 4.
Gears of War 4 is a must-buy for fans of the series. The Coalition has managed to create a sequel to the original trilogy that outshines it in several aspects, while also retaining its true spirit of the series.
Everything about Gears of War 4 is as polished and perfectly executed as I expected. The Coalition have done an outstanding job in continuing the series, and I am genuinely excited to see where the series goes from here. This new trilogy has opened up a brand new story that is sure to entertain for years to come, and now PC players can join in on the fun. The series is in good hands, and anyone who enjoys Gears is in for a treat when the game launches.
If you were worried that the series might have lost its way with Epic Games no longer developing it, rest easy. Gears of War 4 is the ultimate package of gory, visceral gameplay, and fantastic production values. This is quite definitely one of the best, if not the very best, games in the series.
Gears of War 4 is the best Gears yet. Don't expect a revolution, but a refinement of all of the aspects that make Gears great, including an over-the-top, almost cartoonish campaign, and a kick-ass upgrade of Horde mode. It's also a flawless representative of Microsoft's new "Play Anywhere" and Universal Windows Platform initiatives.
Gears of War 4 is a great continuation of the series that offers a fun and unique gaming experience.
After having a blast with the campaign, The Coalition have taken the helms of the Gears of Wars franchise and have made it their own. There was little to dislike about the experience and the team have more than proved that a returning franchise can still be epic.
4 Guys with Quarters
9 / 10.0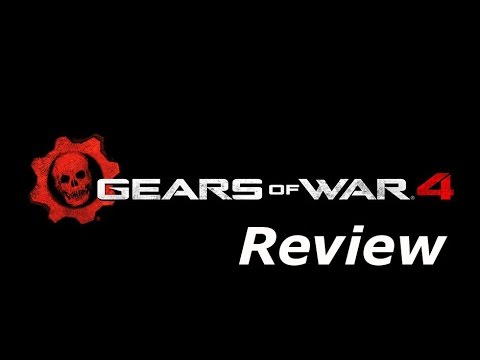 Level Down Games
90 / 100
I honestly wasn't expecting to enjoy this entry as much as I did the previous trilogy since it changed developers, but how silly I was to even think it'd be anything less than amazing. Gears of War 4 is hands down one of the best games released so far in 2016. The Coalition nailed the feel and atmosphere of the series perfectly, and the future for fans is looking brighter than it ever has.
Gears of War 4 had a lot to live up to, but The Coalition has delivered a visually stunning and thrilling campaign, plus top notch multiplayer modes. One of the Xbox One's very best titles, and the PC version is excellent too.
The Outerhaven Productions
Thankfully all my fears were disproved with the release of Gears of War 4. And even though the game still plays things close to the hip, instead of going balls deep into a new territory, make no mistake that this is a Gears of War title that does exactly what it was meant to do - Get you excited and have you smiling from ear to ear.
Gears of War 4 epitomises the 'Complete Package' game. Its single-player campaign is simple but spectacular, and its multiplayer makes all the minor evolutions necessary to position it firmly among the big hitters of the online shooter scene. Even though I'm not enough of a shooty-shooter person to call myself a 'Gears fan', I'm certainly now a fan of The Coalition, who've shown a level of respect for gamers that's lacking among other triple-A shooter franchises.
Gears of War 4 is gratifyingly grisly and a genuine Game of the Year Contender
First party franchises may not hold the same importance from a pure sales standpoint as they did in the 1990s and early 2000s, but they still play a vital role in branding. In-house exclusives are vehicles for advertising and product recognition. From big conferences to little banner ads on mobile devices, creations like Gears of War become pivotal elements in which the elixir of lure is concocted. It's Delta Sqaud, it's wearing amror with a bandana instead of a helmet, it's lambasting your way through any and all problems and forgetting to ask questions later, it's the Crimson Omen. This level of iconography would not have a pronounced effect if it were not proliferated by games that people wanted to play again and again. Repeatedly, Gears has provided the Xbox with a trusty destination for players looking to feed their inane desire for unadulterated virtual violence. And very few have done this better over the past decade. Fortunately for us brutish meatheads, the fourth numbered installment carries the flag adeptly and waves it heartily for everyone to see. The Coalition has done a fabulous job taking the framework principles of Epic Games and applying them to a project for the new machine. All the familiar gameplay aspects return with a few new tricks to increase offensive agency. Campaign is worthy of its ancestors and will probably prompt more than one play through for hardcore fans. Versus and Horde 3.0 both add tons of replayability and the presentation package is the best in series history and is contemporaneously adroit. Gears of War 4 will be one of the pre-eminent shooting galleries this holiday.
Gears of War 4 is the real deal - gorgeous to look at, smooth to play and packed full of content.
With an interesting, albeit familiar narrative, great gameplay and some really brutal battles, Gears of War 4 offers exactly what fans of the series have been yearning for: hours upon hours of great, weighty combat.
A strange combination of both familiar territory and a fresh feeling, Gears of War 4 provides and enjoyable and robust experience. While there isn't much new ground broken in the experience, it does a lot to remind us what was so great about the original games in the first place.
Gears of War 4 is a fresh new take on the Gears series. New characters, enemies, and a refreshing new story, will be a welcome new direction for the series for years to come.
A strange combination of both familiar territory and a fresh feeling, Gears of War 4 provides and enjoyable and robust experience. While there isn't much new ground broken in the experience, it does a lot to remind us what was so great about the original games in the first place.
Play Some Video Games
87 / 100
Gears 4 serves as a worthy reboot even if it doesn't expand on the status quo. Technically the game is sound & offers more than enough value, but it doesn't advance the story or the recipe enough to warrant admiration to say its one of the best in series.
Gears of War 4 is a very well-executed, bug-free game with awesome technical effects. The single-player campaign is on the short side at nine hours, but it gives you everything that you want and expect in a Gears of War game. The Coalition does a decent job walking the tightrope of providing something that fans want and giving them something different at the same time. The Horde mode has taken the co-op play in a very good direction, and I expect that fans are going to enjoy multiplayer quite a bit as well.
Gears of War is back with a very solid entry in the beloved franchise: the lack of courage and the apparent fear of taking risks prevents Gears of War 4 from entering the absolute gotha of the genre, yet with its compelling campaign and the usual, stellar multiplayer, this remains one hell of a ride.
Review in Italian | Read full review
If you've been a long-time Gears fan, you have no reason to worry. This is definitely all you asked for and then some. If you're a casual Gears fan, I'd still recommend it purely for the fact that it is an incredibly solid package and will last you a considerable amount of time. For those that do not enjoy the franchise, you won't find anything new to sway your opinion since this is a refinement of the traditional formula and more importantly a continuation of the legacy.
A cracking first effort from The Coalition, Gears of War 4 might be the studio playing it safe for its first proper go around with Gears, but it successfully manages to retain everything that's special about the series while re-igniting mankind's struggle for survival on Sera. That means there will be sequels. Lots of sequels. Fortunately, Gears of War 4 is a superb game, so if they're anything like this, bring 'em on.
Reno Gazette-Journal
4.25 / 5.0
Gears of War 4 marks a welcome return of the franchise for fans of the series. The shooting and cover mechanics feel familiar in a good way and the retention of splitscreen will get a hallelujah from fans. Storytelling isn't quite as dialed down as the original trilogy and feels more like an appetizer, especially given the lack of a memorable big baddie. At a time when many games are dropping full-fledged campaigns, however, Gears of War 4 provides the best of both worlds for folks who like their robust online modes to come with a meaty story component with co-op to boot. It's a much awaited return homemuch-awaited return home for series fans.
Get in on the action while multiplayer is at its peak rather than waiting for a discount.
The Coalition's development team did a fantastic job adopting the Gears of War series. They've preserved what makes it special in our hearts and added in new bells and whistles which are absolutely welcome.
Review in Arabic | Read full review
Gears of War 4 is a successful new entry in the series. This time made by different creators, but everything that fans adored has been preserved.
Review in Czech | Read full review
Xbox One is only now getting its first taste of a signature franchise as it approaches its third birthday — and it was worth the wait.
Gears of War 4 is a worthwhile successor that brings back all of the brutal combat, addictive multiplayer and waist-high walls you remember in a terrific return to form.
Gears of War 4 bietet weiterhin einen soliden Multiplayer und auch die Kampagne kommt zwar nicht an den Vorgänger heran, macht aber zumindest im Co-Op ordentlich Spaß. Coalition hatte eine wirklich schwere Aufgabe vor sich und hat das Grundgerüst von was ihnen Epic Games mit Gears of War 3 hinterlassen hat, in vielen Bereichen sehr gut ausgebaut.
Review in German | Read full review
Gears is brilliant at doing what it does best. Gears. If you love offerings already on the market, then you will love this game, but it may let you down with it's lack of exciting innovations and predictable story. Maybe it's because when you make three solid 8 or 9 out of 10 games, you can't do much to make it better, "if it ain't broke don't fix it". The hardcore and the newbies alike will love Gears 4, but it won't be the ground breaking Gears we reminisce about. Gears 4 is back with a smack, bang and wallop! It lets itself down purely because it is holding something back and I cannot wait to find out what that is.
Cheat Code Central
4.2 / 5.0
Gears of War 4 provides an introduction to a team and a new threat that will hopefully see more rising action in the story as the sequels come. It does, however, stay true to the gameplay mechanics of its predecessors, and provides countless hours of rewarding multiplayer options. The Gears faithful should rejoice, as a new saga is just getting lubricated.
Gaming Masters
8.4 / 10.0
Gears of War 4 has a cinematic campaign and a really well done horde mode, however, the story is poorly written and doesn't offer anything amazing to the player
Chalgyr's Game Room
8.3 / 10.0
Despite the orphaned feeling of the first half of the game, not to mention the snappier more responsive gameplay, Gears of War 4 is still a rock-solid third person shooter. Set in the broken world of Sera, humanity is trying to rebuild after the Locust (and later, Lambent) devastated the world and in doing, somehow turns into an Orwellian nightmare for the first few acts. Muscle through it, whether through single player, couch co-op, or online co-op, and you will be rewarded with a decent "next step" in the franchise that really ends on a cliffhanger worthy of a follow-up.
It's difficult to fault The Coalition for not running with new ideas when it comes to Gears of War 4. The game definitely feels like a Gears of War title, but it's more of a revamped reboot rather than a proper sequel. If you've been a fan of previous Gears titles, there's a lot to like about Gears of War 4, but for anyone who wasn't already sold on the series, don't expect anything here to suddenly change your mind.
'Gears 4' gives me the same sense of wonder and excitement playing through the campaign as I first had with Marcus and Dom a decade ago. It is a 'Gears' for a new generation, and The Coalition has risen to the occasion to give a top notch package with heaps of production and replay value both. The Ultimate Edition specifically is not worth its hefty price tag, but 'Gears of War 4' itself should not be missed.
Gears 4 is one of the best action games of this generation, whether you played the previous installments or not. If you own an Xbox One or even a PC, then don't hesitate to buy this game. Even if you don't own any of these, it might be the right time to do so. If you loved any of the previous "Gears", then expect a similar experience with a few additions.
Review in Arabic | Read full review
A coherent single-player campaign and excellent online options bring this Xbox stalwart right back into the battle
The Coalition had a tall task in bringing Gears of War to a new generation for their first original game under the banner, and they mostly pulled it off with class. The competitive multiplayer isn't much of an evolution from previous efforts, and the campaign drags for a bit, but the high points make it worth the ride and the new Horde mode is simply stellar. If you've enjoyed this franchise previously or have a few friends looking for co-op, give Gears of War 4 a close look – it's definitely worth the time.
The story campaign can be a little bland, at least when playing on your own, but otherwise this does a fine job of bringing Gears into the current gen.
Gears of War is fresh and exciting again, and its future is potentially even more so.
While it delivers a lot of the goods that'll keep Gears fans happy, it wastes potential by sticking too closely to the old formula
Its thrilling, opulent campaign is tempered only by a lingering sense of familiarity and hesitation to capitalise on some interesting new ideas. While its online offerings feature all the bells and whistles you would expect of Gears of War. There is some work to be done for The Coalition to make Gears their own, then, but as the first page of a new chapter for the series? It is a helluva place to start.
The Gears of War series returns in fine form. The well-scripted and fantastic-looking campaign ends rather abruptly, but while it lasts, it's an exciting thrill ride of intense firefights and over-the-top set pieces. It can feel a little repetitive and relentless at times, but overall it's a lot of fun. The game's six-mode multiplayer PvP feels refined and well designed, and offers plenty of long-term potential, while Horde 3.0 is ideal for those who want to join friends in a long, and very challenging firefight.
Gears of War 4 offers everything you'd expect from a Gears title, and a surprising amount of great new ideas that enhance the core gameplay. Its campaign has problems in terms of story and characterisation, but in terms of fun is up there with the best the series has produced. The overall impression is that Gears of War is in thoroughly capable hands The Coalition. With more confident storytelling the studio could well produce a classic.
The Story has Flaws but it's a Good Start for the new Trilogy. Gears of War 4 Truly Shines in Multiplayer Part, From Amazing Horde Mode 3.0 to Multiple Game modes. I Recommended this game For all Gears of War Saga fan and Newcomers to the Serie.
Review in Persian | Read full review
Genre-defining? Not quite. Maybe that will come with Gears 5. Or Gears 6. That's the thing about a Fenix – they always rise again.
Red Value Gaming
80 / 100
"Gears of War 4" is one of the best cover shooter experiences around and provides an interesting story with gorgeous visuals. The elements of this game really show off the strength of Triple-A titles.
Gears Of War 4 is an honest act of love for the saga, and for the countless fans who - over ten years - never stopped hoping for a glorious return to the heyday of the brand
Review in Italian | Read full review
Gears of War 4 is a satisfying, if not overly familiar, return to some of the series' best beats. A distinctly dark campaign dishes out welcome surprises and disappointing repeats in equal measure, while its refined Horde mode and thoroughly engaging multiplayer round off a package that any franchise fan should be happy to rev through.
Gears of War 4 is a surprisingly successful continuation of the franchise by a new studio. I might have my issues with the second half of the campaign, but I did like the return of Marcus Fenix. I look forward to spending more time with Kait, J.D., and the rest of the new crew in future installments. Gears of War 4 also has my favorite selection of multiplayer modes for the series, which ultimately carries the experience. This is a safe release that is best designated for Gears fans as well as anyone looking for a satisfying multiplayer third-person shooter.
Gears of War 4 is the best game in the series so far with more likable characters and a better and more well-written story. The story of friendship and family fits well with the summer blockbuster style that the series has always strived for. Full of action, some humour and maybe even a few scares thrown in with the mix, more than anything else it looks like The Coalition is determined to mature the Gears franchise, and that is hardly a bad thing at all.
While the gameplay and storyline certainly aren't lacking and will likely keep Gears fans amused, The Coalition seems reluctant to let the past go and to move on. Away from the campaign, there are tweaks to competitive multiplayer that include a couple of new game modes, but the real focus of the title is the improved Horde mode. It is here that players will spend the majority of their time and where the real enjoyment lies.
Common Sense Gaming
8 / 10
A worthy addition to the Gears of War franchise, but a lack of overall innovation means it doesn't really stand out from the crowd. Fans of the franchise will approve.
Gears of War 4 maintains the same tight third-person shooting mechanics we've loved over the years, along with everyone's favorite: chest-high walls.
The Coalition had to deal with a heavy burden but they really nailed it: Gears of War 4 takes the right steps in a big, beloved franchise and adds small, but smart new touches to the great predecessors while at the same time expanding the universe with a new story and new heroes. On the other hand, the game lacks those big, epic, rememberable moments, that make the fans talk about the old games even today. Sometimes, it felt to me, The Coalition tried to play it too safe and only unleashing the full potential very close to the end. I hope, they'll unleash the inner beast in the next installment.
Review in German | Read full review
Gears of War 4 just falls short of hitting the peak of the series, but as a start to a new trilogy its pretty damn good.
All up, The Coalition's multiplayer offerings make up for an inconsistent campaign in Gears of War 4. Even then, and as much as I hate to admit it, what's been presented has me eager for more – even though I would have preferred some resolution in this title, thank you very much. Gears fans will love it and newcomers should find enough to get them geared up – pun intended – for more.
The multiplayer does enough to round-out a good Gears of War package. The single-player campaign isn't the strongest in Gears' five-game history. Much as we respect the change of style and like the interplay, the characters are dull and the set-pieces not as compelling as those in the original Gears and its two sequels – or even Gears of War: Judgement for that matter.
Gears of War 4 is a solid and enjoyable, if overly familiar, entry in the beloved cover-shooter franchise. Veterans will feel right at home, while newcomers will feel welcome.
Gears of War 4 is a confident offering across campaign and multiplayer from The Coalition. There's hours of fun to be had here, especially in the updated Horde mode.
Gears of War 4 is a good reminder of why Gears of War was so cool in the first place.
When all is said and done, Gears of War 4 is an excellent follow up to the Gears of War trilogy on Xbox 360. Whether you're a returning Gear or a brand new recruit, Gears of War 4 is perfect for both of you.
The nature of Gears of War 4 is that we won't know its legacy until there are more games in the canon. That's frustrating now but it'll hopefully be exciting later. This was a fine first showing but it'd be nice to see The Coalition carve its own identity for Gears of War. Using Epic's foundation is understandable and expected, but it often feels like a crutch. Marcus' boy had grown up just like him.
But comfort breeds complacency, and I hope that as The Coalition gains confidence in their take on the franchise, they continue to push. Gears of War 4 reinvents my favorite game type, plays cheeky at the best times and gives me a cast I can get behind immediately, rather than gradually. This isn't a grand departure, but it's a start; for now, that's enough to keep me coming back game after game, wave after wave for more of what only Gears can do.
While technically solid, Gears of War 4 feels less like a fresh new story in the Gears universe and more of a retreading of old ideas
Gears of War 4 keeps the great 3rd person gameplay of the franchise and adds just enough to make it fresh.
Don't go into Gears of War 4 expecting a thought provoking story; go into it for its action packed scenarios, superb multiplayer experience and top tier shooting mechanics.
The Coaltion has a bright future ahead of itself with the Gears of War franchise.
[Gears of War 4] takes positive and familiar themes from the first game and dresses them up in modernity and pretends it's an entirely new, and fresh start. So it's not bad, but it's not groundbreaking either. However, with Horde mode and multiplayer, as well as cross-platform play, there's enough value here for anyone looking for a decent co-operative experience full of big guns, big explosions and big violence and gore.
Gears of War 4 is a very good game but suffers from a mediocre campaign. It's a fun game but it could have been slightly better.
New Game Network
75 / 100
Gears of War 4 is a game made for the fans, by a similarly passionate development team. The campaign and multiplayer offer new elements that will please most players, but hopefully the next effort from The Coalition will see the core gameplay get a similar revamp.
A by-the-numbers campaign feels stuck in 2006, but multiplayer builds on classic Gears with a great variety of new modes.
Gears of War 4 is probably the best Gears campaign so far, but it's saddled with uninteresting robotic enemies, a multiplayer suite that makes no concessions to casual players, and a loot treadmill that pushes microtransactions too aggressively.
Gears of War 4 offers brutish new weapons, new monster fodder, and excellent multiplayer modes, but the game drops the ball by introducing weak characters and a predictable story.
Gears of War 4 brings the franchise forward to Xbox One and PC with new characters, new multiplayer modes, and a redesigned co-op Horde mode.
Gears of War 4 struggles with pacing issues and a bland protagonist, but it works well as a passing-the-torch installment bridging the old and new trilogies.
Post Arcade (National Post)
7 / 10.0
The Coalition's first effort in a series known for over-the-top spectacle is surprisingly restrained, at least in its campaign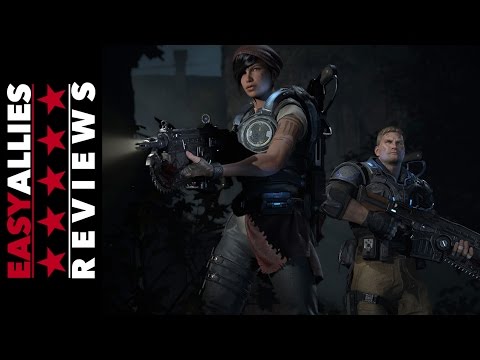 Gears of War 4 have pretty much the same mechanics that we are used of. It sure is entertaining, but at the same time a little too safe. Overall though, it's still a great game that every Gears of War fan probably will enjoy.
Review in Swedish | Read full review
Gears of War 4 is more of the same but that's not a bad thing. The campaign is fun to get through with a decent story and characters while Horde 3.0 offers some excellent action with friends. However, it's all a bit too familiar at this point and we expect a bit more.
The Jimquisition
7 / 10.0
The combat of the campaign is fundamentally sound, the multiplayer is well crafted as always (despite the usual shotty problem), and Horde mode is great entertainment. As a complete package, the game is worthy, if only for the fact it's a Gears game and the true heavy lifting was already done by Epic in 2006. Nevertheless, the campaign is flimsy, and despite claims of signifying a new generation for the series, Gears of War 4 is ultimately an upholder of the status quo.
Gears of War 4 makes the best of the franchise's multiplayer modes, but delivers a lackluster campaign in the process.
Gears 4 takes only half measures. It discards a lighthearted adventure premise for another fate-of-humanity monster invasion. It gives up on the anti-militarist bent of its early fight against the COG for another plot about soldiers trying to save humanity.
'Gears of War 4' features fresh takes on some modes, but plays it safe for others.
The game's successes as a continuation of Gears of War's narrative falter in the face of stubbornly archaic gameplay.