A by-the-numbers campaign feels stuck in 2006, but multiplayer builds on classic Gears with a great variety of new modes.
A cautious revival but a very worthwhile one, which creates a great foundation for future games.
I never expected to compare Gears of War 4 to The Force Awakens, but I couldn't be happier to do so. Like the latest chapter in the story from a time long ago in a galaxy far, far away, Gears of War 4 is directed by a new generation of creators, shares a lot of similar narrative structures to the beloved first piece of the trilogy it succeeds, and is an experience you'll walk away from with a big smile on your face – in campaign, Versus, and Horde modes alike. It's about as good of a franchise reawakening as I could've hoped for. J.J. Abrams would no doubt appreciate what Gears 4 accomplishes.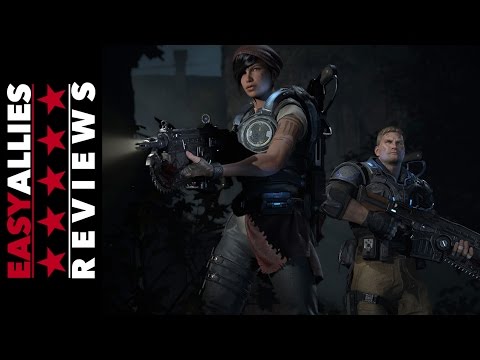 Gears of War is fresh and exciting again, and its future is potentially even more so.
The story campaign can be a little bland, at least when playing on your own, but otherwise this does a fine job of bringing Gears into the current gen.
The campaign is too familiar at times, but the gameplay is top notch. All multiplayer modes showcase high levels of depth and reasons to come back
Gears of War 4 makes the best of the franchise's multiplayer modes, but delivers a lackluster campaign in the process.
Gears of War 4 is a remarkably complete package.
Gears of War 4 is a good reminder of why Gears of War was so cool in the first place.
Gears of War hasn't changed, not really. I'm left wondering what a true metamorphosis of Gears could look like, how this series could go about defining a new generation of video games. It's a lot to ask. Gears of War might continue as on as it has, a single revolution followed by a lifetime of refinement. It's enough.
The Gears of War series returns in fine form. The well-scripted and fantastic-looking campaign ends rather abruptly, but while it lasts, it's an exciting thrill ride of intense firefights and over-the-top set pieces. It can feel a little repetitive and relentless at times, but overall it's a lot of fun. The game's six-mode multiplayer PvP feels refined and well designed, and offers plenty of long-term potential, while Horde 3.0 is ideal for those who want to join friends in a long, and very challenging firefight.
Gears of War 4 is a surprisingly successful continuation of the franchise by a new studio. I might have my issues with the second half of the campaign, but I did like the return of Marcus Fenix. I look forward to spending more time with Kait, J.D., and the rest of the new crew in future installments. Gears of War 4 also has my favorite selection of multiplayer modes for the series, which ultimately carries the experience. This is a safe release that is best designated for Gears fans as well as anyone looking for a satisfying multiplayer third-person shooter.
The nature of Gears of War 4 is that we won't know its legacy until there are more games in the canon. That's frustrating now but it'll hopefully be exciting later. This was a fine first showing but it'd be nice to see The Coalition carve its own identity for Gears of War. Using Epic's foundation is understandable and expected, but it often feels like a crutch. Marcus' boy had grown up just like him.
The new installment of the Gears of War saga is just what the fans were expecting after Judgment. Even though its story mode is a bit short, its gameplay mechanics and graphics will make you fall in love with Gears of War 4.
Review in Spanish | Read full review
The Coalition had a tall task in bringing Gears of War to a new generation for their first original game under the banner, and they mostly pulled it off with class. The competitive multiplayer isn't much of an evolution from previous efforts, and the campaign drags for a bit, but the high points make it worth the ride and the new Horde mode is simply stellar. If you've enjoyed this franchise previously or have a few friends looking for co-op, give Gears of War 4 a close look – it's definitely worth the time.
Get in on the action while multiplayer is at its peak rather than waiting for a discount.
Gears of War is back with a very solid entry in the beloved franchise: the lack of courage and the apparent fear of taking risks prevents Gears of War 4 from entering the absolute gotha of the genre, yet with its compelling campaign and the usual, stellar multiplayer, this remains one hell of a ride.
Review in Italian | Read full review
The Coalition has made a proper Gears of War. GoW 4 has a new setting and enemies but everything else there is what made this franchise an instant classic on Xbox. One of the best TPS out there on Xbox One or PC.
Review in Spanish | Read full review
Bottom line: Online-shooter fans and 4K enthusiasts should buy.