Percentile Rank
Tropico 5 is ranked in the 66th percentile of games scored on OpenCritic.
Rating Summary
Based on 52 critic reviews
OpenCritic Rating
Based on 52 critic reviews
Score Distribution
Unscored Reviews
Wait. Patches or expansions may tweak its motivational balance in the right direction.
The end result is a good game that is held back by the very thing strategists come to this genre for: the freedom to use your own planning and tactics to win the game.
Rock, Paper, Shotgun
Unscored
There are some bum notes both tonally and strategically, Tropico old hands will find the bones of the things over-familiar, and despite having tons of things to fiddle with ultimately it's hard not call it a lightweight game. I really think it has to be, though.
TotalBiscuit, The Cynical Brit
Unscored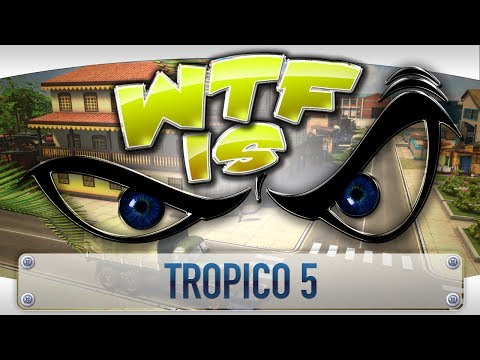 Scored Reviews
Tropico 5 cuts out the fat of previous entries and builds upon its strongest features. While the new dynasty system is disappointing, the narrative context provided by eras and world events is outstanding.
If you enjoy SimCity, any of the previous Tropico games, or city-building games in general, you'll probably find a lot to like here— unless you get it for PC, in which case you may not be able to play it until its developers get their coding under control.
The continued popularity of the Tropico series has something to do with the relative lack of old-school city and country management games on the market and the inability of the teams at Maxis and Electronic Arts to re-launch SimCity in any meaningful way.
For those who have never played a Tropico game, I heartily encourage a look at this fine series. For old timers who've always enjoyed the leisurely pace and low difficulty, there's always the opportunity to cheat yourself a little extra money at any time. The graphics are mediocre as usual, but it's more than made up for by the gameplay. I said I'd be pleased with more of the same, and much of the core game remains unchanged, but with just enough that's new and interesting to keep you engaged.
I really enjoyed my time with Tropico 5. As a total package, it's a great starting point for new players. Gameplay mechanics like diplomacy have been simplified, so it's pretty easy to understand for newcomers. It'll help to have some working knowledge of similar sim titles, but even without that background, the campaign does a great job of easing you into the basic functions of city-building. The simplification isn't always in the best interest of the game, as I found when attempting to stave off exports of much-needed resources. While trade routes are a great addition, not being able to have direct control over which goods I export and import was often problematic. Issues like this are few and far between with Tropico 5, making it an overall positive and very fun experience.
With disasters, elections, and new tasks to complete at every turn, Tropico 5 provides a structured and entertaining city building experience
Post Arcade (National Post)
8.5 / 10.0
Tropico 5 isn't revolutionary in any of its changes. But with deeper gameplay and some smart tweaks to the formula, it is deserving of at least another term in office
While the combat irks me, the game stays true to itself while making solid steps forward. The music, visuals and comedy keep that vibrant Tropico vibe, while the addition of eras for tiered progress make the game fresh.
Tropico 5 really wants you to win the hearts of your people as dictator. Well, maybe a little.
Players looking for a fun sim experience could do a lot worse than Tropico 5,
Back is the great experience of building your legacy, and "Tropico 5" like a fine rum-based beverage on its own, comes to PlayStation 4 with more features and a solid bundle of options. This version of "Tropico 5" could be considered that fine rum-based beverage with the proper garnish.
'Tropico 5' is less of a sequel and more of an update for the franchise, as could be said of its immediate predecessor. It is more accessible to a grizzled 'Tropico' fan, but the gameplay is still as addictive as ever. The limited multiplayer and lovely sandbox mode give the game legs, even if it's hampered by some visual and tutorial issues. Deep city building mechanics and a sardonic sense of humor make it stand out in the sparse field of simulation titles on the 360.
Tropico 5's irreverent wit and smooth difficulty curve make governing your own banana republic an easy and enjoyable experience.
PlayStation LifeStyle
8 / 10.0
Tropico 5 on the Ps4 is the first city-builder we have had for the console, and it thankfully does a great job at it. I won't be getting bored of it any time soon, as there are so many ways to play it. It's flaws are quickly overlooked as you have fun with the gameplay and narrative. The graphics are fun to inspect, because every citizen and building are as detailed as the menu system that rules their lives. From the campaign, to the sandbox, and even to the multiplayer, I'm eager to make sure that the Ivles McKittensby dynasty becomes a ruling force to reckon with in my quest to make and govern the perfect tropical island.
Tropico 5 is a real treat – and not just because it's something a little bit different. The game's sharp sense of humour tallies well with its accessible yet intricate economical action, and while it's always likely to be an acquired taste, we're hoping that it sparks a swell of console construction games. If you're even the slightest bit intrigued, you should give this a go. And just so that we're clear: that's an order.
Fives games in and the Tropico series has really found its feet, creating a cheery and relaxing ambience that sets it quite apart from other city-builders out there. From the music to the bright and colourful graphics and the irreverent wit of your various staff, it's got a very unique character that makes the simple gameplay very addictive.
Tropico 5 stands as the perfect place for newcomers to the franchise to hone their craft, but veteran rulers may not find enough here to demand an upgrade.
Dialing the difficulty up also provides a real test of anyone's management abilities. So look past the satirical elements of Tropico 5. The humour is there, and it's funny, but the real strength of this series - especially with Sim City falling off the map completely in recent years - is that it plays so, so well.
With great gameplay and a funky aesthetic, Tropico 5 manages to turn its dubious subject matter into something enjoyable. It's a pity that it doesn't quite sit comfortably on the PlayStation 4, but it's an engrossing experience nonetheless.
A solid, accessible city builder, Tropico 5 gets out of the way and lets you have the fun you came for without pissing around in fiddly details.
While Tropico 5 isn't the game-of-the-year masterpiece of a generation, it's a more-than serviceable sim and strategy title that can satisfy a grossly under-served genre within the console community. If you love SimCity and Civilization and are dying for something similar on your PS4, then there really is no reason not to have and enjoy this game to its fullest extent.
Tropico 5 works in a lot key areas. The controls and interface are familiar and rock-solid, and the spicy music and comical cast keep it fresh. A near-endless supply of customization options adds a necessary strategy element to the title. Dated graphics and a hopeless multiplayer section damage its overall appeal, but fans of the Tropico series and its competitors won't be disappointed by the newest offering.
Not a dramatic reinvention, but still an enjoyable game of construction, economics and election fraud.
Overall, Tropico 5 makes a solid entry into a genre already populated by great games. It has some drawbacks, but it gives you a good construction game while offering enough variety of play to offer many hours of fun games and great replay value.
That's by no means a bad thing; despite its similarity to its forebears, it's still a welcome escape from other city-building franchises, and is a deep enough experience to keep players engaged for quite some time. One can't help but feel like it's shackled by its presumably-slim budget, though, as its lack of radical improvements and its mediocre overall production value will make it a hard sell for people who were indifferent to previous Tropico games.
I'm just going to state the obvious to round things up: this is basically Tropico 4.5. There simply isn't enough variation from the previous game to justify its development, let alone the full price tag, so I simply cannot score it too highly. Yet, as mentioned, I can happily recommend Tropico 5 as a game in and of itself. For newcomers to the series the inclusion of multiplayer, the eras system and some decent general balancing work make this the best iteration of Tropico yet. For series fans however, it'll be difficult to see past the lack of innovation. In all likelihood though, like me you'll still have a great time playing it, and isn't that what's most important?
Tropico 5 will inevitably keep you going and the dynamic nature of it's gameplay will keep you on your toes. Along with gorgeous graphics and a quirky charm Tropico 5 is a must have for RTS fans.
If you already own Tropico 5 then the lack of new content means that there is little reason to purchase the title again but if you a newcomer and are looking for an enjoyable RTS game on the PS4, look no further than Tropico 5.
To play Tropico 5 is to look behind the cult of personality surrounding iconic leaders throughout history—who are both lionized and loathed—to understand the rationale behind both their atrocities and their good deeds. The loopy dictator is only as loopy as the world that made him; his brand of insanity merely combats the surrounding insanity. Tropico is an open invitation to either revel in it or understand it.
Cheat Code Central
3.6 / 5.0
In technical respects Tropico 5 feels more like an expansion rather than a successor in the series. Many parts of the gameplay feel similar to past titles, but the inclusion of the era system, an overall campaign that is brimming with choices and consequences, as well as a plausible maiden attempt at multiplayer gives long time fans something new to try out. With touchy political subject matter that is completely mocked and music that makes you move in your seat, it's hard not to play Tropico 5 without a smile on your face.
It's a tropical vacation, always pleasant and relaxing… and one that you're always ready to leave behind.
New Game Network
72 / 100
Taking control of El Presidente and ruling over a sunny paradise used to be a unique guilty pleasure for RTS fans. Tropico 5 retains some of that, and newcomers might appreciate the gameplay alterations, but overall the franchise seems to be slipping.
While there might be a few snags, the start of El Presidente's fifth term is looking to be a worthwhile one.
The bottom line is Tropico 5 is a good entry-level sim and strategy game. If you love SimCity and Civilization, this should be up your alley. Of course, you could just keep playing a board game, but I digress…
Tropico 5 features a number of improvements to its long-standing formula and there's a lot here to like. The humour and in-fighting of your aides provides a lighter tone missing from other management sims, and there's a degree of satisfaction to be found progressing through the distinct eras. It also looks more vibrant than any previous entry. It works well for now, then, but Tropico 5 is clearly more concerned with introducing new concepts atop the old than it is with overhauling its base mechanics. Looking ahead to the future, this long-running series would benefit from having the fires of revolution lit beneath it.
Tropico 5 is a stop-gap measure, another coat of paint on a series designed for a specific audience that's looking for a specific experience. The freshly streamlined interface may court some new blood, but a lackluster campaign and a failure to branch out from the micromanagement-heavy core sim experience makes this a tough sell for outsiders to the genre.
[L]ike with many simulation games there are AI issues, especially with the automated combat that sees single squads of your troops run off to fight multiple squads on their own and in turn, lose. This can be a problem in multiplayer games, alongside no ability to save, meaning that it's a nice 'for the fans' feature that still needs some work to become an actual selling point. But like with any modern game a lot of these minor issues can be fixed in patches, and with any city builder, the game works best when played alone. Just like ruling a tropical island paradise.
On the PC there are too few new features to satisfy existing fans, but on the PlayStation 4 the joys of being an island dictator still feel enjoyably fresh.
At number 5, we're still seeing iteration rather than revolution. Everything that's great about Tropico 5 is built on the same foundation that all the previous games have built on. That's a solid foundation, of course, but it's become a bit too familiar. There aren't any surprises to be found here. But just as familiarity can breed contempt, it can also provide comfort. Returning to Tropico remains a delight, and the drive to plonk down one more hotel, oversee one more year and win yet another election continues to make it the sort of game that can swallow hour after hour.
Ultimately, Tropico 5 features a number of improvements in an attempt to separate itself from the previous games in the series. The humor of the series remains and the addition of progressing through eras give a feeling of accomplishment. The core gameplay mechanics are largely unchanged though, but there is definitely a lot to like here and just enough change to give it a shot.
PlayStation Universe
7 / 10.0
Tropico 5 is a solid and gleefully wicked take on city building and strategy. The game's modes and tone cleverly push you toward the path of power-mad nutbag at every step, but frequent restarts can feel like an insufferable drag.
The developers at Haemimont Games have taken their series apart and reassembled it in a whole new way, and while the result is riddled with flaws, it's also charming, funny, and welcoming to newcomers and veterans alike. As aimless steps away from stagnation go, that's a pretty solid one.
Tropico 5 is a noticeable, if subtle, revision on the Tropico formula. The new Eras and the Dynasty system create additional gameplay layers without disrupting the balance of the experience. The multiplayer, while fun when it works, mostly doesn't.
While the great entries to the Sim City series, the Civilizations of the world, even Ubisoft's Anno series and Galactic Civilizations II all give more back the more you put into it, Tropico 5 is unable to do that. And a lack of longevity in a game that should last so very long is just, ultimately, disappointing.
Until the rest of the game is released in the form of DLC, at least, it's hard to imagine a good reason to go with Tropico 5 instead of Tropico 4 unless the addition of a tech tree gets you excited.