Percentile Rank
Thief is ranked in the 28th percentile of games scored on OpenCritic.
Rating Summary
Based on 74 critic reviews
OpenCritic Rating
Based on 74 critic reviews
Score Distribution
Unscored Reviews
Birth. Movies. Death.
Unscored
The Thief name has a significant legacy in the stealth genre, and Thief, confusing title and all, is clearly straining to live up to it, with its inclusion of water arrows, "taffer" references and more. It's even sort of successful. Even with concessions to 2014 game design - the optional Focus vision mode, the linear escape sequences that might as well be quick-time events or cutscenes - the core stealth still works. But the weakness of everything around it made me wish I was playing Dishonored.
A success then for fans of a game made a decade ago, but Thief's reach exceeds its grasp by some margin and an opportunity to revive a beloved property with renewed relevance has been sorely missed. If it had a few more ideas (or even stolen a few) then this could've been less of an uninspired remake and something truly worth getting your hands on.
Thief effectively retains the series' focus on stealth and compelling atmosphere, I just wish it had retained the quality.
TotalBiscuit, The Cynical Brit
Unscored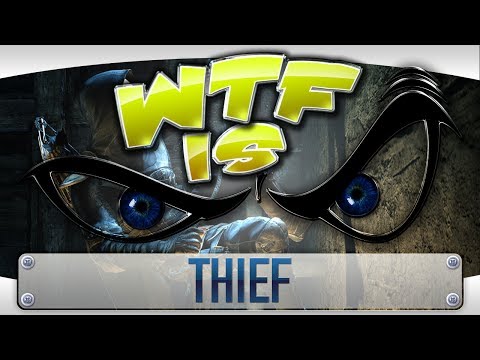 Rock, Paper, Shotgun
Unscored
For where it falls short, it far more often had me crouched in a shadow, heart racing, waiting for the perfect moment to dart past a guard's routine. It may be the fourth best Thief game, but it's a damned fine game in its own rights.
Though this might seem incongruous with the rest of the review, Thief is definitely a game that's worth playing. It gets a recommendation, despite the final score and its many, many, many flaws, because the stealth gameplay really is great, and with pure stealth games becoming such a rarity it's gratifying to find a game that really brings the art of thieving to life.
Scored Reviews
Post Arcade (National Post)
9 / 10.0
Eidos Montreal's smartly designed reboot will pilfer dozens of hours of your free time – and you'll wish it would take more.
Thief is a great return for the classic series. Thanks to its open-ended missions and the big amount of customization options, not to mention the great visuals, it can delight fans old and new alike. While it has a few problems with platforming and some erratic enemy AI, it still manages to deliver a memorable stealth experience.
Digital Chumps
8.6 / 10.0
A great game as is, although it has a few very patchable issues that could really put it over the top.
All in all, Thief successfully ticks the right boxes on the PlayStation 4, although it's not a totally next-gen experience.
Despite my deep reservations regarding the reboot of my favorite character and the world he inhabits, Thief manages to deliver a compelling experience. Sure it's a bit grimy in areas, but the team at Eidos Montreal have done well with the reboot of this title, just as they did for Deus Ex. The main missions are immersive, and the team has clearly catered to both new audiences and us old taffers with the bevy of options and mods. While it may not convey the same style as its forerunners, it delivers what I would call a mostly-authentic Thief experience. Now, let's talk about getting those cutscenes back…
Overall, Thief is a great play. The script flaws, while annoying, are forgivable in light of the many hours of quality gameplay. It's not perfect but it's an enjoyable challenge that will go down as one of the better gaming experiences of 2014.
Despite some of Thief's annoyances, the game is rich in detail and hard to put down. Needless to say, this is one convict I won't be locking up any time soon.
Garrett is a wonderful character, and the city and plot of Thief hold all kinds of potential, the game looks gorgeous on the PlayStation 4 and is mechanically very tight, but all of that potential is dampened by the developer's somewhat overzealous desire to dictate just how the game should be played.
Thief's sneaking challenges are highly rewarding when you ghost through the world undetected, but will send you to the loading screen repeatedly if you're not careful
This is a great restart for the franchise and should hopefully bring in a new set of fans (like myself). While some of the platforming can be a bit cumbersome and the A.I can be downright moronic at times, this game is a good starting point for future titles that will no doubt refine the mechanics and add to the game's lore. Fans and non fans of the stealth genre should find a lot to enjoy in Thief.
Best when played stealthily, Thief is an excellent stealth title and a welcome addition to your next-gen library.
While the game does have its faults - particularly falling apart when Garrett is spotted - Thief excels in the shadows as a pure stealth title, becoming increasingly enjoyable as your skills improve.
Longevity is added by a huge amount of collectibles, from trinkets and rare treasures to documents and newspapers, but if you fancy leaving the story behind for a while you can enter the challenge maps and test yourself against the world in online leaderboards. There's an array of challenges (both timed and otherwise) that will test your skills and earn you bragging rights if you know how to use the shadows right.
If you're looking for a solid stealth option—with a truly intimidating set of customizations for difficulty—then Thief is a solid buy during this current drought in the new console generation
Great in places, but never quite lives up to its potential. A competent sequel let down by inconsistency.
Longtime fans might find the new take on Garrett hard to swallow. Thief's thin story doesn't explain much in the end when it tops things off, but I enjoyed the time spent in the City. I wouldn't mind revisiting for another go in Garrett's shoes, but I hope that by then, some of the training wheels will have been removed.
It's still enjoyable, but it's too wide of the mark. And that's a taffing shame.
PlayStation Universe
7.5 / 10.0
There's tense, creative stealth action to be had in Thief's fun-but-flawed triumph over technical flubs, wasted narrative potential, and cringeworthy dialogue.
Despite its slow and dreary start, Thief builds to deliver an experience that most stealth fans will lap up. However, most Thief fans will mourn the loss of the reboot's freedom and choice. That said, Thief is ultimately a game that delivers epic highs and mediocre lows, and for the highs alone, I have no issues recommending it to anyone.
It's not exactly a perfect run for Garrett, but players will still find many things worth taking.
Thief is a great escape for those of you who yearn for more stealth experiences, but it doesn't really offer up anything exciting. The story and characters are somewhat forgettable, most of the missions are straightforward, and the locales tend to blend together after a while. Having said that, there's a lot of potential here if you dig deep down into the game's ingenious difficulty sliders and challenge modes. In that sense, Thief succeeds as a bold stealth game, despite its bruises.
Thief isn't terrible, it's just not as good as other games, so in a way I want to say leave Thief for a while; come back to it when it's on sale, wait for it to be a steal.
of the original will likely find parts they love about Garrett's new adventure, but anyone bred on more recent stealth games likely won't see what all the fuss is about. Eidos Montreal has done an admirable job, but too much holds it back from being the reinvention of the franchise we all were hoping for.
It's the fourth-best game to bear the Thief name, but it doesn't trample on Garrett's legacy as some might have predicted. The story is utter balls and the game as a whole isn't as cohesive as it could be, but when Thief remembers its name and has you working out the best way of breaking into a place and picking it clean, it does a damn fine job.
Thief maintains the strengths of its stealth-centric predecessors and offers plenty in the way of actual thievery, but don't expect any fun, new gameplay mechanics or an enchanting story in this reboot.
To the player willing to take the game at a slower pace, with a focus on pure stealth and without the artifice of in game assistance Thief will deliver the goods. For everyone else the reward may not be worth the effort.
Thief was one of my most anticipated games of 2014. I have to say, I'm disappointed in its lack of cohesiveness in terms of story, its lack of stability and solidarity in terms of technical stuff, and the missed opportunities. At the same time, I never seem to tire of looting the most difficult-to-approach treasure caches, and Garrett is a suitably entertaining character.
The makings of an absolutely fantastic game are evident here, and fans of the genre will love what's being offered. However, there are just too many flaws at launch to really recommend Thief to a wider audience.
Despite my disappointment with Thief's setting and story, I did enjoy my time with it. Sneaking about, pickpocketing guards, picking locks, and finding new ways to infiltrate a building are as satisfying as ever, and the game looks and sounds great (despite some janky audio mixing). As a longtime fan of the series, I want to believe a spot exists for Garrett in the current stealth-action genre he helped create. And if one doesn't? Well, he'll probably just wind up stealing one anyway.
Thief shows one too many unrefined edges, occasionally catching itself unable to resolve the issue combining classic design with modern production. That said, although it won't steal the spotlight, it should do enough to steal your attention.
Thief is a disappointment. However, laying beyond its shortcomings with movement mechanics, combat and narrative, is a satisfying core of theft and stealth that can, at times, still have you feeling like a master thief. If you're looking for something to waste hours collecting digital trinkets on, and feeling like a total bad ass thief while doing so, then this may be for you. For anyone looking for a story-driven, combat-focused, narrative-based experience you'd be better off looking elsewhere.
Thief is a game, that despite all it's good intentions, will alienate long-time fans. And the cookie-cutter generic gameplay won't do much to attract new fans either, as this franchise once again slips into the forgotten darkness of the night.
Thief has good stealth going for it, but everything connecting its few relatively open scenarios is a mess.
Thief is an okay game that has been dragged down by its major problems. I thought stealth was done very well in the game, and that the choice of how you want to play allows players to come back and try again which adds replay value, and replay value is a very important part of a game that I look for when I review a game. I just couldn't get in to this story at all, and I really did try too. I also felt Garrett was an extremely forgettable and dull main character. Thief is a game that had potential, and had moments that really impressed me but due to its negatives it will never reach its true potential.
At its best, Thief makes you feel like a devious outlaw. Sadly, such moments are too few.
At times the game suffers from a lack of ambition, placing far too much importance on the tiresome looting of endless cupboards and dressers in the vain hope that this will be enough to propel you forwards. In other places, Thief suffers from too much ambition, unable to draw its systems into a cohesive whole. Whether the game simply needed more time or entirely different foundations is never quite clear. Either way, it's a game that adds up to less than the sum of its parts.
Thief will almost certainly frustrate fans of the older trilogy, but it suffers shortcomings on a more objective level as well. Though solidly made, it never challenges the well-worn conventions of stealth action. In short, it lacks a certain spark of inspiration. It's good, yet it falls short of "future classic" status.
All this being said, Thief is ultimately worth playing, especially for fans of the stealth genre. It hearkens back to the things that made the original games of the late '90s and early '00s so intense and enjoyable, while offering a wealth of settings and options that cater to a wide range of players. If you can forgive the game's rough edges and its lack of a unique vision, Thief might just rob you of a dozen or two hours without you even noticing.
In fact, of all the games I've been in, this one is definitely the worst. I've been in some terrific games though, so that's not as damning a verdict as it looks. If I adjust the difficulty by turning off HUD elements, never ever get into any sort of combat with the incompetent AI and try to ignore huge chunks of the game in which I'm forced into criminally unimaginative and unstealthy situations, and then pretend that the zombies don't exist, and then maybe just not play the last two chapters at all, then this is an okay game with two or three good missions.
Some might be able to look past Thief's shortcomings and instead only focus on the moments of brilliance. However, I imagine long-time Thief fans hoping for Garrett's grand return might be somewhat disappointed.
Perhaps what is most disappointing is that Thief does its best to make you believe that there's more to it beneath the surface, and you'll drudge through much of its mess with that glint of hope. That isn't the case, though, as it's very much a "take it as it is" experience, and if you're willing to do so you'll find that it just might steal some time from your weekend.
Except that it's just that core that has been ripped from the original game's chest. Garrett's plight and interaction with the olden days of The City gave an ephemeral feel to every jaunt into the darkness. What would getting caught or killed entail? What were the Hammerites up to? What was the great evil befalling the city? There is none of this left; the shadows in Thief hide not great, unspeakable mysteries but only more immaculately rendered cobblestones. Perhaps it's time for Garrett to steal this new vision of Thief a personality.
Nick Cowen: Thief feels unwieldy at times, although it's not the travesty some reviewers are making it out to be
Thief has its hang-ups, particularly with frustrating loading times and repetitive gameplay that will have players unlocking the same doors over and over again. However, Eidos Montreal has captured the essence of stealth gameplay with their take on Thief. Players may have to work to find what makes the game special, but nobody said being a master thief was easy.
Thief is an inconsistent game that has just as many failings as it does successes. Fans of the stealth genre will find a lot to like here, but a number of poor design decisions keep it from reaching the heights of its predecessors.
The biggest issue with the execution of Thief is that the stealth genre has evolved much farther along and left behind the series that started it all. For instance, 2012's 'Dishonored' is vastly more capable at melding stealth and action than 'Thief,' a game that was released 18 month later. Of course, the tedious supernatural narrative, Garrett's dismal fighting abilities, numerous graphical issues and audio glitches aren't doing the game any favors either. Reviving an old franchise while targeting five platforms with "a heavily modified Unreal 3 engine" may have been more than the team could reasonably be expected to contend with. I can't recommend 'Thief' to anyone beyond those who have invested lots of time in the series more than ten years ago and simply want to take Garrett for one more spin in the shadows. For everyone else, revisit 'Dishonored' with all the DLC packs during the next Steam sale.
Thief is a mess. It's disappointing that there's a genuinely good game hidden under a lot of mediocrity.
Cheat Code Central
2.9 / 5.0
I'll be blunt: if you loved the original Thief series, you won't enjoy this game. If you have never played the original Thief games, there's some enjoyment to be had, but there are other stealth-heavy games around that are a far better overall package than this one. Thief has a few good ideas, but they're dragged down by the game's design as a whole. With available games that let us freely scale the outside of those wooden castles of old, why should we settle for one that sticks us on a plastic kiddy playground?
Paste Magazine
5.5 / 10.0
At one point Garrett once again risks his life to steal more riches. His friend and employer, a ruddy faced scoundrel named Basso, says, "Garrett, no one is paying you to do this." Expressionless, Garrett turns to Basso, blankly retorts "it's who I am", and runs off into a night as inert and emotionless as the game itself.
PlayStation LifeStyle
5.5 / 10.0
I wanted so much for Thief to be fun, and in the beginning I did have a lot of fun with it. But, due to no sense of impact in the story and its unrewarding gameplay, it degraded into a chore well before the final act. While playing Thief I couldn't help but feel like I'd done this all before, and often in a better setting. Thief may be a throwback to the early days of stealth games, but this reboot really feels aged and dated. While there is some fun to be had, you will have to sift through a mess of problems to find it. Now, this is the part where I insert the obligatory "Thief didn't manage to steal my heart" line, right?
New Game Network
51 / 100
A poorly-designed outing that might, in another continuity where the previous Thief games never existed, have earned itself the heady accolade of 'barely average'. Unfortunately, we all know that it could be - and has been done - so much better.
Ultimately, Thief is a victim to the issues contained within it. These are things that could have been easily resolved, as well. Erin's capture should have been due to poor circumstance or even a legitimate failing on Garret's part; not his own self-righteous attitude. He should have had a better dialogue. The guards on the overworld should only arrest Garret if he gets caught stealing/doing thief activities, instead of on-sight, and the glitches should have been ironed out. Had those few aspects happened, Thief would have been a decent, if rather slow, game. As-is, it's just frustrating and tedious to play.
Series fans may view it as a disaster but the problem is that Thief isn't even interesting enough to get angry about, despite the well hewn stealth gameplay.
Pittsburgh Post-Gazette
5 / 10.0
"Thief" is an easy game to make excuses for all its shortcomings: "The combat is lacking, but it's OK because it's a stealth game. The world is dreary, but it's OK because that's the style. The A.I. is moronic, but it's OK because it would be too frustrating if they worked harder at tracking you down." None of this is "OK," and the summations of these sub-par gaming experiences make for a sub-par game. It excels at nothing. Not even blind nostalgia can save it. Don't let Garrett steal your time.
Thief feels more like a blatant money grab during a game drought than something polished enough to warrant a $60 price tag
There is the idea of what a Thief game should be here, and it's not complicated. Strip it down, get back to the essentials, and this game may have played something more like Arkane's excellent Dishonored. As it stands, however, it's neither itself nor, really, anything else.
You can't help but think Eidos Montreal have been caught between reverence to the original but the need to incorporate everything good in modern-day AAA titles. They setup some wonderful moments in the game then take control away as it's not really a Thief moment at that point. They do include some boss-type battles - with feedback from Deus Ex understood - still when it's just not needed. They give you half of what's good about Dishonored and forget the rest and they model their storytelling on Lara's latest or Drake's series of adventures but forget to actually write the story to tell. It all adds up to the most frustrating of games. It looks great and plays smoothly. It encourages you to play in a certain way and sets up some wonderful moments only to drop you into a world of frustration, failure and insouciance nigh-on immediately. There are glimpses of wonder but this is the top layer of gold only. The bulk of the game is a frustrating, irritating, random mess. In itself this is frustrating, as what could have been great struggles to be merely average.
A prolonged development has not been kind to this reboot of the classic Thief series, making for a game stitched together from disparate parts of better contemporaries.
It's perhaps unfair to compare and lambast Thief against games that the series itself has spawned. Yet ten years in obsolesence is a long time in the gaming world, especially one bustling with the likes of Splinter Cell, Deus Ex and even Assassin's Creed. Long-term fans may gain more enjoyment from this revival, but in the main, Thief seems unlikely to steal many hearts.
Thief offers up moments of stealthy satisfaction, but not nearly enough of them to make up for its many rough edges, bland level designs, and god-awful plot.
Thief feels like a game that couldn't even get the basics right, let alone offer anything new and interesting. It will almost certainly be a let down for fans of the series, and new comers will likely expect much more from such a respected series and developer.
Actively unpleasant to play, embarrassingly buggy, and wholly devoid of any personality, Eidos Montreal's Thief reboot certainly isn't the worthy continuation fans waited almost a decade for.
The three major strengths of past Thief titles - wide open mission design, sound propagation and narrative - are this game's biggest weaknesses. That is a fundamental problem it cannot hope to overcome.