Percentile Rank
Gal*Gun: Double Peace is ranked in the 28th percentile of games scored on OpenCritic.
Rating Summary
Based on 25 critic reviews
OpenCritic Rating
Based on 25 critic reviews
Score Distribution
Unscored Reviews
Scored Reviews
Although the satire doesn't localise as well as I might have liked, the game's not as straightforward in its perversions that a surface level analysis makes it seem, and I'll be disappointed if there aren't at least some people that recognise this.
It should be confessed that I told my boss that I would play this game while rocking panties.
Gal Gun: Double Peace is a pretty pervy rail-shooter that is also pricey. Even so, as the game offers great graphics, tons of cute girls, lewd content and a touching and funny story (not to mention the fact that the game is also fun to play). You will soon forget about the price part.
I have to say, even with all that problematic content, I kind of love Gal-Gun: Double Peace not only for daring to be as stupid and perverse as it is with no excuses, but also for being one of the most content-rich and replayable games in its genre. If you can overlook (or enjoy) the cringeworthy perverseness found here, you'll find an enjoyable little shooter. Those looking to be turned on will probably be better served elsewhere unless you have a young schoolgirl fetish. I don't see how anyone could find the content found here sexually arousing, but some people also like to suck on toes, play with poop, or wear diapers, so what do I know? What you do in our own time is your business, so who cares if I think you're creepy? You shouldn't, you weirdo.
Gal*Gun: Double Peace is a humorous and risque on-rails shooter that features rubdowns, schoolgirls shot with euphoria and even some tentacles to boot. It is far less offensive than it will be pegged to be but quite funny and featuring a great localization from PQube. Lock and load, lewd dudes.
The Outerhaven Productions
Gal*Gun Double Peace is just as fun and bizarre as its premise would suggest: the combination of the utterly shameless gameplay with the strangely heartfelt and sincere storylines make this title a must-have for moe enthusiasts and those of high constitution.
Needless to say, this is most definitely not a game for everyone. The plot is a long string of sex jokes, and the gameplay is downright perverse. If you go in knowing to not take it seriously, though, you're going to have a great time.
At times some of [the dialogue choices] are just so ridiculous or inappropriate that they just have to be seen to be believed, adding some risqué humour to the proceedings that is sure to make you laugh out loud
Gal Gun: Double Peace is a lewd, shallow rail shooter focused primarily on providing as much fan service to its players as possible in a manner that almost crosses the line in several different ways. Would you like to know what else it is, though? It's fun. It's legitimately fun. It knew exactly what it wanted to become, and it did so without feeling the need to dance around certain topics or censor anything.
Don't be fooled into thinking it's just a smutty knock off of House of the Dead – this one has solid gameplay, an enthralling narrative and enough content to last you at least until your loved ones get home.
I didn't think I would have this much fun with a casual rail shooter that uses touch controls, but Gal*Gun: Double Peace kept me engaged and entertained with its uncompromisingly Japanese high school antics.
Truthfully, I went into Gal*Gun Double Peace with below zero expectations. I figured it would be a cheap, dated game that only had its obvious "fan service" going for it. It's clearly aimed at that niche audience, but Gal Gun is fun, funny, and easy to pick up and play for countless quick sessions. The poor visuals and complicated story requirements are a shame, but they never truly soured my time with the title and as soon as I finish this review, I plan to play more.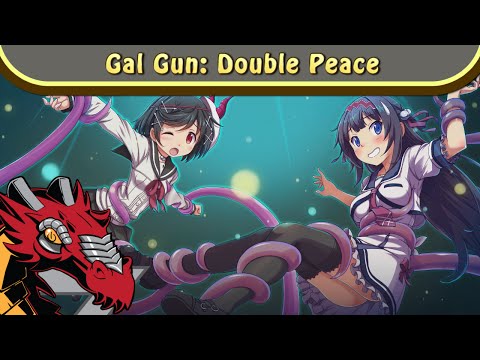 Gal*Gun Double Peace is a bishōjo game that taps into this niche to make a surprisingly entertaining game but the limited control, skips in frame rate and interminable loading times make way for a slightly above average experience.
A unique experience that gets tedious very quickly but also one that should be experienced by anyone craving some mindless (but perverse) fun.
GalGun: Double Peace is an interesting videogame based on anime gal games, which also features the simplest plot ever. It's as enjoyable as repetitive and absurd.
Review in Spanish | Read full review
I possibly made Gal Gun: Double Peace sound worse than it actually is, by all accounts it's actually a decent game. If you can look past the games blandness, you have a pretty decent on rails shooter that can actually be charming at times.
Marooners' Rock
6.5 / 10.0
Whether or not you'll like Gal*Gun: Double Peace really depends on your tolerance of the material. This isn't your typical shooter, and it doesn't even have an abundant amount of substance, despite its theme. It's got a decent presentation, and if you can get the hang of the concept (and maybe even try out a few character settings), you'll get decent mileage out of it.
Gal Gun Double Peace is an enjoyable rail shooter with a ridiculously hilarious premise.
We analyze one of those titles that could only come from Japan, Gal Gun Double Peace, one of those games that mixes two genres as diverse as can be visual novels and shooter on rails.
Review in Spanish | Read full review
The artwork is simply stunning, so fans of Japanese animation or games in general have something to come for. Unless you're a hardcore genre fan, it may also go far enough to scratch your rail shooter itch. If then you're also allured by the story and getting to intimately know all of the main cast members, then I think you'll love this game. Again, it's packed to the brim with Japanese fan service which I myself generally love. In a sequel though, maybe it can add some interesting gameplay to supplement that.
PlayStation LifeStyle
4.5 / 10.0
Gal*Gun: Double Peace has a surprising amount of heart for a game that has its head lodged firmly in a gutter full of panties. The characters are likable, the plot is goofy in its seriousness, and the premise is so over the top that I couldn't help but laugh. Sadly, the gameplay simply doesn't hold up its end of the bargain. This on-rails shooter is too simplistic and doesn't do a good job of keeping the gameplay feeling fresh.
Gal*Gun Double Peace is certainly a title that's not for everyone, but if those titulating screenshots get your heart going 'doki-doki,' you're exactly the kind of person that Double Peace was made for.
For a game about a guy who shoots girls with "pheromone shots" until they climax, Gal Gun: Double Peace sure is boring.
Shameless like a boob tube but about a billion times less interesting, Gal*Gun: Double Peace is a bad rails-shooter that tries tirelessly to get a raise, only to leave you feeling limp and agitated. If firing pheromones in the faces of overly appreciative schoolgirls is the kind of thing that turns you on, then consider giving Net Nanny her marching orders instead.