Percentile Rank
State of Decay: Year One Survival Edition is ranked in the 56th percentile of games scored on OpenCritic.
Rating Summary
Based on 37 critic reviews
OpenCritic Rating
Based on 37 critic reviews
Score Distribution
Unscored Reviews
State of Decay isn't a horrible game. It has a compelling idea that it executes well. The team at Undead Labs knows what it is about zombies that makes them so interesting to fans. Despite it being yet another zombie game when there are so many already, its concept gives it legs to stand on. For that, State of Decay is worth checking out.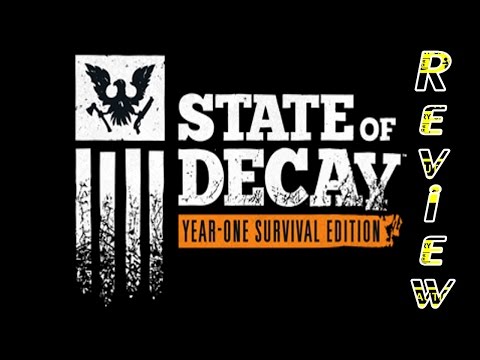 Scored Reviews
Undead Labs bring their zombie-survival-sim to a new generation with heaps of content and loads of fresh polish.
State of Decay proved to be a massive hit when it released on Xbox LIVE Arcade and may very well follow up that success on the Xbox One. The mixture of resource gathering and base building provides for a deep zombie survival experience and the micromanagement is made easy by a streamlined menu system. With the inclusion of the two DLCs there is a lot here to keep players busy for awhile.
State of Decay's unique gameplay remains intact on Xbox One, as does its jankyness. Nevertheless, don't miss YOSE.
It's been almost 2 years since I originally reviewed this excellent game, and playing it once again on the Xbox One has reminded me how good this game was when it was first released. It still holds up as one of the best zombie video game titles out there today. It's held back due to some technical issues that have also made the jump from 360 to Xbox One. If you have never played State Of Decay, and you own a Xbox One then now is the time to play one of the best survival zombie games ever made.
'State of Decay: Year One Survival Edition' is an example of a good remastering. The core game definitely needed some work, as its technical shortcomings often threatened to ruin an otherwise awesome experience. This upgrade still has some issues, but these are not severe. As an incentive to upgrade, 360 'State of Decay' owners get a discount until the end of June (which brings the price down to a more palatable level), and Xbox One owners can port over all of their saves from the 360 version. There hasn't been a better time to play 'State of Decay'.
While State of Decay: Year One Survival Edition doesn't fix all the hideous flaws of the original, its bug-fixes and visual enhancements make it easier to love. The complex, interwoven systems and perma-death take some getting used to, but the result is a fantastically tense, exciting open-world survival epic with more heart and soul than other zombie games.
State of Decay: Year-One Survival Edition is a generously proportioned package (that's not a euphemism), containing a stack of content, a huge open-world packed with ravenous zombies and precious few supplies to see you through. The apocalypse has never looked so damn bleak, although the 1080p upgrade helps bolster the gloomy visuals. State of Decay heralds the end of the world as we know it, and I feel fine.
State Of Decay: Year-One Survival Edition is the definitive way of experiencing this fiercely unique zombie sim and a true highlight of the survival genre. Though still rough and ready, it's undeniably a complete package.
We take a look at 'State of Decay: Year-One Survival Edition' on Xbox One, a ported Xbox 360 title that throws players into an unforgiving zombie apocalypse.
State of Decay: Year One Survival Edition is a solid offering and one of the more unique zombie driven games in what has become an undeniably saturated genre.
It's surprising that, given the breadth of activities on offer, State of Decay manages to make every one of its objectives feel essential to the overall experience.
State of Decay was one of the best Xbox Live Arcade titles to grace the 360 during its ten year life span and arguably one of the console's best games full stop. This new updated edition is a step in the right direction. Graphically superior with a higher resolution and a wealth of new animation enhancements, the game tries its damnedest to move away from the janky / rough diamond tag that it acquired upon its original release. Sadly, and frankly amazingly, the majority of the performance issues remain meaning it's not possible for the game to lose that diamond in the rough tag, but that said, it's still a diamond in the rough. If you played it originally it's well worth a double dip and if you missed it on the 360, what are you doing reading this?! - log on immediately and buy it.
State of Decay: Year One Survival Edition is "pretty good bang for the buck" considering the asking price. I for one enjoyed what I played, and the added content of past DLC, plus all the bonus goodies that have been tacked on above that make the whole package a pretty good value. There is a lot of gameplay to be had here too and those who haven't played the game before are in for hours upon hours of zombie mayhem.
State of Decay has everything you could ever imagine in a zombie game, and than some. But, it still plays and feels like an Xbox Live Arcade game. Thankfully, at around $30, it's priced like one too. Running away from the zombies infesting Trumbull Valley I continually got stuck on invisible obstacles, attacked through walls, and had special powerful zombies appear from nowhere, and disappear just as quickly. But, even that didn't stop me enjoying the game. Despite what you may have heard, shooting zombies in the head and being torn in two by the living dead, never gets old.
While State of Decay: Year One Survival Edition won't wow returning players, this is one state you shouldn't mind revisiting.
State of Decay is a fun romp and so is this new-gen re-release. The lack of meaningful changes make it hard to recommend to those that own the older version, but everyone else should dive head-first into its zombie catastrophe scenarios.
Engrossing gamplay and an atmospheric environment help State of Decay rise above its narrative issues and technical problems.
State of Decay: Year One Survival Edition's core mechanics, characters and open world environment are still compelling, even with glitches and frame rate issues refusing to die two years later. Veterans may want to think twice before revisiting this undead nation.
While it never truly feels like it reaches its full potential or the promise Undead Lab's ideas hold for the genre, State of Decay: Year-One Survival Edition is still a fun, fascinating take on the tradition of zombie-apocalypse games that's worth playing for hardcore fans.
You get a lot of game in this remastered bundle, as well as a lot of technical hiccups to look past
Although it's chock full of zombie-based content, State of Decay: Year One Survival Edition hasn't come to Xbox One and PC without many of its original flaws in tow. If you can overlook technical issues though, such as frame rate lag and glitchy animations, then there's a solid game to be found here.
State Of Decay's incredible value almost makes up for its technical shortcomings.
Technical things aside, this is one rather impressive game when you get to the bottom of it. Zombie fans both in action and in strategy will find a decent time here. Just remember, the camera will fight you, and some glitches will pop up, but if you can make it through that, it is one unique zombie game.
This is hardly a remaster, but newcomers who want a fresh take on zombie fighting should consider it.
Along comes State of Decay, the Year One Survival Edition. In an era where HD makeovers are the in thing, how will this zombie post-apocalyptic survival experience hold up on the new gen systems?
With a little more elbow grease and a lot more consideration for the hardware at hand, State of Decay: Survival Edition could've found a strong second life on the Xbox One. Instead, it feels like it was rushed in several corners, and despite its stacked content, it doesn't quite live up to its potential. It's worth a look if you're into alternate zombie-battling games, but it's not nearly the solid State it could've been.
In the end players who have experienced the original State of Decay might not find much to sway them into purchasing the Year One Survival Edition. However, others should give it a go. It's rough around the edges, but it's an intense and even emotional experience, and still one of the better examples of a zombie survival game.
State of Decay: Year One Survival Edition is the ultimate mixed bag of mixed bags. A fantastic value proposition for fans of the admittedly somewhat buggy original, the package will provide stacks of playing time if you become hooked. The problem is that you may not get the chance, since this apparently "remastered" edition of the game doesn't seem to have had any real work done to it outside of the visuals, which remain incredibly sub-standard in terms of performance.
State of Decay: Year One Edition can be a lot of fun for those that can forgive its shortcomings, but those shortcomings are many.
State of Decay for Xbox One is a smart and convincing zombie fantasy, but its ambition often leads to troublesome technical issues.
The Jimquisition
5 / 10.0
State of Decay: Year One Survival Edition is a cynical rehash that needed to be much, much more.
On paper it sounds like the ultimate zombie game, but two years later and the technical issues are still as decayed and broken as the undead enemies.