State of Decay's unique gameplay remains intact on Xbox One, as does its jankyness. Nevertheless, don't miss YOSE.
On paper it sounds like the ultimate zombie game, but two years later and the technical issues are still as decayed and broken as the undead enemies.
You get a lot of game in this remastered bundle, as well as a lot of technical hiccups to look past
State of Decay still hasn't become the game it wants to be.
This is hardly a remaster, but newcomers who want a fresh take on zombie fighting should consider it.
State of Decay: Year One Edition can be a lot of fun for those that can forgive its shortcomings, but those shortcomings are many.
Undead Labs bring their zombie-survival-sim to a new generation with heaps of content and loads of fresh polish.
State of Decay: Year One Survival Edition is a cynical rehash that needed to be much, much more.
We take a look at 'State of Decay: Year-One Survival Edition' on Xbox One, a ported Xbox 360 title that throws players into an unforgiving zombie apocalypse.
State of Decay for Xbox One is a smart and convincing zombie fantasy, but its ambition often leads to troublesome technical issues.
State of Decay isn't a horrible game. It has a compelling idea that it executes well. The team at Undead Labs knows what it is about zombies that makes them so interesting to fans. Despite it being yet another zombie game when there are so many already, its concept gives it legs to stand on. For that, State of Decay is worth checking out.
State of Decay proved to be a massive hit when it released on Xbox LIVE Arcade and may very well follow up that success on the Xbox One. The mixture of resource gathering and base building provides for a deep zombie survival experience and the micromanagement is made easy by a streamlined menu system. With the inclusion of the two DLCs there is a lot here to keep players busy for awhile.
Technical things aside, this is one rather impressive game when you get to the bottom of it. Zombie fans both in action and in strategy will find a decent time here. Just remember, the camera will fight you, and some glitches will pop up, but if you can make it through that, it is one unique zombie game.
State of Decay: Year One Survival Edition is "pretty good bang for the buck" considering the asking price. I for one enjoyed what I played, and the added content of past DLC, plus all the bonus goodies that have been tacked on above that make the whole package a pretty good value. There is a lot of gameplay to be had here too and those who haven't played the game before are in for hours upon hours of zombie mayhem.
While State of Decay: Year One Survival Edition doesn't fix all the hideous flaws of the original, its bug-fixes and visual enhancements make it easier to love. The complex, interwoven systems and perma-death take some getting used to, but the result is a fantastically tense, exciting open-world survival epic with more heart and soul than other zombie games.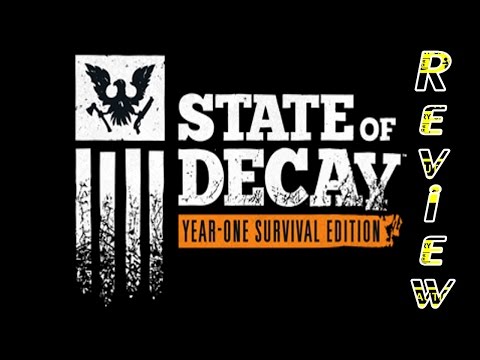 State of Decay is a fun romp and so is this new-gen re-release. The lack of meaningful changes make it hard to recommend to those that own the older version, but everyone else should dive head-first into its zombie catastrophe scenarios.
With a little more elbow grease and a lot more consideration for the hardware at hand, State of Decay: Survival Edition could've found a strong second life on the Xbox One. Instead, it feels like it was rushed in several corners, and despite its stacked content, it doesn't quite live up to its potential. It's worth a look if you're into alternate zombie-battling games, but it's not nearly the solid State it could've been.
Although it's chock full of zombie-based content, State of Decay: Year One Survival Edition hasn't come to Xbox One and PC without many of its original flaws in tow. If you can overlook technical issues though, such as frame rate lag and glitchy animations, then there's a solid game to be found here.
While it never truly feels like it reaches its full potential or the promise Undead Lab's ideas hold for the genre, State of Decay: Year-One Survival Edition is still a fun, fascinating take on the tradition of zombie-apocalypse games that's worth playing for hardcore fans.