Percentile Rank
Goat Simulator is ranked in the 18th percentile of games scored on OpenCritic.
Rating Summary
Based on 45 critic reviews
OpenCritic Rating
Based on 45 critic reviews
Score Distribution
Unscored Reviews
It might have started off as a joke, but the funny thing about Goat Simulator is that it's a much better game than it has any right to be.
TotalBiscuit, The Cynical Brit
Unscored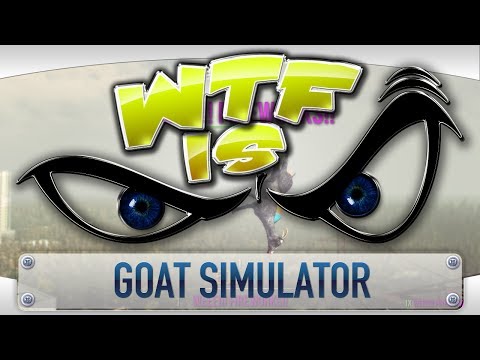 Scored Reviews
Goat Simulator is stupid, ridiculous, and incredibly fun. Everything from the hidden areas to the different goats make this game hilarious, and well worth the price.
A sandbox of the simplest kind, Goat Simulator is a mental yet uproarious title whose silly antics will put a smile on the dial of even the most po-faced gamer.
No, Goat Simulator won't be game of the year by any stretch of imagination. However, those who want a stupid little game that rewards you for destroying things but won't kill you, even if you head-butt a tanker truck, leap out a fourth-story window, or let a treadmill backspin you out into traffic, will not be let down by the simplicity the game has to offer. Just be prepared for buggy controls, a twitchy camera, and plenty of physics that don't make sense (but you won't care because it's a friggin' goat).
Geeks Under Grace
8.1 / 10.0
If you are looking for a game to just pop in and screw around on for a few minutes in between important things or whatever, this game is a great time filler.
Thanks to Coffee Stain Studios' Goat Simulator, now you, too can goat, and you can goat with gusto.
PlayStation Universe
8 / 10.0
Great fun, especially with friends, Goat Simulator is so out there and different to the norm that you can't help but have a good time, and laugh along with it.
Goat Simulator is a clever piece of interactive satire powered by hilarious ragdoll physics and its embracing of bugs.
It's broken, but it's not a mess for being a title that spits on the face of physics. It's small, but there's a lot to try to do and the Workshop feature will be sure to bring more content by the truckloads. It's stupid, but it's brilli– no, it really is stupid as hell. Still, you can tell a lot of love went into this project. Plus, you can be a goat.
Goat Simulator is a fun game to pick up and play with plenty of laughs to be had alone or with friends but doesn't take too long to complete or have much replay value.
There's not much of an actual game in here to tell you the truth, but for $10 and a few hours of your time I don't really think you can go far wrong in checking out. Goat Simulator's a breath of fresh air in the sea of pitchfork-waving tripe that gaming can easily become. It's small, dense, and pretty poorly made, but the interactivity and sheer ability to goof around make it worth your time - If in doubt though, wait until the inevitable sales and give it a spin.
Goat Simulator is a great time for the first few hours when you're seeing everything for the first time, but once you've seen everything, there's no reason to keep playing.
Goat Simulator serves up a tiny, but pretty dense, sandbox stuffed with slapstick goofs and anarchic, broken comedy. It isn't much of a game, particularly for £6-8, but it's one hell of a joke.
Exploring the world and causing trouble was really satisfying, but the appeal disappears as soon as you realise there is only one map. Hopefully Steam Workshop expands on the ideas here, otherwise it may not have much lasting appeal. A multiplayer mod is a must for the future of Goat Simulator!
Goat Simulator is rough around the edges and doesn't offer a lot of content, but if you're into destruction, humor, and the sheer ridiculousness of it, it's not a baaaaad deal at all. If you're only going to buy one goat simulator this year, make it this one.
Goat Simulator is the definition of dumb fun. It serves no purpose other than to entertain. I have derived far too many hours of enjoyment out of a game with little purpose.
4 Guys with Quarters
7 / 10.0
Goat Simulator has no true point, except to amuse you. It's a relatively small game with bugs and simple designs. It's got a crap ton of physics that are absolutely buggy, and well it's a really good thing. It's seriously just about running around two peaceful areas as a goat and causing mischief. Oh, and wait you can become the Goat Queen, all hail!
Providing that you are in on the joke, you are almost guaranteed to have a good time – albeit only for a few hours a best. Running around as a goat is something I never imagined I wanted to do, but it turns out it's incredibly fun. The bugs and general lack of polish do have a negative effect on the game and the short playtime will have some questioning whether it's worth the asking price. But if you are looking for a couple of hours of fun with a lot of laughs, you cant go wrong with Goat Simulator.
A gloriously unhinged and unashamedly stupid game, Goat Simulator is still one of the most enjoyable things I've played in some time. It's a horribly glitchy mess, but it's also somewhat majestic in its commitment to providing surreal lunacy that will have you in fits of laughter. If this is what it's like to be a goat, I don't want to be human anymore.
To hand this enterprise an actual numerical valuation is possibly as arbitrary as the point-scoring within Goat Simulator itself. Is it a 10 for concept alone? Is it a zero because as a playable media it is an utter shambles with a broken physics engine? It seems to not even matter. It takes very special situational engineering to be able to create a product that is awful, sell it for real cash-money and then simply exclaim to the haters: "we told you so." But that is what Coffee Stain have succeeded in doing. Kudos to those guys, who are having their cake and eating it. An almost perfect paradox.
Goat Simulator's nauseating stupidity has a certain je ne sais quoi, we suppose. You won't be feeding from this particular trough for all that long, but if you're willing to splurge on a headache-inducing afternoon of idiotic entertainment, then – incredibly – there are worse options out there. This isn't baaaad, but it's not the Greatest of all Time either.
The game allows for user-created mods, and downloading new levels and tweaks might give this kid some extra legs. But I suspect most players will have a few hours of fun and then file this game away as an occasional novelty to pull out when they're especially bored, drunk or just need to give their goat a good thrashing. That's not a euphemism. Probably.
In a way, Goat Simulator calls to mind the other big "Simulator" game, Surgeon Simulator 2013, in that it doesn't try to take players money and run. It acknowledges its silly premise and gets a surprising amount of mileage out of it. Only a very particular type of gamer will give Goat Simulator a try, but those who do will be pleasantly surprised.
I wonder if, accidentally, Goat Sim might be one of the best kids games going: an ungulate enhanced remix of the Lego series, that proves that breaking is at least as fun as building. It is hard to feel mean about a game that inspires that kind of reaction.
Post Arcade (National Post)
6 / 10.0
Goat Simulator lets users run around headbutting gas stations and causing explosions. As you might have guessed, it defies categorization.
An intentionally broken game, Goat Simulator's hamstrung sandbox is designed to titillate and amuse, serving up bugs and faults like candy. All too soon, however, the laughs dry up, and what you're left with feels like yesterdays news, with all its tricks let out of the box and with very little left to take its place.
It's funny the first time, but there's just not much there beyond the one big goof.
Goat Simulator should be taken for what it is: a joke. Whether it still has some appeal left in its mileage or if it has already burnt out and died is up to you to decide. Either way, you can't deny it wasn't good while it lasted.
Goat Simulator is funny, it's incredibly stupid, it's utterly simplistic, and it may charm you, or make you look at it with disgust. It's an okay game to pick up and play, but not enough to commit to for days on end. All in all, you just have to decide. Do you want to spend your money to be a Goat?
PlayStation LifeStyle
5.5 / 10.0
Goat Simulator is unapologetically absurd but fails to meaningfully give players anything to do beyond the occasional ridiculous party trick. It was a fun ride for an evening or two, but the novelty quickly wore off as I found myself fighting with poor mechanics that add nothing to the rapidly repetitive zany nature of the game. Don't get me wrong, it has its funny moments — I mean, you're a physics-centric goat that kinda, sorta wrecks some stuff and can turn into a whale — but the moments fizzle out all too quickly. It's not that it's bad. It's just really not all that good.
It's worth a few laughs for the odd hour or two, and possibly more if you're the kind to tinker with ragdoll physics and game mechanics to comic effect. I wouldn't buy this expecting any epic JRPG narratives or emotional rollercoasters but you didn't really expect that... did you?
Amusing for an hour or so, and likely even more enjoyable with a group of onlookers reacting to the onscreen nonsense
It's not a particularly baaaad game, and it achieves what it sets out to do, but there's not enough content there, nor hilarity outside of its initial gag, to keep you playing for more than an hour or so. It's fun while it lasts, but it doesn't last for long.
Not since Deadly Premonition has a game achieved cult status like Goat Simulator has. Following a similar so-bad-it's-good formula, it's as absurd as the title implies and charmingly embraces all of its flaws. For that reason, you can't take it too seriously. It's a messy but momentarily enjoyable experience that gratuitously delivers more gamerscore, but as soon as you're done with seeing what it has to offer -- Easter eggs, achievements, and a few good laughs -- there's no reason to return. Pack your bags and head out of Goatville with nothing but a hat collection and weird memories in tow.
Goat Simulator is a hilariously fun game, especially in multiplayer, that will offer many hours of fun during late Saturday nights, but due to the severe number of bugs and issues, it's impossible to give Goat Simulator a high grade while keeping a straight face. It is a horrible game done horribly right, a game that is so bad it actually becomes a great experience, so long as players enter it with the right mindset.
Ultimately, Goat Simulator is a hilarious mess that is worth experiencing for a few hours, just one you probably shouldn't buy.
At this present point in time, Goat Simulator is simply not worth it, even for the novelty value. I imagine some of the sillier YouTubers could get some fun out of it, and for the rest of us that will probably be the better way to experience the extreme silliness of the concept. But I need to underscore; it's just not worth it.
Goat Simulator is quite easily one of the more forgettable games I have played in recent memory. Aside from some cheap laughs and managing to somehow become an internet cultural phenomenon, this goat game offers up little in terms of any substance.
The worst gaming goat since that one in Broken Sword. This is a dumb, limited novelty game that's not worth the asking price.
Even if the price was right (and that price is free, regardless of platform) Goat Simulator is not worth playing. It's a game designed for YouTube, not the average consumer. Reward this shrewd business decision by not buying this game and just watching some clips online instead.
I totally understand the creators wanting to ride the success of the hype they got on social media, I mean, how often does that happen? But really this feels like a waste of time, let alone money.
The latest internet craze lets you experience life as a goat. It's the gaming equivalent of a novelty single