Percentile Rank
Tales From The Borderlands: Episode One - Zer0 Sum is ranked in the 92nd percentile of games scored on OpenCritic.
Rating Summary
Based on 52 critic reviews
OpenCritic Rating
Based on 52 critic reviews
Score Distribution
Unscored Reviews
TotalBiscuit, The Cynical Brit
Unscored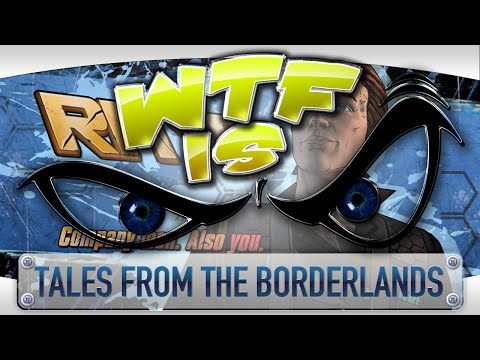 Telltale's trip back to its comedy roots is a triumph. Rhys and Fiona are a duo I want to spend more time with. Baker and Bailey do a phenomenal job of bringing them to life, with spot-on comic timing and just enough humanity so they don't simply feel like vehicles for jokes. Pandora is a world I'm enamoured with once more, and being able to explore it without grinding or shooting a thousand addle-brained enemies over and over again is a very welcome change.
Rock, Paper, Shotgun
Unscored
Tales From the Borderlands might not pack the emotional punch of The Walking Dead at its best, or the style of Wolfamongous in full swagger, but it's bloody good fun.
Scored Reviews
Tales from the Borderlands' first episode is a fantastic introduction to what is sure to be an amazing franchise.
Tales from the Borderlands Episode 1: Zer0 Sum sets the stage for another amazing adventure experience from Telltale Games. The title perfectly complements the shooters made by Gearbox while taking things further thanks to the special characters and the crazy adventures they go through. There are a lot of hilarious moments but also some really dramatic ones that are punctuated by the choices made by players.
Not to be taken seriously, Telltale demonstrate the ability to shift between serious and comedic titles.
Tales From The Borderlands: Episode 1 - ZerO Sum is a strong debut for what looks to be another Telltale Games classic.
An exciting opening to a series that could end up being Telltale's best yet. There's something here for everyone.
The comedy, the story choices, the setup - it's all done well in Tales from the Borderlands: Episode One - Zer0 Sum. The next episodes can't come quick enough! Grab the season pass and enjoy waiting with baited breath for each episode to be released. The team here at Cubed3 certainly will be!
Overall, this first episode is a fantastic introduction to the genre's take on the Borderlands universe. While there are the occasional long periods of player inactivity, they do little to distract from the engaging story and characters, especially as you'll spend most of this time laughing. If this is what Telltale has to offer for episode one, then I can't wait for the rest of the series.
Tales From the Borderlands: Episode One – Zer0 Sum is one heckuva debut. Somehow, the developers allow the action and story to leap off the screen, and they give a sufficient amount of time to each. The visuals are superb, the soundtrack is excellent, the cast is worth knowing, and the overall atmosphere and style is vintage Borderlands with Telltale's obvious influence and flair.
After playing the first episode for Tales from the Borderlands, I feel more excited and anxious for the next episode to hit than their other games. It's almost scary how well the Borderlands franchise translated into the style of game Telltale is well-known for.
There's no telling just how many twists and turns will occur, but even casual Borderlands fans will find plenty to like here. This is one of the best first episodes we've seen from Telltale, and quite possibly one of the best episodes of all Telltale's work.
Tales From The Borderlands kicks off with a feel-good tour de force. Not only is Zer0 Sum a satisfying and frequently hilarious use of three hours, but it would have been strong enough to stand on its own as a masterful piece of interactive Borderlands fiction. As Zer0 might say... :D
Tales from the Borderlands: Episode 1 – Zer0 Sum is quite possibly the strongest debut episode in Telltale Games' storied history. It combines a frantic pace with some genuinely funny dialogue, and offers more than enough fresh gameplay systems to make it stand out from the rest of the studio's output. Short of not being a fan of the Borderlands franchise, this an incredibly impressive outing – and the fact that it's not riddled with bugs is just the icing on the cake.
Aside from the disappointing lack of puzzles and limit on exploration, Tales from the Borderlands: Zer0 Sum is excellent. Where the first episodes of other Telltale series can start off slowly, Tales maintains high energy throughout. Its consistently funny writing and duo of unreliable narrator protagonists set the stage for a great overarching story, and it feels very much like it belongs in the Borderlands franchise. If the rest of the season maintains this level of quality, Tales from the Borderlands will be up there in history with the other great recent Telltale adventures.
By seamlessly weaving creative humor, some of which is entirely player-driven, into a narrative that constantly leaves players guessing, "Zer0 Sum" is as good of a pilot as we've seen in an episodic game. Regardless of where Rhys and Fiona's ridiculous journey take them next, hysterical one-liners, tense moments, and intense struggles are sure to follow. The biggest question here isn't whether or not Tales from the Borderlands is worth your time; it's when will Telltale's incredible run finally come to an end?
Cheat Code Central
4.5 / 5.0
I will say that Tales from the Borderlands: Episode 1 - Zero Sum didn't immediately grab me as a must see piece of game art like The Walking Dead and The Wolf Among Us did. However, it did grab me as a well written piece of game comedy, and those might be even rarer than the dramas, horrors, and mysteries we have seen throughout gaming's history. Tales from the Borderlands: Episode 1 - Zero Sum is undeniably fun, and I can't wait to see what further episodes bring. Until them, I AM THE CAPTAIN OF THIS POOP TRAIN! I'M GOING TO FILL YOU UP WITH BEES AND PLAY YOU LIKE A HARMONICA!
Tales from the Borderlands is a beautiful new twist on the Borderlands experience with lovable leads and breathless action sequences.
Previous Borderlands titles have taken us from Pandora, to the moon, and back, but the first episode of Tales from the Borderlands has already shown that there are plenty of other places in the Borderlands universe that we have yet to explore.
As far as introductions go, Zer0 Sum gives us a hell of a welcome to Tales from the Borderlands. The aesthetics and writing are true to the source material, the humor is on point, the characters and voice acting are great, and the story is entertaining and engaging. Since they're turning a traditionally FPS series into a point-and-click adventure, it heavily relies on quicktime events and action sequences, but it does a good job of mixing objectives and pacing to keep it from getting stale. "Zer0 Sum" sets up a lot of exciting possibilities and daunting mysteries into motion, and I can't wait to see where it goes from here.
When Tales from the Borderlands was announced, I honestly wasn't sure what to anticipate, but with one (quite long, but well-paced) episode, Telltale have sold me on another one of their ideas. It's shares a lot of DNA with both Borderlands and the usual Telltale adventure games, and yet it's nothing like them at all. It's one of their best offerings, and a refreshing new direction for both a game series that had begun to go stale and a gameplay formula which had started to feel repetitive.
Tales From The Borderlands is a chance for fans of the franchise to see Pandora in a new light.
Telltale didn't hit the same heights with this year's releases that it did with the first season of The Walking Dead, but Tales from the Borderlands, despite being tonally very different, is off to an incredibly strong start.
Tales from the Borderlands – Episode One: Zer0 Sum does a brilliant job of drawing the player into the world of Pandora. Both fans of the franchise, and players being introduced for the first time, will appreciate the engaging characters and their story.
Zer0 sum is like an impressive pilot to greenlight a TV show. Hopefully the rest of the season is just as good.
Tales from the Borderlands Episode 1 is a hilarious, fantastic start to Telltale's trip to Pandora
Everything I'd expected from Telltale's take on this franchise, executed with such skill that it's hard to find anything to complain about...It's an enjoyable, violent and well-crafted introduction to the series. Episode Two can't come soon enough.
It's the perfect blend of Borderlands' humour and Telltale's penchant for great writing and narrative-driven gameplay, and I'm eagerly awaiting the rest of the season. I just hope that Fiona will come into her element soon, the way Rhys did right from the opening credits.
PlayStation LifeStyle
8.5 / 10.0
Telltale has given us an excellent first chapter in what is gearing up to be one of their best series. While it had its hit and miss moments with the humor, and some of the choices outside of dialogue were less than impressive or nonexistent, I loved getting a different view of Pandora and the Borderlands universe. Putting you in the shoes of people who don't have the mindset of 'shoot-and-loot first, ask questions later' brought an experience that I didn't even know I really wanted on Pandora. I thought that I was content with how Borderlands told its stories, but Telltale proved that there is another side to hearing the tales of the vaults with a superb inaugural episode that barely lets up and ends on a note that left me wanting so much more. Let's just hope they can keep up the pace, humor, and bring more choice to the action for the other 80% of the season.
PlayStation Universe
8.5 / 10.0
Tales from the Borderland: Episode One is light on challenge but makes up for it in a big way with story and presentation. This is a great opening chapter to the series regardless of your familiarity to the Borderlands world.
Reno Gazette-Journal
4.25 / 5.0
Admittedly, the QTE portions won't be for everybody. I've also noticed minor glitches like character lips not moving sometimes during dialogue. If you like point-and-click adventures, however, Tales from the Borderlands is another solid and entertaining addition to Telltales' lineup of games.
The Jimquisition
8.5 / 10.0
Zer0 Sum is a great start to the series. It brings Borderlands to life in promising new ways, it's genuinely funny, and it has a terrific cast. The choices one makes are naturally not as gut-wrenching as those found in Telltale's darker games, but that doesn't really matter.
Tales from the Borderlands may be light on gameplay, but it's long on entertainment. An easy recommendation for fans of adventure games and the Borderlands series alike.
Tales from the Borderlands: Episode One – Zer0 Sum is a brilliant start to the season, showcasing a strong cast of characters, speedy pacing, while managing to sustain the Borderlands tropes without hurting what people like about the cinematic adventure genre.
Telltale Games bring their trademark style of adventure gaming to the chaotic wastes of Pandora in Tales for the Borderlands, a surprisingly refreshing take on the world made popular by Gearbox Software's first-person, role-playing series
A very promising start to what is mechanically just another Telltale adventure, but where the comedy and characterisation feels very different to their more recent games.
Post Arcade (National Post)
8 / 10.0
Gearbox's first-person shooter RPGs translate surprisingly well to a dialogue-driven adventure game – at least when the focus is on the dialogue
Telltale has demonstrated that their knack for writing and developing characters is as solid as ever, even with the wacky 'Borderlands' license. With 'Zer0 Sum,' the first episode of 'Tales from the Borderlands,' Telltale got the story heavy take on the colorful world humming. The characters and script are smart and snappy, and elicited a chuckle from me more than a few times through the brief playthrough. If they can lock down the bugs cropping up in the technical performance, this would be about as good as it gets for an adventure game.
Tales develops an interesting world filled with rich characters that was imprisoned within the shoot & loot framework of Borderlands and Borderlands 2. Free from those constraints, Tales is already well on its way to telling a damn good story, and that's the best kind of loot there is.
Praise be: Tales from the Borderlands has a really strong opening episode, and easily proves that Borderlands' unique blend of comedy and ultraviolence (and occasional dips into heartfelt drama) is a really good fit for Telltale.
From jail-breaking a Hyperion Loader Bot to teaming up with a rather familiar-looking vault hunter, this departure from the main franchise is off to an epic and hilarious start!
Tales from the Borderlands: Episode One is just one (relatively) big nudge in the ribs to all Borderlands fans as if to say "did you get that reference? Did'ya?" Luckily, in true Telltale style, there's something good for the rest of us as well. It's a solid first episode that brings in anticipation for episodes to come.
With three episodes still to go, Tales from the Borderlands has plenty of time to inject extra thrills into the story and hopefully introduce some more compelling gameplay elements. All the same, I'm looking forward to getting stuck into episode three, thanks to the compelling characters and hilarious dialogue.
The Game Fanatics
7.4 / 10.0
Zer0 Sum tells the best story and introduces the best characters in the Borderlands series. As a Telltale game, the humor tends to fall a bit flat at times, and it lacks the drama Telltale do so well.
Although Tales From The Borderlands is a humorous and well written opening to the series, it often struggles to run at a decent framerate and suffers largely at the hands of an outdated engine.
'Tales From The Borderlands' brings the franchise's trademark humor to a new genre - even if it's not what Telltale fans have come to expect.
The first episode of Tales from the Borderlands is a lukewarm start to the new Telltale franchise, but that's par for the course in an episodic installment. Telltale hasn't disappointed yet, which is why I'm excited for what awaits us deep in the trenches of Pandora. If anything we'll get to see bandits performing insane acts of stupidity; that's always fun.
Telltale avoids a complete flop with a more engaging second half and a well-done finale
For established fans, Tales from the Borderlands is a great opening act. It has simple combat, snappy dialogue, and great voice acting. For players new to Borderlands, this is a decent appetiser but may well leave you feeling hungry. Either way, there's sure to be great demand for the next course.