Percentile Rank
Titan Souls is ranked in the 63rd percentile of games scored on OpenCritic.
Rating Summary
Based on 53 critic reviews
OpenCritic Rating
Based on 53 critic reviews
Score Distribution
Unscored Reviews
You kill many gods in Titan Souls, including a weird brain thing that lives in an ice cube, but the game's greatest victory is over the god of bloat. Long may he stay dead in the ground.
Rock, Paper, Shotgun
Unscored
Whatever time was wasted traipsing across the same screens repeatedly, I sure as hell don't regret the twenty-odd perfect shots that happened along the way. The beauty of Titan Souls is that if you enjoy the demo, you'll find more of the same in the full game, with consistently inventive enemy designs.
I can't help but wish there was more content for the price of entry, but it's a unique experience that most gamers should at least consider trying out.
Eurogamer
No Recommendation / Blank
No Recommendation / Blank
Apr 12, 2015
This is a game built with love and thorough attention to detail. It is a startling debut for a young team who demonstrate an enviable clarity of design. But it falls short of greatness, perhaps because its main ingredients of hulking foes and one-hit kills cannot harmonise over the course of an entire adventure.
Scored Reviews
The problem I am finding with Titan Souls reviews is that they mention Shadow of the Colossus far too often, anyone who has played SOTC knows that it is an amazing game, one of the best on the PS2 in fact, TS is nowhere near SOTC but it is still an amazing game and I will tell you why.
'Titan Souls' offers an enjoyable torture as players take a series of incredibly difficult Titan boss fights with limited mechanics and only a single arrow.
One singular great idea is the foundation for a smart and occasionally thrilling action puzzler.
Titan Souls is a pretty solid game, but I can see where it may not gel with some players. There is quite a bit of difficulty to it as you have to learn each titan's patterns and figure out how to expose and attack their weak points, and others may just see this as a rip-off of Shadow of the Colossus. If you can get past that, Titan Souls provides quite a bit of challenge, but admittedly could have gone on a bit longer for a $15 price point.
PlayStation LifeStyle
8.5 / 10.0
While Titan Souls is a brutally difficult game, it won't have you giving up right away. Thanks to beautiful visuals and a memorable soundtrack, it is one of those games that will stick with you. If you like a good challenge, then Titan Souls is a must-buy.
Acid Nerve's done a nice job crafting a game that provides a challenge without being overly frustrating, and more importantly, that's easy and enjoyable to play. My time in Titan Souls may not have been lengthy, but I'll remember my greatest kills for a long time.
After my playthrough, I can safely say that while this is certainly no souls game, it's one worthy of the time of anyone who seeks a truly rewarding challenge.
You need an abundance of patience and a tinge of masochistic tendencies to enjoy it, but Titan Souls is a refreshing return to the brutal boss battles of yesteryear
Titan Souls was a tough and a well-fought battle that I enjoyed from beginning to end. Even though it had me raging at times, the thrill of taking down the Titans one by one gave me an immense feeling of satisfaction. While it is a relatively short experience (I was able to finish the game in just over six hours), it was worth every minute.
One hit point, one arrow and one target; Titan Souls is an exercise in simplicity. It evokes memories of classic games, as you seek the satisfaction of striking that killing blow to a Titan. Except they are waiting for you, and though I feel there are a few bosses that are particularly difficult, this is a game that deliberately provides the kind of unforgiving challenge, and trial and error gameplay, that people will either love or hate.
PlayStation Universe
8 / 10.0
Great soundtrack, intuitive controls and challenging boss fights make up for Titan Souls' short length and lack of narrative.
I still love the idea of a game with only bosses and a single weapon, and the contrast between the small protagonist and the towering bosses emphasizes the thrill of victory. It's a shame the game ends when it does, because there's potential here for an even greater product. But even with its short length, Titan Souls is a fresh and inventive indie release.
A perfect storm of elements come together to make a wonderful and challenging experience.
Titan Souls is one of the most interesting titles I've played this year. Some issues aside, this is a unique and memorable experience.
Titan Souls is an example of a game that successfully uses nostalgia as a jumping off point and not as a central reason to exist. The name and art style might make it seem too familiar, but if you can play through that you'll see it quickly establishes its own identity. It's still a bit of a novelty, but at least it fully commits to that novelty, much like you'll probably commit yourself to defeating every titan once this game sinks its hooks into you.
95 percent of what makes up Titan Souls is boss battles, and fortunately, that's the 95 percent of the game that Acid Nerve nails. Its story is nearly non-existent, and its on the short side, but the quality of the battles against the many Titans mostly make up for Titan Souls shortcomings.
My normal difficulty run through, save for some exasperation at the final two titans, did make for good pacing. Death or victory come quickly because, for the most part, the titans are designed to leave you few opportunities to win. Running around and staying alive isn't an impressive feat because you're no closer to winning. The moments of opportunity are designed to put you in harms way -- surely killing you should you miss the shot -- doubling down on an intense thrill. The quickness with which these things kill you leaves you always feeling unsafe. That you often have to stare down these charging killers, like drawing an arrow against an oncoming train with a baseball-sized weak point, is exhilarating.
Simple, strategic combat and an assortment of unique bosses make for intense bursts of gameplay that will keep you coming back for 'just one more go'. And another. And then one more.
It requires patience, a keen eye, reflexes and skill - and the ability to accept that you will die a lot. And sometimes it will seem unfair. And sometimes you will want to throw your controller at the nearest hard surface. But Titan Souls is a fantastic game; a fine example of what is possible with a simple idea, stripped-down controls and a dense atmosphere backing it all up.
Titan Souls is a quietly beautiful little epic. The contrast of the boss fights with the peaceful exploration works to create a world of contrasts, broken but not dead.
Titan Souls' creative fights and fluid controls make for intensely satisfying and rewarding one-hit-kill combat.
Titan Souls gives you the opportunity to feel that success first-hand, a joy forged in the crucible of failure.
Honestly, it may be demanding, although it is possible to beat those bosses. It will take a shitload of patience and practice. You just have to learn not to quit. To our lasting regret, the majority of the public won't see this as entertainment, because entertainment is usually something you can relax with. Titan Souls will not relax you after a hard day's work. It will make you work harder and harder, until you pull that one arrow out of the grayish carcass of that annoying boss who made you scream and swear like never before.
Titan Souls makes great use of its detailed pixel-art style, atmospheric soundtrack and an intricate and complex gameplay mechanic to create an experience that is often a lot of fun. It does occasionally suffer from a lack of narrative to push the player along, but the battles with the Titans more than make up for the slower passages of play.
Titan Souls can be repetitive, difficult and frustrating, but it can also be the kind of video game in which one solid arrow shot can make a player happy for half an hour.
Overall, a great series of fights and fantastic music and sound design ultimately let down by its lack of content in the long haul.
Titan Souls is a throwback game from the team at Acid Nerve that plays heavily on two aspects.Nostalgia, and masochism.
In all, Titan Souls is for people who don't mind struggling to overcome a challenge, but there's little else to grab your attention. It doesn't carry the same weight or intrigue as the games that inspired it, but there's a fun set of battles to test your reflexes.
Titan Souls earns its rightful place as one of the toughest games of all-time and while some will immediately fall for the elegant yet simple design and alluring fantasy world, others may be turned off by its unrelenting difficulty
Titan Souls is one great idea: all the boss battles with nothing getting in the way. All you have is a bow, an arrow, and your trusty dodge roll. It takes one hit to kill your foes and one hit for them to kill you. Titan Souls is a solid game that doesn't overstay its welcome, even if it feels like your skill might not be involved in every kill.
All of this makes Titan Souls a tough game to recommend. Personally, I found it a chore, becoming so caught up in my frustration that it became difficult to enjoy the detailed pixel artwork, take in the soundtrack, or even find satisfaction in finally killing a boss. However, I think there are players who will love this game. It is an unforgiving, unrelenting challenge that almost no other game offers.
Titan Souls strips out all of the bloat of contemporary action games, and boils things down to what should be the best bits. Though it might be a little too condensed for its own good.
New Game Network
70 / 100
Painfully unsatisfying for what its ambitions suggest, but a well-crafted boss rush and a solid example of masocore gameplay outside a platforming format nonetheless.
A fantastic concept that stays true to its vision, but just falls short where it matters - though will be popular with speed-runners.
Titan Souls stretches its simple structure to its breaking point, but before that time comes, it's an intriguing game and a fair but fun challenge.
Titan Souls finds its best moments when its willing to spare the rod
Titan Souls can be fun to begin with, and although there aren't any noticeable bugs, because there are so many things I found annoying, I can't say it's worth it if you're just wanting a good time.
Don't get me wrong, Titan Souls isn't a bad game, it's just noticeably lacking. If players are just looking for tough, often short, battles that involve one hit kills, then this is the perfect game.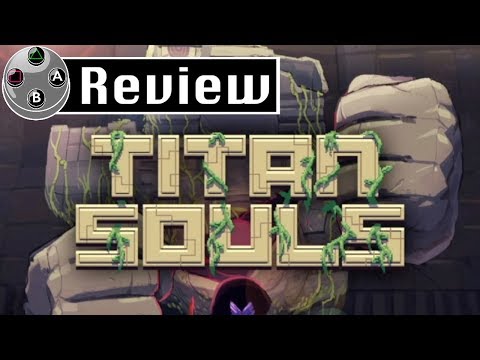 If you are looking for a short, reflex based battle of bosses than Titan Souls might be a right fit. But if you want something with gameplay versatility, or character progression then you better roll away now.
Titan Souls is a brutal and breathtakingly elegant boss battle bonanza, but it's difficult to find a satisfying rhythm thanks to a host of inconsiderate design decisions. What starts out as wholesomely frustrating can quickly become infuriating and even surprisingly repetitive.
Our first hour with Titan Souls was fantastic, but after that the cracks start to show. It's not a bad game, and the atmosphere is excellent, but you'll get to the end knowing that it could have been better. The lack of information about the world makes you feel like you're just roaming a random castle or tower, like those Mega Drive roguelikes where the only goal was to get to the end. The length and price just help to make this excellent idea more unattractive.
Titan Souls is antagonistic and alienating, but if you are masochistic enough to put up with it, there's a smart and original game underneath.
As admirable as the single-minded design is it feels a lot more interesting in theory than it does in the endless repetition of actually playing it.
There's no denying that some gamers will enjoy their time with Titan Souls.