Percentile Rank
Yonder: The Cloud Catcher Chronicles is ranked in the 41st percentile of games scored on OpenCritic.
Rating Summary
Based on 94 critic reviews
OpenCritic Rating
Based on 94 critic reviews
Score Distribution
Unscored Reviews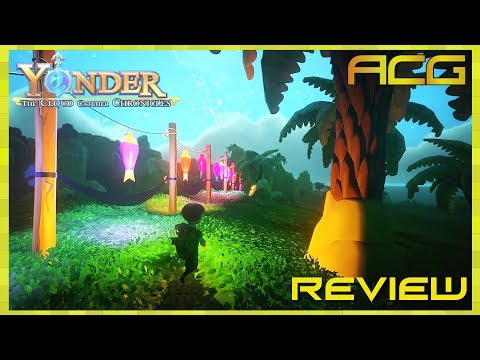 Eurogamer
No Recommendation / Blank
No Recommendation / Blank
Jul 18, 2017
An open world adventure that does away with combat, Yonder's beauty is ultimately undone by its mundanity.
Yonder: The Cloud Catcher Chronicles has a lot to offer but key strengths are hampered by several shortcomings and seasoned gamers may find the experience too simplistic and repetitive. However, if you're looking for a relaxing game with little pressure and one you can easily get lost in, Yonder: The Cloud Catcher Chronicles is a strong candidate.
Rock, Paper, Shotgun
Unscored
I've had such a splendid time just mellowing and wallowing in Yonder: The Cloud Catcher Chronicles, not needing to care why it has such a terrible name, not being rushed along, or nagged to do anything. Sure, I now want to also play a game that rushes me along and nags me to do things, ideally with a sword to swing around, but what a wonderful piece of balance Yonder offers.
Yonder is an awesome, stress free gaming experience. Just don't expect it to blow your hair back.
I'm still happy to recommend Yonder as a great experience for people looking for something a bit more laid back and I think parents with younger kids just getting into gaming might get a lot out of this title.
Yonder: The Cloud Catcher Chronicles is a fun indie game that gives us a break from the typical combat-driven games we play and draws us into a beautiful world.
There's no doubt that the title has a public who loves everything about it, but those expecting something akin to a broader Stardew Valley will be deeply disappointed.
Scored Reviews
Yonder is a game that matches is aesthetics, design, and vision in a way that very few games could even hope to achieve; even those games that end up with astronomical Metacritic scores and GOTY awards from every corner. It's a beautiful, clearly heartfelt masterpiece, and if more games were to follow this one's lead, I would have a great deal more faith in the emergence of video games as an art form.
If you are a fan of farming or exploration simulators with a bit of story, then be sure to pick this up. What Yonder lacks in story and combat it makes up for in a breath-taking world, beautiful mythical creatures and brilliant quests.
Delve into an island world of beauty and adventure that takes you across several vastly different regions as you endeavor to find answers to your mysterious past and the presence of the Murk that holds the lands in captive, slowly encompassing the lands and chipping away at the hearts of the people. Open your heart to the people and creatures you encounter as you endeavor to help them reclaim a world that is slowly being taken from them and enlist the help of otherworldly beings to dispel the growing darkness. Reconnect with your homeland as you work to bring about the return of the paradise it once was by acquiring and using skills in crafting from basic bundles of sticks to larger stone buildings. Start farms that house various island animals and increase each region's productivity and restore the peace and happiness of the land and the people.
Chalgyr's Game Room
9 / 10.0
...this is a beautiful game that keeps me entertained for hours at a time. It doesn't matter how much I play, I will always have a reason to go back. If you are looking for an uncomplicated, sweet, relaxing and colorful adventure, then this is the title for you! They also take criticism very seriously - just check out the troll island. :)
This is a game which taught me to love the feeling of being lost, and I'm sure it's one I will return to for a long time.
A game that transports you into a mystical world of sprites and never-before-seen creatures. A masterpiece on its own right. If you are into this kind of gameplay, then I recommend that you get this game right away.
Yonder: The Cloud Catcher Chronicles is a beautiful game that is highly addictive and very relaxing. You have complete freedom to do as you wish. The controls are easy to pick up and learn, and you will be jumping from quest to quest with ease. If you ever get lost, you have your trusty compass to lead the way. Yonder is certainly one of the best indie games of the year, and one of the best overall games of the year!
Switching Worlds
8.6 / 10.0
Yonder: The Cloud Catcher Chronicles is like The Elder Scrolls for the most casual player all the way to The Legend of Zelda to its charming world design. While it can be compared to an open-world Harvest Moon, it's very much its own identity. There's plenty of deep rewards for those who live for that stuff. The sense of discovery kept me engaged the whole time. I wanted to collect everything not because I was forced to, but because I wanted to. Yonder: The Cloud Catcher Chronicles evokes the feeling of that time of innocence while being a kid roaming grassy fields and stuffing your backpack with everything you can find and knowing that even simple sticks & stones were treasures because they were yours. Then you mastered their uses and felt like the best adventurer ever.
I've already mentioned in this review that Yonder: The Cloud Catcher Chronicles won't be for everyone and it's something that I think is worth reiterating once more. Its focus on offering a tranquil experience that encourages relaxation and trudging along at your own pace won't be exciting enough for all gamers, whilst the lack of combat and emphasis on crafting will leave some bored after just a couple of hours. There's simply no hiding from the fact that it's a very unique, divisive title. Those who enjoy the simplicities that the game offers will love it though, with Yonder: The Cloud Catcher Chronicles offering a sense of depth that always remains accessible from start to end. I loved discovering all the beautiful sights of the world, taking on different professions to craft all-new items, fishing and farming, and simply taking in everything that the game had to offer. It's a wholly refreshing experience that might not be exhilarating, but will certainly warm your heart whilst playing. Its simple yet enjoyable nature won't be for everyone, but it most certainly was for me.
The PlayStation Hub
8.5 / 10.0
Yonder is a game filled with possibilities and quests. Its refreshing approach to the open world genre is a fun way to take a breather from those action-filled games. Farming and building your character to be a great cook, carpenter, fisherman and even a tailor has never been this fun. If only they can add enemies and combat to make my exploration more fun. I spent 8 hours playing yonder but there are a lot of quest that I still need to finish. Overall this game delivers what it wants to be. Given that this game was only created by 3 people, I was amazed how they pulled this off. This may not be for everyone but I'm sure this will be a hit.
Yonder: The Cloud Catcher Chronicles is a stunning and fantastic game. If you visit for the story or the wildlife, you will find yourself staying for all that this title has to offer. With a number of quests and different gameplay mechanics working together to build a world of mystery and wonder. This title is easily one of this years best surprises and I highly recommend it to anyone.
You don't see many open world games that feature absolutely no combat and Prideful Sloth I think took a gamble here making a game like that. However their small team succeeded in my eyes as Yonder: The Cloud Catcher Chronicles was a relaxing and entrancing game to play through.
Yonder: The Cloud Catcher Chronicles is a relaxing, colorful, charming and fun release on PlayStation 4 that you should definitely checkout. It offers a lot of content and a full trophy list that is very entertaining as it marks the many milestones you'll reach. You can check it out digitally straight from the PSN store, but if you like physical copies with bonus items, you can check out the Collector's release from Signature Editions by clicking right here.
Yonder: The Cloud Catcher Chronicles does not disappoint. It's a highly enjoyable and polished game, displaying a thoughtful approach to adventuring, an offering plenty to maintain interest.
There's no denying that Prideful Sloth has created something special. Labeled an upstart Indie Studio, they've gone and created one of my favorite games of 2017 so far. It's ambitious, breathtakingly beautiful, and a joy to play. There's something to be said for games that don't rely on combat of any sort to engage the player.
Nindie Spotlight
8.5 / 10.0
At the end of the day, though its story isn't anywhere near as inspired as its well-planned and executed world, Yonder is a feast for your eyes and ears. The passive nature of the play and the beauty around almost every corner, mixed with the consistent sense of discovery, make it a very serene and relaxing way to spend quite a number of hours finding all of the game's secrets. Unlike its peers of Animal Crossing and Stardew Valley it does have a better defined point where you could very much choose to consider yourself "finished" but at the same time nothing is trying to discourage you from continuing to enjoy the experience. If you love the sense of discovery in Breath of the Wild (or other titles) and losing combat isn't a big deal to you Yonder is absolutely worth checking out!
Yonder: The Cloud Catcher Chronicles does its best to present you with a steady stream of breathtaking vistas, serene escapes and idyllic moments that snap to a picture frame with flawless ease. The core game has all of its slight flaws that came with the other versions, but I found that taking time to frame and save some of what I saw gave me a deeper appreciation of Yonder's many high points.
Sometimes, you really do just need a laid-back game that drops any semblance of agency or emergency and instead allows you to simply explore everything that it has to offer at your own leisure — something that you can easily unwind with, or a title that's just relaxing and inviting. Yonder fulfills this purpose wonderfully, and I can see myself revisiting it time and time again just so I can get lost in its world once more.
Overall, Yonder is a game I`m enjoying and the development team at Prideful Sloth have done quite a decent job.
If you're tired of shooting guns and swinging swords Yonder offers laid back palate cleansing cuteness in this open-world adventure.
Video games don't have to equal violence. Knowing that no monsters await you around any corner, and that no band of rogues is out to kill you is strangely liberating. Put down your guns, your swords, and your bows and arrows, and step into the world of Yonder just for an hour or two. You might just love it.
PlayStation Universe
8 / 10.0
Yonder Chronicles brings to the industry a game focused more on exploring, developing, and interactions over violence and leveling, and the end product is refreshing. A few things hold it back, but the heart and soul of the entire package is not to be denied on its way to success.
Pure Playstation
8 / 10.0
Yonder: The Cloud Catcher Chronicles has no right to be as good as it is. I had low expectations going in, but I've come out a believer that pacifistic games have a place in gaming today. If you're looking to just chill out, explore a bright and colourful open world while collecting all sorts of bits and bobs, then Yonder will have you smiling for hours on end.
Despite some hiccups in performance that are perfectly understandable given the scope, limited budget, and the engine used, Yonder: The Cloud Catcher Chronicles in its Nintendo Switch incarnation retains all of its charm. It is not a Triple-A product, and yet what it manages to achieve is a wonder to behold.
Yonder: The Cloud Catcher Chronicles is certainly appealing with beautiful and colorful looks, a well placed soundtrack in every situation, as well as various in-game crafting options, but it fails in giving more immersion in a story that could be better developed to a world so wonderfully created, leaving the feeling that something is missing after all.
Review in Portuguese | Read full review
NintendoWorldReport
8 / 10.0
It does a fantastic job of making a captivating atmosphere that's both fun to explore and filled with things to do. There are frame rate issues and the lack of diversity among quests is a bit disappointing, but the jaw dropping visuals and superb audio design left me pining for more. While it certainly won't be everyone's cup of tea, those looking for a laidback trip through a stunning world, look no further.
Yonder: The Cloud Catcher Chronicles is a somber and peaceful game. Its gorgeous visuals, astonishing environments and the fun core mechanics of discovery make for a joyful experience. However, despite the polish and the variety of things to do, the game lacks finesse in its storytelling and personality in its characters. This keeps Yonder from being an incredible game, but it's still a great one.
Yonder lacks combats, but that it's not a problem when you have a world as beatifully crafted as this is. Match it with addictive (although simple) crafting mechanics, and you have a unique adventure, where joy is found behind every new landscape.
Review in Spanish | Read full review
Ranging from icy mountaintops to arid deserts, each area had trees, land structures and animals unique to that portion of the map.
Chalgyr's Game Room
7.5 / 10.0
Yonder is an important title because it proves that you don't need conflict, violence or combat in order to bring about a good adventuring experience. Everything that your avatar will see or do brings about a peaceful experience as you think things through and get creative in order to move forward. Need to make a bridge? Mine some stone or cut a tree (that is perhaps the most violent thing you'll do) to make the required bridge. Don't know how? Take the long way around and look for someone to teach you!
Despite a few minor hiccups, Yonder offers a beautiful world to explore at your pace. You won't be fighting legions of demons to save the island, but you do collect cats and the likes.
On its own, it's certainly worth the asking price, and anyone looking for a game that doesn't put combat front and center, Yonder does a pretty great job at distracting you with its many mechanics.
Yonder: The Cloud Catcher Chronicles boasts an impressive colour scheme to compliment a vibrant and diverse world. Filled from end to end with gorgeous views adorable creatures and a plethora of hidden secrets, its certainly got its moments. A lack of diversity within quests and a fairly average narrative are its only real downfalls.
Rectify Gaming
7.3 / 10.0
Yonder is for people who enjoy wandering about from task-to-task. It is easy to lose yourself in the simple, charming, and surprisingly expansive land of Gemea.
Yonder: The Cloud Catcher Chronicles delivers an imaginative and colourful atmosphere that's contained within its own unique fantasy land.
Infinitely charming and unnaturally adorable, Yonder suffers from tedious gameplay but makes up for it with a bold sense of whimsy
PlayStation LifeStyle
7 / 10.0
Much like the fauna that inhabits its world, Yonder: The Cloud Catcher Chronicles is a beautifully odd creature. The things it does well it does extremely well, which leaves me baffled at some of the obvious drawbacks that limit its scope and longevity. With that said, I am massively impressed by what such a small team was able to accomplish, and the attractive launch price certainly makes it all the more appealing. I hope Prideful Sloth can take their experience creating a varied and fascinating world and expand the purview of the crafting and farming to have more meaning in the future, but until that release I've thoroughly enjoyed seeing all that Gemea has to offer, even if my feet feel a little blistered from the journey.
Yonder: The Cloud Catcher Chronicles is a beautiful journey through a world filled with repetitive quests and uneven gameplay. Thankfully, the good portions easily outweigh the game's low points, and anyone looking for a relaxing adventure should definitely consider picking up Prideful Sloth's debut title.
There is a lot to explore in Yonder: The Cloud Catcher Chronicles and the game is aesthetically pleasing to look at, but despite this, it suffers from a lack of sense of progression and repetitive gameplay which ultimately hurts the overall appeal of the game.
Yonder is obviously a fantastic game for adults to play with their children, and for slightly older children to be allowed to play unsupervised. Even for adults it's surprisingly beautiful, and a soothing breath of anxiety-calming non-violence. But the older you get, the less mileage you might receive from Gemea.
This is a peaceful game about exploration, discovering secrets, helping people and transforming the land at your own pace, free from the threat of death or world ending implications. It's quite refreshing to explore the land at your own pace without worrying that something is going to try and murder your face off when you round every corner.
Prideful Sloth has created a well balanced game with a great artistic style and an amazing OST. Great game for the players that enjoy exploration and adventure.
Review in Spanish | Read full review
It may not have the sharp writing that we've become accustomed to in gaming these days, but at the end of the day, it's perfectly playable. Sometimes that's all you need to have an enjoyable time. This one's worth kicking back to.
Yonder: The Cloud Catcher Chronicles is a relaxing adventure set in a beautiful world but lacks challenge.
Overall, Yonder The Cloud Catcher Chronicles is a decent game. If you don't mind mindlessly traveling across an entire map, collecting items and clearing various areas of the super evil Murk (that doesn't do anything), Yonder might be the game for you.
Yonder: The Cloud Catcher Chronicles' focus on exploration, crafting, and farming, and decision to eschew combat, is a relaxing change of pace in an industry often focused on violence. How much you get from a game like this is up to you: its lack of direction will inevitably bore some people, but it will captivate others. If you open your mind, the world of Gemea has many beautiful things to show you.
Yonder: The Cloud Catcher Chronicles is a delightful little game that can appeal to players of all ages and skill levels. The island of Gemea – complete with its atmospheric weather and seasonal cycle – makes for the perfect destination if you're looking for a relaxing virtual vacation.
Yonder: The Cloud Catcher Chronicles is a very cute adventure that lacks a slightly deeper story, a variety of side quests and a simpler crafting system. The guilds idea is good, but confusing, and hiring employees is too expensive. Problems with the interface, as well as other flaws, spoil the initial exceptionally positive impression, but not so much as to drop the game before finishing.
Review in Russian | Read full review
A perfect approach to introduce kids in RPGs and a good choice for those who wish to enjoy a friendly and peaceful game.
Review in Spanish | Read full review
It's a game that welcomes players into its laid-back and relaxing atmosphere
Invision Community
7 / 10
It has some cute quirks, both in style and gameplay but suffers too much from that cute approach to design. The season mechanic keeps some of the game fresh but locks some stuff away. Crafting is quick and simple, combined with an easy to learn trading system in place for items you're wanting to obtain.
In the end, Yonder isn't inventive, exactly, as the multitude of ideas and cross-media inspirations converge somehow into something infinitely familiar. Missions are cut down to absolute basics to fulfill an open world quota, but it's possible to forgive this when traipsing through this aesthetically pleasing land and helping these delighted folk. And as importantly, there's bravery in eliminating things like combat and leveling, allowing Yonder a rare, distinctive brevity.
The Outerhaven Productions
The beauty of Yonder: The Cloud Catcher Chronicles is the player's ability to choose what they want to focus on. Exploring lands full of groffles and magic sprites serves as a refreshing break from other games. Its story and quests are not the most engaging, but the world of Yonder has enough charm that its shortcomings are easy to forgive.
Overall, Yonder: The Cloud Catcher Chronicles is a charming and visually pleasing experience that will remind you immediately of 3D Legend of Zelda titles, mainly The Wind Waker, in how the towns, island, and citizens are portrayed. The questing and story progression is okay, but it may become boring and tedious for some looking for more of an action oriented affair. The side activities alone, as well as with the crafting and farm management are what many will have to enjoy to get the most out of Yonder. Otherwise, if you are looking for something deeper, this may be a rather boring expedition.
Level Down Games
70 / 100
Ultimately, Yonder: The Cloud Catcher Chronicles is an enjoyable experience if you're just looking to jump into a gorgeous looking game and do some exploration and crafting mechanics. I feel that this game would appeal to fans of the Harvest Moon, Story of Seasons, and Stardew Valley games without a doubt. Even though it had an overly complicated crafting and trade system, and no combat at all, the exploration tied to being on this mysterious island and the beautiful art style and graphics used are reason enough to give this game a look.
New Game Network
69 / 100
Yonder: The Cloud Catcher Chronicles is an enjoyable enough adventure, but it's missing a hook to get players invested. The game wants you to get lost in the economy and exploration it offers, but in just performing these menial tasks for their own sake it fails to create any moments where the entire experience is more than a series of distractions.
Yonder is a game based on crafting and exploration, it has clever mechanics, but it's never exciting. It's a good starting point for the developer team, which will, eventually, express its creativity in a better way.
Review in Italian | Read full review
For a game from an indie studio, Yonder is surprisingly robust, polished and large. If you're after a different kind of experience, that's peaceful and relaxing, Yonder might just do the trick
Digital Chumps
6.5 / 10.0
Yonder: The Cloud Catcher Chronicles has an earnest heart and an anxious mind. Brilliant landscapes and gorgeous vistas create a waking daydream while economic riddles and perfunctory direction recall the drag of reality. Yonder's strides, despite an admirable form, don't seem to take it anywhere.
Yonder has some interesting aspects to it, and while they really tried to throw in everything and the kitchen sink into it minus combat, many of them fall flat or shallow. The exploration is the best part of the game by far, and while the other parts of the game may be to shallow for me, others may find enjoyment out of them. Even then, the pacing is well done and players will have a pretty view the entire time. I'd say wait for price drop, but when that happens check it out.
Yonder: The Cloud Catcher Chronicles provides you with a wonderfully pretty world to experience, and its simple narrative will encourage you to peacefully explore the island at your own pace. However, the multiple mechanics seemed unnecessary and the story was underutilised as a way to move the game forward. However, if you like Pokémon, Stardew Valley and Breath of the Wild and want a 'lite' version of all those combined - this sweet adventure may just be perfect for you.
There are enough small grievances I have with the game that hold it back from being truly great, but the tone and setting are so charming that it's hard to be too mad at it. If you want to do some peaceful meandering during your commute, the Switch version is easy to recommend.
Yonder: The Cloud Catcher Chronicles is a lovely, sedate open world adventure game that inexplicably gates its crafting mechanic behind an obtuse, tiered system that renders it moot.
Yonder: The The Cloud Catcher Chronicles is a peacefull and relaxing game, where you have to help the citizens of Gemea about everything: good atmosphere but it is a fetch quest-festival.
Review in Italian | Read full review
A childlike and visual appealing adventure that fails to motivate in the long term
Review in German | Read full review
Geeks Under Grace
6.2 / 10.0
Yonder: The Cloud Catcher Chronicles is a mindless adventure game that's easy to lose yourself in. Story and character development are pretty light, but the main focus is atmosphere, which the game accomplishes beautifully.
Gamerheadquarters
6 / 10.0
Yonder: The Cloud Catcher Chronicles was alright, nothing more though nothing less.
Yonder: The Cloud Catcher Chronicles offers an amazing world to play in, but an underdeveloped story and menial side-quests offer little to keep players interested.
A pleasant experience from start to finish. But that conclusion comes rapidly, and the post-game crafting and farming activities are too light to be truly compelling.
A meditative game about exploring and gathering that offers great beauty but not much else.
Even with its flaws, Yonder: The Cloud Catcher Chronicles manages to create a beautifully peaceful experience.
If you enjoy stopping to smell the roses, the fields of Yonder: The Cloud Catcher Chronicles are awash with aroma. However, if you're looking for something with a little more kick, you may not get what you're looking for.
Yonder: The Cloud Catcher Chronicles is that it is a beautiful canvas that needs more detail to make it a masterpiece. Gemea is an enchanting location and the majority of systems in the game function well, but the magic hook is missing. The story isn't engrossing and the quests just blend into each other for the most part, as do the characters that give them. Gemea is magical, the content not so much.
All told, Yonder is that kind of game that has value, but only a very specific kind of gamer will be able to find it. Yonder isn't a bad game by any means, but it's clear that it tries to do too much at once and doesn't stop to make sure that anything is that fun in practice. Mediocre gameplay mechanics aside, it's a relaxing game to play with your coffee in the morning, and the presentation value is a definite plus. We'd recommend this to anyone looking for a relatively shallow game that doesn't take a whole much of a time investment; for what it is, Yonder is a decent game, though it's hardly a must-play.
All in all, Yonder: The Cloud Catcher Chronicles is an exploration-based, open-world collect-a-thon with crafting and quests that are both beautiful and fun when played in small bursts. Ultimately, it doesn't provide any substantial challenges and doesn't run too well on the Switch's hardware. Unless you're a die-hard fan of relaxing games that you can play for the sake of playing, Yonder may not be your cup of tea.
Yonder had the potential for a lot, but ultimately disappointed in the key areas of farming and crafting. There needed to be more in this game. As it is, it's enjoyable as a casual resource/management adventure, but not much else.
"Wandering around in a world inspired by Breath of the Wild."
Review in Finnish | Read full review
Yonder: The Cloud Catcher Chronicles lacks in only one, but the most important thing – variety of quests. Repeatable objectives makes the game pretty dull.
Review in Polish | Read full review
"There's not enough farming for it to be a farming simulator, not enough danger to be an adventure game, and not enough story risks for a children's game."
Yonder: the Cloud Catcher Chronicles gives us a break from all of the over the top violent gaming out there.
Due to some rather questionable gameplay decisions and a lack of variety in content, Yonder: The Cloud Catcher Chronicles ends up being a disproportionately beautiful slog to nowhere. The tank controls are outdated without any of the design elements necessary to make them engaging, while the story tries to be an intimate journey of self-discovery without anything to discover. Gemea's lush and vibrant landscape is the one saving grace, and peacefully walking through colourful forests and past bustling rivers almost makes the whole shipwreck worth it - but the world's lack of complete identity, both in gameplay and how it presents itself, is too glaring to ignore. The shame of it all is that Yonder isn't held back by time constraints or a tight budget; it's held back by design.
It has admirable intentions, but this misguided role-player proves a quiet life is rarely an entertaining one when it comes to video games.
Without a way to fail, Yonder: The Cloud Catcher Chronicles just soldiers on like its fishing minigame.
One cannot comprehend who Yonder: The Cloud Catcher Chronicles is meant to serve.