Percentile Rank
Ark: Survival Evolved is ranked in the 20th percentile of games scored on OpenCritic.
Rating Summary
Based on 50 critic reviews
OpenCritic Rating
Based on 50 critic reviews
Score Distribution
Unscored Reviews
GideonsGaming
Wait for Sale
It can be frustrating at times, the game isn't always fair and a lot of its mechanics are downright frustrating. Yet after all the time I've put in, the bugs, and the horse crap. I still want to play it, because it is so much fun. I under no circumstances recommend you so just blindly buy the game, but I think you should try it. Catch it on sale or play the base game through Xbox game pass, if you like it, the rabbit hole is a deep one. I have over a thousand hours in and I'm still going strong.
Eurogamer
No Recommendation / Blank
No Recommendation / Blank
Sep 1, 2017
This ambitious survival game emerges from Early Access fully featured but just as in danger of toppling in on itself as ever before.
Rock, Paper, Shotgun
Unscored
While ARK can be a lot of fun – grabbing another player off of a raptor with an Argentavis feels bloody brilliant – it's rarely worth the hours of tedium. If you can spare the 100 or so hours it takes to get your teeth into it then I'd recommend you spend them elsewhere.
Scored Reviews
The survival game ARK: Survival Evolved released recently with a bunch of interesting and fun features. The survival crafting game does a lot more than other games in this genre, having actual end game, and reason to be doing the things you are. Ark boasts a huge diverse roster of dinosaurs, and biomes with multiple "Arks" to play on for free and more coming via DLC.
Entertainment Buddha
84 / 100
This has got to be one of the most fun survival/crafting games since Minecraft. With the dinosaurs, diverse crafting options and detailed graphics, Ark truly delivers an immersive experience. Taming time, limited player space and a HUGE (too big) open world are things that Studio Wildcard could look to change, without altering server settings.
Ark: Survival Evolved is not a reliable game. It crashes more often than you are able to save your progress. It provides a vast area for gameplay, but most of it is not accessible unless you are a god-like. It can be used a creative tool for your mind, but you need to endure tediousness of the grind. It's like Minecraft, but less fun in single player, more deadly and without as much content.
Review in Polish | Read full review
Invision Community
8 / 10
Overall, Ark: Survival Evolved gets an 8/10, it was and still is a great game, with the new additions to the game and changes it has seen a vast improvement. However, it still has a big problem, glitches, and optimisation, with many claiming it has not improved since day one. Early Access, Alphas, and Betas are meant to be the time you make a game stable, not add more stuff to break it.
In the end, Ark's ambition pulls it in the right direction with more force than its clunkiness tugs it the other way. It's always more enjoyable to spend time with a game that tries something new and exciting, stumbling along the way, than a game that tries to tick focus group-inspired boxes. If that game also happens to simulate an entire prehistoric ecosystem, and produces bewildering emergent scenarios like clockwork, all the better.
Gert Lush Gaming
8 / 10.0
If you are willing to put the time in and overlook the flaws, This is a great game.
Ark: Survival Evolved was first launched on Steam Early Access in June 2015. Ark: Survival Evolved spent about a year on early access for consoles and now the open-world survival crafting game has been officially released on PlayStation 4, Xbox One & PC. As the title says the main aim of the game is to survive, and you will be put through your paces when it comes to crafting and building yourself a future in the Ark universe.
When I'm having a good time in ARK, I'm having a really good time. The problem is that those moments are usually one part to every nine parts menial grinding and crafting - especially at the later tech tiers. Having to repeat so much work after failing an attempt at a boss feels far too punishing, and some really dumb dinosaurs can take a lot of the challenge and sense of danger out of the many primal locations. Even with all of those quirks, however, I'm still hungry to play more after the 60 hours I've spent so far. There aren't a lot of survival games that have legitimately held my attention that long.
Ark Survival Evolved is a unique open world survivor game pitting players to overcome a harsh ecosystem. They may choose to do so solo or with friends; in addition to playing against other gamers in a showmanship of the most advance hunters. Level opposing villages or work with them in an exchange of services. Ark gives you the opportunity to grow a garden, tame mystical and ancient beasts, and much more; the power of this lies in your forearm and your ambitions.
PlayStation LifeStyle
7.5 / 10.0
Ark: Survival Evolved has a bunch of interesting ideas. But by attempting to be a jack-of-all-trades, it doesn't really feel like it has mastered any particular element. This doesn't mean there isn't fun to be had in the ARK; if you enjoy the brutal survival mechanics on offer here, then you will likely spend many dozens, if not hundreds, of hours in the quite lengthy grind as you conquer the primitive world. For many people, however, the time required to really enjoy what's shown on the cover art may prove too insurmountable.
ARK: Survival Evolved is still a good game, but it's not a one friendly with newcomers. Getting to the enjoyable part of the game will take hours, so gamers need to be willing to put the time into it. The game looks even better now than it did before, making you fear for your life when you see the hulking beasts out to get you, not to mention the gorgeous environments you'll explore.
ARK: Survival Evolved is a videogame with tons of posibilities where we'll fall in love with its splendorous aesthetics, its content and its particularly atractive thematic. It's sad, though, that our most important enemy in a world plagued with dinosaurs may be its disastrous optimization.
Review in Spanish | Read full review
Ark is not one of those game to start playing it and just leave it on your shelf after a short time. If you really want to be good in this game you should have a team of real-life friends that you trust. Your team's players should have lots of free time too. Ark Survival Evolved can easily be one of the best experiences you've had over the years.
Review in Persian | Read full review
A bloated, grindy mess, but so packed with options that a better game is hidden inside it.
Ark: Survival Evolved has more bugs than the grill of a Mack truck and your first introduction to the game can feel akin to the sensation of being hit by aforementioned truck, but peel away the layers of abstruse game mechanics and you'll find a strangely compelling game that'll make you feel like the Pope of Dino-Town at times and want to open a vein in a hot bath at others.
But apart from all this, aside from all the little flaws and the feeling of tedium that permeated large portions of my experience with ARK: Survival Evolved, I can't fault the game for what it is, which is one of the best in its genre -- even if after playing it, like Willard after his mission from Apocalypse Now, I'll never want another. If any of this sounds good to you and the prospect of a straight climb up a wall full of spikes to experience the multiplayer is not intimidating, add a couple of points onto my final score; you will probably find a lot to love here.
It's incredibly ambitious, but without spending hours upon hours building a safe haven to protect you from the brutality of PvP, the single player feels a bit redundant without anyone to play with.
Ark: Survival Evolved is far from being complete, what with its many bugs and a feature bloat that doesn't always hit the nail on the head. And yet, it's still an addictive grind that proves that life can find a way.
When you finally get over the initially steep learning curve and find fellow like-minded players that you can group up with, ARK: Survival Evolved becomes a truly enjoyable sandbox game where anything goes. But not even the impressive dinosaurs and cool tech can cover up just how repetitive the game really is, and how you're forced to sink in hours and hours of grinding before you can finally start to get to the 'good' stuff.
Like a lot of of titles in this genre, Ark: Survival Evolved has a steep learning curve and requires quite the time - and possibly financial - investment. But once you get into the rhythm of it, the endless need to survive, set against the simple satisfaction of slowly building up your capacity to do so, makes this a game that could well turn into a hobby for you, all in itself.
Hey Poor Player
3.5 / 5.0
Its pricey to be sure, but if you're a fan of the genre Ark is worth picking up. The hours of gameplay it offers pays for itself already. Also: dinosaurs.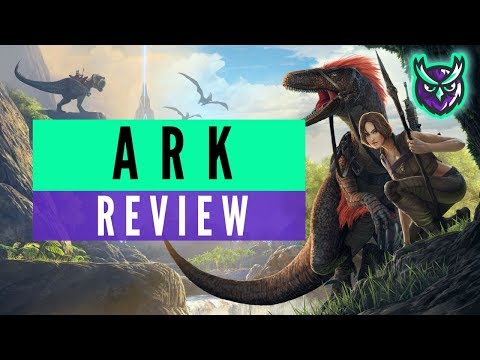 Ark: Survival Evolved is very interesting case study of a game, with fascinating history due to its prolonged time in Early Access / Game Preview. At the same time, it's undeniably one of the biggest success stories for Early Access as a whole, a program flooded with survival titles. No, there really isn't much of a story, which is a shame given the few cryptic hints of lore that are present. Yes, there are still glitches, bugs and server issues that need to be addressed. All of that in mind, if you are fan of survival games, this is undeniably THE definitive survival game to play. Taming dinosaurs and exploring an island that defies time is wondrous, doubly so if you have friends to play it with. At a full retail price of $60, if you are both a fan of survival games and are intent on forming a tribe with people you play games with, it's definitely worth a go.
A clumsy control scheme aside, the console version of Ark: Survival Evolved is a recommendation, especially if you going to play together with your friends.
Review in Swedish | Read full review
If you have friends, Ark: Survival Evolved is a fun survival game, with options such as PvP or PvE servers to make every player happy. If you primarily play alone, however, this game will require a heavy set of grinding and repetition, turning off any players hoping to just get a taste of some dinosaur action.
Ark is an incredibly fun game to play through and explore. As with the best survival games in the genre, it has that "just one more time" aspect going for it.
Amazing things are possible in the ARK — the gun-wielding soldier set high atop the most badass predator of all time comes to mind — but the experience is clouded by the best ones being locked behind excessive grinding, boring farming and the need for a large group.
In its best moments, Ark is the dream of every Dino fan. But bugs and the grindy game principle often spoil the fun.
Review in German | Read full review
Geek Culture Podcast
6.5 / 10.0
There are many resource gathering and survival based games on the market and ARK: Survival Evolved almost feels like it has officially jumped in a little too late after finally leaving Early Access. If you don't mind spending hour after hour of doing repetitive and tedious tasks, you may find some fun in the later stages of the game. However, if that doesn't sound worth it, ARK: Survival Evolved likely isn't going to be for you.
To enjoy ARK: Survival Evolved you're going to have to earn it, and that's a tough sell in this day and age. For those who are willing to sweat over their controller to make even the smallest amount of headway, this is a title you should definitely give a chance. However, if the idea of suffering for a while to gain any real traction sounds horrible, steer clear. Those who survive this are going to prove they deserve to - and that's the ARK experience.
Chalgyr's Game Room
6 / 10.0
ARK: Survival Evolved is an interesting game that spent a great deal of time in Early Access / Beta. The developers used this time to try and polish a title that has long had a lot of potential - but the question I had was this: did they polish it up enough? The answer is kind of a mixed bag.
Ark Survival Evolved is a good survival game with awesome mechanics, but it's also a technical disaster (lag, freezes, connection issues...). Such a shame!
Review in French | Read full review
In a way, ARK lost itself during its development. What started as an interesting survival with dinosaurs experience turned into a PVP wasteland, uninteresting and grindy mechanics. There are some cool ideas under the hood, but not worth the time invested.
Review in Portuguese | Read full review
Unforgiving difficulty and atmosphere are the main characteristics of dino-survival sim Ark: Survival Evolved.
WORTH CONSIDERING - Unless portable ARK is the number one reason for picking it up, I would recommend getting it on something other than the Switch. PC is really the best way to play it, but the Switch does offer portability, which the PC would only give you with an expensive laptop. I did have fun playing on the Switch and taking it with me when I left. But wherever you do go, remember it's an online game so you will need a decent connection to the web should you want to play on the official servers.
ARK: Survival Evolved is a mixed-bag experience that only truly caters to those well aware of, or heavily interested in, the survival genre.
Nindie Spotlight
5.5 / 10.0
Scoring ARK: Survival Evolved is tough because while it has a substantial number of strikes against it I'm well aware that the unique experience it has to offer can help some people overlook its issues. There really is no game out there quite like it, and I do applaud the ambition the developers had in this undertaking to both initially create and then stick with trying to step by step get this title closer to being all it set out to be. All that said at the same time there's no denying that the Switch implementation of this game has some very serious flaws and issues, and based on observing this game's development over time there's absolutely no guarantee that all or even any of it may be addressed satisfactorily. If you're in love with the premise and have pretty abundant patience there's no doubt it's the only game of its kind, and I wish you luck with it. For everyone else though it just has too many issues from the fundamentals to the specifics of the Switch implementation to recommend with any enthusiasm.
To say that personal frustration isn't involved would be a lie. To say that said personal frustration seems to come around because a game wasn't properly balanced between the multiplayer and single-player aspects, with it being tilted a bit too heavily towards the top dogs, would be true. As a single-player title, ARK: Survival Evolved can get quite tedious and annoying having to handle tasks meant for multiple people solo. As a multiplayer game, having to submit to survive and not have everything ruined is annoying, as well. Hopefully, a better balance can be found, but, for now, the game just feels wrong for what it's supposed to be.
Studio Wildcard has built a game that feels like a rough framework for players creating their own experiences, rather than a whole, cohesive experience in and of itself. There's a lot hear to see and do: gathering, crafting a wide variety of items, taming animals, and building tribes. But it's hidden behind an elder game that teaches players nothing and a mid-game of maintenance and tedium. But there's promise here underneath the cruft and rough edges. That promise just isn't full realized yet.
Even as an Ark aficionado, it's difficult not to slump in disappointment as you play the Switch rendition of what can be a fantastic title. The touch screen may allow for better control functionality as far as the other consoles go but ugly visuals and general instability don't really make up for it. Ark: Survival Evolved is and will remain one of those titles that shines brightest on PC and only there can it gain the appreciation it truly deserves.
Ark: Survival Evolved is an open-world survival game where you're fighting against the elements and the dinosaurs around you. There are some nice concepts implemented, but framerate and performance issues drag the game down. Unless these are somehow fixed, you might be better off steering clear.
Ark: Survival Evolved, in its current state, is not the best port to grace Nintendo Switch. It is, however, a proper MMORPG survival game with a deep and rewarding crafting system and the potential for some brilliant online cooperation with your fellow survivors. There's a palpable thrill to moving from simple stone tools to more advanced weaponry as you begin to master the crafting cycle, an experience no other game on Switch can offer right now. But its myriad technical problems – ranging from texture pop-in to substantial performance slowdown – mean you really are better off playing Ark on a different platform for the time being. Patches could solve some of these problems over time, but we can't help but feel this ambitious title will never run at an acceptable level on Nintendo's hybrid platform.
Daily Nintendo
3.8 / 10.0
Ark: Survival Evolved on the Switch is absolutely the worst version there is, you are better off with another version.
Review in Dutch | Read full review
ARK: Survival Evolved could have brought another interesting and fun game to the Nintendo Switch catalogue. Instead it's a severely distorted experience which due to its poor graphical performance, ends up not fulfilling any of its ideas correctly. As a consequence of its terrible lack of fluidity, pop ups and mistakes on the graphics department, ARK: Survival Evolved turns out to be an extremely frustrating effort that leaves no one satisfied.
Review in Portuguese | Read full review
NintendoWorldReport
2.5 / 10.0
Is a Switch game that can realistically only be played in docked mode actually playable? The entire point of this system is to be able to take your games with you, but ARK can't really offer that. It draws into question the sanctity of the Nintendo seal of quality. The fact that it is not only available to the public, but costs money is an insult. Don't buy ARK on Switch.
Is this the worst game on the Switch? It is very close. Ark: Survival Evolved is easily the most poorly converted game on the system, which makes it feel like it could be the worst. If things worked and it didn't look like computer generated vomit, it might have been an average survival game at best. Nothing would distinguish itself. It is unfortunate that the one aspect it has that makes it stand out is just how much of a porting disaster it has proven to be.