Percentile Rank
Darksiders III is ranked in the 41st percentile of games scored on OpenCritic.
Rating Summary
Based on 135 critic reviews
OpenCritic Rating
Based on 135 critic reviews
Score Distribution
Unscored Reviews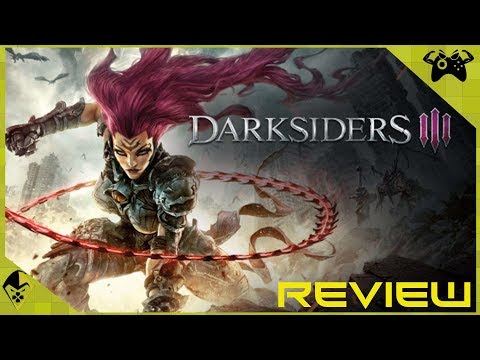 Rock, Paper, Shotgun
Unscored
Darksiders III, you're my best mate. Darksiders III, I never want to see your face again. No, wait, come back…
Darksiders 3 is a nostalgic trip, reminding me of games I loved when I was younger. It never does anything spectacular, nor does it offer many new ideas. Instead, it exists as an earnest reminder of how games played eight years ago, and that's enough for me.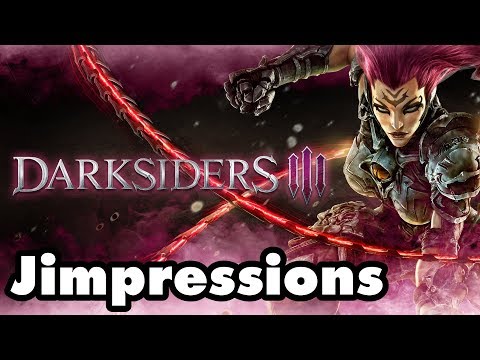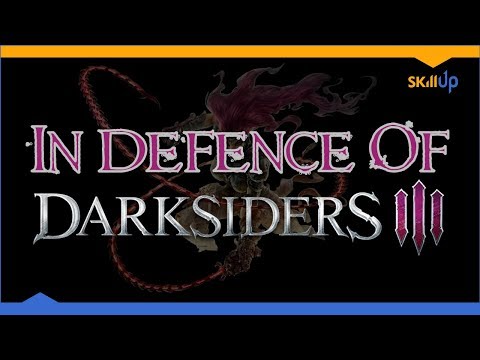 Darksiders III is a fundamentally flawed title that does away with numerous systems and mechanics that the past two titles had iterated and built upon in meaningful ways, but it also allows for a new type of entry in the series as a result. I had way more fun with it than I expected to, but I also can't recommend it to fans of the series who were looking for more of the same, because they simply won't get it here. Darksiders III fails to translate the scale of the events transpiring within the franchise's universe in favour of a more contained narrative that falls flat alongside its boring protagonist. However, if you enjoy Dark Souls, I'd urge you to at least give this title a shot. There's plenty of fun to be had here if you can accept the game for the fun but flawed experience that it is.
Wolf's Gaming Blog
Unscored
this is worth picking up if you love hack and slashers and games that don't hold your hand too much
Eurogamer
No Recommendation / Blank
No Recommendation / Blank
Nov 26, 2018
Darksiders' schlocky action makes a welcome return, though it's not enough to shake the feeling you've played this before - and better.
Darksiders III is lacking compered to the previous two games of the franchise.
Review in Greek | Read full review
Scored Reviews
Once again, the Horsemen offer us a masterpiece. Darksiders III, even with all the fear and skepticism behind the game, has managed to become a superb hack 'n' slash. The personal journey of Fury against the Seven Deadly Sins is simply amazing, and everything is set towards the future for Strife to come and end this awesome epic.
Review in Spanish | Read full review
There are a few qualms here and there, like its technical issues, and at the end of the day I wish it offered more enemy variety, but even when considering those problems, the game is a blast.
Sure, it's not as polished as the likes of God of War, but I don't care. When Darksiders III works well, it's just as entertaining.
All in all, Darksiders 3 is a stunning return to a franchise that we'd love to see more of. The stellar game world, intriguing story, and slick gameplay make it one worth checking out even if you're not a fan of the series. It's a surprise Darksiders 3 exists. And a welcome one at that.
Darksiders III is a stunning achievement, bringing the once-dead series back to life with aplomb.
Generación Xbox
8.9 / 10.0
Gunfire Games have succeed on preserving two last games personality, but making a great game of Darksiders III in it's own terms.
The Games Machine
8.7 / 10.0
Darksiders III is a nice game, as well as a perfect sequel to a series that seemed lost in the maelstrom generated by THQ's bankruptcy. Fury might not have the charisma of the previous knigtht, War and Death, but overall the adventure boasts a very good pace, alternating discreetly challenging fights and satisfying puzzles. Definitely recommended.
Review in Italian | Read full review
Marooners' Rock
8.6 / 10.0
If you're looking for a hack-and-slash game, Darksiders III is definitely one to check out minus the flaws the game comes along with. The team from Gunfire Games really outdid themselves reviving the Darksiders franchise with this third addition to the series.
Darksiders 3 is the best entry in the series. This new chapter has a solid game structure and represents all the best that you can expect from a modern action-adventure game.
Review in Italian | Read full review
Darksiders III is a breath of fresh air in the Darksiders franchise. The game bet on a more defiant combat and a interconnected world, similar to dark souls series, and the result is very well.
Review in Spanish | Read full review
Darksiders III is a welcome surprise in today's gaming landscape. Its focus on tight action gameplay and excellent world design over massive maps or branching narrative paths feels refreshing, and were it not for some annoying camera issues, Fury's tale could easily be the best in the series.
It's been a long time coming, but I'm really glad the Darksiders series is back. Gunfire Games have done an incredible job of bringing back the Horsemen with what I consider the best game in the series. All I'm hoping now is that this will reflect on an even more ambitious take for Strife, the final Horseman.
Darksiders III [3] delivers a different set of core mechanics over the previous games, both for better and worse. The combat feels heavier and more precise as it takes on a more strategic approach over the button-mashing prequels, however, it comes at the expense of ramping up the difficulty in order to fit the mould. I found the game to be both frustrating and confusing, in terms of its combat and puzzles, to the point where I actually appreciate the fact the developers are making us think about what we're doing as we take our time in order to progress. Will Darksiders III be for everyone? Probably not. As of release, the game is buggy, contains glitches, employs the new combat style, and prefers small areas over big open-world ones. However, despite these points, I was captivated once I got to grips with the controls and found myself hooked onto both the story and the outcome of Fury's adventure down on Earth.
Despite small budget and rather unimposing preview materials, Darksiders III turns out a great game. Gunfire Games deserve a standing ovation and a truckload of money. D3 is a game born from true passion and genuine love for the series.
Review in Polish | Read full review
Darksiders 3 goes back to its Hack and Slash roots with some really engaging combat, challenging enemies, and a world that offers some great variety in its levels, but the course of the adventure ends up being somewhat linear.
Review in Spanish | Read full review
Darksiders III is a balanced mixture of first and second game of this popular series. It has a good amount of adventure mechanics and RPG elements that made Darksiders III an amazing game to play. Fast paced Hack and Slash combat, nice Puzzles, various upgrades and weapons and also replay value for finding all secret locations and hidden items, made Darksiders III so much fun and entertaining. The game is so much more challenging than before and some Souls series elements like "remaining your souls in your death location" and " so much more aggressive and powerful enemies and bosses", made Darksiders III a hardcore game even in normal difficulty. Beside all of these good aspects of Darksiders III, there are some weak points like lack of any guidance in the game world, many repetitive models and locations that are very the same as 2 previous games and it's like that we are in Darksiders or Darksiders II again and some unbalanced difficulty levels in some points that made the game so much hard even in normal difficulty. After hours of playing Darksiders III i must say that it is an amazing game and successful achievement for Gunfire games. Darksiders III is a valuable "Action-Adventure-RPG" with fun and challenging Hack and Slash combat and high replay value that absolutely worth your time and money. so don't wait and ride the Rampage alongside Fury!
Review in Persian | Read full review
Darksiders III is a decent game, but thats it. It doesn't anyhow try to surpass that boundary. The new combat system is refreshing and adds a new taste to its core which makes it completely new. The narrative is more complex than the previous instalments and alongside it's properly done characteristics, Darksiders III has the best storytelling yet. The 3rd title of our favorite apocalyptic franchise will make fans happy and entertain newcomers.
Review in Persian | Read full review
VGProfessional
8.3 / 10.0
Darksiders III is a great hack-and-slash action title that feels a bit dated but still manages to offer a well-crafted experience. It's not the best title in the series, but it gets serious points for its polish and its focus.
Darksiders 3 makes a great progress in terms of combat and story. If you are keen on action games, it might be the best appetizer before Devil May Cry 5 and Sekiro.
Review in Chinese | Read full review
Darksiders III is smaller than its predecessors in terms of scale, but still a well-crafted and fun action-adventure. A rare thing these days.
Review in Russian | Read full review
What Darksiders III lacks in production values, it makes up for with good design. The smaller, personal elements of the story are interesting, but the larger picture is confusing
The world is fun and well worth exploring and I'm very much hoping we see that fourth entry in the future. I just hope that Gunfire Games can work on and greatly improve the technical performance in future titles as it holds Darksiders III back from being truly great.
A good adventure that has every ingredient on the original Darksiders formula, an even manages to evolve it. In gameplay terms, we love Darksiders III, but its narrative is a complete mess.
Review in Spanish | Read full review
Overall, Darksiders 3 is a good game, and at times it's very good. It's just regrettable that it's not better given the quality of the first two games and the long wait since DS2. Some of the issues can be patched, and may very well be in time; but at least for now, Darksiders 3 falls short of expectations.
It may have taken over six years, but the Darksiders series has finally received a proper sequel. Thankfully, with its improved combat and level design, Darksiders III more than delivers.
Darksiders III is definitely worthy of being a Darksiders game. not only it feels like previous games in the series, but also provides enough new features to make wandering in it's beautiful maps and killing enemies enjoyable. of course Darksiders III is not a flawless experience, but it sure is enjoyable and fun to play.
Review in Persian | Read full review
Most of my complaints are related to the RPG bits which are not the main focus of Darksiders III. It remains an action-fueled project and that's an angle it does well, reigning in some of the out-of-hand ideas from its predecessor. With all of the efforts to resurrect this once dead and buried series I hope there's a chance to wrap it all up with Strife: I want to see this story through until the end, blemishes and all.
Darksiders 3 shifts the series in a new Souls-like direction. Whilst not all of the new elements are a home-run, the game's combat is fantastic throughout. Despite some frustrating difficulty spikes and performance issues here and there, the game still manages to provide a whole lot of fun from start to finish. In an era of microtransaction riddled experiences, Darksiders 3 feels like a breath of fresh air.
DarkSiders III marries the best parts of DarkSiders will new mechanics, a fun world to explore, enjoyable characters and story, and an engaging combat system.
Darksiders III is a worthy successor to Vigil Games' series. It combines elements from Dark Souls, Bayonetta, Castlevania and Zelda into a beautiful swirl that still manages to find its own identity.
Not quite the triumphant return long-time fans had hoped for but nevertheless Darksiders III is an enjoyable and worthy entry in the series. The biggest issue here is that newcomers will likely find Fury and her world a little too unwelcoming. To those of us who have already shared the trials of War and the journey of Death delivering Fury's wrath is a satisfying if somewhat guilty pleasure.
Darksiders III is a fine return for a series that fans were hoping against hope to see again.
It's not flawless, but it's a damn good time that only asks that you 'Git Gud.'
Darksiders 3 offers fresh new approaches and fun gameplay, but leaves a lot to be desired in terms of story, heroine and technology.
Review in German | Read full review
Darksiders III at its core is a solid action RPG with some great storytelling, post-apocalyptic combat,and great characters. As the third title in a long running franchise its clear that there was a tension line between paying homage to the games that came before while still wanting to explore new concepts and mechanics. For the most partabout it works. Combata offers something fresh and after some growing pains for returning players franchise a rewarding experience. Other than some lackluster progression mechanics and maybe a little too much reliance on players knowledge of the world, Darksiders III offers a great new take on an existing franchise.
Despite the issues that drag down Darksiders III, it's still an excellent hack-and-slash action RPG that is more than worth the purchase.
The well-designed and vibrant post-apocalyptic world of Darksiders III is simply a joy to traverse. The narrative is well-written, and the boss encounters, including the interactions between characters, before, during, and after encounters are quite enjoyable. Although the game takes its inspiration from new titles and genres, it still feels like it belongs in the series I've been playing for the past eight years. On the technical front, the game suffers from occasional hitching and slowdown, even on an Xbox One X.
Gamerheadquarters
8 / 10.0
Darksiders 3 is a solid next entry in the series with Fury being a strong lead providing charm and rage fueled will.
Darksiders III's shift to a more Dark-Soulsy experience seems to fit perfectly within the Darksiders universe. The third outing in the franchise is a solid effort by Gunfire Games – one of my favourite gaming experiences of the year, in fact – let down only by some shaky traversal mechanics, a dodgy compass and some downright unpleasant frame-rate issues.
An interesting third chapter for the Darksiders series. We really liked new stuff, and didn't suffer much the differences between the first two games. Except from that, Xbox version at the end of the game is not free from glitches and bugs.
Review in Italian | Read full review
Overall for me this is just a little bit too run of the mill for me to recommend it to everyone, if you like a challenge along with a lot of hacking & slashing, you'll get something out of this, if you are short on patience then I'd say not for you.
With a more heavy focus on action, Darksiders III is a return to the roots of the franchise, and away from the RPG elements of its predecessor. Whether that appeals to you or not, there's more than enough fantastic story elements to bring any fan back to see how Fury's story ties to her Four Horseman brethren. Let's just hope Gunfire Games can apply one last coat of polish over the controls and checkpoint system to elevate this game to where it belongs.
Reno Gazette-Journal
7.5 / 10.0
Like its predecessor, Darksiders III shakes up the series' formula once again by doing something totally different — this time by dropping the familiar hack-and-slash combat of the first two games and switching to something less forgiving a la Dark Souls. Some fans of the classic gameplay might be turned off by the difficulty and stingy checkpoints. It also doesn't feel as grand as Darksiders II. If you like the story of the previous games, however, and don't mind the higher challenge, this is one horse you'll want to get onto.
PlayStation LifeStyle
7.5 / 10.0
Darksiders III is a game for fans, but it will struggle to find lasting appeal outside of that audience. It has a slow start that won't do much to sway anyone that's not invested. If you're willing to dig deep and stick with it, Darksiders III can be an extremely rewarding experience that has a lot to offer. It diverges from the first two games enough to feel interesting, but retains a distinct look and feel that fans of the series will instantly be familiar with. Technical issues drag the experience down, but underneath them is a game that people have been clamoring for. While not my favorite of the series, it's good to be back in this world in yet another horseman's shoes. I can only hope that we get to finish out the four with Darksiders IV and Strife.
Despite some technical setbacks, the 3rd release in the Darksiders series is exactly what the fans enjoyed from the previous installments. Solid gameplay, great character design, lots of different content types and that unique feeling that the series is known for, all of which help Darksiders III to overcome its technical problems and to stand up as a strong Action RPG.
Review in Persian | Read full review
The performance issues on the PS4 and the iffy platforming make the game fall short of reaching the same status as its past entries. All these things may be fixed with future updates but, at least for now, the title can only be recommended to hardcore fans and those looking for a challenge.
Darksiders III is a promising sequel for Darksiders series. if we forget numerous problems of its story, a classic, challenging and enjoyable experience awaits us, and experience that can surely bring the sense of excitement to the fans of Hack and Slash genre.
Review in Persian | Read full review
Darksiders III is a fun game with an engaging combat system that can be very satisfying, particularly thanks to the dodge and counterattack system in place. All of this is surrounded by a surprisingly compelling storyline with interesting characters. There are issues in the game, with a few bugs and other technical problems as well as a pretty damn cheesy script, with the biggest issue being some downright irritating puzzle sections which are less about logically working something out than slamming your head into a wall repeatedly until something gives. Despite any issues, I've genuinely found myself enjoying my time in the apocalypse.
The story gives us more depth into the hidden motives behind the events that started with the first instalment. The gameplay is simple yet fun and the experience may have needed more polishing but presented the base to give us a promising ending with the next game.
Review in Arabic | Read full review
PlayStation Universe
7.5 / 10.0
Darksiders 3 does a lot right but suffers from some technical issues that hold it back from greatness. Nevertheless, the fantastic exploration, great character designs, fun combat, and excellent writing help it outshine some of its faults. Fans will definitely find that Gunfire Games have done a great job keeping the essence of the franchise alive.
Merlin'in Kazanı
74 / 100
Darksiders 3 is more difficult than previous games. Terrible checkpoint system and long loading times makes game troublesome. But soundtracks, combat system and bosses are great. You should give it a try.
Review in Turkish | Read full review
If Darksiders III spent a bit longer in development then it would have been almost on par with the previous games in the series.
Darksiders III is the follow-up that fans have been waiting for, no doubt, but this is both its greatest strength and weakness. On one hand, it feels just like the previous two games albeit with a much better combat system and some fantastic encounters. On the other, much like Darksiders II, it's trying too many things at once and comes off as having an identity crisis. Without a doubt, though, Darksiders III is easily better than Darksiders II, and that's worth celebrating.
It's easy to sit glued in front of this game, exploring the huge gaming world to the far end of the hours.
Darksiders III could have been something much better if the developers put more thoughts into the story, leveling system and boss fights. But it still delivers a decent game in general.
Review in Arabic | Read full review
If you can look past its woes, there's a lot to love here — but be prepared for this to be an incredibly frustrating delight.
Darksiders 3 manages to stick to its old-school roots but it comes at the expense of a game that fails to innovate and offer anything exciting. The difficulty curve can also feel relentless at times, and the game lacks some technical polish. If you can overlook these issues, it is a decent entry in the Darksiders saga.
There is no doubt that Darksiders III is a flawed product, but series fans who are accepting of the changes will find it to be a good entry in the series. The camera is a source of constant frustration since it causes a number of issues where you get sucker-punched in combat while you're still relatively weak. With that said, the combat becomes enjoyable once you come to grips with the Dark Souls-style system and the more open level design takes the sting out of having to fight through closed spaces for most of the game. One has to wonder how different the possible fourth game could be.
So long as players can have some patience for the game's technical issues, they'll find plenty to enjoy in this title.
Oyungezer Online
7 / 10.0
Darksiders III has AA production values, amount of content and budget, yet its price is same as AAA games. If you're fan of series you should definitely play it, but I suggest you to wait for a sale.
Review in Turkish | Read full review
Darksiders III, while more limited in scope than its predecessor, provides a tighter, more deliberate experience that elaborates on the lore we've seen so far. The smaller world of Darksiders 3 may disappoint some fans of the previous game, but this feels like a reboot of the series. Poor PC performance, a lack of side-objectives and some unimaginative world-design point to a game with ambitions bigger than its budget, but Darksiders II is a fun and challenging experience that kept me engaged across the length of its story.
Darksiders III falls short of the games it's imitating, but it is still an engaging experience in its own right.
Darksiders 3 doesn't reinvent the wheel, but still delivers an exciting adventure with the over-the-top tone that fans of the series will enjoy.
The return of the horsemen delivers an entertaining if challenging action adventure. Some beautiful environments and fun enemy design help keep it engaging as you play but Darksiders' third outing is ultimately forgettable.
Darksiders 3 is a stable title but far from sublime, full of good intentions but partly ravaged by a vision not completely in focus.
Darksiders III is a very good game marred by some severe issues. Still, I loved it. I only hope Gunfire Games addresses its issues.
Darksiders 3 is a good comeback for the series, but its conflicting combat styles and many technical issues prevent it from reaching its true potential.
Review in Portuguese | Read full review
Darksiders III delivers satisfying action in a delightful apocalyptic setting, but the game's linearity, wonky camera, and relentless enemies weaken the demon-slaying experience.
Darksiders 3 feels like coming home for fans, and combat is a blast - but it can be hard to appreciate the good when dealing with a laundry list of technical stumbles.
Despite an intriguing story and excellent character development, dull visuals and technical gremlins make Fury's journey a solid, if unspectacular entry into the Darksiders series.
Darksiders III is a straightforward action game that isn't afraid to throw some serious old-school challenges at you.
Darksiders III does feel like a game that wished it was released many years ago, with a slew of older-style design elements that sit alongside more modern attitudes towards combat and story
Darksiders III is a game that fans like myself will enjoy. While not as polished as the first two entries it continues the story of the Horsemen respectfully.
Darksiders 3 makes up its lack of depth in satisfying combat and memorable boss fights, making for a solid third entry in the series.
Darksiders III is a "hello from the past" with an interesting story, controversial design decisions, challenging and not always obvious puzzles, and a clearly limited budget. Blurry graphics and optimization problems spoil the impression, but if you'll stay with the game for a first few hours of gameplay, then Darksiders 3 will offer you a cool character, epic battles with beautiful bosses, good puzzles and a deep world exploration. In this case, the game will still be able to keep your attention until the very end.
Review in Russian | Read full review
Entertainment Buddha
69 / 100
Darksiders 3 opted to strip itself down a bit when compared to what Darksiders 2 offered, but after spending time with it, the game's relatively straightforward experience can grow on you if you're into challenging games that don't hold your hand. If you wanted more of what you got in the last game though, you will be let down, because this sequel leans more towards a Dark Souls-lite experience than a new Darksiders one.
The Game Fanatics
6.7 / 10.0
Darksiders III still has some entertainment hidden behind all of its cut corners, but it is buried under the obvious signs of a strained and troubled production.
Am I still a massive fan of the Darksiders series and do I think Darksiders 3 is a worthy addition? My answer of course is yes, however, I'm more looking forward to Darksiders 4 to see if the developer learns from its mistakes. Perhaps next time they can spend a bit more money on Quality Assurance too.
But there's something about Darksiders 3 that still sort of works though. It's a B-tier production, without a shadow of a doubt, but it's the sort of thing that doesn't actually come along all that often these days. Fans of the series will no doubt get a kick out of the continuing story and there's just enough here to help Darksiders 3 stand out and make for an entertaining playthrough. It's no God of War, but it's not the harbinger of the apocalypse either.
Darksiders III will go down as the black sheep of the franchise. While the core gameplay itself is fun and it does a good enough job streamlining things with a more interesting cast of characters, it all just comes across as a bit too by-the-numbers to turn heads and doesn't push boundaries enough to really stand out. If it weren't for the technical issues this could be more highly-recommended, but as it stands, only die-hard fans should consider checking this one out.
Handsome Phantom
6.5 / 10.0
Darksiders 3 feels like the weakest entry in the series to date, which makes it hard to recommend to anyone other than those looking to continue and complete the story of the Four Horsemen.
It's truly a shame because the parts where the storytelling really shines in this game are the parts most people won't ever see because of the technical issues that plague it.
A really good action game with soft RPG elements in it. But bugs in the game will tear you apart.
Review in Slovak | Read full review
Punchy combat and a pretty setting can't hide Darksiders 3's flaws.
Darksiders 3 could have done so much more for the franchise as they branched into the Souls-like style of gameplay, however, frame-rate problems, long load times, outdated graphics, and the kind of bugs that shouldn't be a problem anymore coupled with a lacking narrative and shoe-horned character development left me disappointed.
The watered down and (seemingly) pointless RPG elements and linear confines of the world mixed with very poorly optimized combat will leave you itching to dig out the other two titles to play instead.
Darksiders III is a frustrating, awkward sequel to a series that's charmingly stupid, but there's a lot of fun to be had if you give up on getting good. Do yourself a favor and tone down the difficulty level so that you can enjoy the crazy character designs and ridiculous fantasy world that Gunfire Games has built. Fans will be glad that this underdog of a series at least got a third chapter, but if you're new to Darksiders, you might want to start at the beginning.
In ways, Darksiders III founds its identity with Fury, a more mature and interesting character. Sadly, everything else falls short of what you expect from a Darksiders title.
Review in Portuguese | Read full review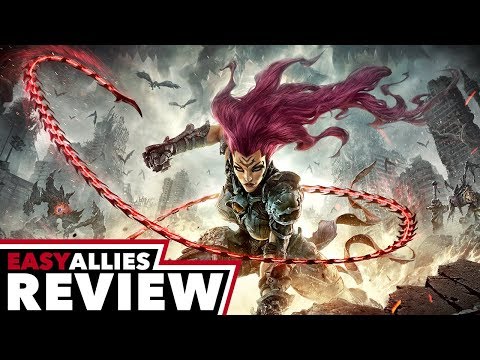 Cheat Code Central
3 / 5.0
Ultimately, while the setting, characters, and storytelling feel right at home, Darksiders III swings for the fences with its combat ambitions and only just barely manages to get on base. It gets points for trying something new, but the end result is a muddled set of ideas that clash with each other, with nothing in place to soften that collision.
Beneath the mountain of bugs, shoddy design and inconsistent performance, there's a genuinely good adventure waiting to be experienced in Darksiders III. Unfortunately, its numerous problems are more than just annoying in nature. They're quite simply…apocalyptic.
Darksiders hasn't changed much since 2012. It's still a fun mishmash of genres with a great protagonist and undemanding combat systems, but it's a pity that it feels outdated compared to its genre peers and stumbles when injecting Souls-like sensibilities.
Darksiders 3 is for the most part a fun and well made adventure that you'll want to see through to the end. But while the different approach to combat is indeed an attempt to push the series somewhere new, in the end it leaves the whole experience feeling slightly off-balance, coming across like a watered down Dark Souls in spots when it should have had enough personality in its own right.
New Game Network
60 / 100
Severe performance problems and a misguided implementation of Souls mechanics in Darksiders 3 tarnish an otherwise perfunctory, but at least occasionally enjoyable return to one of last generation's better action series.
If Gunfire Games fix the technical issues with Darksiders 3 – and I sincerely hope they get that chance – this will then be the sequel that the series deserves. As of right now though, this game is showing far too many frayed edges, bugs and glitches that'll be enough to make you Furious.
If you don't already like hack and slash titles, and the Darksiders series specifically, this third installment certainly won't make you a fan.
As the great Paul Hollywood once said, this one could've used a little more time in the oven.
Do you like hacking? Are you a fan of slashing? Darksiders III fails to live up to its potential, but fans of the series will ultimately still enjoy the third installment depicting the sagas of the Four Horsemen.
Darksiders has been a fickle franchise. The first game faced polarizing reviews due to the bland gameplay and mediocre puzzles but its sequel improved on many of the previous games issues thanks to incredible boss fights and more fluid combat. Darksiders III takes a different route, attempting to change the meta of the entire franchise by implementing modifications that make Fury's adventure distinct from the previous games. Making Darksiders III much harder and more linear than previous entries that can be seen either detrimental or beneficial to the overall gameplay.
Darksiders III offers a good story that fans will surely appreciate. But it feels like the game is coming from the last generation of consoles, both in terms of technology and design.
Review in French | Read full review
Darksiders III is something that fans will appreciate, and for new players it's a fun little distraction from the massive open-world games that feature hundreds of side quests and collectables. Its boss battles are the only memorable thing to appreciate, as the overall gameplay is too unforgiving to be enjoyed in this franchise, while the game's various bugs really dampens the enjoyment level.
Review in Arabic | Read full review
Darksiders 3 is a much different game than its predecessors. The ideas here aren't bad, so much as they are poorly executed. There's still an interesting story and great presentation to experience, but you'll likely have to overlook the technical issues even if the core gameplay suits you.
Darksiders III is nowhere near its predecessors. Even though Fury is one of the best characters in the entire series, gameplay-wise the soul of the franchise was thrown away to badly accomodate design and ideas that don't fit with its core style. Furthermore, many technical issues plague the game itself, so hard that even the splendid art direction can't shine as it deserves.
Review in Italian | Read full review
Darksiders III might be about fury, though it also sums up my feelings playing it. Between annoying enemies, awful mechanics and performance issues, it's hard to enjoy your fight against the sins. Add to it a difficulty where pretty much every enemies two or three hits you, with those hits often coming in a combo, and you have an underwhelming game. Not just because it's frustrating, it seems to do everything in its power to make things unenjoyable. So, unless you absolutely must know where the story is going, I'd wait for some performance improvements before considering this one.
It's flawed, it has issues, and it doesn't reinvent the series, but Darksiders 3 is fun, and isn't that why we play games in the first place?
It doesn't become great, but there are flashes of brilliance and promise.
In short, Darksiders III is not the game that I hoped it would be when it was first revealed. While I have long loved this series, the third entry is an underwhelming, buggy mess that doesn't stand anywhere close to the greatness that was found in the first two installments. Deep down, I still want Gunfire Games and THQ Nordic to give this franchise one more shot, but if a subsequent entry were to once again turn out as Darksiders III has, I'd just prefer if this now just be the series' final breath.
At the end of the day, Darksiders 3 is four years too late and four years behind current game design.
A game out of time; it's wonderful for fans of the series to actually get their hands on this title that almost ended up on the trash pile with the death of THQ, but Darksiders III is so riddled with issues that they just can't be ignored. It feels like a game that was developed many years ago and then put on a shelf, finally now to be released. It feels worse than both previous entries and, worse, it feels more dated than the originals. It's so sad to see this franchise that held so much promise fall so far, and worse it seems unlikely to recover, either. The game hints at a fourth iteration, again retreading the same time period, this time in the shoes of the fourth Horseman, Strife, but if it's of the same level of quality as this compared to previous titles, it may be better if it never arrives.
When combat is between you and one other, Darksiders 3 can provide some decent, button-mashy fun, but the real fight is with the baffling world design and some cheap deaths.
'Darksiders III' is like a Darksiders game from another reality. It still plays like Darksiders, but it's void of the fun finesse fans have come to expect, and instead of establishing excitement for its sequel, it just makes you want to go back and play the old ones.
Darksiders 3 is a major downgrade with simplified design, slower Souls-style combat, and a lack of anything to distinguish it from any other action game.
Darksiders 3 is a game that's never quite sure what it wants to be, and suffers for it.
Gamers also cannot necessarily be that disappointed with the game, which might never have happened thanks to the original THQ's implosion. Players anxiously awaiting From Software's Sekiro or even Metroid Prime 4 might get a decent kick out of another one of these sorts of action adventure games. On the other hand, its technical bugs and lack of depth keep it from being a highly recommended title, and a mixed start to THQ Nordic's budget-game gambit.
Darksiders return is marred by bland environments and an unfocused design that can't help but frustrate and underwhelm.
A poorly presented game that is best left for purchase from a dump bin.
For a game all about destroying the manifestations of sin, Darksiders 3 is guilty of a lot of them.
It commits no cardinal sins but this belated return to the world of Darksiders comes across as shallow, frustrating, and disappointingly dull.
Darksiders 3 has heart, but a lot of the organs around it are failing, detracting from the experience. So much has been stripped away from the other Darksiders games, making it far too easy to stare at the flaws.
A broken mess of a game, Darksiders 3 is a sequel that's dramatically reduced in scope, with mundane combat and a story that feels like the series is running in place.