Percentile Rank
Radiant Historia: Perfect Chronology is ranked in the 94th percentile of games scored on OpenCritic.
Rating Summary
Based on 41 critic reviews
OpenCritic Rating
Based on 41 critic reviews
Score Distribution
Unscored Reviews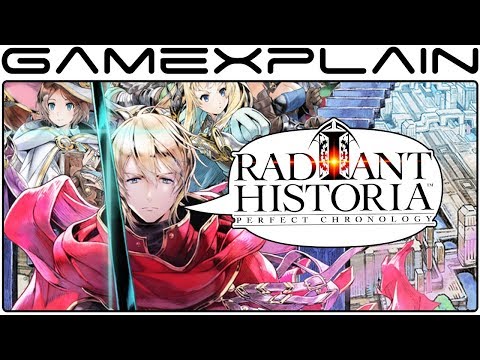 While Radiant Historia: Perfect Chronology offers a battle system unlike any others you've likely played, what is really on offer here is a well-told story with memorable characters. If you're one to skip cutscenes or power through dialogue boxes, you're going to miss a lot of what is charming about this game and be put off by battles that become less interesting as you progress. On the other hand, curious and patient players will find meaningful character dialogue voiced by a talented cast, succinct storytelling to keep your interest, and a world very different to ours to learn about.
Scored Reviews
Digital Chumps
9.2 / 10.0
At the end of the day, whether you're taking a nostalgia trip back in time to revisit this classic or if you find yourself in Historia for the first time, it's definitely worth playing.
It's smart, built around a great plot, exciting battles and awesome time-travel mechanics.
While the new story content is largely superfluous, several quality-of-life enhancements work to make a remarkable game even better
Radiant Historia: Perfect Chronology is a top-shelf JRPG, with an engaging time-travel hook, brilliantly fun, puzzle-like combat, and a genuinely likeable cast of characters.
With the new timeline and improvements, this is the best way to experience this unforgettable game. It will have you laughing, crying, and thinking about it long after you complete Stocke's journey. Radiant Historia: Perfect Chronology isn't just the true successor to Chrono Trigger; it's one of the greatest JRPG's ever made.
Radiant Historia: Perfect Chronology is more than fans could ask for in a remaster of an already great game. If in any case, you happened to have looked over Radiant Historia in the past or just kept it in your backlog all these years, it's time you give Radiant Historia: Perfect Chronology a try. Because ultimately, those who have not played Radiant Historia are in for an adventure with the best version of a timeless RPG.
NintendoWorldReport
9 / 10.0
The original DS game isn't exactly dated, but the additions here are interesting and fun, even if a little unneeded. The new content mostly just seems more like the result of a development team revisiting an old project than anything else. The core game here is already so strong and so engrossing that more content is good no matter how necessary it might be. I'm thrilled Radiant Historia is back on a modern system, especially since the new release is now the best, definitive way to experience a masterful RPG.
The 3DS may be seeing less games nowadays, but Radiant Historia: Perfect Chronology shows that the system isn't running out of quality games any time soon.
When it comes to turn-based RPGs, Radiant Historia manages to hit all the right points that makes it a well-rounded title.
To those unfamiliar with this hidden gem, Perfect Chronology represents a new chapter in your very own White Chronicle where you can return to the past with all your new experiences and finally learn that Radiant Historia is one the best JRPGs you've never played.
Radiant Historia: Perfect Chronology is one of the finest games on the 3DS, one of the finest RPGs in its genre, and one of the finest remakes of all time. The lack of modification done to the sprites will surely sour some, but it's arguably for the best, as it preserves the aesthetic identity of an already great looking adventure. The amazing combat system is thankfully left untouched, the new scenario offers more than its weight in gameplay, and the optional nature of most of the new content means anyone uninterested in the changes can simply find comfort in an amazing base experience. Radiant Historia was good enough where it didn't need a remake, but it's wonderful it got anyway.
Some minor issues aside, Radiant Historia: Perfect Chronology was immensely fun to play, and I found myself having trouble putting it down. While the new additions may not be worth a $40 price tag on their own if you're already familiar with the original, if you happened to miss out on it before, do yourself a favor and pick this up.
One of the greatest portable RPG is back. The bonuses and extras of Radiant Historia: Perfect Chronology are pretty good, making a must have to everyone that love this genre.
Review in Spanish | Read full review
The Games Machine
9 / 10.0
Radiant Historia: Perfect Chronology is a great porting, respectful of the original production. A game that any J-RPG lover should not miss for any reasons.
Review in Italian | Read full review
The passage of time has done nothing to diminish the beauty of this fantastic RPG.
This is an intense, clever, thoughtful and intellectually challenging JRPG that should remind people that when it comes to this genre, visual presentation and even the gameplay itself aren't the drawcard. It's that story that counts, and Radiant Historia manages to achieve something truly remarkable in giving players a time travelling plot that is genuinely interesting and worthwhile.
Geeks Under Grace
9 / 10.0
I now know why Radiant Historia is on so many "Best JRPGs of All Time" lists. It's a true classic, and Perfect Chronology has only made it better. Before you say goodbye to your 3DS, make sure you play this one.
_________________________ "Truly, the developers took inspiration from the finest, and somehow didn't just deliver a carbon copy of the originals, but something that transcends them in many ways.
Nintendo Enthusiast
9 / 10.0
Radiant Historia: Perfect Chronology is a fantastic JRPG. The expertly-crafted story comes together bit by bit as Stocke and Co. find answers hidden across time. Players will fall in love with the strong cast of heroes and they will come to fear the well-crafted villains.
At the end of the day, Radiant Historia: Perfect Chronology is a fantastic remake of the original DS game. With the added quality of life changes, new story inclusions and allowing the player to choose whether or not they want to experience more of it, you have a classic game that anyone with a 3DS should go out and try. I can recommend this game to JRPG fans looking for their next JRPG itch, as well as fans of the original. While it's not perfect, Radiant Historia: Perfect Chronology will continue to radiate through history.
The ultimate version of one of the most unique JRPGs in recent memory, finally edited in Europe. If language is not a barrier, and you like (or feel attracted to) the genre, then Radiant Historia: Perfect Chronology is a must have. A true gem.
Review in Spanish | Read full review
We cannot recommend Perfect Chronology enough, to both newcomers, who will find an enjoyable and brilliant role playing game, and old fans of the franchise, who will find enough unreleased content to justify a second purchase. let's hope to see a sequel in a not too far away future.
Review in Italian | Read full review
Radiant Historia': Perfect Chronology isn't as perfect as we expected, but is still an excellent opportunity to test a game which was never officialy released in Europe in a enhanced version. We would have enjoyed a more significant technical progress, and a french translation for this title who has a very developped story. These few minors flaws should not prevent the 3DS owners from playing a gold standard in japanese role-playing game.
Review in French | Read full review
Radiant Historia: Perfect Chronology is a great package for people who never played the original and are looking for a great RPG but it doesn't offer enough good new content for people who played the original on the DS.
Radiant Historia: Perfect Chronology feels like an unnecessary remake of otherwise a great game that is one of the best time travelling RPG for the Nintendo 3DS.
Radiant Historia: Perfect Chronology is a game that's bursting at the seams with interesting ideas. Its story is gripping thanks to a diverse cast of nuanced characters, while its time-traveling structure and grid-based combat provide a challenging mix of planning and puzzle-solving for those familiar with RPGs. At the same time, however, its frustrating backtracking and slow-as-molasses pacing drag the experience to a disappointing halt at times. Despite its issues, Radiant Historia: Perfect Chronology is a strong addition to the 3DS and a fitting swan song for a handheld that's beginning its descent into the annals of gaming history.
Geek Culture Podcast
8.5 / 10.0
Not only does Radiant Historia: Perfect Chronology add a few quality of life fixes that were not in the original, but it also adds new content that is really enjoyable. As a fairly underrated gem from the Nintendo DS library, Radiant Historia: Perfect Chronology really deserves this second chance it is getting that hopefully may lead to a much requested sequel.
Even with its flaws, Radiant Historia: Perfect Chronology is a great addition to any RPG fan's 3DS library.
Radiant Historia: Perfect Chronology is a massive RPG for a handheld console with a serious and involving story that'll keep you hooked as you travel back and forth in time to unlock each new event only to finally reach the plot's satisfying climax.
Highly acclaimed when it came out in early 2011, Radiant Historia Perfect Chronology is definitely one of a kind. Its full-narrative structure, the well-developped background, the intuitive combat system and the welcome additions of this 3DS version make it a game every JRPG fan should own.
Review in French | Read full review
The updates and alterations to Radiant Historia: Perfect Chronology are inconsistently worthwhile, but the game as a whole is as memorable and elegantly designed as ever.
A seemingly novel time-travel mechanic shows depth in this engrossing 3DS enhanced port of a Nintendo DS RPG.
Reno Gazette-Journal
8 / 10.0
A classic-style JRPG with a twist, Radiant Historia: Perfect Chronology features an interesting time-travel mechanic as well as position-based combat that makes for some interesting strategy. The game is surprisingly linear despite its multiple paths and can get repetitive after a while. A novel concept combined with interesting characters, however, make Radiant Historia: Perfect Chronology worth sinking a lot of time into.
With Chronology, Atlus has finally made good on the promise inherent in the original Historia. Then, the company threw in several hours of new material for good measure. The fact that Chronology's bonus additions divide out into one about story and one about combat reinforces the remake team's understanding of the game's underlying duality.
I'm happy Altus is doing what it can to get more people to try out Radiant Historia because the game absolutely holds up and remains a pinnacle of original JRPG storytelling. Perfect Chronology is easy to recommend if you didn't play the original but it doesn't do nearly enough to make the argument for a return trip to Vainqueur.
Smoothing out the wrinkles, Perfect Chronology evens out to an experience of roughly the same calibre as the well-worn original.
The additional timeline never really questions the naïveté with which Radiant Historia preaches of self-sacrifice.