Percentile Rank
Where the Water Tastes Like Wine is ranked in the 63rd percentile of games scored on OpenCritic.
Rating Summary
Based on 43 critic reviews
OpenCritic Rating
Based on 43 critic reviews
Score Distribution
Unscored Reviews
A continent-sized anthology of American campfire tales that will keep pulling you in deeper, once you acclimatise to its slow pace.
Rock, Paper, Shotgun
Unscored
This is slow burn gaming experience that is not for everyone, but those that fall into the demographic it's aiming for are going to be absolutely smitten with it. Where The Water Tastes Like Wine is like nothing else I've ever played and is a title I intend to keep savouring over coming weeks.
'Where The Water Tastes Like Wine' is a giant leap forward for video game storytelling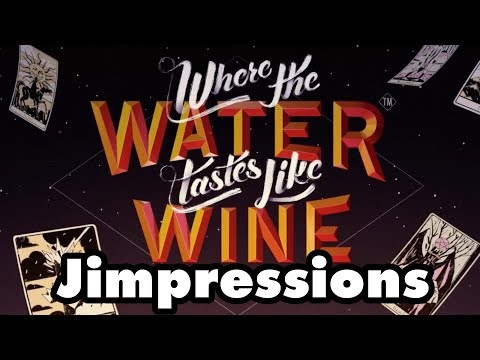 Scored Reviews
In short, Where the Water Tastes Like Wine is an incredible achievement, and the latest in a growing body of games that really push the bounds of what the medium can do. It is, at its heart, a game about stories, and the incredible power that they have, brought to life in the most beautiful way possible.
Game News Plus
9.1 / 10.0
Everything about this game penetrates right to my bones and I am afraid that it raised the bar for me even higher than I expected.
As a game devoted to the art of storytelling itself, Where the Water Tastes Like Wine shines with its powerful writing, exceptional voice-acting, and its visual and aural elements that bring players back into the time of tall tales and endless stretches of road to explore. While its gameplay structure might be a bit loose for some players, the tales and characters that Where the Water Tastes Like Wine introduces make the journey to the promised land that much sweeter, even if there is no telling what is on the horizon.
Where the Water Tastes Like Wine is absolutely a solid and engrossing game. It may be slower for some, but even then it's something to play for a few hours at the least. I found myself traveling to faraway points just to see what little story I could find and unravel in the middle of nowhere. I enjoyed finding stories I previously told become larger and larger, subtly changing with each new retelling. I enjoyed getting to know those who lived on the road and away from civilization, understanding their quirks and seeing just how my interactions with them affected my travels. Topped with impressive voice acting, a stunning soundtrack, and beautiful visuals...I highly recommend trying this game out. It's a different experience, but getting to explore early Americana and listening to its tales should be hard to pass up.
Where The Water Tastes Like Wine shines with its incredible voice work, well-told stories that take on lives of their own, and many profound moments
One might say that Where the Water Tastes Like Wine isn't for everyone, that it may be seen as a more "artistic" title with a smaller amount of gameplay.
Despite the star authors, Where The Water Tastes Like Wine runs the risk of being overlooked by the general public. Game is very specific in form and deep in content, almost devoid of gameplay in the usual sense. A collection of stories, dipping into folklore and exploring basic American archetypes under the guise of a video game.
Review in Russian | Read full review
Where The Water Tastes Like Wine is a colossal re-imagining of what a narrative driven game can be.
Geeks Under Grace
9 / 10.0
Where the Water Tastes Like Wine is a game as well as a full experience. It transports you to another time and another place, and brings you to the stream of American legends. With fun, inventive gameplay and story after story to collect, it's a game unlike any other.
_____________________ "There's a lot to love about Where The Water Tastes Like Wine
Where the Water Tastes Like Wine is an excellent exploration of stories and the meanings we place upon them. It's a road trip game through the American landscape that's punctuated by astounding writing and entertaining encounters. There's nothing quite like it, and it's doubtful that there ever will be.
Where the Water Tastes Like Wine's slow pace may grate on some, but those who can acclimatize are in for a fascinating deconstruction of America, as seen through the myths, folklore, and scraps of history we tell each other.
Where the Water Tastes Like Wine is one of the bravest, most unique independent experiences out there
As the debut effort of indie studio Dim Bulb Games, featuring a talented group of writers and a star-studded voice acting cast, Where the Water Tastes Like Wine eagerly explores the "mythological Americana folk adventure point-and-click visual novel" genre with an eerily unnerving but deeply loved austerity.
Where the Water Tastes like Wine is an engrossing trip into 1920s America that brings its mystical - and sometimes dark - storybook setting alive. Its game mechanics don't work as well, but it's an amazing instance of storytelling in an interactive medium, and visual novel fans should pick it up
The aesthetics, soundtrack, and writing here are wonderful and more than reward the patience required to fully unravel the game's mysteries. Playing it resulted in an immersion that went beyond my niggles with the gameplay.
Where The Water Tastes Like Wine gets to translate the oral narrative into a game mechanic. The way the game transforms and mutate the stories that we know and we tale make the game a deep reflection about the most human act of all: telling our experiences to other so they can learn from us.
Review in Spanish | Read full review
Where the Water Tastes Like Wine is an adventure game that perfectly encapsulates the spirit of adventure. Roam the United States countryside, meet interesting folks and swap tall tales until sunrise.
A truly unique adventure, Where the Water Tastes Like Wine is not that far from sweeter waters.
A powerful, rich, and exceptionally well written narrative experience, with exploration mechanics that heighten the power of its stories, Where The Water Tastes Like Wine is let down by its own central premise. Fascinating, but flawed.
Where the Water Tastes Like Wine excels in its narrative, visuals and audio but really struggles to fit into the video game medium with its tedious gameplay. This is overshadowed by beautiful stories and moments of pure humanity.
Where the Water Tastes Like Wine celebrates storytelling but loses the plot
I love the idea of Where the Water Tastes Like Wine. It has a lot of personality, and several days after I finished it, I was still humming some of the songs to myself. However, it's impeded by a few gameplay quirks, like how tedious it is to move around.
Cultured Vultures
7.5 / 10.0
Where The Water Tastes Like Wine almost certainly won't appeal to everyone, but if you can look past its sometimes myopic design, you're sure to fall in love with it.
The Games Machine
7.4 / 10.0
Where the Water Tastes like Wine is an amazing piece of storytelling caged in an unwieldy game structure. The journey through the States is a charming trip about the importance of the stories we share everyday and a great portrait of America form many point of views. On the long run, unfortunately, the lacklustre gameplay simply fails to sustain the sense of wandering and discovery of such an amazing journey.
Review in Italian | Read full review
Where the Water Tastes Like Wine is a game which, deserves your time but not in one sitting because just like any adventure you should just kick back and enjoy the journey. If you're looking for an experience which is equally enchanting and haunting head over to Steam. Itch.io or GOG. Just remember, take your time.
Its knapsack may be bursting with brilliant stories, but it can't quite sing for its supper in the gameplay department
Where the Water Tastes Like Wine is a narratively-driven adventure game in which you travel across Depression era USA collecting stories amid a beautiful backdrop of hand-drawn story vignettes. However, the experience is heavily bogged down by a clunky overworld and purely disruptive gamification of an otherwise pleasant collection of stories.
Your enjoyment of Where The Water Tastes Like Wine is completely dependent on whether you value story more than gameplay. That element is second to none when it comes to enjoyment, due to both the writing and your evolution as the simple stories grow into complex tales. As a game, that section doesn't hold up. Movement is slow, and the different meters that you have to manage feel rather tacked on. As a whole product, Where The Water Tastes Like Wine can be a drag, but if you're in it for the story, bump up the score and have fun with a game that spins an excellent yarn.
A story packed adventure which spans across the USA, with some wonderfully written stories, a fantastic soundtrack, and some sublime voice acting. However, Where the Water Tastes Like Wine is let down by a map that is too large often resulting in a lot of time spent walking, doing nothing.
Where the Water Tastes Like Wine is an original narrative experience. He's got a lot of American stories to tell us, supported by a perfect dubbing and high-class illustrations. The problem is that the end result is harmed by a repetitive gameplay and extremely slow character movements, all that ending up causing a deep feeling of boredom after one hour or so.
Review in French | Read full review
Where the Water Tastes Like Wine contains charming stories, wonderful illustrations and voice-acting that fits the game's slow-paced and relaxing nature. And this is where the budget ran out. I have to assume that after paying Sting, the writers, and the illustrators, there was no money left to design the over-world and flesh out the short stories. This leaves Where the Water Tastes Like Wine being half of a great game that requires you to wade through the weaker parts to get to the good content. It's an eight to ten hour game when it would have been better as a four to five hour one.
A unique game about collecting and trading stories across the American Dust Bowl doesn't give much room to craft your own story in the process.
There are beautiful and tragic scenes, songs, and passages to find in WTWTLW's journey, but they're spread far too thin.
On the surface, Where the Water Tastes Like Wine seems like it has a recipe for an incredible game. It stretches the lengths of what story-driven, Twine-like games can accomplish in scope—thematically, narratively, and in terms of the dozens of writers from different cultures and backgrounds behind them. And yet, the game's onerous pace and the way it relegates the stories you collect to flash cards ends up doing a disservice to the game's strengths.
At the end of a long road, emotions can be mixed, with many exhausted by the experience or rejuvenated by the discoveries made along the way. WTWTLW instills the former, driving players to feel dragged through the mud as opposed to fulfilled. Although the game touts the importance of the journey over the destination, neither offers any real sense of satisfaction. In the end, an interesting concept and great art direction cannot save the game from the weight of ambition. The attempt is admirable, but the execution leaves much to be desired. WTWTLW is lacking the narrative punch and cohesion of other story-focused games, as well as the freedom and gameplay quality of other exploration-based titles. WTWTLW has all the promise of a long and exciting road-trip across unknown territory, but ends up only offering flat tires and postcards of better places.
Another example of that latest trend of videogames with "high artistic quality," Where the Water Tastes Like Wine is not something brand new, unique, and meaningful, but something boring, boring, boring that uses big words to say things that aren't that interesting. Oh, and it has Sting in it…