There are beautiful and tragic scenes, songs, and passages to find in WTWTLW's journey, but they're spread far too thin.
A continent-sized anthology of American campfire tales that will keep pulling you in deeper, once you acclimatise to its slow pace.
Where The Water Tastes Like Wine shines with its incredible voice work, well-told stories that take on lives of their own, and many profound moments
Where the Water Tastes Like Wine celebrates storytelling but loses the plot
A unique game about collecting and trading stories across the American Dust Bowl doesn't give much room to craft your own story in the process.
On the surface, Where the Water Tastes Like Wine seems like it has a recipe for an incredible game. It stretches the lengths of what story-driven, Twine-like games can accomplish in scope—thematically, narratively, and in terms of the dozens of writers from different cultures and backgrounds behind them. And yet, the game's onerous pace and the way it relegates the stories you collect to flash cards ends up doing a disservice to the game's strengths.
Where the Water Tastes Like Wine is an excellent exploration of stories and the meanings we place upon them. It's a road trip game through the American landscape that's punctuated by astounding writing and entertaining encounters. There's nothing quite like it, and it's doubtful that there ever will be.
The aesthetics, soundtrack, and writing here are wonderful and more than reward the patience required to fully unravel the game's mysteries. Playing it resulted in an immersion that went beyond my niggles with the gameplay.
Where The Water Tastes Like Wine gets to translate the oral narrative into a game mechanic. The way the game transforms and mutate the stories that we know and we tale make the game a deep reflection about the most human act of all: telling our experiences to other so they can learn from us.
Review in Spanish | Read full review
I love the idea of Where the Water Tastes Like Wine. It has a lot of personality, and several days after I finished it, I was still humming some of the songs to myself. However, it's impeded by a few gameplay quirks, like how tedious it is to move around.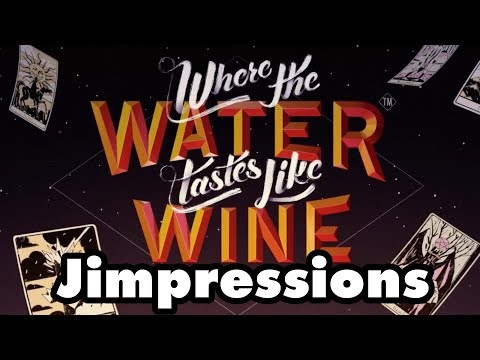 For me it ended up being more water than wine.
Where the Water Tastes like Wine is an amazing piece of storytelling caged in an unwieldy game structure. The journey through the States is a charming trip about the importance of the stories we share everyday and a great portrait of America form many point of views. On the long run, unfortunately, the lacklustre gameplay simply fails to sustain the sense of wandering and discovery of such an amazing journey.
Review in Italian | Read full review
_____________________ "There's a lot to love about Where The Water Tastes Like Wine
'Where The Water Tastes Like Wine' is a giant leap forward for video game storytelling
Where the Water Tastes Like Wine is a narratively-driven adventure game in which you travel across Depression era USA collecting stories amid a beautiful backdrop of hand-drawn story vignettes. However, the experience is heavily bogged down by a clunky overworld and purely disruptive gamification of an otherwise pleasant collection of stories.
Where the Water Tastes Like Wine is an original narrative experience. He's got a lot of American stories to tell us, supported by a perfect dubbing and high-class illustrations. The problem is that the end result is harmed by a repetitive gameplay and extremely slow character movements, all that ending up causing a deep feeling of boredom after one hour or so.
Review in French | Read full review
As a game devoted to the art of storytelling itself, Where the Water Tastes Like Wine shines with its powerful writing, exceptional voice-acting, and its visual and aural elements that bring players back into the time of tall tales and endless stretches of road to explore. While its gameplay structure might be a bit loose for some players, the tales and characters that Where the Water Tastes Like Wine introduces make the journey to the promised land that much sweeter, even if there is no telling what is on the horizon.
A truly unique adventure, Where the Water Tastes Like Wine is not that far from sweeter waters.
Where the Water Tastes Like Wine is absolutely a solid and engrossing game. It may be slower for some, but even then it's something to play for a few hours at the least. I found myself traveling to faraway points just to see what little story I could find and unravel in the middle of nowhere. I enjoyed finding stories I previously told become larger and larger, subtly changing with each new retelling. I enjoyed getting to know those who lived on the road and away from civilization, understanding their quirks and seeing just how my interactions with them affected my travels. Topped with impressive voice acting, a stunning soundtrack, and beautiful visuals...I highly recommend trying this game out. It's a different experience, but getting to explore early Americana and listening to its tales should be hard to pass up.