Percentile Rank
City of Brass is ranked in the 41st percentile of games scored on OpenCritic.
Rating Summary
Based on 49 critic reviews
OpenCritic Rating
Based on 49 critic reviews
Score Distribution
Unscored Reviews
"It's hard to recommend a game like this when its gameplay seems to fall smack bang in the middle of no man's land. It's not that it's a bad game or that it fails to do what it says on the box, it's that it just doesn't make you feel one way or the other, quite possibly one to keep an eye out for when the sales are on."
Well executed rogue-like elements and the art style works to a certain extent but City of Brass feels like a game that needs a deep discount before diving in.
Review in Turkish | Read full review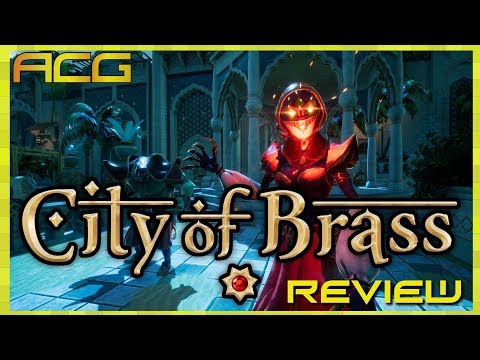 Scored Reviews
While some of its procedural generation can sometimes make for an unnecessarily challenging experience, City of Brass more than makes up for it with the sheer creativity you can have exploring its Arabian Nights-themed maps. With genii to imbue you with wacky powers and the ever-tantalising need to collect more gold (as well the option to compete with others via the leaderboards), Uppercut Games has produced one of the most entertaining roguelikes to swing onto Nintendo Switch. And you can throw ghost chickens. What more do you need?
City of Brass is a beautiful, highly-polished and mostly successful attempt at turning the genre on its head by making it more accessible to everyone, from rogue-lite veterans to first time players. With a unique and intuitive new combat style and some innovative takes on genre conventions, you'll find plenty to like about City of Brass no matter what your skill level.
Chalgyr's Game Room
8.5 / 10.0
A Tasty Recipe For Rogue-lite Delight ...City of Brass - a first-person rogue-lite with a vivid Arabian Nights veneer - shows that if you have an enchanting art style, enemies that are a pleasure to duel and manipulate, and a combat system that's rhythmic and versatile yet simple to execute, procedural generation can become less like a vapid maze of eyesores and more like a tool that actually contributes degrees of surprise and suspense.
Nintendo Enthusiast
8.5 / 10.0
Pick yourself back up, wipe off that sand, and crack that whip. You won't regret it.
Generación Xbox
8.5 / 10.0
An excellent idea, with a very good combat system and a very solid playable base. The Uppercat Games project is as attractive as it is challenging. The Roguelike elements and its randomly generated scenarios make each game different and unique. Highly recommended.
Review in Spanish | Read full review
City of Brass is the sort of game that certain gamers will treasure. It is a beautiful, well-polished first-person rogue-lite that will not hesitate to regularly reward diligent players with a quick and horrible death. City of Brass is not for the faint of heart, but for those that put in the time to hone their skills, the rewards of City of Brass are great (and I'm not talking about the in-game treasure). A visual treat, City of Brass never feels unfair, and learning to overcome its many challenges can be vastly satisfying.
Gamerheadquarters
8 / 10.0
City of Brass is a really well put together experience that's always fresh no matter how many times you enter the gauntlet.
City of Brass is a fairly standard rogue-lite that distinguishes itself with its setting, visual stylings, and fun-as-hell whip.
This game is a wonderful homage to "One Thousand and One Nights" / "Arabian Nights", utilizing the episode written about the City of Brass to its fullest and bringing it to life in a unique way. This game is the best implementation of the first-person roguelite I've ever seen. While it lacks permanence, it makes up for the great blessing and burdens system. The combat is a one-two punch of success, and nimble movement make everything feel fluid. In addition to each gameplay element being so well thought out, City of Brass is excellent at delivering stunning visuals and storytelling that other games dare to try.
In the end, making it through the City of Brass is much more enjoyable and gratifying than it is frustrating.
City of Brass is a good looking and solid roguelite first-person adventure on PlayStation 4. While there isn't much story-telling or narrative in the game, other than the story setup you get during the tutorial from what is shared with you by the spirits of those who died exploring the cursed city, the game more than makes up for it with its gameplay mechanics in a very fun indie release from an experienced team.
Switching Worlds
8 / 10.0
City of Brass stands out for a roguelike. It's one of the first-person roguelikes with an underused visual theme that recognizable and feels more realistic than arcadey. The snap of the whip feels great and the opportunity it presents will vary from run to run. The different items, enemy variety and amount of traps will surely test you. It feels good and there's not much more to it than that. It's a roguelike meant for repeated plays until you unlock get it down with all the things to see and unlock. The gameplay might not be everyone's cup of tea, but it has its audience. For something that feels more weighted and isn't a shooter, City of Brass has you covered; not in sand.
Even if the notion of permadeath is anathema to you, it's well worth stepping through City of Brass' gates.
City of Brass is an amazing rogue like title. It really captures the spirit of the genre and understands what the strengths and weaknesses of this style of game are. It addresses these superbly by allowing players to customize their experience. The gameplay is fun but does start to feel repetitive after extended periods of play, considering the price of the title though, the hours of fun you'll get well outweighs the eventual grating. If you are in anyway interested in rogue like titles like The Binding of Isaac, City of Brass shines as brightly as the best of them.
A gorgeous and unique setting, engaging environmental puzzles, and plentiful accessibility options result in a strong, enjoyable roguelite adventure
Using the scimitar and the versatile whip, roaming through the levels with free gameplay approach and play everytime different levels is a real pleasure. With an elaborated story and a higher budget, City of Brass could've been a even better game.
Review in Italian | Read full review
City of Brass starts off strong, with innovative mechanics and an impeccable presentation that continues to impress. As long as you're not expecting an endless adventure, this first-person roguelike is well worth playing.
City Of Brass is a satisfying first person rogue-lite adventure that brings a few neat ideas of its own to the table.
Game News Plus
7.4 / 10.0
The game is truly cursed in a charming way and offers a highly enjoyable gameplay for the ones who enjoy roguelike games.
While repetitive in nature and presentation, City of Brass is still a fun, unique strategy-action game that provides plenty of key moments.
City of brass is a Rouge-like َgame with some pretty exciting aspects that promise a good and fun game, but does it deliver that promise? City of brass has very fun gamepley elements and you can use a whip and multiple weapons with different attributes and bonuses in combat, solving environment puzzles or interacting with traps and Enemies that made so many choices for us to progress in the game. Also, City of brass is a gorgeous looking game with good details and unique art style. So the answer to the question is "YES". Although the game suffers from problems like the mostly lack of music, some graphical pup-ups and technical issues that could hurt your experience of the game. Anyway, we must say that City of brass is a beautiful game that absolutely worth your time.
Review in Persian | Read full review
Overall, City of Brass is a great game that's mostly elevated by its setting and visuals. Once you get into the rhythm and understand how each enemy reacts, it becomes rather enjoyable, even addictive. It's a shame that the controls aren't optimized and there aren't other visual options..
City of Brass has a great theme and aesthetic, but falls victim to the same issues most roguelikes have. I feel like a broken record every time I review one saying this would have been a better traditional game as opposed to a run-based one. Still, there are neat ideas and the theme of it is hard not to love.
Since I have played other FPS games like Destiny and Far Cry. I can't help but long for the fast-paced action these two gave me. But since it is a mortal sin to do so and the game has a charm of its own that sets it apart from other first-person shooter games I've come across, I'll leave my piece with this game as independently as possible.
In short, City of Brass has a ton of cool concepts and most, if not all of them, pay off. While the pace of the game is certainly slower than I would like it to be, it's still a blast to play. And even though there are a few bugs in the game that did annoy me, the vast majority of the time I didn't experience any. For $24.99, players should pick up the game if they are looking for a challenge and unique experience. As stated before, I hope Uppercut decides to continue with this style in the future.
Cultured Vultures
7 / 10.0
City of Brass is a fun and swashbuckling adventure that gets seriously hamstrung by its clumsy and sluggish controls. Recommended to any masochist out there who wants to get punished on the go and doesn't mind looking past some issues.
City of Brass is a good dungeon crawler, with some of its best moments and mechanics derived from its rendition of an Arabian Nights theme. While its repetitive scenery and uneven presentation are noticeable tarnishes on its sheen, the satisfying combat and well-balanced difficulty curve will keep you going back for more.
Provided you keep expectations in check, City of Brass can be fun. The game is set up well for those starting out with roguelikes, and the various tweaks ensure that everyone has a chance to see the ending. For the hardcore, it can also be tweaked to be tougher, and that'll be necessary if you want any kind of challenge. This doesn't feel like a long-lasting experience, but the presence of leaderboards will be an incentive to those who might want to speed-run through the game. If you don't mind a few of the aforementioned flaws, then give this title a chance.
City of Brass offers plenty of thrills with its Arabian Nights roguelike adventuring, but after beating it once it doesn't offer much to keep you coming back for more. The genre typically lends itself well to repeated playthroughs and extended challenges, but after completing the game in a relatively short time there wasn't much there to encourage me to keep playing – a lack of variety as far as gameplay is concerned doesn't help the situation, either. It doesn't make City of Brass a bad game nor does it make it one that's not worth checking out, but players hoping to be whipping their way through malicious genies for hours on end might be left a little bit disappointed by the lack of depth on show.
PlayStation LifeStyle
6.5 / 10.0
All that said, there's a fun and entertaining game here. Despite its problems, I walked the scorching sands again and again until I reached the center of the city and completed the game (yes, I did end up using some blessings and portals to do it). City of Brass is a really fun first-person roguelike, but the die-rinse-repeat formula wears thin far more quickly than it should. There's simply not much more to do or see once you've played for a few hours or reached the end. Combat remains largely the same simple fare throughout, apart from intense boss encounters that account for a comparatively small portion of the game. Upgrades earned over time and different ability setups through the genies offer the promise of varied gameplay, but City of Brass does little to entice the repetitive play that the genie's curse asks of you.
I love the look of City of Brass and its combat system, but after only about three hours I felt like I'd seen all it had to offer. It's a great way to kill an afternoon, I just wish it would give me a reason to keep coming back.
City of Brass brings some interesting features to the dungeon-crawling genre, but its overly generic style and atmosphere don't break any new ground. It's a game that can be picked up and put down easily, which would make it a good candidate for a Nintendo Switch port. City of Brass' qualities are unfortunately marred by its lack of personality and other technical blunders.
City of Brass is a very decent choice for those who want to try a new genre or get familiar with the Roguelike games. But due to some mechanical shortcomings and lackluster rewarding system, City of brass fails to offer a complete experience as seen in the greatest games of this genre.
Review in Persian | Read full review
City of Brass is a fantastic starting point for newcomers to the roguelike genre, but those that know a thing or two may leave feeling a little short-changed. The core gameplay loop at its heart is very satisfying, thanks to its experimental nature, and with the genies' perk selection, there's a decent amount of variety when you're in the thick of it, but there just isn't enough here to keep you coming back past your first couple of completed runs. There's definitely fun to be had here for a few hours, but it's nothing you'll remember with a great deal of affection in six month's time.
A novel setting and concept can't hide the game's technical limitations, but this is still an entertaining first person roguelike that does try to do things differently.
With City of Brass there's a feeling you're playing a home port of an arcade game, where short spurts of action, strategy, and fun doesn't translate to a sit-down to play for an extended length of time videogame. It looks fantastic but there's not a lot below the surface.
City of Brass brings its mix of challenging roguelite gameplay and Persian fantasy to the Nintendo Switch, but control issues mar the experience.
PlayStation Universe
6 / 10.0
There's promise to City of Brass that sadly doesn't quite come to fruition. For a roguelike, it commits the ultimate sin in having no compelling hook to keep going for multiple playthroughs. It throws up some fresh and interesting ideas though, and that makes it worth at least a cursory look.
Good-looking and accessible addition to rogue-lite genre, but with clumsy controls, repetitive gameplay and no sense of progress.
Review in Slovak | Read full review
City of Brass could have been a truly fun game but falls short in its rogue-lite aspirations. The lack of engaging story, frustrating combat, uninspired levels and unsatisfying loot make this a chore.
There's no doubt that City of Brass is meant to be punishing. But between its ungainly controls, its inability to stave off a sense of tedious repetition, and spirit-breaking lack of progression, it feels far less fair and more painful than its rogue-lite brethren. Its superficial use of the Arabian Nights folklore, combined with its monotonous design and reliance on exotic cliche, make it as uninteresting to experience as it is excruciating to endure.
City of Brass looks like a beautiful epic straight out of the tales of the Arabian Nights. Instead, it's a dreadful slog designed to avoid everything that makes a roguelite game replayable and fun.
With an awesome inspiration and some very cool ideas, it's an immense shame that City of Brass game ends up being as dull as it is. With lacklustre combat, enemy design, rooms and movement, City of Brass feels like a chore to play. With the smorgasbord of Rogue-lites to play these days, some of which are among the best games you can play, City of Brass is an easy pass.