Percentile Rank
Assassin's Creed Odyssey is ranked in the 92nd percentile of games scored on OpenCritic.
Rating Summary
Based on 156 critic reviews
OpenCritic Rating
Based on 156 critic reviews
Score Distribution
Unscored Reviews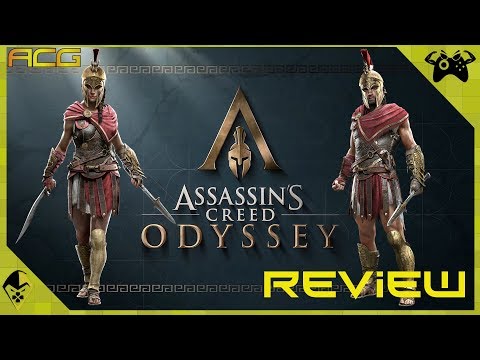 Assassin's Creed: Odyssey is dense, detailed, and varied. It is more dense, detailed, and varied than I considered possible for a video game before playing this. It is a stunning accomplishment, and the 500-to-1,000+ people who worked on it should feel proud. It has its problems. Combat is clunky, the menus are a slog, and leveling feels off. But those issues never made me want to stop playing. I want to keep playing right now.
For all its faults, Assassin's Creed Odyssey is one of the best explorable game worlds yet made.
Assassin's Creed Odyssey's defining characteristic is how often it seems to be anything other than an Assassin's Creed game.
Once again Ubisoft has crafted a living, breathing world in its ancient Greek setting, and it's hard to resist the charms of exploring Greece and its myriad sunlit islands.
Pittsburgh Post-Gazette
Unscored
I'll still be exploring islands that I haven't touched and meeting NPCs whom I haven't yet met. This big, beautiful, bloated world has no end in sight.
Lots to stuff to do and pretty things to look at, but few fresh ideas. Try it.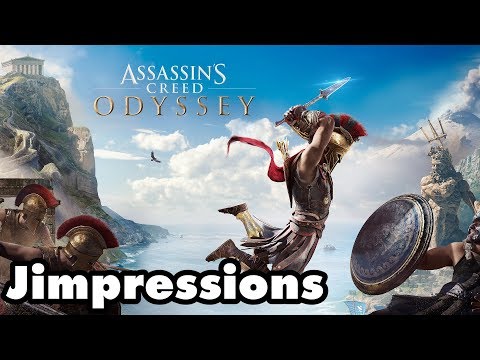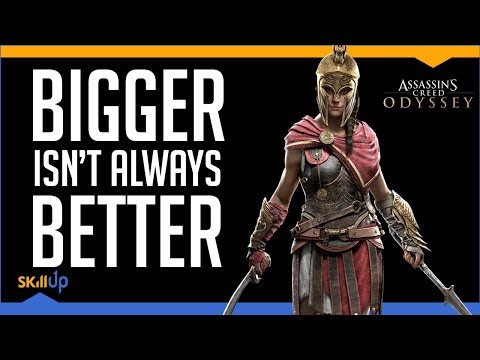 Player2.net.au
A or higher
This latest Assassin's Creed entry is a enormous AC experience and delivers one of the deepest, most refined experiences in recent years.
Assassin's Creed Odyssey is a brilliant and beautiful game, but it's also very clearly abandoned too many of its own time-tested mechanics in favour of ones from other games. The inclusion of narrative choices is nice and selectable genders was long overdue, but then so much of the game is spent on pointless side content that offers nothing to overall gameplay except to fill the unnecessarily oversized map or delay the story. It was encouraging when Ubisoft skipped a year to develop Origins, and I'm relieved the series is going to be taking another year off in 2019. While Odyssey isn't a bad game by any stretch, I think a more extended break might be in order, to help the series rediscover its identity. Odysseus was lost for ten years before he finally found his way home. Maybe one day, Assassin's Creed will too.
Colossal in size, lavish in scope, Odyssey feels like a series landmark and Ubisoft's biggest ever game.
At the end of the day, is Assassin's Creed: Odyssey a good game? Yes, it most certainly is. If you have enjoyed the games in the past and followed the stories over the years, you know what you are getting here and it's exactly what you would want. I do wish some of the side quests and grinding were trimmed down and the game focused more on the main story beats, but as it stands, it's still a fantastic game and a worthy addition to the series.
Scored Reviews
Look. I'm a massive Assassin's Creed fan, and a huge Greek mythology buff. I am the direct target audience of this game. That's why there's so many ridiculous statues in my gaming room, and why Desmond's tribal tattoo is emblazoned down my skinny Irish arm. But if you can change a series this much, have awful microtransactions, and I still love it? That's a game worth playing. Whether I'm sailing, hunting, warring, or assassinating, I've had a ball.
The ten minutes you spend reading this review will be ten minutes you'll be wasting not enjoying what is easily one of the best RPGs of the last 10 years.
Assassin's Creed Odyssey is an epic, historical RPG that uses elements of Assassin's Creed to tell a different kind of origin story, and the results are stunning in almost every way.
As the result of my Assassin's Creed Odyssey review, i can say that Assassin's Creed Odyssey is one of the best games in the series.
Review in Turkish | Read full review
Perfects everything Origins did and enhances them in ways you never thought an Assassin's Creed game could. Odyssey has it all.
Digital Chumps
9.8 / 10.0
Assassin's Creed Odyssey is a celebration of the series' highlights, transforming the open world genre with its breathtaking scenery, meaningful choices, and exhausting amount of detail that rewards players every step of the way. Ubisoft Quebec's brave quest to make an RPG results in the best entry in Assassin's Creed's historic treks through time.
The game looks stunning and beautiful and is truly a great sight to see when you`re playing.
Not since Breath of the Wild have I enjoyed an open world game this much. With so much to see and do, Assassin's Creed Odyssey is one of, it not the best, game in the Assassin's Creed franchise—and absolutely a game of the year contender.
Assassin's Creed Odyssey is an amazing achievement and would have been a definitive contender for game of the year if 2018 wasn't such a mind-boggling year for video game quality.
PlayStation Galaxy
9.5 / 10.0
Overall, it's very hard to find fault in a game that was well thought-out, culturally accurate with equal representation, a content galore, and beautiful sceneries and detail (zooming in on clothing/armor gives you the idea of how truly fine-tuned the detail is). I can spend a week or two playing Odyssey and would still not have finished or dented the amount of story and quests present. The open world is too large that just uncovering every nook and cranny is going to take some time.
PlayStation Universe
9.5 / 10.0
A glorious sum of newly implemented RPG systems, refined traditional series beats and boasting one of the most entertaining stories in recent memory, Assassin's Creed Odyssey is simply the best in the series and one of the finest open-world adventures available.
PlayStation LifeStyle
9.5 / 10.0
Ubisoft set out to create an Assassin's Creed game worthy of Odysseus' name, and bravo, they have done it. It's certainly as long as one of Homer's poems, but every minute of it is entertaining, and, well, fun. It never gets old Sparta kicking an enemy off a cliff. Clearing out Locations is always satisfying, especially when they require setting things on fire. Talking to Sokrates will make you question everything about your life and the game itself. Some of the choices you make will have a similar effect. You can't come away from Odyssey without feeling like you were actively part of that great journey, from the highs to the lows and all of the incredible twists and turns in between. This is a voyage you don't want to miss.
Odyssey takes what Origins started and sharpens it to a fine edge. This is bigger, better, bolder and still has time to be intimate and grounded in the middle of a massive war and tale of intrigue.
Easily the best Assassin's Creed game, and one that will be remembered as an instant classic in gaming's pantheon.
Electric Bento
9.5 / 10.0
This is an intimate tale of a broken family, and focusing on that story benefits the franchise as a whole greatly.
Assassin's Creed's gradual evolution to RPG is complete. While it remains familiar, the deeper combat, dialogue choices and consequences have upended Assassin's Creed's stealthy roots to deliver a sprawling, multi-tiered historical RPG epic. It's the culmination of the series own journey, and only fitting it be called Odyssey.
Assassin's Creed: Odyssey is the best installment in this huge series for me. Mixture of Assassin's Creed's mechanics and RPG genre has been an smart decision from Ubisoft to create the most entertaining and deepest Assassin's creed experience ever that can take you to an Stunningly beautiful journey. Almost everything in this game are perfect. Beautiful world (that makes you take screenshot again and again), epic battles (with ships and on the ground), deep gameplay elements, addictive leveling system and customization, important choices, branching story, huge map and also a ton of variant content and work to do, make Assassin's Creed: Odyssey one of the best action RPG-open world games and a "must-buy" game for every gamers whether or not you have been an Assassin's Creed fan.
Review in Persian | Read full review
The Assassins Creed saga had to be reinvented over the years, both to offer new things to veteran players, and to welcome new players.
Review in Spanish | Read full review
Assassin's Creed Odyssey is the culmination of a franchise that still knows how to stand its own ground. The RPG options have been expanded and the open world is even deeper. The title set in Greece is a very serious candidate for the GOTY award.
Review in Spanish | Read full review
The Game Fanatics
9.2 / 10.0
Assassin's Creed Odyssey has taken everything that made Origins one of the great games of 2017 and only expanded on it in good ways.
Assassin's Creed Odyssey's open-world adventure through ancient Greece is a gorgeous thrill, and the best the series has ever been.
Generación Xbox
9.2 / 10.0
Assassin's Creed: Odyssey follows the natural evolution of the new trilogy by polishing some of its playable mechanics and providing a powerful narrative with one of the best plots in the series. The new combat system with the multiple use of skills and the new character progression where every decision counts, embrace the path of the role games and give it its own identity in a world as massive as it is dinamic.
Review in Spanish | Read full review
IGN Middle East
9.2 / 10.0
Assassin's Creed Odyssey has made many great features that make it one of the best RPG games of the current generation.
Review in Arabic | Read full review
Ubisoft Quebec has made you a cog in the Peloponnesian war, but they've also allowed you to dress up that cog however you see fit, and this transcends the cosmetic, right through to being able to romance other characters in the game-world. A game-world that is truly alive.
Assassin's Creed Odyssey is, without doubt, the best this series has ever produced.
Assassin's Creed Odyssey gives the very best modern open-world RPGs a run for their money when it comes to the sheer amount of content and level of quality found across the board.
Assassin's Creed in a phenomenal game. Its enormous world plagued with a lot of activities, its interesting story and the increible setting, turns it into one of the most amazing and outstainding open world titles out there and, also, the best entry in the series.
Review in Spanish | Read full review
There are times when Assassin's Creed Odyssey can feel like too much videogame. While the campaign remains compelling, its level requirements demand you engage in every corner of its world to progress. But despite that, Ubisoft Quebec has taken great care to ensure that the game's constant loop of exploration, murder and looting is never a drag. It will take a long time for me to drink all of Assassin's Creed Odyssey, and when I do I'll remember it as an experience like no other.
This is one of the best Assassin's Creed games Ubisoft has ever made, joining the likes of Assassin's Creed 2 and Assassin's Creed: Brotherhood at the very top of the franchise's hierarchy. While its choice and consequence mechanics aren't radical reinventions, they add a great deal of agency and variation to the proceedings, while a beautiful and varied setting, a meaningful progression system, a ton of enjoyable content, and the series' best combat system all come together to deliver a memorable odyssey.
With Odyssey, Ubisoft has crafted the biggest Assasin's Creed to date. A colossal open world, action RPG, that can go toe to toe with the biggest names in the genre. If you're a fan of this kind of games, don't miss it.
Review in Spanish | Read full review
Assassin's Creed has dipped itself firmly in RPG mechanics and a wonderful new setting. It is as deep as it is wide and will keep you occupied for a very long time to come. It certainly fits the myths in which it is steeped.
Assassin's Creed Odyssey improves on almost every aspect of its predecessor and successfully completes the franchise's transformation into a full-fledged RPG. But despite its undisputed qualities, there's still room for improvement.
Review in Czech | Read full review
Assassin's Creed: Odyssey is the largest and most complex game in the series. In terms of scale, structure and possibilities it can be compared with Skyrim, and it's just wonderful.
Review in Russian | Read full review
Assassin's Creed Odyssey" is a true open-world bombast that relies on tried and tested strengths and yet courageously goes its own way. The heat of virtual Greece can literally be felt as you conquer the individual areas step by step. In around 80 hours of play, an immense conglomeration of colourful side quests awaits you, in which you can try your hand at being an assassin or face exciting battles. Ubisoft has skillfully made the transition to the Open World RPG title and continues its successful series with another epic.
Review in German | Read full review
The story is undoubtedly the most enjoyable part of Assassin's Creed Odyssey, helped by the choice-driven narrative that delivers a significant impact on how certain key story elements play out in the game. It is all further bolstered by simple action RPG mechanics that are not too complex but still fun to mess around. All things considered, this is clearly the most comprehensive and ambitious Assassin's Creed game to date.
I honestly enjoyed my time with Assassin's Creed: Odyssey. It adds new elements to the franchise's recipe that I enjoy, and some of the story beats look to be leading future instalments in a really interesting direction.
Assassin's Creed Odyssey is a huge leap forward for the series towards a deeper action role-playing experience. The sheer ambition and amount of content available in Ubisoft's latest historical sandbox – quests, NPCs, side-activities, collectibles, historical landmarks, locations and secrets – is staggering, and it's easy to get immersed in what is a truly spectacular open-world rendition of Ancient Greece, the Aegean Sea and its many different islands and warring states. This latest entry will especially resonate best if you enjoyed the different direction last year's Origins took.
Building upon the foundation established in Assassin's Creed Origins, Odyssey brings together that title's RPG adventure with the ship-bound exploration of Black Flag. Choice and consequence feature heavily in Odyssey, with the player guiding Alexios or Kassandra through a massive journey to reunite their family and kill a lot of people. Not every feature is perfect, with things like recruitment and Conquest Battles needing a bit of work, but overall Odyssey is a grand next step for the journey Origins started.
Though the main story suffers because of it, Assassin's Creed Odyssey is a remarkably massive RPG held together by a web of satisfying pursuits.
You'll struggle to find a more immersive and rewarding setting in which to forge your own odyssey. A detailed environment combining both the realistic and mythical aspects of Ancient Greece, everything comes together to deliver a narrative-driven, open-world RPG that rivals the biggest names in the genre. Put simply, Assassin's Creed Odyssey is the complete package.
Ubisoft has delivered a superior RPG and done so by completely revolutionising Assassin's Creed. With Odyssey any fan of RPGs, the Creed, or great games in general will be handsomely rewarded.
A case of refinement rather than dramatic change, Assassin's Creed Odyssey nonetheless injects even more depth and detail into the series, with dialogue choices and the ensuing consequences that follow proving a worthwhile addition. If you enjoyed Origins, Assassin's Creed Odyssey will scratch the same itch, and then some. A sensational sequel that's thankfully not a Greek tragedy.
Assassin's Creed Odyssey surprises with probably the best storyline of the series so far that takes you with major decision options and strong protagonists through a well made Ancient Greece. The different story arcs and different endings are well integrated and even the often necessary grind is lightened up through the deep personalities of Kassandra and Alexios. The Game and the series could still use some better balancing for the progression during the game and the fights but besides that Odyssey takes the right steps forward for the series.
Review in German | Read full review
After 10 years, the Assassin's Creed series keeps developing and becomes a RPG with lots of mission chapters, objects to unlock and characters to discover. Be ready for a turn of events, a system entirely calibrated on the single player experience and of course an exemplary gaming world. Looking back, we all know how some chapters have been increasingly amazing; it is hard not to consider this one as the best episode of the entire series. This is probably the best Assasin's Creed ever created, although most traditional aspects of its brand have now disappeared.
Review in Italian | Read full review
Assassin's Creed's shift to Ancient Greece also includes a more personal experience, action on the high seas and even deeper mysteries
If you liked Origins, you'll love Odyssey even though its novelties do not end up having the importance that they should.
Review in Spanish | Read full review
To wrap it all up, I am very much enchanted by this game. It is not without its flaws, for certain, but I didn't find any that broke the game or my appreciation and excitement for it. I feel that the step that Ubisoft Quebec took to make this experience more immersive and personal for gamers was a strong move, and they did it with style and a competence that greatly benefits the game as a whole. If these are the kind of evolutions we have to look forward to in the future, I eagerly await the next releases from them. Until then, go forth and let the drachmae roll in.
Assassin's Creed Odyssey successfully builds upon the already strong foundation that Origins set to provide yet another Assassin's Creed experience that still feels fresh and, more importantly, fun to explore and dive into. Even better, it does all this without the typical bloat you'd expect, although Conquest Battles do feel like a missed opportunity. Despite this minor letdown, Odyssey eclipses Origins in practically every way, and is easily the best Assassin's Creed yet.
With a new world to discover, Assassin's Creed Odyssey continues on the path set by Origins, giving more choice to the players, with a bigger focus on RPG and the comeback of naval warfare. A definitive evolution of the series, and shouldn't be missed.
There are still some rough spots then need addressing in future titles, and some of the new additions don't work as well as they should, but Odyssey sets a new bar for what an Assassin's Creed game can be.
Assassin's Creed Odyssey offers endless possibilities and consequences to almost every action and dialog. Generally, the world is incredibly beautiful and encourages you to explore and tackle new challenges. The story is epic though it has somewhat a slow pace, waiting for a main event felt like waiting for a bread crumb.
Review in Arabic | Read full review
Assassins' Creed: Odyssey tells an epic, winding tale befitting the lesser bards of the classical era - no mean feat for a video game. That it's based in one of the most beautiful maps ever made is also nice, obviously.
An exciting adventure full of surprises, secrets and interesting stories. Another successful experiment from Ubisoft.
Review in Russian | Read full review
Assassin's Creed Odyssey is an enjoyable romp through Ancient Greece. Its changes are both subtle and sweeping and they come together to make one of the best entries in the franchise since Assassin's Creed 2 on the PS3 and Xbox 360.
The best Assassin's Creed game in a long time. Ubisoft succeeded in giving gamers the best combination of fun exploration and varied combat to make this game really worthwhile.
Review in Arabic | Read full review
It's strange, because Odyssey barely even feels like an Assassin's Creed game. Take away Layla Hassan and the "Assassin's Creed" brand from the title, and I'd just look at this game as a really strong, standalone historical fiction video game.
It's nearly impossible to summarize a game this big, or this complete. Assassin's Creed Odyssey lives up to its Homeric namesake in scope and scale, adding fantastic new elements to the solid foundation Origins laid before it. For me, it's easily the best Assassin's Creed game to date, and I can't wait to keep playing it long after the credits roll.
Assassin's Creed Odyssey puts the franchise back on the map as a critical darling. There's no malaka here whatsoever as it just "Greeks" of goodness. The story and characters are engaging and there are tons of activities to do. Greek culture and locations are a wonder to behold. Barring a few caveats, this has been a stellar offering for the franchise.
Assassin's Creed Odyssey presents an incredible, epic story about love, family, and destiny.
Alexios is one of the most memorable protagonists in all of Assassin's Creed, even if I never once actually thought of him as an assassin. In a lesser game, he'd probably be forgettable. But Assassin's Creed Odyssey is superb in nearly every aspect. It's the most impressive Assassin's Creed, even though sometimes it feels like it's Assassin's Creed in name only. It's as broad as Atlas' shoulders and as strong as Hercules. This time, Ubisoft hit a real Homer.
Assassin's Creed Odyssey is an impressively crafted open world action-RPG that challenges gamers to see and do everything it has to offer.
Assassins are this time in Ancient Greece. With more RPG elements and still fascinating gameplay.
Review in Slovak | Read full review
Assassin's Creed Odyssey isn't just one of the best Assassin's Creed games there has ever been, it's one of the most exceptional action RPGs that I've played this console generation. While only a few years ago I was left wondering what this franchise's future would be, now I'm more excited than I have been in quite some time to see where Ubisoft continues to take Assassin's Creed from here.
If you've slept on Assassin's Creed for a while due to oversaturation, and somehow missed out on the fantastic re-invention of the series with Origins, then Odyssey's refinement makes it an absolute must-play.
Odyssey builds upon the foundations of a beloved franchise and I like the way it's going forward. If Ubisoft doesn't get too greedy and takes its time to build a proper game, the next one is going to be even better, although I have to say that it's going to be difficult since this one is almost perfect.
Cheat Code Central
4.5 / 5.0
If you have the time and patience, Assassin's Creed: Odyssey is worth a look, if not for the meandering plot and lore, than for the history porn, the earnest humor, and the massive, mystery-filled world.
Geeks Under Grace
9 / 10.0
If one avoids unnecessary romance, turns off gore, and is able to stand the strong language, AC Odyssey is a good buy, if only for the story and historical setting.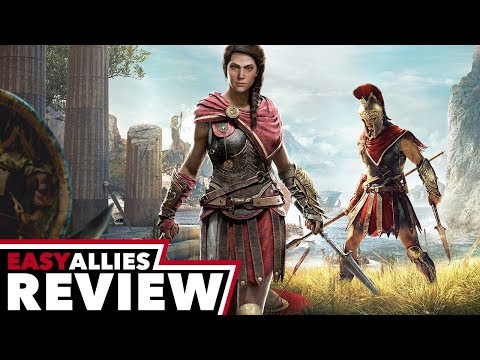 This is the kind of game where you could wipe out days of time paying attention to one piece of the greater story, with the true joy coming when you get to take a step back and see the story you've built.
Solid Storytelling following outstanding historic events immerses players into a beautiful rendition of ancient Greece. Assassin's Creed Odyssey improves on its predecessors by providing seamless character selection and more advanced rpg elements, without compromising on its accessibility to action-focused players. Even if sometimes overwhelming in scale and possibly repetitive for those not completion-oriented, the game is worth full price given its polished delivery of unabashed entertainment.
Thanks to the decision-making system and the better fights, I'm having even more fun with Odyssey than with Origins.
Review in German | Read full review
Assassin's Creed Odyssey for the first time of the series since ages coming with a pleasant experience and It always makes you ready and motivated to know what's going to happen in the next step and the next detour, it's a beautiful game that encourages you to explore and enjoy your time around Greek Islands.
Review in Arabic | Read full review
After all these years of fans claiming for a Greek mythology game in the series, Assassin's Creed Odyssey makes the wait worthwhile. While it stumbles trying to implement many systems at the same time, the whole is still bigger than the sum of its parts and all of its great moments make this a journey worth of its own epic poem.
Review in Portuguese | Read full review
Gamerheadquarters
8.8 / 10.0
Assassin's Creed Odyssey is an excellent next step for the franchise expanding upon the strong mechanics from Origins.
In Assassin's Creed Odyssey everything is at its place. The mythological story remains intriguing until the end and the dialogue choice system is a welcome addition. Gameplay is fun even with its flaws and the latest title in the series is a great opportunity to visit the ancient Greek.
Review in Persian | Read full review
If Origins left you unsure about the series' new direction as an action RPG, Odyssey will make you a believer.
AC Odyssey is huge, rich with activities and detailed in all kind of missions. Choices have a lot of ripercussions and give variety to the game. Some problems from the series return, as the low quality AI, but they're hidden by all the other elements.
Reno Gazette-Journal
8.5 / 10.0
Assassin's Creed Odyssey builds on the strengths of the excellent Origins while setting you out on an excellent adventure in yet another grand, ancient setting. Bugs and glitches are a bit too commonplace for my tastes and the microtransaction reminders can be annoying, though not too in-your-face. Overall, fun combat, an interesting story and a likable and well-written protagonist (Kassandra, in my case) make Assassin's Creed Odyssey an worthy and addicting addition to the longstanding franchise.
Assassin's Creed long journey apparently comes to an end in Greece, where Ubisoft Quebec upgrades the standards they presented with Origins; a turning point that made Odyssey the best Assassin's Creed title of this generation.
Review in Persian | Read full review
Assassin's Creed Odyssey hits all the notes a sequel should. It's bigger, prettier, the existing mechanics have been improved, and there's plenty more added. It tells an engaging story, with an excellent protagonist (play Kassandra), all in a beautifully realized setting.
It was yet another good game from Ubisoft and I always like to be an Assassin again. I look forward to seeing if the next Assassin's Creed game will be just as big as Odyssey, although not too big please.
Assassin's Creed Odyssey lives up to its namesake. By fully investing in becoming an action RPG, Odyssey's characters, combat, story, and scope are beyond anything the series has accomplished so far. Its ambitions might get the better of it sometimes, like in how it divides its story moments or in how the leveling system can get out of hand, but the overall experience is, simply put, epic. Even when the game's pacing hits a speed bump, there are plenty of engaging and rewarding side quests and distractions to keep you busy.
Again, it's more cake. Origins was delightful and Odyssey hits almost all the same notes, so there's a lot to like about it as well. But this series needs a bit of breathing room, and I hope it gets another bit of rest after this.
New features like dialogue system and additions to the gameplay have made Assassin's Creed Odyssey a better and greater experience compared to Origins. Odyssey also has a great story with different endings and complete collection of mythical creatures or enemy types. in the end, Odyssey may have some bugs or camera problems, but it is surely one of the greatest Assassin's Creed ever.
Review in Persian | Read full review
The Games Machine
8.4 / 10.0
Assassin's Creed Odyssey is the turning point for one of the most famous series produced by Ubisoft. Despite a somewhat shallow storyline and a constant sense of déjà-vu due to the evident reuse of assets from its direct predecessor, the metamorphosis in a full-fledged action RPG is successful, assisted by a system of choices and consequences that works well in guaranteeing tangible repercussions in the world. Now we can't wait to find out how the series will evolve.
Review in Italian | Read full review
Infiltration, combat, and exploration are all fun in the moment. However, the repetitive objectives and lack of crafted moments make the gameplay blur together as the hours pass
By adding some RPG systems, Assassin's Creed: Odysseys builds upon everything that Origins did right to create one of the best entries of the series. However, the game has some issues like boring romance options and poor AI. Despite that, Odyssey got us excited for the future of the franchise.
Review in Spanish | Read full review
Assassin's Creed Odyssey is complementary to the path Origins started on; a lot of people might not like this approach to the series but we shouldn't ignore the beauties of its world. people who find no correlation between two last games and previous games of the series aren't necessary wrong. Assassin's Creed Odyssey is a rich and beautiful game that will entertain your for hours but truth be told it only uses "Assassin's Creed" name as a complement and is very far from standards of the series. game's RPG mechanics gradually get deeper and tall buildings, crowded cities and silent assassinations change their places with jungles, mountains, horse riding and heavy one-on-one battles. we have to wait and see what Ubisoft has in store for the future of series and will they finally be able to create a balance between the past and new titles of the series or not?
Review in Persian | Read full review
In short then we can say that we are in front of an obligatory step of the software house that, after Origins, could not move differently. The basics are there, now we must be aware of being in front of an Assassin's Creed 2.0; made peace with this then it will also be easier to fully enjoy this adventure that, net of some graphic and "historical" inaccuracies can still be appreciated. There are many possibilities and missions that await us, perhaps the story is not yet perfect, but in the end the gameplay is pleasant and enjoyable.
Review in Italian | Read full review
Assassin's Creed Odyssey sees the franchise at its strongest and most ambitious yet. With a compelling story, solid RPG mechanics, and heaps of content to soak up, you'll be spending months immersed in its sprawling Greek sandbox.
Post Arcade (National Post)
8 / 10.0
Ubisoft's latest historical epic is memorable not just for what it is, but also what it could have been with a little restraint
Assassin's Creed Odyssey seems to be the series paroxysm : wider, richer and deeper than every other episode, the game still suffers from repetitiveness. The fascinating manhunt and the real choices will keep most players hooked up for a while, but only those who bought a PS4 Pro or a Xbox One X will benefit form the game's beautiful visuals. If you want to explore this endless greek world inhabited with brilliant minds of their time, you will have to go through more of the same fetch quests the series has dealt with for so long.
Review in French | Read full review
A rich open world to explore, and impressive steps forward from a gameplay and story perspective.
Assassin's Creed Odyssey is the finest the series has ever been, building on the role-playing roots laid down by Origins. An occasionally scruffy triumph of historical world-building, play and, perhaps most importantly, Grecian character.
Assassin's Creed Odyssey is a stunning game - a gigantic beautiful recreation of Greece, with wonderful ship combat, smooth traversal and plenty of satisfying gameplay moments. Unfortunately numerous design decisions lead to a mix of frustrating gameplay with numerous glimpses of greatness. It's not perfect, but it undoubtedly offers plenty of the series' best.
Assassin's Creed Odyssey is still an enjoyable game thanks to an intriguing storyline and one of the best graphics the series has ever seen. Sure it feels like Origins 2.0, although there is enough new content for Odyssey to stand out on its own. That being said, leveling up can be boring and some of the side quests get repetitive and boring after a while. Odyssey is still worth playing though if you can get used to its many flaws regarding its progression.
One of the decades finest. You will soak up the game like the characters within it absorb the Mediterranean sun.
Assassin's Creed Odyssey pushes the franchise further away from action and into true RPG territory with dialogue options, branching talent trees, and an addicting armor system.
The writing is sharp and the action fun, but it is the stunning re-creation of another world that is this game's crown jewel
While Odyssey is not the perfect package, it offers so much to newcomers and veterans of the series and was the reboot Origins should have been.
Fans of the series are going to like it, while those that don't like open-world games won't. Gamers on the fence about Assassin's Creed Odyssey will find dozens of hours of exploration and fun in a highly customizable experience that is great despite a few annoying missteps.
Assassin's Creed Odyssey is a superb open world RPG. It can be a little rough around the edges, but there's a gameplay freedom to this particular adventure that's really a cut above what the series has attempted previously.
Odyssey is a better, and certainly bigger, Assassin's Creed game than any before it. The sheer number of moving parts can be intimidating but this is a special adventure that must be savoured.
While its large-scale campaign--clocking in at over 50 hours--can occasionally be tiresome, and some features don't quite make the impact they should, Odyssey makes great strides in its massive and dynamic world, and it's a joy to venture out and leave your mark on its ever-changing setting.
Easily the best Assassin's Creed title to date, Assassin's Creed Odyssey takes everything Origins overhauled and improving on it, adding in fan favourite gameplay elements, introducing an amazing, huge world, and, most importantly it's a heck of a good time… but… the shadow that hangs over it cannot be ignored. Ubisoft has purposefully handicapped the gameplay, tuning it to be slow and, at points, making the grind horrendous, all to try and sell a micro-transaction, and that is absolutely revolting.
If you enjoyed Assassin's Creed IV's naval combat and Assassin Creed Origins' shift to an RPG-like progression system, Odyssey is a match made in Elysium. Odyssey does not revolutionize the franchise, but it's a capable entry that will satisfy fans for dozens and dozens of hours.
Assassin's Creed Odyssey throws so much stuff at you, it's difficult to sift through it all. It's a beautiful game to look at and the story is intriguing, but it feels like a game that could have been a little more ambitious if given more time to develop. There's good ideas, from the branching story and character choice to the return of ship-based combat, but its ambitions also fray around the edges in a way that Origins didn't.
Like the Iliad, Dionysus, Lysistrata and other great works of art, your feats in Assassin's Creed Odyssey are incredulous in the best way possible, and it's honestly more entertaining for it.
Assassin's Creed: Odyssey re-presents the magnificent view of ancient Greece with an amazing scale and unique perspective. It's much marvelous than any of its prequels, and of course, Odyssey is the best one in Assassin's Creed series of all time. However, the harsh level limit greatly restricts my exploration and forces me to improve levels or obtain loots by finishing a large number of repeated side quests, and it makes me feel dizzy, bored and sad.
Review in Chinese | Read full review
Those hungry for more of Assassin's Creed needn't go wrong here, as Odyssey presents an exhilarating depiction of Ancient Greece to explore.
If you're a series sceptic, it likely won't win you over - at least not unless you can force your way through the first ten hours - but fans looking for a Greek epic to invest a couple hundred hours in will find a rich world, a frankly ludicrous amount of content, and a welcome step forward for Assassin's Creed.
Assassin's Creed Odyssey is a game that is worth its price tag and so much more.
Assassin's Creed: Odyssey is in many ways a return to form for the series, and its rendition of Ancient Greece makes a worthy addition to the wondrous locales the franchise is known for.
Without a doubt, the most robust game in series history as Ubisoft Quebec delivers a player driven Spartan adventure.
A huge, ambitious game building on the solid foundations of Origins to deliver a game that feels like another positive step towards a very interesting future for the franchise.
Apart from the almost forced grinding and the microtransactions behind it, Assassin's Creed: Odyssey is the hammer! The sheer size of the world, the interesting and mostly very entertaining quests as well as the attention to detail make this game a real gem. For days I sneaked through enemy fortresses, killed leaders, chased wild beasts, climbed mountains and never got bored. The varied possibilities and well written dialogues were always very entertaining. I particularly liked Socrates with his stories and poems. Ubisoft can do that easily. The world holds you captive and it's very hard to get away from it. The "Just one more mission" principle opens up again and causes dark circles in the eyes on the next working day. And the humor ... I can't emphasize it enough. The little gags and Easter Eggs for attentive players (visual or sound) made me laugh a few times. Considering that I had mostly focused on the story and had already spent 40 hours in the country, you can imagine what it means to complete all the side missions, special tasks and hidden puzzles. If you want to get a lot of gameplay for your money, you can hit here without hesitation!
Review in German | Read full review
As a sum of its parts, Assassin's Creed: Odyssey is a big adventure that has its highs and lows but ultimately provides an enjoyable journey through Ancient Greece.
Assassin's Creed Odyssey, for better or worse, feels like a palette swap of Origins.
Merlin'in Kazanı
78 / 100
Assassin's Creed: Odyssey feels like a traditional RPG game, more than an Assassin's Creed game, the main reason behind that, the whole system the game build on is pushing players the make important decisions and feel the consequences.
Review in Turkish | Read full review
New Game Network
76 / 100
Assassin's Creed Odyssey improves on its predecessor, with the new RPG focus of the franchise really starting to take hold. A better story and enjoyable combat can't quite overcome the repetitiveness of this sprawling 40 hour experience, but at least we're sailing in the right direction.
Usually, I let my past experiences inform the present, but with Assassin's Creed Odyssey I'm attempting desperately delink my own fatigue with the quality of the end product. At the end of the day, not everyone will feel overwhelming by another AC less than a year after Origins. Or indeed there may be plenty picking up Odyssey that have never played Origins at all. For those players, Assassin's Creed Odyssey is a feature-packed, incredibly lengthy belter, but a colossal time sink in the same breath.
Rectify Gaming
7.5 / 10.0
Assassin's Creed Odyssey is the biggest game in the franchise, but it's not necessarily its best.
While Assassin's Creed Odyssy has the least connection to the series' universe and Stealth is less present than ever, but story, characters and the world are one of the most memorable in the series. Of course, the forced side missions make the impact of the story less powerful
Review in Persian | Read full review
Odyssey is no doubt the biggest game in the Assassin's Creed series, and could easily be considered the best one. Unfortunately the efforts to reshape an action game into an RPG were only partially successful. Ubisoft already checked off everything from a great atmosphere and a gigantic map to some cool gameplay mechanics, but narration and moral choices still do not deliver – Witcher 3 is still miles ahead.
Review in Polish | Read full review
Assassin's Creed Odyssey is Ubisoft's latest entry into the franchise, and despite having little connection to its predecessors, remains a solid Action-RPG.
Paste Magazine
7.5 / 10.0
As an Assassin's Creed it turns Origins from an outlier into the start of the new status quo, sacrificing a bit of its identity in order to bring it more in line with Ubisoft's other open world games. It still captures much of what makes these games special, though, from the historical setting, to the dynamic action, to one of the few stealth combat systems that isn't too slow or frustrating to enjoy. Embark on this journey with confidence, but be prepared to lose a lot of your free time along the way.
Invision Community
7 / 10
Overall, Assassin's Creed Odyssey gets a 7/10, it is an enjoyable experience that lets you explore, grind and complete objectives for hours on end. Disappointingly it has strayed so far from the core aspect of AC, which was being an assassin with the implementation of levelled kills, forcing you to engage with combat over and over again. Vistas are beautiful, with a surprisingly good female lead, while the male lead falls far behind.
The best Assassin's Creed has been in years, but also a game bloated far beyond the realms of common sense – especially while the core gameplay remains so unexceptional.
The Angry Joe Show
7 / 10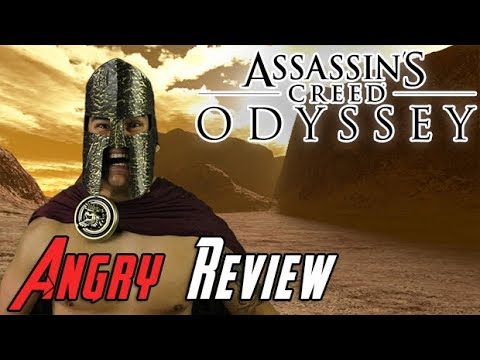 Assassin's Creed: Odyssey is a solid attempt to create a new epic, but it also falls foul of similar missteps to its predecessors.
Assassin's Creed Odyssey is a worthy follow-up to Origins, incorporating new gameplay ideas while following the same formula as its predecessor.
There's plenty of power and glory to be had in Odyssey. This is a vast swords-and-sandals epic that's rendered in the finest of details, and there's little else like it. Seeing it through to conclusion, however, has a major cost: your money or your patience.
Assassin's Creed Odyssey is worth checking out just for the vistas, but maybe set it to easy. Turn off "Exploration" mode. Skip the procedurally-generated quests. Don't play for too long at once. And if you try to dive deep, expect to hit bottom real fast.
Although it crafts a wonderful narrative in an awe-inspiring world, Assassin's Creed Odyssey, through its stubbornness and familiarity, sometimes feels like a "best of" compilation of its predecessors without being the best of them.
Assassin's Creed Odyssey plunges players further back into history, back to when the Assassin Order wasn't even conceived. The world of Greece is just as beautiful and teeming with more activities than any other Assassin's Creed game. But despite the large impressive world Assassin's Creed Odyssey's gameplay rarely impresses and relies on mechanics already used in previous games with little variation. Despite the new branching narrative Assassin's Creed Odyssey is more of what fans of the series have come to expect.
Cultured Vultures
6.5 / 10.0
Assassin's Creed Odyssey maintains the fluid and much loved gameplay providing us with the biggest open world yet, glorious graphics and the return of naval combat. However, the shameless use of microtransactions, frustrating grind and uninteresting characters make Odyssey more of a chore to play than others in the series.
Odyssey takes Origins' formula and expands it to the point of nearly breaking.
Assassin's Creed Odyssey features a rich, lush world lessened by its repetitive activities. Though the main story is compelling, completing it requires you to participate in a massive amount of level grinding through less-than-stellar side quests. There's plenty to do in this world, but a lot of it feels like busy work that fights to stay exciting or compelling.
Assassin's Creed Odyssey ends up being a textbook example of how you can have too much of a good thing. I enjoyed clearing out forts in Origins, and for about fifteen hours I enjoyed doing it in Odyssey as well. But nothing changes. You keep doing the same thing again and again, and the gameplay, while fun, is nowhere near compelling enough to justify you spending over seventy hours on it. Thank God there's not going to be an Assassin's Creed game in 2019. I need a rest.
Worst of all, Ubisoft compromised the game's progression system to get you to pay more money on top of the money you already gave them. Assassin's Creed Odyssey's underlying problem is not that it didn't innovate enough, but that it innovated in ways that put the publisher's pocketbook over its players.
There are little things that I adore such as the way your ship crew sings as you sail around (with the songs even changing to reflect the gender makeup of your crew), not to mention a small handful of quests that eschew the rigid, game-y formula plaguing most of Odyssey's content in favor of something more organic. The problem is that all of this accounts for between 5-10 hours of content of the 60 that's pretty much a minimum because of the backwards leveling system and abundance of filler content. The weakest parts of the Assassin's Creed series have also been retained, while the things that were unique have inexplicably been de-emphasized and complicated to make way for a mashup of features shamelessly borrowed from other series in the hopes of lightning striking twice. The end result of all of this is that Assassin's Creed Odyssey is an overlong, uninspired mess that feels watered down to the point of meaninglessness.