Percentile Rank
Mario + Rabbids: Kingdom Battle - Donkey Kong Adventure is ranked in the 86th percentile of games scored on OpenCritic.
Rating Summary
Based on 26 critic reviews
OpenCritic Rating
Based on 26 critic reviews
Score Distribution
Unscored Reviews
Eurogamer
No Recommendation / Blank
No Recommendation / Blank
Jun 28, 2018
The king of the swingers brings a new dynamic - and plenty of laughs - to Ubisoft's turn-based treat.
If you enjoyed Mario + Rabbids: Kingdom Battle, then picking up Donkey Kong Adventure is a no-brainer.
I thought I wanted more Kingdom Battle, but what I really want is something that captures the magic of experiencing its opening hours for the first time.
Scored Reviews
Donkey Kong, Rabbid Peach and new Rabbid hero Rabbid Crankyll - All For One against Rabbid Kong! Just join in!
Review in Slovak | Read full review
NintendoWorldReport
9.5 / 10.0
With all the great titles on the horizon it can feel difficult to circle back to a one year old game, but Donkey Kong Adventure is a can't miss experience that so far ranks as one of the best for 2018.
The new aditional content for Mario+Rabbids: Kingston Battle has a very conservative line but it isn't exempt from playable news(novelties) and from content that refresh an almost perfect pattern
Review in Spanish | Read full review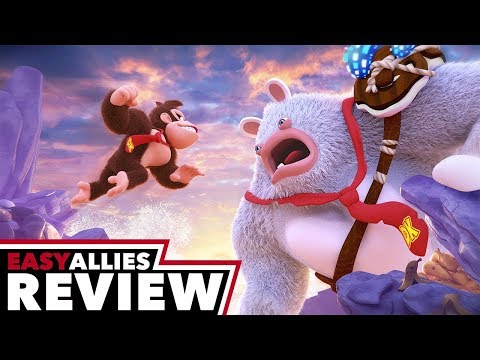 A clever addition to Mario + Rabbids that plays to the original's strengths without takings many risks. While Donkey Kong Adventure likely won't win the game any new fans, it's a treat for anyone who were left wanting more. The expansion trims some of the fat from the original, delivering a quick, focused game that quits while it's ahead.
Donkey Kong is a pleasant expansion, with a gameplay changed and adapted to the needs of the characters. Inspired, colored, passionate, he only sins in the repetitiveness of his enemies.
Review in Italian | Read full review
Donkey Kong Adventure offers so much new content to sink your teeth into that you'll forget the amount of time that's past. It's well worth the price of the games' Season Pass alone and is a DLC that proves the success of Mario + Rabbids Kingdom Battle was no fluke. Without doubt, one of the most polished, entertaining expansions of the year.
Extensive DLC with great humor, fun new skills and a beautiful world in the DK universe. A must-have for all fans.
Review in German | Read full review
An admirably excellent slice of DLC that shares the same high production values as the original and adds plenty of unique features of its own.
Donkey Kong Adventure feels almost big enough to be a sequel to Mario + Rabbids: Kingdom Battle rather than just an expansion, and it packs in a lot of tactical fun. Donkey Kong is literally a game-changing character with abilities that are fun to learn and use, and Cranky Kong's alright, too. The main downside is that you're locked into one team composition, which limits your ability to change up your playstyle or replay battles differently.
This DLC triumphantly brought DK to the world of rabbids in a wacky way that changes the game, but it came with price of limiting the style of gameplay that turned every encounter to puzzle.
Review in Arabic | Read full review
The Donkey Kong Adventure DLC brings a fresh angle to Mario + Rabbids Kingdom Battle, giving fans of the original something different to get their teeth into. It's less daunting than the main game, with some truly powerful characters often making short work of the slightly-lessened enemy onslaught, but blasting through the campaign in this way offers a nice way to enjoy the comical ride. The lack of character options is perhaps the only downer here, taking away some of the deeper strategy involved in the full game, but we still loved every moment of our time with DK and friends. If you're craving more Rabbids mayhem, give this one a whirl.
Mario + Rabbids Kingdom Battle - Donkey Kong Adventure turns out to be much less focused on strategy this time around but more on the actual enjoyment of the story and universe with more laid back battles that are easier to approach than the rest of the full package, in no small part due to how powerful Donkey Kong and Rabbid Cranky are in battle. The base game had lots of charm with its colourful and humorous universe and this is all intact here, if not even more pleasant than ever before. The small downside to this is that those who loved the base for the challenge and variety of possible strategies will not quite find the same depth here. For others, though, this will be a solid addition to an already solid experience.
Mario + Rabbids - Donkey Kong Adventure DLC is a beautiful expansion to the last year's hit. If you have finished the original game and want more with new mechanics and another portion of positive humor, you can safely buy a season pass. Ubisoft did an excellent job.
Review in Russian | Read full review
Mario + Rabbids Kingdom Battle: Donkey Kong Adventure is a very well done side story to the main game. Everything that made the base game so enjoyable is practically unchanged here, while the new characters make the game a blast to play for those who have already beaten the main campaign. It would've been nice to change out characters, and it also would've been neat to see Rabbid Peach's progress carry over between campaigns, but fans of the original should pick up this DLC.
Donkey Kong Adventure feels like a lovely addition to Mario + Rabbids, an expansion that while limited in its scope, gets everything right. It may only feature three characters but that's more than enough and when it comes to additional enemies and objectives Donkey Kong Adventure is not short in appeal, in what is certain to be a very attractive expansion for the fans of the original.
Review in Portuguese | Read full review
Ultimately, Donkey Kong Adventure is more Mario + Rabbids Kingdom Battle, even if it overstays its welcome just a little bit.
Overall, Donkey Kong Adventure feels like a lick of fresh paint on the same experiences that were provided during Mario + Rabbids: Kingdom Battle.
Donkey Kong Adventure is a worthy addition to the Kingdom Battle experience. The DLC's universe is a fun and colorful as the original game's while the new characters and battles add some freshness to the mix. We hope it's not the last we hear from Rabbid Peach and Rabbid Cranky.
Review in French | Read full review
Donkey Kong Adventure offers up more turn-based entertainment, but its timing and standalone nature limit its appeal