Mario + Rabbids: Kingdom Battle - Donkey Kong Adventure
---
OpenCritic Rating
Based on 26 critic reviews
Mario + Rabbids: Kingdom Battle - Donkey Kong Adventure
Rating Summary
Based on 26 critic reviews
OpenCritic Rating
Based on 26 critic reviews
Spread the word:
Game Information
Available on:
Nintendo Switch
Jun 26, 2018
Publisher: Ubisoft
Genre: Strategy
Description:

Donkey Kong Adventure, the latest and largest expansion to Mario + Rabbids Kingdom Battle, is out now. Donkey Kong's foray into the Mario + Rabbids world features two new playable characters, four additional environments, new enemies, and a refreshing spin on the established Mario + Rabbids tactical gameplay.

Included as part of the Season Pass, the adventure can take place any time after players have completed World One in the base game. Angered by his defeat, Rabbid Kong is transported to a mysterious island and begins to wreak havoc on the locals. It's up to Rabbid Peach and her two new allies, Donkey Kong and Rabbid Cranky, to take down Rabbid Kong once and for all. Luckily, the two characters come with some rather unique abilities. Donkey Kong is able to pick up and throw just about anything on the battlefield, including allies, enemies, cover, and even sentries. Rabbid Cranky comes equipped with the ability to reign down fire from above when performing a team jump. It's up to you to make creative use of these new abilities if you're to have any hope of succeeding.

Will there be plenty of bananas and bongos? You bet. Will Rabbid Cranky complain about everything and shake his cane in anger? Definitely. Will Rabbid Peach continue to take gratuitous selfies? You'll have to find out by picking up Donkey Kong Adventure today.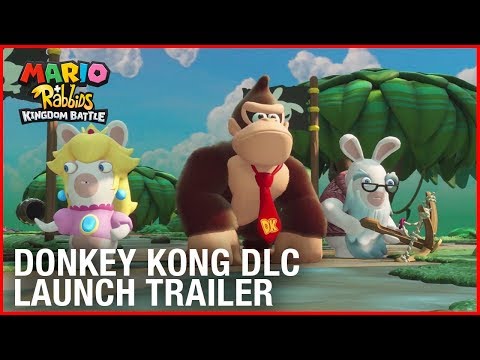 Mario + Rabbids Kingdom Battle: Donkey Kong Adventure DLC | Launch Trailer | Ubisoft [NA]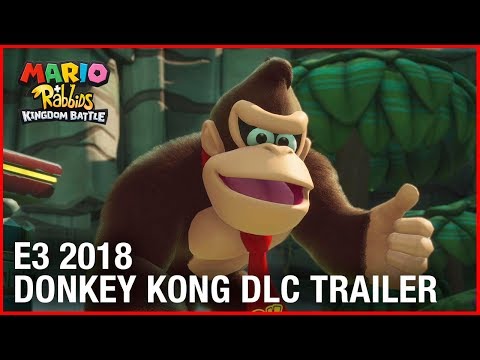 Mario + Rabbids Kingdom Battle: E3 2018 Donkey Kong Adventure DLC Gameplay Trailer | Ubisoft [NA]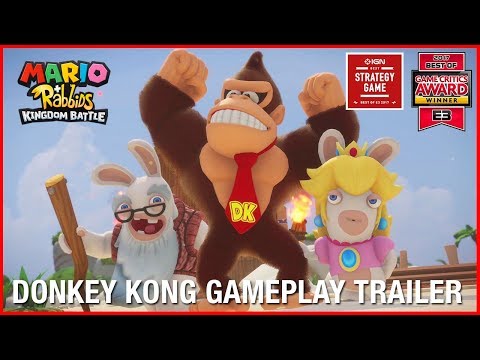 Mario + Rabbids Kingdom Battle: Donkey Kong Adventure DLC | Gameplay Trailer | Ubisoft [NA]