Percentile Rank
Déraciné is ranked in the 45th percentile of games scored on OpenCritic.
Rating Summary
Based on 43 critic reviews
OpenCritic Rating
Based on 43 critic reviews
Score Distribution
Unscored Reviews
Dull adventure game mechanics are enlivened by a brilliant sense of dread, as the Dark Souls director turns his hand to VR.
Looked at as a whole, there's something defiantly refreshing about how brazen a departure Déraciné is from Miyazaki and his team's flashiest, most cash-catching work.
Scored Reviews
Déraciné is a wonderful faerie tale from beginning to end, with all the mystery and lore breadcrumbs of a proper From Software to keep players guessing until the end.
The best way to explain this is as follows; if you can have a PSVR headset and Move controllers, and can put up with some pacing hiccups, play Déraciné now. The story and world are beautifully designed and crafted to perfection, minor nitpicks aside my gaming life has been improved thanks to what FromSoftware built here.
FromSoftware steps away from brutal combat to deliver a touching, often heartbreaking adventure, and it's one of the absolute best PSVR adventures currently available.
D'racin' is a fantastic VR exp'rience, with a good story and universe. You have to try it now !
Review in French | Read full review
Deracine is one of the better experiences on the PSVR with a compelling story and some interesting gameplay. It feels like a complete experience from start to finish and has an interesting world that begs to be explored further.
Deracine is an experimental project with an amazing soundtrack and a demonstration of how deep interactive stories can be, where love, self-sacrifice and sadness blend into a unique subtle flavor. Perhaps, to someone, Miyazaki's new creation will seem too simple and naive, but there are much more secrets and meanings than you can imagine.
Review in Russian | Read full review
Déraciné is one of the best exponents of traditional video games on PlayStation VR, for the artistic work done by From Software and Japan Studio, and is recommended to those who are already familiar with smaller games and want a "complete" title to savor in virtual reality.
Review in Italian | Read full review
Who or what the titular Déraciné may be is unclear, but don't let that dissuade you from walking through this wonderful title. A charming cast of characters pair with an incredible environment to explore, while the stirring soundtrack helps to elevate an already good title. Throw in the great narrative, in and of itself a rarity in VR at this point, and you have one of the best titles available thus far for Sony's headset.
It's a pity that everyone that doesn't have a VR headset will miss out, because Déraciné is really quite remarkable. It's rare that a game developer has attempted to make time a thing to explore to the same extent that we usually explore space in games, but FromSoftware succeeded there, and esoteric as it is, the darkly emotional story that is spun around Déraciné's unique structure makes for something truly compelling.
From Software's maestro Hidetaka Miyazaki takes a break from action-RPGs with the PlayStation VR release Déraciné, a dark fantasy adventure game.
Cultured Vultures
8 / 10.0
Déraciné is completely unlike anything From Software has attempted before, and while it may not be as captivating as the franchise that made their name, it's a magical time all the same.
Déraciné subverts Japanese horror tropes as easily as it conceals the limitations of virtual reality. By casting the player in an active and passive role in its narrative, it juxtaposes agency with accountability as it creates a tranquil, sinister story. Déraciné is a return FromSoftware practicing their talent inside of darkness, but mercifully away from Souls.
As the first VR game of Hidetaka Miyazaki, Déraciné is a good start. The graphics and the playing part are both nice, and the narrative style will impress a lot of players.
Review in Chinese | Read full review
FromSoftware and SIE Japan delivers engaging storytelling but overly familiar VR gameplay.
An interesting adventura with some control issues that works exclusively on PS VR, but is not as tailored to VR as we thought.
Review in Spanish | Read full review
Déraciné is a beautiful game, with a moving story and simple mechanics. We enjoyed its exploration (with an immersive use of VR) and storyline, but it´s short, and puzzle solving is too easy.
Review in Spanish | Read full review
Déraciné is an engaging VR adventure with a tinge of darkness to it that other such games often shy away from. There is a frisson of tension in this story that drives you forward through the conservative VR gameplay mechanics to find out if FromSoftware's reputation for dark material will eventually surface.
Although far from what many of us probably expected when it was first announced that From were making a PSVR game, the willingness by Miyazaki and his team to subvert fan expectations and develop a diverse and varied body of work is to be commended.
A pretty good experiment from FromSoftware, creators Dark Souls. The approach of the Japanese studio with VR tech is interesting, but rough on the edges.
Review in Spanish | Read full review
Déraciné has equally surprised and disappointed me. It's a gorgeous, story-driven experience, but the story has a few pacing issues and can drag along while not making the most of its gameplay mechanics. It's a slow burn, but if you enjoy eerie stories and atmosphere, Déraciné may be worth checking out. It certainly pulled me in and punished me for my naivete as the story grew darker by the minute.
Déraciné is a walking simulator mixed with graphic adventure that strikes a lot more for the binomial atmosphere-narration than for the rest of the game.
Review in Italian | Read full review
Déraciné creates what may be the most enriching world yet seen in VR, but only scratches the surface in terms of actual gameplay.
FromSoft's first VR game isn't an instant classic, but there's a lot here to give fans of the developers a look into where their talents can take them in the realms of virtual reality.
Déraciné's star is its story and the surprising lore of the world in which it takes place, but moving through the world and interacting with it is underwhelming
From Software developers have jumped into the waters of virtual reality and performed a very epic work that you may like to play repeatedly, but it does not fully use all the possibilities of VR and suffer minor technical flaws.
Review in Czech | Read full review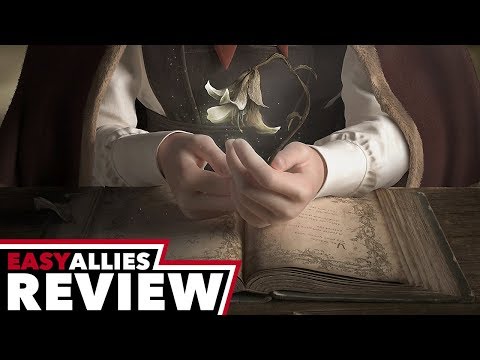 Fans of obtuse stories and first-person adventure games will love their time with Deracine.
Miyazaki also describes his latest work as "a quiet game for VR", and again it's an appropriate view. There are none of the scares or action you'd find in a Souls game. Instead it's a game about sedate exploration and creeping chills. Not all of the experiments or ideas pay off, but the ones that do make for an absorbing ghost story with just the right amount of weirdness for fans of the creator. Despite being marred by clunky controls this is one of the best games available for PSVR owners.
From Software tries something different and produces a mixed bag of excellent presentation values and average gameplay
Déraciné is a solid addition to PSVR's growing stable of exclusives. It's not a must-play game though, especially if you've been through any of the other VR adventure games out there.
PlayStation Universe
6 / 10.0
Déraciné has an interesting approach that only FromSoftware can deliver. At the same time, enough stands in the way of the overall package that diminishes what the game could have been. Fans of FromSoftware storytelling will find something interesting here, but others will dislike the pacing and execution.
A quaint and slow paced game that sometimes veers on boredom but nevertheless has its share of moments. Treat it more like an experiment, albeit one with a high entry fee, through its VR and move requirements.
Review in Arabic | Read full review
Déraciné isn't for everyone, even if you fancy yourself a staunch fan of FromSoftware's previous work. The slow, deliberate pacing, the vague puzzles, and a story that revolves around fairies don't add up to a must-buy PlayStation VR experience. It's an oddity and one that wants you to occasionally stop, stare, and soak in its atmosphere. Déraciné will be divisive; a borefest for some, yet bizarrely enthralling for others.
There are plenty of possibilities for interpretation, and being so close to the story may see you connect to it, but I never felt like the students' protector. As a character with the power to alter their path, it's disappointing that I rarely felt like more than an observer.
PlayStation LifeStyle
6 / 10.0
Déraciné is an intriguing PlayStation VR experience that definitely feels like a FromSoftware title. From its air of whimsical mystery to its hard reliance on theme rather than detail for its narrative delivery, well, I could make a Dark Souls joke here, but I figure that ship has sailed elsewhere. However, while Déraciné is worth playing and figuring out for yourself, it's hard to recommend with enthusiasm. While intriguing and mysterious, the storytelling does have fundamental issues that make the overall mystery feel unearned and the tension intangible. The player's "powers" are more scripted than play-oriented, and the play itself is bogged down in searching for objects and placing them where they need to go to move things forward. There are neat ideas here and plenty of VR-flavored awe to be had, but Déraciné won't be standing out like one may have hoped.
From Software looks for poetry, but does not do it with conviction
Review in Italian | Read full review
In the end, Deracine accomplishes little that a point-and-click adventure couldn't do. It's capable of beautiful and engaging moments, but hamfisted dialogue, awkward voice acting, and frustrating VR behaviors ruin it, for the most part.
Deracine is a bizarre story-driven adventure game that mostly nails the story, but is oftentimes frustrating to play due to some unfortunate design choices.
Deracine's gorgeous presentation masks a game that's lacking innovative ideas while misusing the few it does have.
FromSoftware's first VR game is full of interesting ideas but very little entertainment, with frustrating storytelling and tiresome puzzles.
Déraciné had potential but its disappointing to see it become nothing but a rudimentary slog.