Dull adventure game mechanics are enlivened by a brilliant sense of dread, as the Dark Souls director turns his hand to VR.
FromSoftware and SIE Japan delivers engaging storytelling but overly familiar VR gameplay.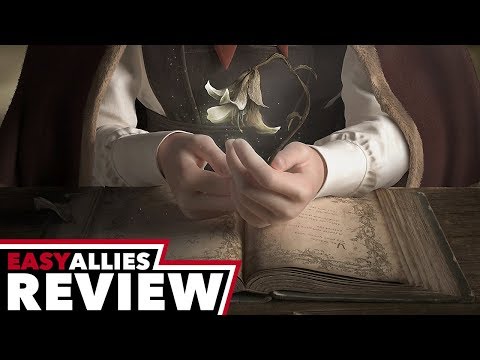 FromSoftware's first VR game is full of interesting ideas but very little entertainment, with frustrating storytelling and tiresome puzzles.
Déraciné's star is its story and the surprising lore of the world in which it takes place, but moving through the world and interacting with it is underwhelming
Deracine's gorgeous presentation masks a game that's lacking innovative ideas while misusing the few it does have.
Déraciné isn't for everyone, even if you fancy yourself a staunch fan of FromSoftware's previous work. The slow, deliberate pacing, the vague puzzles, and a story that revolves around fairies don't add up to a must-buy PlayStation VR experience. It's an oddity and one that wants you to occasionally stop, stare, and soak in its atmosphere. Déraciné will be divisive; a borefest for some, yet bizarrely enthralling for others.
Déraciné is a beautiful game, with a moving story and simple mechanics. We enjoyed its exploration (with an immersive use of VR) and storyline, but it´s short, and puzzle solving is too easy.
Review in Spanish | Read full review
In the end, Deracine accomplishes little that a point-and-click adventure couldn't do. It's capable of beautiful and engaging moments, but hamfisted dialogue, awkward voice acting, and frustrating VR behaviors ruin it, for the most part.
Déraciné is a walking simulator mixed with graphic adventure that strikes a lot more for the binomial atmosphere-narration than for the rest of the game.
Review in Italian | Read full review
An interesting adventura with some control issues that works exclusively on PS VR, but is not as tailored to VR as we thought.
Review in Spanish | Read full review
FromSoft's first VR game isn't an instant classic, but there's a lot here to give fans of the developers a look into where their talents can take them in the realms of virtual reality.
Déraciné is a solid addition to PSVR's growing stable of exclusives. It's not a must-play game though, especially if you've been through any of the other VR adventure games out there.
Deracine is a bizarre story-driven adventure game that mostly nails the story, but is oftentimes frustrating to play due to some unfortunate design choices.
Déraciné is an engaging VR adventure with a tinge of darkness to it that other such games often shy away from. There is a frisson of tension in this story that drives you forward through the conservative VR gameplay mechanics to find out if FromSoftware's reputation for dark material will eventually surface.
Deracine is one of the better experiences on the PSVR with a compelling story and some interesting gameplay. It feels like a complete experience from start to finish and has an interesting world that begs to be explored further.
Who or what the titular Déraciné may be is unclear, but don't let that dissuade you from walking through this wonderful title. A charming cast of characters pair with an incredible environment to explore, while the stirring soundtrack helps to elevate an already good title. Throw in the great narrative, in and of itself a rarity in VR at this point, and you have one of the best titles available thus far for Sony's headset.
Déraciné has an interesting approach that only FromSoftware can deliver. At the same time, enough stands in the way of the overall package that diminishes what the game could have been. Fans of FromSoftware storytelling will find something interesting here, but others will dislike the pacing and execution.
Deracine is an experimental project with an amazing soundtrack and a demonstration of how deep interactive stories can be, where love, self-sacrifice and sadness blend into a unique subtle flavor. Perhaps, to someone, Miyazaki's new creation will seem too simple and naive, but there are much more secrets and meanings than you can imagine.
Review in Russian | Read full review
Déraciné is a wonderful faerie tale from beginning to end, with all the mystery and lore breadcrumbs of a proper From Software to keep players guessing until the end.