Percentile Rank
Days Gone is ranked in the 48th percentile of games scored on OpenCritic.
Rating Summary
Based on 132 critic reviews
OpenCritic Rating
Based on 132 critic reviews
Score Distribution
Unscored Reviews
Eurogamer
No Recommendation / Blank
No Recommendation / Blank
Apr 25, 2019
A frequently gorgeous, sadly generic open-world game that runs out of steam well before its extended play-time is over.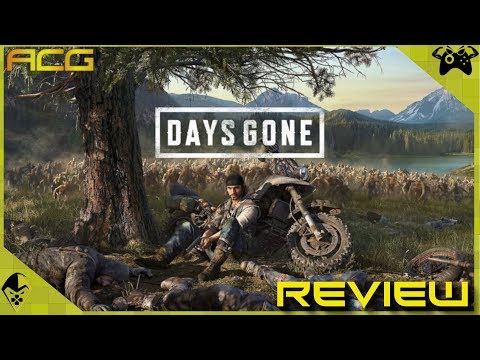 There are a few rough edges, and I'll be keen to see how the system handles larger and larger groups of the undead, but at the moment, I'm looking forward to seeing more of the Oregon wilderness.
While it's still slightly better than most recent Xbox One exclusives, Days Gone just isn't anywhere near the quality of the majority of PS4 first-party releases.
Unboxholics
Worth your time
Days Gone in addition to being an exciting survival adventure, is also a journey into a new, tough world. A world where one's death is the life of another, and the values that once constituted the civilized society have long since collapsed.
Review in Greek | Read full review
Instead of getting to the bottom of these questions, most communities prefer to send me crisscrossing the gorgeous Oregon countryside and rolling mountains of Days Gone's open world on my motorcycle as I hunt down bounties, recruit survivors, and raze entire camps of raiders. Completing missions builds trust within these communities, which in turn unlocks better gear, a reward I find much more compelling than the idea of helping each camp's one-note characters.
While it has some flaws and can get repetitive during long sessions, it's still fun to try and survive in a violent world that is truly out to get you.
Scored Reviews
Post-apocalyptic Oregon is clearly a place developer Bend Studio have thought a lot about, and crafted with tremendous amounts of care and attention to detail.
Cheat Code Central
4.8 / 5.0
Days Gone is a more thoughtful zombie game that offers people multiple approaches to solve problems.
Blast Away the Game Review
9.5 / 10.0
The only thing left to say now is this: Days Gone is one of the strongest titles we've yet seen this year and it is one that stands as one of the best PlayStation titles of this generation and it's one I highly urge you give a chance ahead of clearing off your backlog of games.
In summary, Days Gone is a very pleasant surprise from PlayStation, who continue to show that high-quality exclusives is a top priority.
Review in Spanish | Read full review
PlayStation LifeStyle
9 / 10.0
The more I played it, the more I loved it, until finally finishing the long journey and not wanting the adventure to end. Sam Witwer is brilliant as Deacon St. John, and his journey of survival, humanity, and self-discovery through a deadly world via motorcycle is a memorable one that shouldn't be missed.
Don't write Days Gone off as "just another generic open world game"; it's so much more than that.
Geeks Under Grace
9 / 10.0
Days Gone is a game that shouldn't be as good as it is: a harsh and unforgiving world that is almost as difficult to endure as the roller-coaster of hype that surrounded the game since its first reveal three years ago.
Days Gone may not bring so much originality into a theme already quite spent in the entertainment industry. The similarity with other games is remarkable, but does not overlap with the quality that the title presents. An interesting story, a lively and aggressive world, well-defined protagonist and excellent combat makes the Bend Studio title an excellent choice for owners of a PlayStation 4.
Review in Portuguese | Read full review
Days Gone has an astonishing and rich open world with great characters and a lot of quests to accomplish. Bend Studio is finally become great. Sony must be proud.
Review in Italian | Read full review
Days Gone is an exceptionally refined and gorgeous open-world action adventure game.
Overall, Days Gone is an absolutely brutal, rewarding, and phenomenal narrative experience, mixed with great action, and fun gameplay. It's the perfect combination of survival mechanics to make the title more intense, with natural characters, a rewarding storyline, and addictive gameplay.
Walmart Tips & Ideas
8.8 / 10.0
Days Gone is glorious. It took some time for the story to find its groove, but once it did I was hooked. After completing the game I immediately hoped for a sequel, and if that's not a glowing endorsement I don't know what is.
Days Gone is a mixture of enjoyable fights with zombies. great visual design, a decent story and thrilling gameplay. If you want all of these in one game, then Days Gone is going to satisfy you. Don't miss the newest PS4 exclusive game
Review in Persian | Read full review
Days Gone might be one of the most entertaining survival games we've ever played. It presents a strong narrative and systems that make the game always unpredictable. It may not be a "must have", but it sure is a damn fun video game.
Review in Spanish | Read full review
NoesPaisparaFrikis
8.6 / 10.0
Sony can rest easy trusting Bend Studio to make great titles. "Days Gone" offers an adventure with an extraordinary setting, bringing a new element, "the hordes", not seen before in the zombie genre for consoles and hours and hours of fun. The game has failures as we have seen but that do not cloud the excellent premiere of Bend Studios in the big leagues and make it clear that their "Days Gone" have come to stay.
Review in Spanish | Read full review
Glitched Africa
8.6 / 10.0
Even with its snail-pace plot, Days Gone manages to deliver a truly chilling open world experience.
Mighty Games Mag
85 / 100
Even if Days Gone does not quite reach the class of Spider-Man or other exclusive Sony-titles such as Uncharted or God of War, the game is a solid zombie-horrorgame with an intense atmosphere an interesting gameplay aspects. We discover the open world on our motorbike, take part in fast pace hand-to-hand combats and enjoy some solid crafting and stealth features.
Review in German | Read full review
Days Gone is another great exclusive PlayStation 4 title that offers everything a modern survival game should and adds breathtaking zombie hordes on top. Although it's not without its faults, Days Gone is still a must play game for everyone who owns the console. Don't expect anything revolutionary or unprecedented, but as a start of a new franchise, it turned out very well.
Review in Czech | Read full review
Even with all the promotion we're seeing now, Days Gone still carries the aura of a title that could be miscast and possibly overlooked at a glance, like it was for me a few years ago. You don't know until you play, and this stands as one the more pleasant and satisfying surprises of the year for me. It's been a long road to this game, but the ride is worth it.
If you tore chunks out of Dying Light, Far Cry, The Last of Us, Sons of Anarchy and a bunch of other open-world titles then threw them all into a blender, you'd probably end up with something akin to Days Gone. It's a game with lots to enjoy, a ton of world to explore and some sensational visuals to take in. As seemingly generic as much of it is on first glance, Days Gone opens up to prove that it's capable of punching its weight in a crowded area of the gaming landscape. A slow start to the story might put some off, and there are still a few technical issues that raise their head on the odd occasion, but there is plenty in here that gives you cause to overlook them. Farewell, Oregon, I had a great time clearing you out of Freaks.
Days Gone offers fun open-world exploration and survival-horror gameplay elevated by a compelling post apocalypse narrative and top-notch presentation.
Days Gone puts Bend Studio once again on the map of all PlayStation gamers after many years of oblivion. While it doesn't deliver any meaningful innovations in terms of open world and gameplay mechanics, it's a fun game that sports gorgeous graphics and a surprisingly great story/cast of characters, easily paving the way for a sequel to the stories of Deacon 'the Drifter' St. John. The links above are affiliate links. As an Amazon Associate, Wccftech.com may earn from qualifying purchases.
Days Gone delivers gripping survival action in a merciless post-apocalyptic world despite its forgetful story.
Review in German | Read full review
Days Gone therefore lives in ambivalence: it is a journey with some obstacles too much in the path, but so intense that it makes us appreciate every single kilometer spent riding our bike. And that is why we will hardly be able to forget all the days spent in the Nightmare.
Review in Italian | Read full review
The Games Machine
8.2 / 10.0
Days Gone is a very nice game. It's not original or perfect, but it's really enjoyable from the title screen to the ending credits.
Review in Italian | Read full review
Days Gone creates a world that wants to eat you alive, and you will gladly stay and be back for seconds despite the problems.
Despite a boring start with repetitive missions - that expose most of its technical and narrative problems - , Days Gone is a very special game. I feel like the more I played, the more I wanted to explore the dangerous world it has to offer and the more I wanted to follow Deacon's emotional journey.
Review in Portuguese | Read full review
PlayStation Universe
8 / 10.0
Though a touch derivative and brought low on occasion by the odd technical issue, Days Gone is a sprawling and handsomely made open-world adventure that contains a surprising amount of heart and ample amounts of violence to match.
Cultured Vultures
8 / 10.0
Sure, it's clunky at points, has enough rough edges to cut someone, and is perhaps too slow in getting to the good stuff, but give Days Gone and Deacon a chance and they will win you over.
Days Gone overcomes loose controls, familiar mechanics and gameplay loops, and a well-worn setting to tell a very relatable story featuring one of my favorite characters in recent years.
The zombie apocalypse isn't worth surviving at first glance. Enduring a lifetime of horrible food, abysmal cellular reception, and the constant paranoia associated with living a day-to-death existence sounds overwhelming. Forget about whether or not we can strategically out-sprint an undead horde or can ruthlessly murder other survivors if necessary: the more important question is...
Days Gone is a really great product, especially regarding the plot and the characters, that leaves a sour taste. It could be another excellent game made by Playstation if it wasn't for those flaws we just discussed. Sadly cause of bugs, and textures loaded too slowly, low frame rate and transictions that break the game rhythm, everything gets less enjoyable, even frustrating. Sony missed the chance to make a masterpiece, but there is definitively some chance to reach the perfection with Days Gone 2. There is everything necessary to start a new successful saga. In the end, we suggest you to play Days Gone, even if that means facing some issue. (Ps4 Pro owners will have less problems with frame rate)
Review in Italian | Read full review
Days Gone brings unexpected depth and humanity to the post-apocalyptic wasteland courtesy of a cast of believable characters.
In Days Gone I receive all features I like in video games – atmosphere, interesting characters, realism, well-made shooting, and cool stealth mechanics. Despite that Days Gone may be a real disappointment for fans of Ubisoft's open world games – there's a lot of content but it's all based on the story-driven campaign. It's a long storyline but there's nothing else to do.
Review in Polish | Read full review
Days Gone might be getting some questionable flack, but this game isn't a 3/10 or a 5/10 game by far. No, it's better than that and even if you're not sure about picking it up cheap, you will for sure wonder what all the negative fuss was about.
Is it an excellent open world game? Not quite. Is it worth playing? Oh yeah. The gorgeous and well-built environment is a treat, and the mechanical twists on the Sony's first party formula make Days Gone a nice spring surprise.
Days Gone doesn't have to be the most original and innovative title, but it's still a very solid open-world story adventure that won't give you anything for free. For about thirty hours of gameplay I was genuinely entertained.
Review in Czech | Read full review
Luxurious environments and tons of contents make Days Gone a good choice for open world lovers. But the ambitious adventure crafted by Bend Studio has more than a few annoying issues and shortcomings under the hood.
Review in Italian | Read full review
Days Gone is one of the most enjoyable and intense games you'll play this year!
Days Gone offers a dangerous and desolate world full of bad things and bad people. if you're willing to put up with some shortcomings the reward is one of the best open-world zombie apocalypse games to date.
Nothing else quite captures the experience of being hunted by a mammoth horde or finally taking them down with equal parts brain and brawn. Yes, it has its issues, there are some annoyances and oversights, but they aren't enough to keep me from recommending Days Gone to just about everyone with a PS4.
Like the winding roads of Farewell Wilderness that contain both serenity and danger, Days Gone is a journey with a winding range of emotions.
A good game for the PS4. Nothing more. Days Gone dose not take any risk or propose something new.
Review in Spanish | Read full review
Days Gone is a grim, beautiful B-movie; its action and writing are full of pulpy thrills, and by the end of it, I found myself liking a character called Deacon St. John – an achievement in itself.
It's been a long time coming, but is Days Gone by Bend Studio really worth the wait after all this time? After sixty plus hours of gameplay, I definitely think so.
Days Gone has characters that make you smile, and a trusty bike ready to take you away. For while some irritations persisted during my playthrough – such as the technical irregularities that need to be patched – that its encounters provide a real sense of accomplishment makes it an open world worth exploring.
For its strengths and its faults, I kept finding myself drawn back to the game's evocative narrative all the way through.
After Sony's extensive and highly acclaimed library of exclusives such as Horizon Zero Dawn, Uncharted 4: A Thief's End, God of War, and Spider-Man PS4 many expect Days Gone to provide an equally outstanding experience. Days Gone isn't a spectacular game. The gameplay doesn't provide anything revolutionary, with tedious tasks making up a bulk of the adventure. Where Days Gone does excel at is delivering a solid narrative of survivors attempting to find purpose in this destroyed world. Attempting to find a reason to wake up for another day of fending off humans, the infected, and their own mental destruction. But even the strong narrative is eventually weakened due to the myriad of technical problems. For every positive feature within Days Gone, there's something that negatively hampers the experience.
Wolf's Gaming Blog
4 / 5.0
On launch Days Gone got a fairly lukewarm reception from critics, and I'd have to say that many of the issues they raised are perfectly valid. The combat is clunky, the stealth is basic, the enemies are essentially just zombies again. It also doesn't do anything particularly new or innovative. There;s really no single thing I can point to and say, "that, that's what makes Days Gone good." But the whole is far greater than the sum of its parts, and while Days Gone does have its issues it's also shitloads of fun. I doubt you'll regret picking up this latest in a long line of strong Sony exclusives. I, for one, have certainly loved sinking dozens of hours into Days Gone and plan on playing many, many more.
Huge and fascinating open-world action-adventure with unique experience and some bugs.
Review in Slovak | Read full review
And while needing a bit more overall polish the game is far from the mediocre disaster the video game journalists made it out to be in their reviews. My suggestion: ignore the reviews, don't listen to the so called game video game journalist and play the game yourself. Days Gone is most definitely a diamond in the rough and worth your gaming time…
It took a few hours to get under my skin. But now that I've gotten into a rhythm with its post-apocalyptic horror-survivalist aspects, Days Gone puts on a good little self-serious road drama.
Days Gone deserves your attention if you are a fan of the zombie "genre". If you've ever watched I Am Legend or 28 Days Later and thought "I wish there was a game like that!", then you definitely need to play this game. Days Gone is a nice blend of open world and story driven that few games offer, "zombie" or otherwise. For 60$ USD you get 30-60 hours of this type of gameplay, which I feel more than justifies the price tag.
The story is a slow-burn, but once you start getting into it, you'll want to finish the ride.
Days Gone offers a lot of excitement when facing off against its Freaker hordes as Deacon St. John, but some generic open world elements and gameplay hold it back.
Days Gone is characterized by being a game that crushes under the weight of its own ambitions. Too hasty and approximate, the weight of its enormous defects is perfectly balanced with the solidity of its strengths. Inevitably, however, the final result cannot be too much above sufficiency.
Review in Italian | Read full review
Surviving the zombie throngs can be a thrilling experience, but the story and open-world structure come in second
The concept, atmosphere, and some parts of gameplay of Days Gone are very similar to The Last of Us. Considering it's an open-world game, it's even funnier than TLOS in terms of exploring. Dealing with thousands of zombies is both exciting and challenging. The story is just fine, but the ending makes me confused because it doesn't tell everything clearly and make sense. What's more, the frame rate is unstable, and it would be much more fluent if they can fix the problem..
Review in Chinese | Read full review
Merlin'in Kazanı
77 / 100
I played Days Gone, I thought that if Sony Bend Studio had more time to develop this game, it could be something way better than this product, even one of the best games of this generation.
Review in Turkish | Read full review
IGN Middle East
7.7 / 10.0
There is a lot to be enjoyed in Days Gone – variety in gameplay, large arsenal of weapons, satisfying stealth mechanics, and riding a motorcycle through a vast open-world. But the game takes a beating when it comes to its story, which is an in-cohesive mess with bland storytelling and shallow characters that lack any sort of charisma or real motives.
Review in Arabic | Read full review
With Days Gone Bend Studio delivers over long distances a well working survival game with an exciting open world, but unfortunately stand in its own way due to a dull storytelling, a clean, but simplified Gameplay and some technical issues. Nevertheless, fans of open world games and the fight for survival should give the exclusive a try.
Review in German | Read full review
Sadly, Days Gone ends up as a failure regarding the attempt of creating one of the best survival games in the market. Despite of the fact that it is a fun game, it has far too many errors to be considered a must-have title. The story is inconsistent, the missions tend to become repetitive and there are a lot of problems regarding stability as well as bugs that, all in all, make this one of the weakest exclusive game to be found on the PlayStation 4.
Review in Spanish | Read full review
Post Arcade (National Post)
7.5 / 10.0
Distinctive elements — including horrifying hordes of hundreds of infected 'freaks' — help salvage an otherwise average open-world post-apocalypse adventure
I like Days Gone. I really like Deacon as a character. I think the world is interesting. I like all of this enough to look past the bugs and glitches that I don't expect from Sony first party games.
Although Days Gone is suffering from tons of technical issues and of course unbelievably weak AI, it still manages to make up for them by offering solid, diverse gameplay, wonderful atmosphere and world design, and great music and sound design. Let's just hope that Sony gives Bend Studio another chance.
Review in Persian | Read full review
Days Gone is easily worth playing for fans of zombie games. Don't let low scores fool you, this is still a gem.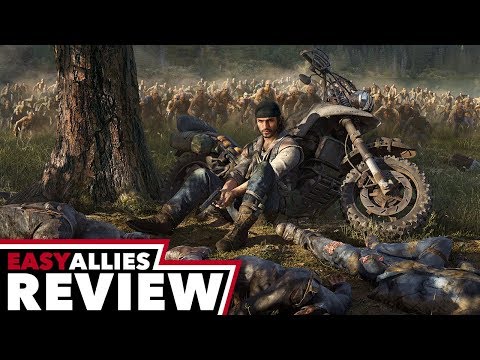 It had the potential to be as good as The Last of Us, but it lost its way. It's worth playing, especially as Bend Studio stamps out the bugs.
Days Gone offers a very good action game with its main gameplay and wide world, but it faces the same problems typical to open world game
Review in Arabic | Read full review
With its beautiful graphics, living world, violent and exhilarating melee clashes or even those moments of calm alone on the road, Days Gone should satisfy survival action fans. Nevertheless, its defects do detract, and we hope that the series will have the opportunity to erase them in a sequel.
Review in French | Read full review
Days Gone is an ambitious new IP that borrows heavily from its influences. It still maintains its own identity and features some genuinely fun gameplay. It's unfortunately held back by countless technical issues, but if you're willing to tolerate these, the moment to moment gameplay is enjoyable. While there's nothing revolutionary about the game, it's worth a go if you're a zombie fan
Gamerheadquarters
7.2 / 10.0
Days Gone is a generally solid experience that could have used a bit more polish.
Like a biker, though, Days Gone lacks a certain level of polish. It took me a long time to care about the story that was being told and the characters in it, and it always felt just a bit out of sync for me. I think that's partly due to the world not feeling very welcoming, which may have been intentional, but robbed me of that precious exploration and downtime that open-world games should offer.
Days Gone is a keen and engaging open world zombie adventure despite some issues.
Days Gone may not hit the heights of Sony's previous first-party exclusives but it still has enough going for it to be worth your time
Despite being painfully generic, Days Gone is an engaging game thanks to its emergent gameplay.
Days Gone is, unfortunately, not a revolution and not a GOTY contender, but an artificially overextended project for those who like capture camps, craft weapons and traps, collect items and clean out nests of infected on a big map.
Review in Russian | Read full review
Just Push Start
3.5 / 5.0
The best way to describe Days Gone is good but not great. There is arguably nothing that hits a point where you absolutely must see it, something Horizon, God of War and a few other exclusives have, leading to a mixed reaction. Even if I come off rather critical of a number of elements, it's the type of game where I might not tell people it's a can't miss experience, though it never hits the point where I'd actively discourage anyone from bothering. So, if you're okay with a good game that has hints of something better or simply enjoy the genre, give it a go.
The zombie apocalypse is well-trodden territory and the open-world spin of Days Gone can only differentiate it so much. There's a strong narrative focus, but Deacon St. John doesn't carry that weight as deftly as he could. There are highlights and fun tools available within, but the game doesn't push those forward first, leaving the players to deal with some tedium first. Days Gone is a great foundation for something better though, so hopefully Bend gets the chance to improve upon it.
Days Gone may not be game-changing like other PlayStation exclusives, but it's still a well put together title.
Days Gone, when it has moments of clarity, skirts the line of being brilliant. It could have been an instant classic if it weren't for the giant missteps that happened with regards to the story's pacing and some very strange decisions regarding Deacon as a character. With an expansive open-world worth exploring and well-crafted mechanics, Days Gone is an enjoyable ride, but expect to get some bugs in your face.
Days Gone has a couple of fantastic ideas, including the blockbuster horde battles that offer some of the most heart-pounding zombie spectacles I've seen yet.
Bend has delivered on a largely enjoyable open-world game with Days Gone. It has its fair share of hang-ups and though most are forgivable, some are not. Their depiction of Oregon, while bleak, is truly breathtaking and strikes me as the ideal mould for open-traversal. Its map isn't as big as many in the genre, though it's densely populated by things to do.
The story can drift, and the overall package isn't quite as polished as its PS4 exclusive counterparts – but as far as gaming comfort food goes, you could feast on much worse snacks than this.
It's rare to feel bad towards a game that you feel that it didn't get what it deserved but this how things are with Days Gone, As it delivers a fun world and a lot of good settings and options but it fails to utilize these options due to the fact that the current generation of consoles are not up to the challenge of running it well, also the AI in the game could have taken it to the class of unforgettable games but it was so weak it made look like boring unworthy journey, personally I would love to see a Remaster edition for this game on the next generation running the way it should have been.
Review in Arabic | Read full review
Days Gone seems like a classic case of a game that grew too big for its own good. The production values are excellent and it packs some tense gameplay and emotional stories, but the poor pacing, tedious open world, and padded length significantly drag it down overall.
Days Gone sits at the cusp between good and bad. It exists as a wholly mediocre game, relying so much on its inspiration that it never feels unique. When compared to Sony's recent first-party successes in the form of Spider-Man and God of War, it only makes Days Gone that much blander.
Days Gone is contextually broken, its gunplay is deplorable, its 'open-world' premise is a joke and its narrative consistently overrides that open-world 'design' goal.
New Game Network
66 / 100
Days Gone is a fairly typical open world post apocalyptic survival title that offers a few memorable mechanics and story beats, but is eventually consumed by genre clichés. Poor technical performance further hinders its chances of survival, but perhaps with time that wound will heal.
Oyungezer Online
6.5 / 10.0
Did I enjoy playing Days Gone? Yes, but not every minute. I would probably enjoy it much more if there were no technical difficulties that undermine the realism Days Gone was trying to create.
Review in Turkish | Read full review
As it stands, Days Gone isn't some abomination but it's not up to par with what we expect from a Sony first party game. It has significant redeemable qualities to be found in its story but still fails to deliver a tight, focused narrative without loads of extra fat or a compelling enough gameplay experience.
Days Gone has moments where it reveals its brilliance, but they're buried under a litany of uninteresting and repetitive missions and numerous technical issues.
Days Gone is an above average open-world game that is brought down by a weak first act, poor shooting, and a lot of technical issues.
Days Gone has some moments of brilliance, but there're far too may bugs. The hordes improve the game drastically, it's just a shame that a lot of the game suffers in other avenues.
Fun in small bursts, but Days Gone's repetition, bland world, and meandering story make for an unremarkable ride.
Days Gone is ultimately a disappointing experience, that could have been much more. I didn't hate my time with it, and there's a lot of heart to the experience that I genuinely appreciated, but it falls into the same trappings of too many open world experiences.
A peculiarly constructed open world zombie game that sidelines its most unique features in favour of generic action and unengaging storytelling.
Days Gone follows every post-apocalypse cue in the book. It does combat, level design, and bike riding well but struggles to overcome a basic story.
If you're wanting something to fill your time before the arrival of Naughty Dog's upcoming epic, then Days Gone may serve a purpose. There is some fun to be had churning dirt on Deacon's hog, no doubt. But, while we're yet to go hands-on with the further adventures of Ellie and Joel, we'd be amazed if when it does arrive, that game didn't teach Days Gone a host of lessons about storytelling, gameplay and all the rest.
For sure, Days Gone have a good story and characters that are pleasant to follow. But missions and gameplay are too repetitive, AI is too silly, bugs and freezes too frequent (even on PS4 Pro) to have us considering it as a fully enjoyable game. Too bad.
Review in French | Read full review
PlayStation Galaxy
6 / 10.0
Hordes are definitely different and amazing but everything else is quite generic. I fear this will only leave so much and nothing more in the next few weeks.
Running on a treadmill and Days Gone are very similar experiences. You put in time and effort, yet you remain in the same spot. Thrilling gameplay and crazed "freakers" cannot save this game from its LONG, uncompelling story. Ultimately, the amount of hours invested in Days Gone do not pay off. This is not a full throttle Sony exclusive that we've come to know and love, it's miles away from that.
Days Gone ups the open world survival ante but doesn't have enough cash to pay for the rest of the rounds of betting, making it one of the weirdest AAA releases in recent memory. If enough people buy it, its stronger moments will likely be immortalized in YouTube videos for years to come. Yet, most people will probably remember it as the open world zombie game that didn't bring much mechanically to the table. With some tweaks to the pacing, it could have reconciled its warm, frank look at humanity and been something special.
Days Gone is definitely worth playing at some stage, but it's certainly not a must-own game. However there's a lot of fun to be had here, so let's just hope SIE Bend Studio gives us another pop at finally taking down the Freaker horde one day.
Days Gone doesn't rip up the rulebook for open world games, brings very little new to the tired zombie genre, and while its story is enjoyable, it's far from compelling. Yet that doesn't mean you won't have a good time with it. While the riding and horde dynamics elevate the dependable, yet humdrum, nature of the rest of the game, just remember that patience is definitely required for the stretches of repetition between the more interesting parts.
Its ambition goes beyond the technical side —you can find a very honest type of ambition in its best moments, but there's not many of those in the game, and they are not as important as they should be.
Review in Spanish | Read full review
This is a game of fun and fury – it's thrilling at times, but it signifies nothing.
Despite all the bugs, the horrible optimization, the empty open world and the huge amount of fetch quests, Days Gone still is an enjoyable game. Not least thanks to all the great characters whose stories are interesting, even when they are asking you to find some flowers or to clear one more camp on another edge of the map..
Review in Russian | Read full review
Days Gone features some potentially interesting community-building mechanics and the appeal of a bikers vs. zombies game is hard to ignore, but it never lets its best ideas take center stage. Instead, it focuses on lackluster combat and a repetitive set of missions. It moves along on the kind of momentum that exists almost by default in big open world packed with activities, but I could never get fully engaged, partly due to its dragging pace, scattershot story, off-putting protagonist, and frequent bugs.
Days Gone is an alright first step for Bend Studio. It's a competent open world game with massive, diverse environments for you to explore, even if there aren't actually a lot of interesting things to do. It's also very vanilla, and there just isn't much substance beneath its glossy surface.
There are glimmers of true excellence here; small stretches of Days Gone can be especially fun and polished. However, the assembly of these various parts suffers from the lack of an engaging story, compelling characters, or an open world that feels organic and worth exploring.
Your first six-to-eight hours with Days Gone will be your worst. It's a slow drag of ploddingly introduced mechanics, weapons and characters that eventually does open up to a much more varied and exciting experience.
While patches may be able to salvage quite a few of its bugs, there are some questionable design decisions that certainly can't be fixed as easily.
I know there is a solid 10 to 15-hour game within Days Gone, but there is too much unnecessary stuff that has been piled onto it that makes it a forgettable and unenjoyable experience.
As it stands, Days Gone is a flawed PS4 exclusive that delivers less than what we've come to expect from an open-world game in 2019. There's fun to be had here, but it's layered with so much busywork that playing it feels like a chore more often than not.
Derivative and beset by astounding technical problems, Days Gone is a rare misfire among Sony's first-party efforts. While the core fantasy of surviving in a world overrun with infected occasionally shines through, Bend Studio doesn't deliver nearly enough compelling moments to justify the long slog it takes to see this mediocre story through to its end.
While it tries a few unique things, Days Gone's awful writing, abundance of glitches, and boring cookie cutter gameplay doesn't really make it worth spending time on.
Days Gone is a game that is, at once, both so close and so far from being what it could have been. There are certainly things here to enjoy and sufficiently pass the time. Those dusty roads of Oregon being the most prominent, but when that world is so empty and its inhabitants so vacant, it starts to become a real challenge to care.
Days Gone has its exciting moments, but it fails to say anything interesting or meaningful about its story and characters.
Days Gone is a generic open world zombie fest riddled with tedium and performance issues.
Days Gone is an optimistic start for Bend Studio as an open-world but it is a critical need for more polishing
Review in Arabic | Read full review
The Outerhaven Productions
Days Gone is so clearly inspired by other pillars of video game storytelling, but it fails to meet the standards set forth by those that came before it. While there are good ideas and a lot of heart in Days Gone, it ultimately stumbles in execution and is plagued by a number of technical issues, making it hard to recommend Bend's post-apocalyptic biker adventure.
Think of the most unremarkable thing you've ever blended together in a blender. That's Days Gone. It's a strange game in Sony's library of games this generation as one would not expect this from the publisher. If anything Bend Studios deserve another chance to create their magnum opus because Days Gone clearly is not that
The game meets the baseline level of quality we might expect from a big-budgeted joint, yet it remains a tiresome, empty experience.