Percentile Rank
New Super Mario Bros. U Deluxe is ranked in the 81st percentile of games scored on OpenCritic.
Rating Summary
Based on 80 critic reviews
OpenCritic Rating
Based on 80 critic reviews
Score Distribution
Unscored Reviews
If Super Mario Odyssey is the culmination of 3D Mario games, New Super Mario Bros. U Deluxe is the same for 2D Mario
Well, if you never played New Super Mario Bros. U for the Nintendo Wii U, or if you want to experience it again with friends—or Toadette—maybe it's worth it to you. If you absolutely require an official 2D Mario game on your Nintendo Switch, here it is. If you're just looking for a platform game and you've never played either this or Celeste, get Celeste.
Two great games on one cartridge with improved graphical fidelity, new characters to experiment with, and the ability to play anywhere, all making this the best version of both New Super Mario Bros. U and New Super Luigi U.
Unboxholics
Worth your time
If you love 2D Mario games and you are looking for a title that will provide you with rich content and will and enjoyable gameplay, then the new Super Mario Bros U Deluxe is for you.
Review in Greek | Read full review
Scored Reviews
New Super Mario Bros. U Deluxe is a perfect addition to the Switch's ever-=growing library of excellent games. A huge amount of content, coupled with perfectly executed tight controls makes this entry a must play for any and all fans of the genre.
New Super Mario Bros. U Deluxe is a must-have for Switch owners who skipped the Wii U. Packaged with two complete games and a plethora of challenges to complete, the Deluxe version will give you plenty of bang for your buck. Even if you already owned the game, it's worth trying on the Switch, if only to have a mobile, 2D Mario game at the ready. It might not be as difficult as past Mario games, but it's never not fun.
EXCELLENT - New Super Mario Brothers U Deluxe packs in a lot of content. It's understandable to be hesitant to dive in at full price, however if you do you'll be instantly reminded of the joy a Mario game can provide. If you haven't played these games before it is a no brainer. Nintendo is as good as it gets in level design and control and this collection of the two Wii U games is a great reminder of this.
One of the best Wii U games gets a wonderful Switch remaster that brings to life its multiplayer mayhem better than ever before.
In the more likely event that you missed it the first time around, New Super Mario Bros. U Deluxe is a must-play for 2D Mario fans and is the best in the 2D line of games since Super Mario World.
The Games Machine
9 / 10.0
More of a collection than a Deluxe Edition, New Super Mario Bros. U for Switch offers the opportunity to play an excellent 2D platform in the best possible way today.
Review in Italian | Read full review
Whether Nintendo's approach to level design has remained to the same standards of those incredible early games has been an ongoing debate across this "New Super Mario Bros." series that Nintendo started back on the Nintendo DS and Wii, but whether you like it or not, this is certainly the pinnacle of that particular vision.
Just Push Start
4.5 / 5.0
Overall, New Super Mario Bros. U Deluxe doesn't change what we expect from a Mario game and that is fine. Players are given both higher and lower difficulties, with neither making the game so easy it's no longer fun. Even skilled players can have fun with Toadette or Nabbit under the right conditions, just like Luigi U offers plenty of opportunities to learn. So, if you missed out on the original or never finished it, it's hard to say no to New Super Mario Bros. U Deluxe.
New Super Mario Bros. U Deluxe is an exemplary compilation. Both games have received some quality of life enhancements, and playing as Toadette is pretty entertaining. More importantly, this is simply some of the best content in the Super Mario saga. It's amazing how every element comes together for a thoroughly refined platforming experience. The level design is nothing short of genius, and the flawless controls make every leap more joyous than the last. Everyone who hasn't already played through the Wii U version should pick this up immediately.
We are facing one of the best 2D platforms of recent years and if it has never been played, it is a perfect opportunity to do so.
Two Mario adventures in one package - a lot of fun with friends and well-known characters.
Review in Slovak | Read full review
For all the grumbling about Nintendo's strategy of releasing last-gen ports to their new console, it's hard to argue when the games are as high quality as New Super Mario Bros. U Deluxe. Nintendo has also added their typically high gloss coat of paint, with new features, new characters and even an entire bonus game.
Thanks to Nintendo's new technology in Switch, we have the chance to play New Super Mario Bros U Deluxe anywhere we like. It also supports up to 4 players, so just imagine how fun it would be to play Mario on a camping trip with your friends while you share your childhood Mario memories with each other.
Review in Persian | Read full review
While not offering enough fresh content, New Super Mario Bros. U Deluxe is still an excellent co-op platformer. The new playable character, Toadette, is an exciting concept that is best suited for kids. Every level offers secret coins and with eight different worlds and addition of the Luigi expansion, it is a content-rich game with excellent replay value.
NoesPaisparaFrikis
8.5 / 10.0
New Super Mario Bros. U Deluxe is a port that offers little to those who enjoy it fully on WiiU, but that is required if, on the contrary, a new adventure of the plumber in its more traditional side is desired. It is not an explosion of creativity and authentic astonishment as in his day were Super Mario World and Yoshi's Island, but it is a 2D platform of quality, varied, challenging and full of content, which also has the adventure of Luigi to change third if at any time we get tired of the main game. A full-fledged 2D Mario, who deserves to appear in a successful console and reach a lot more people. What deserves, no doubt, a new opportunity.
Review in Spanish | Read full review
With NEW Super Mario Bros. U Deluxe, the Wii U's great launch title is back, now with Toadette cosplaying as Peach, and it's pretty good.
Walmart Tips & Ideas
8.5 / 10.0
There's a lot to love about New Super Mario Bros. U Deluxe. The graphics are bold and beautiful, the story is light and whimsical. The game provides plenty of challenge, yet is still approachable for younger gamers thanks to the new characters Nabbit and Toadette.
New Super Mario Bros. U Deluxe has everything a classic Mario should have and something more. But if you already played it on Wii U, it can get a bit boring soon enough.
Review in Italian | Read full review
New Super Mario Bros. U is still one of the best 2D Marios. For connoisseurs of the original, however, there are too few innovations.
Review in German | Read full review
This platformer was fun on Wii U, and the Deluxe version gives the game a well-earned extra life on Switch
Seven years after its original release, New Super Mario Bros U is still a great platform game, with lots of secrets, and incredibly fun to play in local multiplayer. DX has not many improvements from the original Wii U version.
Review in Spanish | Read full review
Regardless of your latent skill level, there's a ton of content here that's sure to keep you hooked for quite some time. If you're one of the many Wii U diehards out there, these games might not pique your interest in the same way. The portable element is lovely and the bundle is super convenient, but I recognize that might not be enough.
Mario never disappoints, if you are abstinence from a 2D platformer in pure Nintendo style. Or if you are waiting for Super Mario Maker on Nintendo Switch and it still hasn't arrived. If you want to play Super Mario in portable mode in addition to what you have on your smartphone. Well New Super Mario Bros. U Deluxe is for you, the purchase is definitely a must for fans, a title that will give us hours and hours of fun without being too flat or 2D.
Review in Italian | Read full review
New Super Mario Bros U Deluxe is yet another gem to be snatched from the obscurity of the Wii U and presented to the masses thanks to the Switch's popularity. Despite not featuring much in the way of new content, the addition of Toadette alone creates an entirely fresh way to play this almost seven year old title. For a fan of Mario, a fan of platforming, or just somebody who never had a Wii U, I cannot recommend it enough.
An excellent platformer that is as entertaining as it was almost a decade ago, but that hasn't enought new features to justify another buy if you have already played the game on Wii or -specially- on Wii U.
Review in Spanish | Read full review
New Super Mario Bros. Deluxe doesn't offer a lot for those who enjoyed the original on Wii U, but that doesn't really matter when you consider how many people actually had one of those things.
Though it may not have the same luster as it did over six years ago, New Super Mario Bros. U Deluxe is still a platforming gem for Nintendo Switch owners.
Despite the cut content, New Super Mario Bros Deluxe remains the most feature-packed, and dare I say fun 2D Mario game in decades. If you missed it on Wii U, own a Switch and love Mario, platformers, fun and just plain good games, there's no reason not to get New Super Mario Bros U Deluxe. There's just no real reason for those who've played it already to get it again.
The game comes across like a love letter to everything that Super Mario Odyssey left behind.
New Super Mario Bros U Deluxe is another great Wii U game to make its way to the Nintendo Switch. Despite the fact that it's full priced and feels a little bit later than it should have been, it's still a great game that would make a great addition to any collection.
New Super Mario Bros. Deluxe is an absolute pleasure to play. The game is chock full of fantastically designed levels and packed with different modes, including New Super Luigi U. The challenges aren't too easy, but not too difficult. There great ways to increase accessibility for beginners, and brilliant challenges for the experienced. Did we also mention that those Baby Yoshi's are as cute as a dreaming puppy… or whatever is objectively cute nowadays? New Super Mario Bros. U Deluxe truly is the definitive 2D Mario experience for Nintendo Switch... assuming you've never tried the original Wii U version.
Whilst this isn't the most essential Wii U port to come to the Switch compared to more inventive titles like Captain Toad: Treasure Tracker and Donkey Kong Country: Tropical Freeze, New Super Mario Bros. U Deluxe is easily the best modern Super Mario Bros. game, and if you're looking for that kind of fix after the 3D heights of Super Mario Odyssey, this 2D golden oldie is worth your money and your time.
"New Super Mario Bros. U Deluxe" proves to be an entertaining 2D jump'n'run with the typical Mario charm. A collection of cute characters, the well-tried, pretty graphics and crisp levels ensure that both beginners and pros get their money's worth. The individual innovations and addons nicely round off the main missions and provide numerous hours of play on the couch at home. However, if you already know the title from Wii U, you won't be able to enjoy any groundbreaking innovations.
Review in German | Read full review
New Super Mario Bros. U Deluxe is an impressive package if you skipped the original, offering the best of modern-era 2D Mario, madcap multiplayer and glimpses of the outrageous invention that was to come in Super Mario Odyssey. Only the most fervent fans will find enough new content here to justify double-dipping, though, especially if you already played the Luigi expansion.
If you missed out on the duo of New Super Mario Bros. U or it's Luigi-focused expansion then this Switch package is a great way to catch up on the plumbers' 2D exploits. Much like the Switch versions of Donkey Kong Country: Tropical Freeze and Captain Toad: Treasure Tracker before it though, its lack of exciting fresh content is disappointing. Despite this, I did enjoy revisiting both adventures in New Super Mario Bros. U Deluxe. It's a rather formulaic Mario outing sure but one that's as reliably fun as ever.
If you have never played it, in short, do not be scared by the really higher cost compared to the standards of similar operations: the price / quantity ratio is still in your favor
NintendoWorldReport
8 / 10.0
U DX is far less essential. The package is totally fine, and outside of Peachette leading to one of the most disturbing memes in recent Nintendo memory, the new character's addition is welcome. Aside from that, the only benefits of this release is that it can be truly played portably and it's on a console a lot more people own.
A pretty good new version of the Wii U's launch titles.
Review in Spanish | Read full review
Merlin'in Kazanı
80 / 100
Super Mario Bros. U Deluxe is tranfering old game to new generation succesfully. The game is purely funny, especially when you play it co-op. If you are looking a good game for your family, you should get Super Mario Bros. U Deluxe.
Review in Turkish | Read full review
New Super Mario Bros U Deluxe is an incredibly solid platforming experience full of charm, interesting level design and (in the Luigi portion) frustratingly good challenge.
Sure, New Super Mario Bros. U Deluxe might be yet another Wii U game re-released on the Switch, but it boasts a huge number of levels, filled to the brim with platforming greatness. Even though it's been six years since its original release, the overall experience holds up very well.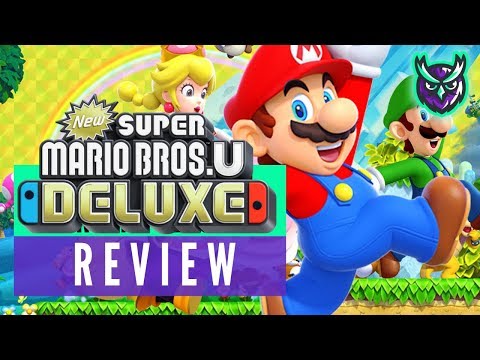 While I wouldn't put this latest entry on the same pedestal, this is still a very solid game with a lot of what we've all come to love about the series thrown into a melting pot. I don't think Nintendo would ever put out a "bad" Mario, honestly. There's plenty here to keep fans and next of kin busy and entertained for quite some time.
New Super Mario Bros. U Deluxe is an enjoyable re-release, but doesn't stand quite as tall next to modern platformers.
An incredibly strong platforming package is enough to overcome what problems, old and new, this offering has. New Super Mario Bros. U Deluxe is recommended to all platforming fans.
Old, familiar concepts and designs mix with the new in this worthy re-release. Owners of the original game wont find much new here, but for the many that missed Super Mario Bros. U the first time are in for a treat, especially those with friends or family to play alongside them.
Of course, as a loyal Nintendo fan, I own New Super Mario Bros. U and its DLC on the Wii U and was a bit disappointed that Nintendo did not come up with something new for the deluxe version. Although Toadette and thus Princess Peach are a nice bonus and make some jump passages a lot easier. And also the technical implementation is very well. But again porting a six-year-old Mario game (+ DLC) with marginal changes and offering it for the full price tag is a bit overstated in my opinion. Either more content or a lower price would have been desirable.
Review in German | Read full review
A great platform for everyone that hasn't played it before, but it is exactly the same we saw it on Nintendo U.
Review in Italian | Read full review
DLC adds more to an already decent package, and while the new Deluxe characters don't warrant the game's namesake, they can be fun to use for newcomers to the franchise. There are definitely other options when it comes to platfomers on the Switch. Regardless, Mario's classic romp still holds up today.
New Super Mario Bros. U Deluxe is, by itself, quite the appealing edition for players who did not experience the two Wii U games that this title brings together. And it does a very good job at that, thanks to its marvelous work at producing the ultimate version of those games. It's those who have enjoyed those experiences before that will feel most disappointed, however, as this edition does not bring anything truly new or significant for players well accustomed to the originals.
Review in Portuguese | Read full review
New Super Mario Bros. U Deluxe is a great Mario package, although still feels incredibly familiar. Multiplayer chaos is fun for a short while, but testing your skills against difficult stages is where Super Mario excels, as always. If you've not played a 2D Mario platformer in a while, this is well worth it, though Wii U fans who've played it before should think twice before purchasing.
Thanks to some sweet, though slightly too light additions - Peachette in particular - New Super Mario Bros. U Deluxe is really for everyone now.
Review in French | Read full review
New Super Mario Bros. U Deluxe offers the fewest new additions when it comes to Wii u ports for the Nintendo Switch and still starts as full price title. If you never played a New Super Mario Bros. you'll get a varied multiplayer adventure with Super Mario and his friends. For everyone else: Peachette is definitely not enough to justify buying the game again on the Switch.
Review in German | Read full review
It's the best Super Mario 2D experience for more than 25 years and a welcome addition to the Switch's library. If you've not experienced it before then you'll be in for a treat. Those that purchased this on the Wii U, however, are probably best off avoiding it. For everyone else, it's a treat.
As a carefree way to fritter away a few hours with friends, New Super Mario Bros. U Deluxe fits the bill. As an entry in one of the premier franchises in gaming, the adherence to tradition and generic "New" theming leave this one missing the mark.
For newcomers who haven't experienced it, this is still a very good game; one that's aged well. But for returning players, there just isn't quite enough to warrant another go.
The tweaks mostly relate to Toadette/Peachette and Nabbit as playable characters, but nothing really stands out.
As far as Switch ports from the Wii U go, this is right up there with the best. Nintendo has done just enough to make it look and feel better than I remember on the Wii U.
This is definitely its best version thanks to the addition of Toadette. But New Super Mario Bros. U lacks imagination, and bringing it to the Switch doesn't solve that problem.
It's definitely a great game and playing it on Switch is certainly the way it was always meant to be played
The new Mario is like having a delicious pizza at your favorite restaurant; it's fun every time. The decorations of the restaurant might change in years but the taste of your pizza is the same, you won't regret it but if you look for something new, maybe you should go for another restaurant.
Review in Persian | Read full review
Nintendo Enthusiast
7 / 10.0
I have to say, overall, I found New Super Mario Bros. U Deluxe to be a bit of a disappointment. It isn't that it's a bad game, far from it in fact. However, it is one of the weaker Mario games.
Mario and Luigi are as agile as ever in Nintendo Switch's latest remaster, but they're starting to show their age.
But due to the success of the platform, it also finds itself competing with many stellar indie platformers in a way that Super Mario Odyssey never did.
New Super Mario Bros. U Deluxe is all things you want from a traditional side-scrolling Mario game. It is fun, creative and the platforming feels great. However, while the few additions do bring something new, after finishing it - it felt a little like seeing James Bond ordering tea at the bar. He may ask for it "shaken, not stirred" and it may be really good tea, but it's missing that 'kick' to make it truly cool and special again.
Compared to the classic 2D Super Mario games this is disappointingly anodyne, but it's still competently made platform fun that can be enjoyed by everyone.
New Super Mario Bros. U Deluxe is a huge amount of great 2D Mario (and Luigi) platforming and it's at its easiest to pick up and play on Switch, but even with the sheer volume of content this doesn't really feel like a 'Deluxe' game. Toadette's easier gameplay comes at the cost of a regular difficulty fourth character, and makes for a token appearance of Peach as a playable character, while the best all round multiplayer fun has been left behind with the Wii U's GamePad.
New Super Mario Bros. U Deluxe bundles New Super Mario Bros. U and the much, much harder New Super Luigi U into a single package on the Switch. The combo will satisfy any fan of old-school Mario platformers.
The latest Wii U game to receive a (full price) Switch port doesn't do much new.
This game maintains its fun level design, but once you stack it with modern platforming games you start to see it's very dull.
Review in Arabic | Read full review
New Super Mario Bros. U Deluxe is a game that would have benefited from being released in a vacuum. As it stands, this package is one that can neither live up to Nintendo's own suite of contemporary 2D platformers or the Deluxe moniker it is tagged with. Even beyond this point, the game is little more than a window into a bygone era of Nintendo. Offering simple, polished platforming action, this title is suited only for those who have exhausted the genre's other options on Nintendo's hybrid system.
The Wii U was one of Nintendo's biggest failures but despite this, the system has some strong exclusives and New Super Mario Bros. U was not one of them. Given the Nintendo Switch's large success Nintendo decided to release the title for the Nintendo Switch with all the DLC, gameplay tweaks, a new character, and powerup. While the changes definitely improve the experience New Super Mario Bros. U Deluxe still remains a weak installment in the 2D platforming franchise.
While it's not groundbreaking like Super Mario Odyssey, New Super Mario Bros U Deluxe is still a really solid, addicting platformer with plenty of fun to be had, especially when playing it with friends.
With straightforward 2D linear play this game can feel anachronistically flat – but chaotic multiplayer action is where the infectious fun lies
If you played New Super Mario Bros. U the first time around, it's hard recommending its Deluxe iteration unless you simply can't be bothered to plug in your Wii U again. However, if you were waiting all these years for an easy mode, playing through the game as Toadette will surely satisfy.
New Super Mario Bros. U Deluxe is a bland and unambitious game and overall a disappointing start to the new year