Percentile Rank
Unruly Heroes is ranked in the 73rd percentile of games scored on OpenCritic.
Rating Summary
Based on 49 critic reviews
OpenCritic Rating
Based on 49 critic reviews
Score Distribution
Unscored Reviews
Unboxholics
Worth your time
Unruly Heroes is not a revolution for the genre, but there are plenty of elements that make it look fresh and unique.
Review in Greek | Read full review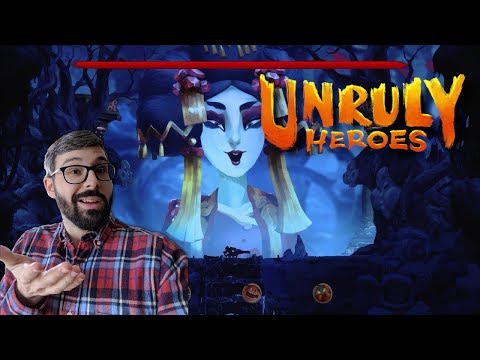 Scored Reviews
Today, the genre games of the platforms have gone beyond what many expected, since the creation of the first Super Mario Bros.
Review in Spanish | Read full review
It would need combat that is fluid and challenging. And it would probably need lovely visuals that make it all a joy to look at. I don't know if perfection is a rational goal, but I can say that Unruly Heroes has come as close to platforming perfection as any game should be expected to and it'd be a mistake to miss it.
Unruly Heroes is superb action game destined to go down as one of this year's sleeper hits.
I honestly don't think you'll find a more stunning looking 2D puzzle-platformer on consoles then Unruly Heroes. Whether you're playing it with up to three of your friends locally, or on your own and swapping between the four unlikely heroes, you're sure to find hours of entertainment as you try and beat your best times and collect all the coins and scrolls. Each new area you venture into presents you with a new gorgeous environment filled with enemies, puzzles and platforming, as well as a lot of one-hit deathtraps which can get a bit frustrating. However, the overall experience you get is like no other game within the genre which has been released in the last few years, it truly is a delight to play.
If you don't want to go on this adventure alone Unruly Heroes can even be played with up to four players locally. There's also a PvP mode if you wish to test your skills against your friends. Pick up Unruly Heroes now for a wildly exciting adventure.
Unruly Heroes is a wonderfully enthralling adventure thanks to its striking visuals, impressive variety and clever mix of platforming, puzzles, and combat. What might at first seem like a fairly ordinary platformer reveals itself to be much more not only helping it stand out from an already crowded genre on Switch but surprise players in a great way.
Unruly Heroes is a truly engaging platforming Action title. It hits all the highs of the genre and manages to avoid many of the pitfalls typical of the genre. From solid combat to unique design and mechanics, it's a title that offers an engaging experience for both veterans and novice players. If you're looking for a new platformer to pick up Unruly Heroes is one worth considering.
This Unruly Heroes is a very pleasant surprise. If you like 2D titles that mix platforms and action in equal parts, you will enjoy a lot with this title. Many describe it as a perfect mix between Rayman Legends and Trine, and they are right. He has a bit of both but he also shines with his own ideas. It's beautiful, it's long and it's a real challenge in many moments.
Review in Spanish | Read full review
Magic Design Studios' first game is a fun, engaging and beautiful experience. Unruly Heroes' main theme is very similar to Rayman series that has been produced by the same creators. The gameplay is smooth and graphics are breathtaking, making Unruly Heroes one of the best platformer titles out there.
Review in Persian | Read full review
Unruly Heroes is a surprise, one that we had not seen coming and that makes the game one of those titles that, without getting too noisy, could perfectly sneak into the lists of many favorites at the end of the year.
Review in Spanish | Read full review
Apart from some uncomfortable sections due to commands that are not too reactive, this indie turns out to be a little gem to be played, maybe even in company.
Review in Italian | Read full review
Unruly Heroes is not a long game (8 hours), but it's tense and quite entertaining. It challenges both your reflexes and your brain, but it will also amaze you with its graphics, music and animations. If you're a fan of the genre, Unruly Heroes is a title you don't want to miss.
PlayStation Universe
8.5 / 10.0
A great 2D Acton Platformer with some impressive art design and animation. With plenty of collectibles to find and some strong level design, Magic Design Studios has a winner on their hands.
Unruly Heroes is a welcome surprise for this beginning of 2019: a 2.5D platform above the average, taken care of in every respect and, moreover, destined to give a rather interesting level of challenge.
Review in Italian | Read full review
Varied gameplay, fluid animations and beautiful landscapes make Unruly Heroes a platformer that's not to be missed.
Gorgeous to look at and very fun to play, Unruly Heroes is a pleasant surprise, especially good if you play it with friends.
Review in Italian | Read full review
Oyungezer Online
8.1 / 10.0
Unruly Heroes delivers an interesting story with a unique sense of humour, extraordinary visuals and enjoyable platform mechanics.
Review in Turkish | Read full review
Unruly Heroes is an exciting adventure platformer featuring varied combat mechanics and a fun story.
Cultured Vultures
8 / 10.0
Unruly Heroes is a quirky indie title with a price tag worth every penny for a gorgeous piece of gameplay and Chinese-inspired storytelling.
The Outerhaven Productions
In the end, Unruly Heroes is a lot of fun as both a game you can just sit back and enjoy with friends and family. It has all the makings of an entertaining platform, which you'll enjoy for hours on end. It also makes for a fun party game, just make sure you're not drunk – you might die a bit too much. I just wish the game lasted a bit longer than it did. However, if you enjoy platformers, I'd definitely recommend giving this game a try.
Unruly Heroes borrows from Rayman Origins, Trine, Guacamelee, but rather than a sum of references that would drain of his substance, the ideas of these titles that he makes his are magnified thanks to a controlled sense of rhythm, a constant renewal, a sublime artistic direction and an adventure full of humor. Like on a small cloud. Magical.
Review in French | Read full review
Wolf's Gaming Blog
4 / 5.0
Although not Earth-shatteringly original Unruly Heroes is a wonderful example of how to make an excellent platformer. It practically drips charm thanks to the outstanding visuals and strong music, yet underneath that is a game that feels great to play with a penchant for delivering smart gameplay twists which keep things fresh.
The ever-expanding Switch eShop has no shortage of excellent platformers under its belt, and while Unruly Heroes may not be the absolute best of the best, this is still one of the finest platformers we've played in a long time. Stunningly beautiful art direction coupled with diverse level design and well-paced gameplay makes this one an easy recommendation for both longtime platformer fans and for new players looking for an easier game to get into. It doesn't reinvent the wheel, but Unruly Heroes hits all the notes that it needs to, and it's more than deserving of a spot in your games library.
Mix Rayman's gameplay with Ori's art style, and you have Unruly Heroes. If you are a fan of either or both of those titles, you'll definitely have a great time playing Unruly Heroes.
Review in Persian | Read full review
These are very interesting but sometimes very frustrating challenges for monkey king and his friends.
Review in Slovak | Read full review
But for its claustrophobic close combat control system and difficulty spikes, Unruly Heroes is a fun and visually appeasing adventure platform worthy of your time.
Using Journey to the West more as a clever backdrop rather than outright adapting it, Unruly Heroes makes for a charming action-platformer that pokes fun at one of China's most important novels, while also crafting together a wildly fun experience. With four distinct characters to choose from across 29 visually stunning levels, and the journey to restore balance to Heaven and Earth results in rarely a dull moment. Toss in a surprisingly engaging combo system, on the fly character switching, and plenty of secrets to uncover to tie the package together, and Unruly Heroes winds up quite the formidable platformer.
It may look like just another 2D platformer yet Unruly Heroes provides challenging and unique gameplay that'll keep you hooked.
Unruly Heroes is a beautiful, fun and engaging platformer with enough charm and replayability to make it a solid recommendation to anyone.
While the story in Unruly Heroes is pretty forgettable the solid platforming, creative level design, and downright gorgeous visuals are worth the price of admission on this one. It won't wow you with its combat system but the rest of the package just might. This should be on the to-play list for anyone who enjoys platformers.
The artstyle, playstyle, music, and dedication that was put into the project speaks for itself. With such a low price-tag, there is very little reason to not give Unruly Heroes a playthrough of your own, be it solo or with friends.
While reading this review, you'd have noticed that I've barely mentioned the game's story and characters. That's because the story and characters in Unruly Heroes are both lackluster. Also, the voice acting is amateurish and the dialogue is a bit too self-aware for its own good. Don't expect this game's plot to blow you away since, at best, it's functional and inoffensive.
A solid platforming experience, Unruly Heroes biggest issue is less its mechanics, and more its overall presentation. Stylish to a point, even its cartoonish aesthetics can't help but see it struggle to stand out.
Just Push Start
3.75 / 5.0
Unruly Heroes has a lot of charm and is certainly fun enough to give it the time of day. Sure, the story is nothing new and the gameplay isn't going to turn heads but every game doesn't need to stand out in every way to be fun or entertaining. With a lovely art style and solid combat, it's easy to see the value if you enjoy platformers or games with simple combat systems.
Unruly heroes is a beautiful and delightfully charming game, with everything in it looking hand-painted, brought to life by magical animation. It's a pity that imprecise controls make its difficulty curve more frustrating than it should be though. A lacking bit of spit and polish prevent Unruly Heroes from being an outstanding action platformer.
Reno Gazette-Journal
7.5 / 10.0
Journey to the West meets Rayman in this reimagining of the classic Chinese tale. Unruly Heroes features gorgeous, fluid visuals and creative character designs that impress. Some of the tougher sections can feel a bit cheap and the lack of online co-op is a bummer. If you're pining for a classic platformer with modern touches, however, this journey just might scratch that itch.
Unruly Heroes is far from a bad game. In fact, it has some of my favorite platforming of recent memory, at least in terms of pure gameplay. It just lacks the polish needed for platformer completionists like me, and it's uncompelling story and music did not help. At least the developers are supporting it with content, despite it being months after its launch. If you are looking for an affordable platformer, this game is a must, but don't expect to be putting in the same hours as Yoshi's Crafted World.
Unruly Heroes takes advantage of a popular and complicated story, simplify and mix it with a solid artistic design, throw in a gameplay full of content but without any notable innovations, and finally creates a pleasant experience for almost any type of gamer.
Review in Persian | Read full review
Unruly Heroes is a solid game, a good game, a fun game, it just isn't a brilliant game. All of the components are fun, the visual style is lovely, the characters are easy to use and the puzzles don't make you want to throw your Switch at the cat. Those are all good qualities, but it just lacks that little bit extra that would turn it into a great game, a must-play. You aren't going to walk away with a new appreciation of life or Journey to the West, just a feeling of "Yeah, that was a laugh."
Entertainment Buddha
70 / 100
Unruly Heroes is a new multi-platform title from Magic Design Studios that features Action/Adventure style gameplay set in a beautiful looking, mystical land, with a narrative based on the Monkey King Legend. Its mix of platforming, combat, and puzzle-solving offers up a nice variety of gameplay, and while the combat controls leave much to be desired and can cause a bit of rage at times, the overall experience is still pretty enjoyable.
Unruly Heroes is an incredibly beautiful platformer with a nice co-op, puzzles and superfluous PvP mode, which lacks polishing in some aspects. It's still worth a try if you like this genre, but keep in mind that this is not Rayman Legends, although it's very similar.
Review in Russian | Read full review
Unruly Heroes is a decent action-platformer that has a fantastic art style and genuinely looks beautiful. The platforming and combat, for the most part, is sound, with a huge amount of variety to find in the levels. However, the controls can be a little unresponsive and the game does have issues with some very forced 'comedy', though comedy is always subjective. Is Unruly Heroes worth buying? For what is a reasonably low price, it is a decent title to pick up and is worth spending some time with.
Unruly Heroes features a mix of platforming and combat with four characters that you can switch between on the fly. With a handful of interesting bosses and plenty of mechanical variation between levels, the game never locks you into one style of play for too long. Ultimately, though, I didn't find any part of it that much fun to play, which wasn't helped by its leaden controls and uneven difficulty.
Unruly Heroes is one of those games that has a great amount of potential, but there are just so many little issues holding it back.
With a little more polish, this could've been one of PS4's better indie platformers. As it stands, Unruly Heroes is a beautiful game with gameplay flaws putting a dampener on things. It's largely a fun game to play, especially in co-op, but controls aren't as tight as they should be, and combat devolves into button mashing territory all too easily. The result is a decent, if unremarkable, side-scrolling action title.
Unruly Heroes is a game of boinks and swooshes. Everything bounces around weightlessly and nothing makes sense. The rhinoceroses don't charge, the spears don't chunk into wood, and the thrown enemies have no impact whatsoever. The voice acting is aggressively bad, the writing is lifeless, and the game itself is devoid of personality. It is white bread. It is room-temp tap water. It is not worth your time.