Unruly Heroes is not a long game (8 hours), but it's tense and quite entertaining. It challenges both your reflexes and your brain, but it will also amaze you with its graphics, music and animations. If you're a fan of the genre, Unruly Heroes is a title you don't want to miss.
Unruly Heroes is a solid game, a good game, a fun game, it just isn't a brilliant game. All of the components are fun, the visual style is lovely, the characters are easy to use and the puzzles don't make you want to throw your Switch at the cat. Those are all good qualities, but it just lacks that little bit extra that would turn it into a great game, a must-play. You aren't going to walk away with a new appreciation of life or Journey to the West, just a feeling of "Yeah, that was a laugh."
Gorgeous to look at and very fun to play, Unruly Heroes is a pleasant surprise, especially good if you play it with friends.
Review in Italian | Read full review
This Unruly Heroes is a very pleasant surprise. If you like 2D titles that mix platforms and action in equal parts, you will enjoy a lot with this title. Many describe it as a perfect mix between Rayman Legends and Trine, and they are right. He has a bit of both but he also shines with his own ideas. It's beautiful, it's long and it's a real challenge in many moments.
Review in Spanish | Read full review
It would need combat that is fluid and challenging. And it would probably need lovely visuals that make it all a joy to look at. I don't know if perfection is a rational goal, but I can say that Unruly Heroes has come as close to platforming perfection as any game should be expected to and it'd be a mistake to miss it.
Unruly Heroes is a welcome surprise for this beginning of 2019: a 2.5D platform above the average, taken care of in every respect and, moreover, destined to give a rather interesting level of challenge.
Review in Italian | Read full review
The ever-expanding Switch eShop has no shortage of excellent platformers under its belt, and while Unruly Heroes may not be the absolute best of the best, this is still one of the finest platformers we've played in a long time. Stunningly beautiful art direction coupled with diverse level design and well-paced gameplay makes this one an easy recommendation for both longtime platformer fans and for new players looking for an easier game to get into. It doesn't reinvent the wheel, but Unruly Heroes hits all the notes that it needs to, and it's more than deserving of a spot in your games library.
Unruly Heroes borrows from Rayman Origins, Trine, Guacamelee, but rather than a sum of references that would drain of his substance, the ideas of these titles that he makes his are magnified thanks to a controlled sense of rhythm, a constant renewal, a sublime artistic direction and an adventure full of humor. Like on a small cloud. Magical.
Review in French | Read full review
In the end, Unruly Heroes is a lot of fun as both a game you can just sit back and enjoy with friends and family. It has all the makings of an entertaining platform, which you'll enjoy for hours on end. It also makes for a fun party game, just make sure you're not drunk – you might die a bit too much. I just wish the game lasted a bit longer than it did. However, if you enjoy platformers, I'd definitely recommend giving this game a try.
Mix Rayman's gameplay with Ori's art style, and you have Unruly Heroes. If you are a fan of either or both of those titles, you'll definitely have a great time playing Unruly Heroes.
Review in Persian | Read full review
Unruly Heroes is one of those games that has a great amount of potential, but there are just so many little issues holding it back.
Unruly Heroes delivers an interesting story with a unique sense of humour, extraordinary visuals and enjoyable platform mechanics.
Review in Turkish | Read full review
Magic Design Studios' first game is a fun, engaging and beautiful experience. Unruly Heroes' main theme is very similar to Rayman series that has been produced by the same creators. The gameplay is smooth and graphics are breathtaking, making Unruly Heroes one of the best platformer titles out there.
Review in Persian | Read full review
Although not Earth-shatteringly original Unruly Heroes is a wonderful example of how to make an excellent platformer. It practically drips charm thanks to the outstanding visuals and strong music, yet underneath that is a game that feels great to play with a penchant for delivering smart gameplay twists which keep things fresh.
Today, the genre games of the platforms have gone beyond what many expected, since the creation of the first Super Mario Bros.
Review in Spanish | Read full review
An easy recommendation for platforming and action-adventure fans.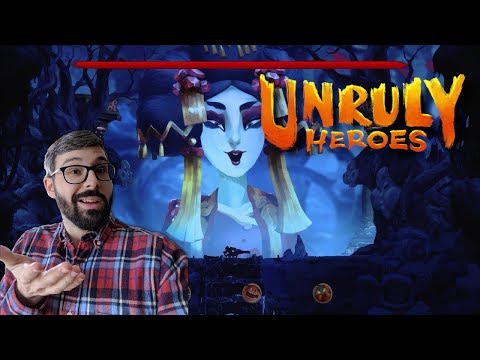 Unruly Heroes is a truly engaging platforming Action title. It hits all the highs of the genre and manages to avoid many of the pitfalls typical of the genre. From solid combat to unique design and mechanics, it's a title that offers an engaging experience for both veterans and novice players. If you're looking for a new platformer to pick up Unruly Heroes is one worth considering.
Unruly Heroes is a quirky indie title with a price tag worth every penny for a gorgeous piece of gameplay and Chinese-inspired storytelling.
Unruly Heroes is a new multi-platform title from Magic Design Studios that features Action/Adventure style gameplay set in a beautiful looking, mystical land, with a narrative based on the Monkey King Legend. Its mix of platforming, combat, and puzzle-solving offers up a nice variety of gameplay, and while the combat controls leave much to be desired and can cause a bit of rage at times, the overall experience is still pretty enjoyable.