Percentile Rank
Fire Emblem: Three Houses is ranked in the 98th percentile of games scored on OpenCritic.
Rating Summary
Based on 106 critic reviews
OpenCritic Rating
Based on 106 critic reviews
Score Distribution
Unscored Reviews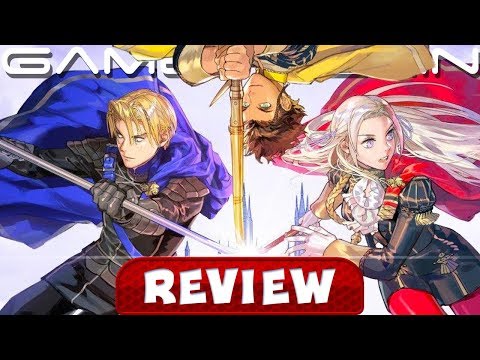 Fire Emblem goes back to school for the most epic, generous and dynamic outing for the series yet.
Unboxholics
Worth your time
Fire Emblem: Three Houses is a gaming oasis in the 'dry' months of summer.
Review in Greek | Read full review
Three Houses is a promising first step towards a new era for Fire Emblem, and a solid foundation for the next games to come. While it does lack challenge and depth in exploring the monastery, it excels in other areas, mostly in its rich and captivating universe, unique characters and advanced turn-based combat. The journey to the grand finale is long, but it's a memorable one that will please not just long-time Fire Emblem fans.
Review in German | Read full review
Checkpoint Gaming
Liked-a-lot
...interesting maps and epic military adventures from older titles, while building on the newer aspects we've come to expect from the 3DS games.
[Warning: This review contains spoilers] The gameplay in Three Houses feeds into the story elegantly.
The lack of map diversity doesn't take away from the visual splendor of the game, though. While much of Three Houses is seen from an overhead perspective, initiating combat zooms the camera in, showing off gorgeously animated soldiers in combat. During a particularly tense battle, Claude, the house leader of the Golden Deer, tosses an arrow into the sky before catching it and firing off a critical hit to take out a pesky enemy pegasus moving in on my healer. These flashy moments happen all the time and are unique to the two dozen classes in the game, so there's always some new animation to get pumped over.
Scored Reviews
Fire Emblem: Three Houses fully realizes a new, meaningful direction for the franchise that makes it the best it has ever been.
Whatever path you choose, Fire Emblem: Three Houses is an absolute blast. It's the best Fire Emblem title since Awakening, and it goes straight onto my list of must-play Switch games.
The Digital Fix
10 / 10.0
Fire Emblem: Three Houses is a masterwork in the strategy RPG genre. Everything about it is honed, polished and customizable in such a way that series veterans and new players alike can jump in and find a staggering amount of fun, challenge and charm.
With lovable characters, a deep combat system with great improvements, an interesting story and a beautiful presentation, there's very little not to adore about this Switch title.
If you own a Nintendo Switch and you're a fan of Turn-based JRPGs, Fire Emblem: Three Houses should be on your "Must buy" list right now. It comes highly recommended and will keep you busy for hours and hours on end.
Fire Emblem: Three Houses is a true masterpiece of strategy game design. If this is where the franchise is going, I'm very excited for its future.
Fire Emblem: Three Houses is both a cumulation of everything that makes the series so good, and an evolution of its shortcomings. Learning from past successes and failures, it stands proud as an experience accessible to the masses, with the core balance still intact. In this nest of choice and freedom still exists the linearity and resource management I personally adore. For those who want everything, it's there for the taking. For those who want a classic experience, you can pave through the game. For those wanting a fantastic Fire Emblem experience, look no further.
Cheat Code Central
4.8 / 5.0
It's a fantastic game that will easily become one of the NIntendo Switch's most memorable titles.
Fire Emblem: Three Houses is a tactical role-playing gem that manages to offer up one of the most engaging gameplay loops in recent memory, while also being buoyed by an epic narrative that boasts an endearing cast of characters
Fire Emblem: Three Houses combines fun social elements and tense strategy combat wonderfully, making it hard to put down
I cannot stress enough how much Fire Emblem: Three Houses exemplifies the "RPG" part of the acronym "SRPG." While strategy is indubitably a large part of Fire Emblem's DNA, the vast majority of my enjoyment was found having lunch with classmates and getting to know them better, or doing errands while running around the lovely academy grounds. This is a world you can absolutely lose yourself to for months on end, but if you find menus tedious, you might be reticent to the modern relationship-heavy Fire Emblem formula that's cemented in Three Houses.
The academic theme suits Fire Emblem very well. Developing the potential of our charismatic students, we feel like authentic teachers, and fighting with all these characters in such epic and deep battles, after shaping them in the classroom, is a real joy.
Review in Spanish | Read full review
Nintendo Enthusiast
9.5 / 10.0
I have never beaten a sixty-hour game and immediately wanted to jump back in for round two. Fire Emblem: Three Houses pulls you in with its rock-solid grid-based combat. But it keeps you invested by offering rich characters, deep squad customization, and an enthralling story that keeps you guessing. It's is easily the best RPG of 2019—so far.
This is a fantastic installment for returning fans or newcomers playing for the first time.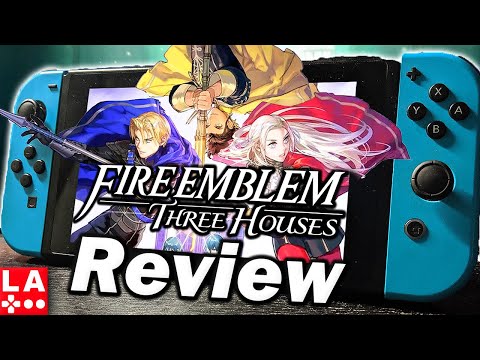 A story that fills you and keeps you on the edge of the seat at all times, endearing characters that grow before our eyes, battles full of adrenaline, a master map design, relationship system worthy of a separate game and other elements, make this new Switch exclusive an adventure that I am sure, we will not forget in a very good time.
Review in Spanish | Read full review
Fire Emblem: Three Houses offers an incredible amount of choice, and a story that deserves to be viewed from more than one angle.
Fire Emblem: Three Houses feels like the culmination of a decade of experimental Fire Emblem games that bring the best out from each entry into a single package. It might not be the best one in the series, but it is easily the most enjoyable one so far.
While the narrative has similar beats, the wide cast of eccentric personalities more than makes up for it. The tactical battles of course are still as engaging as ever. If you have never ventured into turn-based strategy games, it doesn't get any better than Fire Emblem: Three Houses.
Fire Emblem: Three Houses excels in almost every aspect. The combat feels fresh and extremely fun. Meanwhile, the story will keep you engaged all the way to the end of its duration. It's just so close to total perfection, were it not for the lacking difficulty and the average performance on the Switch.
Fire Emblem: Three Houses was a long time in the making and, thankfully, was well worth the wait. It's impossible to put down, bringing a deep story that involves true character development across a diverse cast, all voiced to perfection. It looks glorious and has epic turn-based battles to boot. This is a must-own game for every Switch owner.
Fire Emblem: Three Houses is the best Fire Emblem game since 2005's Path of Radiance. Players who skipped Shadows of Valentia may find a lot of things strange and different at first, but it all fits together so well that it starts to feel natural pretty quickly. Even if you don't know what you're doing in the beginning, you can still succeed and enjoy playing in the long run. The story is fascinating, the characters are lovable and entertaining, and the presentation is great.
Fire Emblem: Three Houses offers an incredible experience from beginning to end, although the "end" is not really the END, as the story certainly deserves to be viewed from more than one perspective.
For anyone looking for a game that will hold them for weeks and potentially even months on end, Fire Emblem: Three Houses will be happy to educate you on the fine points of strategy RPGs.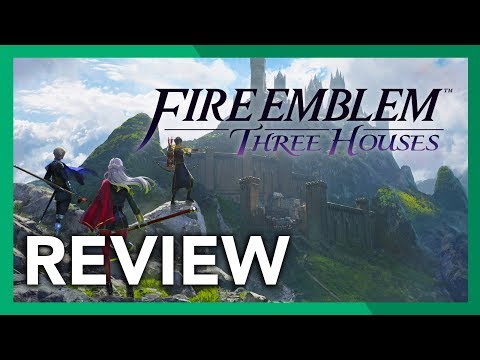 Fire Emblem: Three Houses blends together its masterfully refined social and battle systems to create one of the best in the series.
By fully taking advantage of its medium Fire Emblem: Three Houses tells a compelling story and makes you feel part of it by letting you take a side in a complex and morally grey conflict. Gameplay wise, Thee Houses delivers a fun and accessible strategy RPG that has everything that Fire Emblem fans have loved through the years. One of the best Nintendo Switch exclusives so far.
Review in Spanish | Read full review
Fire Emblem: Three Houses is the perfect step forward for an almost-three-decade-old tactical RPG franchise. Incredibly huge and still incredibly fun.
Review in Italian | Read full review
Fire Emblem continues to be a franchise on the rise, and Three Houses just took the series to another peak.
There was a lot riding on it, but we can confidently say that Fire Emblem: Three Houses has managed to live up to the hype and will stand as a highlight in the series for years to come.
Fire Emblem: Three Houses can best be summed up as a carefully crafted mix of old and new that feels comfortable to pick up, though perhaps its new mechanics take a while to get accustomed to.
All in all, Fire Emblem: Three Houses does a great job of bringing the series to the Nintendo Switch.
Fire Emblem: Three Houses brings the tactical and emotional goods to the Nintendo Switch; despite some rough spots, this entry is a series best.
Fire Emblem: Three Houses soars on to Switch with a fully-realized school setting, deep character customization, and multiple full-length campaigns. While it loses momentum in the second half, it still manages to come off as a striking reinvention of the well-worn Fire Emblem formula. That makes its first real console appearance in more than a decade a triumph.
Three Houses is so vibrant that I didn't really mind the lack of difficulty. I was too invested in the characters, and looking forward to the next major plot point too much to really care. It can be bloated, messy, and unnecessarily padded with content at times, but when it comes to the core strengths of Fire Emblem - its character-driven epic fantasy, tight tactical battles and a full harem of both waifu and husbandos, Intelligent Systems have delivered something truly resonant with this one.
Fire Emblem: Three Houses is, quite possibly, the most ambitious JRPG you'll play this year. And perhaps the most impressive part about the whole game is that it actually manages to deliver on that ambition.
Fire Emblem: Three Houses is an inspired innovation of a time-tested franchise, providing the same tactics fans love in a much more inviting package.
Fire Emblem: Three Houses doesn't change how it plays on the battlefield, but its greatest advancements lie in the moments between the horror of war. The bonds forged between comrades in arms, the drive to really get to know the cast who you spill blood with and the opportunity to truly learn about the finality of death all combine across a vast and sweeping fantasy epic that'll leave you breathless by the time the credits finally roll.
Fire Emblem: Three Houses is a fantastic entry in the series, and has quickly become one of my favorite RPGs of the modern era.
Fire Emblem: Three Houses is a triumphant RPG experience and one of the greatest games you can play on Nintendo Switch right now. It takes the series' formula and propels it forward with some fascinating new changes, and every single system works in tandem to create something rather stunning. Technical blemishes aside, Intelligent Systems has really outdone itself here.
With the Switch's delightful dual abilities, Three Houses fittingly bookends the series' triumphant run on the 3DS and becomes the first big-screen outing in over a decade. It also surpasses them all. A masterpiece of strategy, story-telling and intertwining relationships, Three Houses deserves to make Intelligent Systems a household name.
The Games Machine
9 / 10.0
Fire Emblem: Three Houses succeeds in bringing a breath of fresh air into a saga that is perhaps too anchored to its own style, it does so by renewing the experience without losing sight of the deep strategic soul that has always been the trademark of Intelligent Systems' works. The pace of the game may seem a bit diluted to the most fundamentalist fans, but the overall result is, in our opinion, absolutely convincing and worthy.
Review in Italian | Read full review
The series found a comfortable stride in the handheld world, and moving away from that isn't always a strong step – so it's a good thing that the Switch is a little bit of both worlds. The game is great for playing in short bursts, with even ten to fifteen minutes feeling like enough to really get something done, even if it's just returning a bunch of lost items to your units in the monastery to boost your support links. The characters are endearing and help draw you into the world and its story, complete with divine mysteries to carry you through the school year.
Fire Emblem: Three Houses is the most fascinating tactical RPG with interesting battles and story, great world and charismatic characters. If you are not indifferent to the genre of role-playing games, this project should not be missed.
Review in Russian | Read full review
Fire Emblem: Three Houses is unrivaled in its scope and execution on Nintendo Switch to resoundingly deliver strategic perfection, whether at home or on the move. With a memorable cast of characters each with their own motivations – complemented with remarkable voice acting – it is the meticulous worldbuilding that elevates it to become one of the best games available on the portable home console. More than that, it's Fire Emblem at its very best.
Fire Emblem: Three Houses offers a massive amout of content that will keep you engaged for more than 80 hours (and that's just one house-line)
Review in Slovak | Read full review
Fire Emblem: Three Houses is the evolution the series needed, a tour de force that manages to gives a more accessible adventure without losing it's soul. The combat is fantastic, strategic and unforgiven if you're not prepared; but it's the social part and expansiveness of it's mechanics that keeps shining, even after 70 or 80 hours of gameplay. If you love the genre, this is a must buy.
Review in Portuguese | Read full review
Three Houses is fantastic in terms of story-telling, relationship management, and graphics performance. Three different and engaging storylines make the game worth playing multiple times. Although some parts of new game mechanics don't work perfectly, the core strategy elements are great as usual.
Review in Chinese | Read full review
Fire Emblem: Three Houses is the definitive Fire Emblem experience, with a compelling story, streamlined gameplay, and a staggering amount of content.
Fire Emblem: Three Houses is a game that is mechanically complex, consistently rewarding, and very hard to put down.
The Outerhaven Productions
Fire Emblem Three Houses had a lot to live up to, but in the end, the game is deep on every level imaginable. Great story, great characters, great customization and freedom to choose your teams how you want to, and more. If you love Fire Emblem, or have been meaning to try it out, get Three Houses and start your LONG journey!
Fire Emblem: Three Houses is a very strong contender for the best Fire Emblem game. Pretty much every change to the systems is a smashing success, the storyline is fun and engaging, the characters are likeable, and the presentation is excellent. It's possible that the combat changes won't work for every fan of the franchise, but they feel like the series' strengths have been refined, without the plot weaknesses that hurt Fates. Three Houses is a must-have for tactical gamers, fans of the franchise, or anyone who's looking for a solid JRPG on the Switch.
Edelgard's Black Eagles is an engaging route that you should take if you want a road filled with intrigue, betrayal and action. Siding with The Adrestian Empire shines a whole new light on the events of the game, and at times you may even question your allegiance. At the end of the day, there can only be one ruler of Fódlan and Edelgard is the right choice… at least for your first playthrough.
Fire Emblem: Three Houses is far from just an upscaling of the 3DS games. It's an evolution for the series which makes it appealing and accessible even to those who aren't crazy about strategy RPGs. It's a great gateway for the genre and another excellent addition to the Switch library.
Three Houses offers one of the best stories in the Fire Emblem series since its revival on 3DS. The characters are all brilliantly written and none ever feel like their conversations fall flat.
Fire Emblem: Three Houses might be the best Fire Emblem game yet, and the best strategy JRPG I've played in years. Whether you're totally new to the series or a lapsed fan, this is an essential Nintendo Switch game for any JRPG fan. The links above are affiliate links. As an Amazon Associate, Wccftech.com may earn from qualifying purchases.
Fire Emblem attains an especially epic, moral grandeur with this game's focus on the interplay between education and religion.
Fire Emblem: Three Houses stands tall as a true step forward for the franchise both in terms of presentation and gameplay, which I am certain will propel the series to yet another level of relevancy and popularity.
With an epic story, lasting consequences for decisions, and combat that's more enjoyable than ever, Fire Emblem: Three Houses is sure to satisfy.
Intelligent Systems and Koei Tecmo have managed to find the key in getting the new installment of the franchise to face new challenges and, at the same time, leave intact the molds that were already established in the past.
Review in Spanish | Read full review
Reno Gazette-Journal
9 / 10.0
Fire Emblem: Three Houses marks another stellar entry in a beloved series that continues to find ways to keep the experience fresh even after three decades. From its improved presentation and solid voice acting to its deep combat system and compelling narrative, Three Houses serves up a lot of meat that fans of the long-running franchise will gobble up. The main character admittedly can feel wooden at times and the school life part peters out a bit toward the end. Nearly 30 years after its humble beginnings, however, Three Houses is proof that Fire Emblem's flame continues to burn brightly.
Fire Emblem: Three Houses is another must-have release for the Nintendo Switch. Featuring some of the most robust and enjoyable turn-based combat around, along with characters you'll truly want to keep alive throughout the entire 50+ hour story.
The simulation elements and new concepts in combat add a welcome twist to Nintendo's typical formula that makes for a compelling cycle of tutoring and tactics.
During the whole time I was accompanied by a great and exciting story, beautiful visuals and pleasant music. The activities often took turns, and I always felt I was getting enough rewards for them. Fire Emblem: Three Houses is a terrific piece in the series and will entertain you for tens of hours.
Review in Czech | Read full review
The most ambitious and cared-for episode of the franchise to date
Review in Italian | Read full review
Fire Emblem: Three Houses is one of the greatest chapter of the series. With a deep and elaborate gameplay, this new episode represents another extraordinary game avaliable only on Nintendo Switch.
Review in Italian | Read full review
Demanding lap strategy, loveable characters and great story. But you have to like the social simulation.
Review in German | Read full review
The biggest Fire Emblem yet, the newest console entry delivers on tactical warfare as much as it does on story telling. With three different routes to go down, a large school to explore and so many characters to talk to Three Houses sets the new standard in the genre of strategic RPGs – and a high one it is.
Review in German | Read full review
Just Push Start
4.4 / 5.0
I could honestly spend a while explaining all the mechanics in Fire Emblem: Three Houses and probably not touch on everything. What is important is to understand what you're getting into. It's not a simple game or one that is overly combat driven like Disgaea. You can easily go hours without seeing a battlefield and then agonize about arguably tedious mechanics. This isn't to say it's a bad game, I'd say anything but, it's just important to understand it isn't meant for everyone and that is alright.
Rectify Gaming
8.8 / 10.0
Despite a lack of difficulty, Fire Emblem: Three Houses delivers one of the best games in a franchise with some already.
If you've had a Fire Emblem-shaped hole in your heart till now, Fire Emblem: Three Houses will leave you breathless, sleepless, and eager for more. I know I'll be lost in this new world for months to come.
Mighty Games Mag
87 / 100
Fire Emblem: Three Houses is the newest entry in the critically acclaimed Tactic-RPG-Series. It invents a few o fit core mechanics new and introduces a whole new part. The former round based tactic adventure now comes with a complete schoolsim.
Review in German | Read full review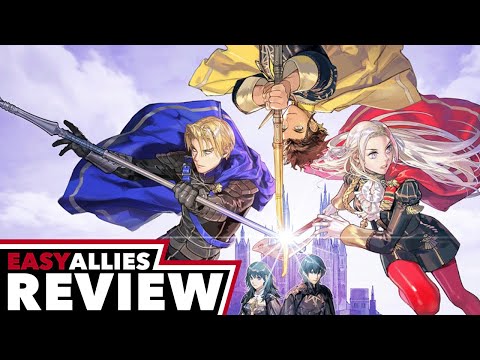 Fire Emblem: Three Houses is an excellent management title that catches you by the variety and depth of the gameplay. Although its main value is to allow the player to control so many factors in a simple and intuitive way, he perfects the formula with a very varied and complex narrative. In addition, it is one of the greatest exponents of turn-based combat games, since its battles have a learning curve suitable for engaging us for long hours. On the other hand, aesthetically has little to be ashamed of, since the really important sections are solved in a brilliant way like the CGI or the character design. Undoubtedly, a video game that requires dedication, but in return gives great doses of joy that result in many hours of deep management and exciting fighting.
Review in Spanish | Read full review
An engaging story and superb battle system keeps you coming back hour after hour, but Three Houses suffers from a lack of variety in the RPG sections.
It is strange to talk about pacing and bloat and a slow-moving plot when the turn-based battles are built on a foundation of 'taking your time to make the right move'. But in adding so much and painting on such a large canvas, it's hard not to eventually feel a little lost or stuck in Fire Emblem: Three Houses.
A very ambitious game with thorough lore and interesting characters, although it won't often challenge you if you are familiar with strategy RPGs.
Fire Emblem: Three Houses features some of the most refined and enjoyable battle mechanics the series has seen since its successful renaissance with Awakening. But the renewed focus on support relationships gets in the way of what some may have valued most from the franchise – the strength of its strategic design and the battles themselves. Regardless, it's hard to argue that Three Houses is the best Fire Emblem since Awakening, so it's still worth your time, even if you'll have to spend it wisely.
NintendoWorldReport
8 / 10.0
Combining the crapshoot of your ending with a few technical problems drags the whole game down. The actual character arcs, complete with fully voiced interactions, do a great job of accounting for the limitations, thankfully. Three Houses is certainly worth seeing through, but it is way more about the journey than the end.
This boarding-school daydream is grandiose and silly, but a gorgeous look and revised combat help it sing
There are a few prerequisites you have to meet in order to enjoy Fire Emblem: Three Houses for dozens of hours: you can't be weirded out by the Japanese weird, you have to accept the unique visual style and hundreds of silly (but mandatory) conversations and activities, including fishing, growing plants and eating soup. If you think you lack at least one of the above skills, we recommend finding another game.
Review in Polish | Read full review
Post Arcade (National Post)
8 / 10.0
Intelligent Systems tactical role-playing game looks and plays swell on Switch, but it also lowers the stakes of this stressful series
Fire Emblem: Three Houses features the finest game world, plot and gameplay of the series and even if certain aspects of its execution do raise some questions, its varied and rich world, high quality writing, exquisite soundtrack and the way its characters are shaped by the plot mean that nobody will be left untouched by this marvelous work, even if it might not be the ultimate Fire Emblem game that many expected.
Review in Portuguese | Read full review
Some will love it, and some will hate it. If you are halfway between the two, I honestly feel there is more chance you will like it. Love, Hate, and Maybe. While houses are sure to be divided, two out of three ain't bad.
Puritans who were discouraged by their predecessor can thus breathe peacefully. Fire Emblem: Three Houses shows that the series is back on its feet again, better than ever.
Review in Swedish | Read full review
This is one of the strongest releases on the Nintendo Switch in 2019 so far and is certainly worth playing, even for newcomers of the veteran series.
Fire Emblem: Three Houses is a fine example of brutal turn-based combat involving people you love. Get going in the game and you'll struggle to stop.
An intense game, one made for playing on a TV, that is enjoyable in its entirety, and even worth a replay or two for the different gameplay aspects and story. Even with a questionable difficulty option, this is one of the best strategy RPGs this gen.
Review in Arabic | Read full review
Geeks Under Grace
8 / 10.0
Fire Emblem: Three Houses makes a significant number of changes that breathe much-needed new life into the established series that can be refined to make better future titles.
In reinventing Fire Emblem for a new console generation, Three Houses doubles down on its philosophy of player choice, but neglects to make all choices equally valid.
New Game Network
71 / 100
Fire Emblem: Three Houses is a long and content-packed experience, which sometimes makes the grind become more pronounced. While I was able to ignore the dull elements for a long time, it eventually weighs the game down.
A disappointingly clumsy attempt to evolve the Fire Emblem formula, that takes little advantage of being on the Switch, but the anime melodrama and fun combat still entertains.
Fire Emblem: Three Houses is a tactical role playing game where tactic component is heavily overshadowed by the social activities and dialog-heavy story. Instead of fighting, you'll spend most of your time speaking, watching cutscenes and doing other unrelated to battles stuff.
Review in Russian | Read full review
As it stands, we think series veterans will be able to find enjoyment in this game, but we find it difficult to recommend it to newcomers.