Fire Emblem: Three Houses is the best Fire Emblem game since 2005's Path of Radiance. Players who skipped Shadows of Valentia may find a lot of things strange and different at first, but it all fits together so well that it starts to feel natural pretty quickly. Even if you don't know what you're doing in the beginning, you can still succeed and enjoy playing in the long run. The story is fascinating, the characters are lovable and entertaining, and the presentation is great.
Despite a lack of difficulty, Fire Emblem: Three Houses delivers one of the best games in a franchise with some already.
Fire Emblem: Three Houses is a long and content-packed experience, which sometimes makes the grind become more pronounced. While I was able to ignore the dull elements for a long time, it eventually weighs the game down.
Fire Emblem: Three Houses was a long time in the making and, thankfully, was well worth the wait. It's impossible to put down, bringing a deep story that involves true character development across a diverse cast, all voiced to perfection. It looks glorious and has epic turn-based battles to boot. This is a must-own game for every Switch owner.
With an epic story, lasting consequences for decisions, and combat that's more enjoyable than ever, Fire Emblem: Three Houses is sure to satisfy.
Fire Emblem: Three Houses stands tall as a true step forward for the franchise both in terms of presentation and gameplay, which I am certain will propel the series to yet another level of relevancy and popularity.
Fire Emblem: Three Houses offers an incredible amount of choice, and a story that deserves to be viewed from more than one angle.
Fire Emblem goes back to school for the most epic, generous and dynamic outing for the series yet.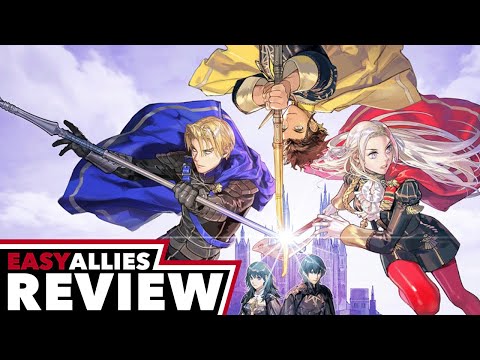 Fire Emblem: Three Houses fully realizes a new, meaningful direction for the franchise that makes it the best it has ever been.
A disappointingly clumsy attempt to evolve the Fire Emblem formula, that takes little advantage of being on the Switch, but the anime melodrama and fun combat still entertains.
Fire Emblem: Three Houses combines fun social elements and tense strategy combat wonderfully, making it hard to put down
Fire Emblem: Three Houses is a game that is mechanically complex, consistently rewarding, and very hard to put down.
The lack of map diversity doesn't take away from the visual splendor of the game, though. While much of Three Houses is seen from an overhead perspective, initiating combat zooms the camera in, showing off gorgeously animated soldiers in combat. During a particularly tense battle, Claude, the house leader of the Golden Deer, tosses an arrow into the sky before catching it and firing off a critical hit to take out a pesky enemy pegasus moving in on my healer. These flashy moments happen all the time and are unique to the two dozen classes in the game, so there's always some new animation to get pumped over.
[Warning: This review contains spoilers] The gameplay in Three Houses feeds into the story elegantly.
Fire Emblem: Three Houses soars on to Switch with a fully-realized school setting, deep character customization, and multiple full-length campaigns. While it loses momentum in the second half, it still manages to come off as a striking reinvention of the well-worn Fire Emblem formula. That makes its first real console appearance in more than a decade a triumph.
Fire Emblem: Three Houses is far from just an upscaling of the 3DS games. It's an evolution for the series which makes it appealing and accessible even to those who aren't crazy about strategy RPGs. It's a great gateway for the genre and another excellent addition to the Switch library.
I cannot stress enough how much Fire Emblem: Three Houses exemplifies the "RPG" part of the acronym "SRPG." While strategy is indubitably a large part of Fire Emblem's DNA, the vast majority of my enjoyment was found having lunch with classmates and getting to know them better, or doing errands while running around the lovely academy grounds. This is a world you can absolutely lose yourself to for months on end, but if you find menus tedious, you might be reticent to the modern relationship-heavy Fire Emblem formula that's cemented in Three Houses.
Intelligent Systems has created a delivery that results in one of those changes that benefit the industry and its players: the Fire Emblem saga might not be one that was made for everyone ... but this may change with Fire Emblem: Three Houses
Review in Spanish | Read full review
With the Switch's delightful dual abilities, Three Houses fittingly bookends the series' triumphant run on the 3DS and becomes the first big-screen outing in over a decade. It also surpasses them all. A masterpiece of strategy, story-telling and intertwining relationships, Three Houses deserves to make Intelligent Systems a household name.