Percentile Rank
Marvel Ultimate Alliance 3: The Black Order is ranked in the 56th percentile of games scored on OpenCritic.
Rating Summary
Based on 86 critic reviews
OpenCritic Rating
Based on 86 critic reviews
Score Distribution
Unscored Reviews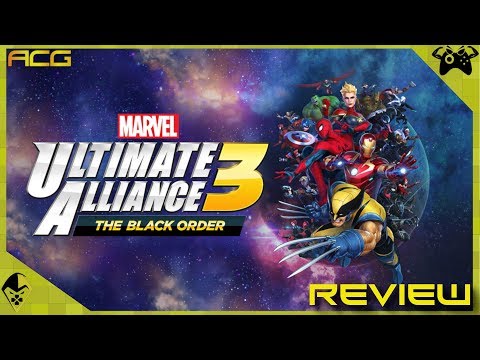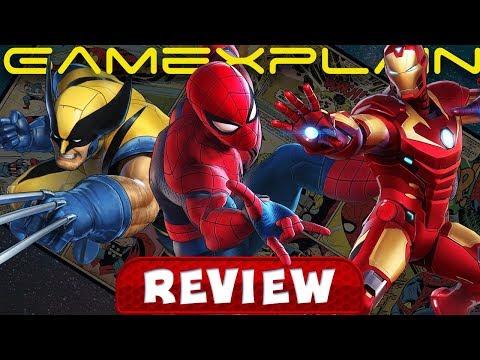 Eurogamer
No Recommendation / Blank
No Recommendation / Blank
Jul 18, 2019
With this surprise Switch exclusive, Nintendo has taken an old-school approach - for better and for worse.
...a game free of pretence, it just wants to take your favourite characters and smash them all together like a joyful child.
As a whole, Ultimate Alliance 3 is an immensely enjoyable game that really reminded me how much I love Marvel's wealth of characters.
Marvel Ultimate Alliance 3 is a love letter for Marvel fans and a great co-op experience, but there are many things holding me back from suggesting it to everyone.
Review in Greek | Read full review
[Review in progress] I've only scratched the surface of Marvel Ultimate Alliance 3: The Black Order. One thing's for sure already: I hope I'm not running down a single corridor for the entire duration of the game.
If an animated rehash of 10 years' worth of movies and television is the framing needed to get me an action role-playing game as rich, challenging and satisfying as Marvel Ultimate Alliance 3: The Black Order, then so be it.
Scored Reviews
There are also some minor frame-rate dips in handheld mode when things get particularly flashy on-screen, but not enough to ruin the experience. The camera can also be a bit finicky in enclosed areas, but these are small nitpicks.
Altogether, Marvel Ultimate Alliance 3 innovates upon the original titles, creating the first fully-rounded Ultimate Alliance title. The depth provided is welcomed, even if it did leave less time to polish synergy attacks and the camera controls. Whether you are looking for a Marvel game or just want a fully-fledged RPG, there is fun to be had with Ultimate Alliance 3.
This superhero packed action will take you about 10 hours, with all the additional challenges you could add another about 5 hours. If you love superheroes, co-op action or just a fun threshing game, I can highly recommend Marvel Ultimate Alliance 3.
Review in Czech | Read full review
With this super hero assemble Ultimate Alliance 3 don't have to hide behind the movies. Exploring every new hero, location and rank keeps on getting better and better over the course of the game. If you don't like marvel movies you still get a fun co-op gameplay paired with a lot of variation between the fights. Besides some camera issues and often losing sight of what is going on in the fights you get a good mix between powerful fights and lots of well known faces from the marvel universe.
Review in German | Read full review
While the game isn't perfect, this is easily the best Marvel Ultimate Alliance title. With a large and diverse roster, a fun story, and plenty of trials to keep you busy, the game is teeming with content. It's never been a better time to get some friends together, create a dream team of heroes, and just wreck house.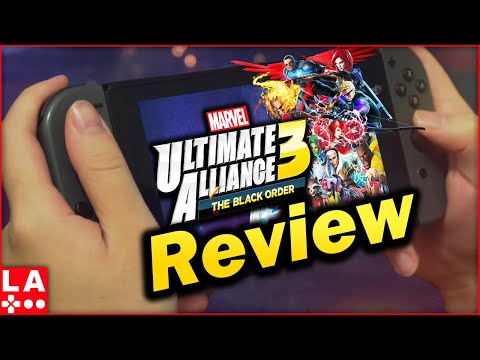 Ultimate Alliance 3 works great as fan service. It finds a good balance between "hack and slash" gameplay and RPG elements, yet combat mechanics are too simple.
Review in Spanish | Read full review
All nitpicks aside, there's a clarity of purpose in Marvel Ultimate Alliance 3. Along with the recent Spider-Man game, it really feels like a return to form for the entire universe of Marvel games.
I recommend Ultimate Alliance 3 to those who fell in love with the first 2 entries.
Review in Spanish | Read full review
Rectify Gaming
8.3 / 10.0
Team Ninja takes us for a ride with a great action RPG for any Marvel fan!
The Games Machine
8 / 10.0
There is a lot of fan service in Marvel Ultimate Alliance 3: The Dark Order and that's a smart move from Koei Tecmo and Team Ninja. The game is tailored around the expectations of Marvel's fans, with tons of characters and references to both movies and comics. Sure, cameras are bad and graphic is not so good, but superheroes lovers, the only target of the game, will not care about that too much.
Review in Italian | Read full review
Come for the crunchy combat and stay for the seductive systems that will keep you playing long after the compelling campaign has been conquered.
Marvel Ultimate Alliance 3: The Black Order isn't a groundbreaking, narrative-heavy reinterpretation of the comic characters you know and love, but then again neither were the first two games. In that regard, it's a very faithful sequel that mines the vast roster of characters from the comics while including plenty of nods to the current state of the more modern Marvel Cinematic Universe. While it doesn't do anything particularly new or outstanding, it embraces the brainless fun of its brawler combat with gusto, and it's at its absolute best when played with a team of player-controlled supers.
Marvel Ultimate Alliance 3 is a treat for any fans of the old games, or even just Marvel fans in general. The game manages to be welcoming to those with only knowledge of the MCU, or those that have a deep well of comic knowledge.
Marvel Ultimate Alliance 3: The Black order is the new Marvel game published by Nintendo. It presents us with a great combat in a dungeon crawler. The representations of the characters are unique in this post MCU world. It's repetitive, but it's really worth it
Review in Spanish | Read full review
A couple of stripped back features aside, Marvel Ultimate Alliance is a great series revival that should keep new and old fans busy for quite a while. With DLC coming later this year, it will only get better.
The long-dormant series returns in a superhero caper that excels because of its diversity and synergized action.
Hardcore Marvel fans will find a lot to love in Ultimate Alliance 3, straddling as it does the many eras of Marvel's history so well. For everyone else, Ultimate Alliance 3 is an entertaining and extremely fun game that is best experienced with others.
For a long time now, it's been great to be a Marvel fan, and now Ultimate Alliance 3 is another reason why.
Marvel Ultimate Alliance 3 is as good of a multiplayer brawler as it is an ode to the best of Marvel Comics.
Marvel Ultimate Alliance 3: The Black Order is a great beat-em-up game to play with friends. You might not be standing in a hot arcade pumping quarters into a machine, but trust me, this is the pure arcade experience brought to the modern age. Be ready to smash your head against tough bosses and hordes of enemies as you try to protect the universe from Thanos… again.
A last thought. This is a game which can be enjoyed by the entirety of the Marvel fanbase. It's nerdy enough for the hardcore (did we mention that Elsa Bloodstone is a playable character!). It's got every character those who've only ever seen the films would want to see.
Despite some heavy grinding to upgrade our characters, Marvel Ultimate Alliance 3: The Black Order is a fun game to sink hours with some of our favorite heroes, alone or with friends.
Review in Portuguese | Read full review
What it lacks in gameplay is made up with a huge playable character roster and a fun story. Marvel Ultimate Alliance 3: The Black Order is a great fanservice game especially if you have enjoyed the Marvel Cinematic Universe.
Marvel Ultimate Alliance 3 is a more-than-solid release that will interest most Switch owners. While some fans of the original games might have gripes, it's still likely to be a solid choice.
Geeks Under Grace
8 / 10.0
With its biggest roster to date, Marvel Ultimate Alliance 3 is filled with familiar fan favorites and a few obscure additions, but is slightly bogged down by a dated camera system and some oddly timed difficulty spikes which, if players can look past these few flaws, is still sure to be enjoyed and supported for years to come.
Marvel Ultimate Alliance 3: The Black Order is a welcome return to form for the 13-year-old franchise. Creating superhero dream teams is definitely the selling point here, but the execution does fall victim to a few stumbles.
Marvel Ultimate Alliance 3 retains much of the formula that made the original games the best of their genre.
With so many characters to level up, skill trees to unlocks, and crystals to collect there's tons to enjoy here long after the campaign finishes. Initial load times are bit a long, but once missions begins it's all action. All in all, Marvel Ultimate Alliance 3 is a superb game that should be enjoyed by Marvel and action fans alike.
Yet the combination is almost perfect in hindsight – Nintendo's Switch is well suited for such a co-op friendly game, while Team Ninja has made a name for itself with frantic action games like Ninja Gaiden the co-development of Hyrule Warriors with Omega Force. Combine those strengths with the massive IP potential of Marvel, and it's hard to go wrong.
Marvel Ultimate Alliance 3: The Black Order offers a thoroughly enjoyable romp featuring all of your favourite Marvel heroes, with the fun narrative and the action-packed showdowns with iconic villains providing plenty of thrills throughout. It's just a shame that some repetitive gameplay mechanics and a poor camera let it down in places, especially since everything else is of a high standard. Still, Marvel fans will undoubtedly appreciate what Team Ninja have done with the wealth of characters at their disposal, especially when you're marching them into battle together with a friend playing alongside you. It might be far from perfect, but there's enough quality shown in Marvel Ultimate Alliance 3: The Black Order for it to be an essential purchase for comic book fans.
Marvel Ultimate Alliance 3: The Black Order for Nintendo Switch is the fan service heavy franchise revival you were hoping for despite its flaws.
Ultimate Alliance 3 it's a good hack 'n' slash game, part old school and part new with the Team Ninja expertise.
Review in Italian | Read full review
Marvel Ultimate Alliance 3: The Black Order is a fun, if fairly simple, comic book beat-em-up that's enjoyable alone or with friends alike.
A superheroic beat'em up that may have been better with a more complex fighting mechanics or a bit more of ambition throughout the whole proposal, although it manages to be fun for a while.
Review in Spanish | Read full review
Marvel Ultimate Alliance 3: The Black Order doubles down on the formula that made the franchise so successful in the first place. It doesn't try to win you over with a crazy story, nor does it reinvent the wheel, but it gives you a healthy serving of the Marvel roster and leaves the rest up to you.
NintendoWorldReport
7.5 / 10.0
The environments, voices, and the general feel is strong. Obviously, the camera issues and endless corridors can drag down moments of the fun, but the action keeps everything flowing and enjoyable. The action never stops, which is the ultimate strength of the title.
Marvel Ultimate Alliance 3: The Black Order is a dream come true for any Marvel fan thanks to the huge character roster and the serviceable story involving the Infinity Stones. Sadly, the game may not be all that appealing to those who are not particularly invested in the Marvel universe, as the combat and RPG mechanics, while solid, lack depth. Marvel Ultimate Alliance 3: The Black Order gets quite repetitive after a while and the lack of content variety also means that even co-op will eventually feel old. A solid effort, for sure, but far from one of the best Nintendo Switch exclusives.
Nintendo Enthusiast
7.5 / 10.0
If you're a light Marvel fan, you might have some small stints of research ahead of you.
Marvel Ultimate Alliance 3 doesn't really do anything new, but it's a thoroughly enjoyable if mindless whirlwind tour through Marvel's hottest properties. An entertaining story, satisfying combat and over-the-top action are sure to delight Marvel fans.
A whimsical brawler with a number of Marvel heroes and a local 4-player co-op that will cause a jumble of puzzles and framerate burglaries.
Review in German | Read full review
Marvel Ultimate Alliance 3 places dozens of Marvel superheroes in your hands, so you can enjoy cooperative but a little simplistic beat'em up.
Review in Slovak | Read full review
Marvel Ultimate Alliance 3: The Black Order is the ultimate comic book power fantasy. From its empowering gameplay mechanics which evoke the heroism in the game's iconic characters to its event comic-styled storyline and presentation, there is a lot for Marvel fans to enjoy here. While the moment to moment gameplay more than justifies the price of admission, when taking a step back, certain facets of the game's inherent design knock it down a few pegs--but not enough to dissuade me from giving this game a solid recommendation for the comic fans in the room.
Culture of Gaming
7.5 / 10.0
GoldenEye. God of War. Halo. Super Mario Odyssey. Games worth buying an entire console to play are a rare breed. Marvel Ultimate Alliance 3 is not one of them. That is not to say it isn't a great first entry by Team Ninja as it is. For Ultimate Alliance fans the 10-year wait has certainly been worth it. With the minor slip-ups in the development though I cannot recommend investing in a Nintendo Switch just to become part of the Marvel universe no matter how fun that might be for fans of the Marvel universe.
Marvel Ultimate Alliance 3: The Black Order lets players hop into a galactic battle against Thanos. For a Marvel fan who enjoys RPG mechanics this is a fun buy, especially with others to play with. Some spotty online moments but well worth the fun.
Even if you're not a Marvel fan and just want to play a simple beat 'em up with a few friends, Marvel Ultimate Alliance 3: The Black Order is certainly an enjoyable experience.
It is an easy game for Marvel fans to pick up and play, but is also enjoyable to those that might not be as familiar with the characters and settings.
The bland level designs and baffling character progression hold the action back and make it somewhat of a slog
Marvel Ultimate Alliance 3: The Black Order is a great cooperative beat 'em up with a nice RPG-system, huge number of iconic Marvel characters, awesome cutscenes and interesting bosses, which lacks a more interesting story, some good AA-filtering and variety of situations in the second half of the game.
Review in Russian | Read full review
The Ultimate Alliance comes roaring back with this Nintendo Switch exclusive. Marvel Ultimate Alliance 3 pulls inspiration for Marvel comics, movies, TV, and more to create an homage to the brand's long history. Unfortunately, some camera issues and general readability mar the overall experience, and the alternate costumes fall short of the Ultimate Alliance standard. Despite that, this is a great couch co-op adventure with all your Marvel favorites.
It succeeds most as a tribute to Marvel. Its giant roster offers a great variety of heroes. And while the gameplay is simple, it can still be satisfying with some cool cinematic moments and boss fights that I won't spoil for you here.
At times Ultimate Alliance 3 becomes a little repetitive, but Team Ninja have crafted a likeable scrapper that sets out to entertain, and succeeds in doing just that.
While Marvel Ultimate Alliance 3 is fun, I sometimes wished it pushed the envelope a bit more and tried something new. The game excels in multiplayer and playing your favourite characters from the Marvel Universe never gets old. Its combat is fun and gets better the more you upgrade your heroes. Its story is very cliche but that's expected. All in all its a fun pick up and play multiplayer brawler.
Still, the overall experience of Marvel Ultimate Alliance 3: The Black Order is good. It delivers a fantastic arcade beat em' up that is a lot more fun with a friend that can actually do something. The roster of character makes it a dream Marvel game and the entire buffet of characters, even the supporting ones and villains, makes it a great adventure of discovery. I had no idea some of these people existed and that was the joy of it all.
Marvel Ultimate Alliance 3: The Black Order is plentiful in elements that will make Marvel universe fans happy and satisfied, whether in the amount of characters, their variety or the correct use of different Marvel series. But while this action RPG is rich in cooperative play, end-level bosses and characters, it also has some elements that stand on its way to stand higher, such as performance issues, a too simple combat system and a rather dry audio experience. Flaws notwithstanding, Marvel Ultimate Alliance 3 is still worthy of the players' time, though it's certainly much more recommended to Marvel fans.
Review in Portuguese | Read full review
Marvel Ultimate Alliance 3: The Black Order can best be summed up as average.
Perhaps younger gamers will be less turned off by these flaws, also those craving for some portable, co-op experiences online/offline to collectively embody their favorite Marvel heroes. Still – and unless you're an exceptional diehard, it's hard to recommend Marvel Ultimate Alliance 3…and coming from a Marvel diehard, no less.
Marvel Ultimate Alliance 3 is a solid beat-em-up that tops its predecessors, bringing all the colourful known and unknown facets of the Marvel universe together with gusto. But despite it's strong art direction, potent replayability and often enjoyable combat, it still comes off as feeling rather basic.
Marvel Ultimate Alliance 3 is a fun beat 'em up with a wide variety of unique heroes to choose from, though stumbles when it comes to offering players more than the basics.
Marvel Ultimate Alliance 3 proves itself as an enjoyable, if not straightforward, isometric RPG that doesn't strive to be more than it is.
A decent action game with a lot of Marvel characters that is fun thanks to varied roster and good combat system. But its level design and inadequate camera are really disappointing.
Review in Russian | Read full review
There's plenty of room for improvement, but I had fun playing through Marvel Ultimate Alliance 3. With the Marvel IP less muddled and the simplicity of this deal between Marvel and Nintendo, I'd love to see another with enhancements in tow.
Even in the face of these shortcomings, the ardent fans of the Marvel Universe will find in the Ultimate Alliance 3 a good deal of quotation between comics, cinema and television, capable - even without too many "innovative" ideas - of making them feel fully "at home".
Review in Italian | Read full review
Marvel Ultimate Alliance 3: The Black Order is best enjoyed in co-op mode for short bouts of time, as otherwise it feels repetitive and uninspired despite packing some simple, yet interesting combat mechanics.
Despite being developed by one of the best action game studios in the business, Marvel Ultimate Alliance 3: The Black Order falls short of its predecessors. Gameplay more often than not turns to button mashing monotony and is only briefly satisfying when playiing with a new character,
New Game Network
61 / 100
The simple synergy-focused combat can be fun with some friends, but Ultimate Alliance 3's padded plot proves pernicious for its diverse cast of wretchedly one-note characters. Add to that a campaign that's poorly paced and painfully inconsistent performance, and you're left with a repetitive and unexpectedly plain package that doesn't adequately justify the revival of a franchise.
Shallow, stupid, and very repetitive but as long as you play with friends there's a goofy charm to what is, for better or worse, the best Marvel team-up game in a long while.
Marvel Ultimate Alliance 3 is both a fun adventure (especially in couch coop mode) for fans of Marvel characters and a game that looks like it was made a couple hardware generations ago. While the game is clearly held back by its dated presentation, it has enough cool content to show a good time to fans of Marvel Characters both young and old.
Review in French | Read full review
The thing that I kept saying to myself when playing Ultimate Alliance 3 is that if this wasn't a Marvel game with such beloved characters and familiar story lines it would be a bad game. A great coat of paint does raise the average for Marvel Ultimate Alliance 3, but its roots are a rote beat 'em up that shows off all its tricks in the first couple of hours and wears out its welcome well before the credits roll.
Marvel Ultimate Alliance 3 feels a lot like opening a time capsule. It has so much in common with games from a decade ago that it might have been released back then. Fun moments are there to be found if you don't mind fighting a camera, frame-rate stutter and sifting through menus and load screens as you fight wave after wave of hard-hitting health sponges.
While it's shallow and has an overly narrow focus, Marvel Ultimate Alliance 3: The Black Order is good fun, and serves as excellent, entertaining fan service for the Marvel faithful.
Marvel Ultimate Alliance 3 is a budget reimagining of a fan-favourite series that fails to live up to the heights of that franchise. It plays and looks like a last-gen game, and it was a struggle to plow through the game, even for review purposes.
The joy of fighting with an Endgame-level roster of heroes constantly battles against overly complicated RPG systems. The end result is shy of mighty.
The Angry Joe Show
6 / 10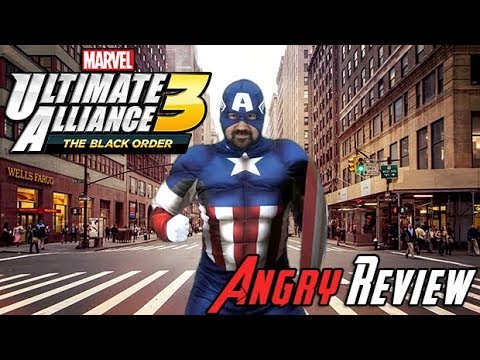 Marvel Ultimate Alliance 3 is an acceptable, albeit dull game that's only held together by the diverse Marvel universe.
comics and co-op fans will find it quite enjoyable. I mean you will find yourself setting at the edge of your seat with every character introduction but you have to willing to look past few flaws like Nintendo Switch online system, Outdated camera angles, and stupid AI.
Review in Arabic | Read full review
The Outerhaven Productions
Ultimate Alliance 3 is a fun but forgettable romp through Marvel's most iconic locations. Combat is simplistic, the level design is uninspired, and the game gets repetitive very quickly, but the satisfying sound design and bright, flashing colors provide enough of a distraction to provide at least a few hours of fun. This is a game for Marvel fans, and those without a strong attachment to these characters will struggle to find enjoyment in Ultimate Alliance 3.