Marvel Ultimate Alliance 3: The Black Order is a fun, if fairly simple, comic book beat-em-up that's enjoyable alone or with friends alike.
No Recommendation / Blank
Jul 18, 2019
With this surprise Switch exclusive, Nintendo has taken an old-school approach - for better and for worse.
Come for the crunchy combat and stay for the seductive systems that will keep you playing long after the compelling campaign has been conquered.
Shallow, stupid, and very repetitive but as long as you play with friends there's a goofy charm to what is, for better or worse, the best Marvel team-up game in a long while.
The bland level designs and baffling character progression hold the action back and make it somewhat of a slog
The long-dormant series returns in a superhero caper that excels because of its diversity and synergized action.
If an animated rehash of 10 years' worth of movies and television is the framing needed to get me an action role-playing game as rich, challenging and satisfying as Marvel Ultimate Alliance 3: The Black Order, then so be it.
The Ultimate Alliance comes roaring back with this Nintendo Switch exclusive. Marvel Ultimate Alliance 3 pulls inspiration for Marvel comics, movies, TV, and more to create an homage to the brand's long history. Unfortunately, some camera issues and general readability mar the overall experience, and the alternate costumes fall short of the Ultimate Alliance standard. Despite that, this is a great couch co-op adventure with all your Marvel favorites.
Marvel Ultimate Alliance 3 is a fun beat 'em up with a wide variety of unique heroes to choose from, though stumbles when it comes to offering players more than the basics.
There's plenty of room for improvement, but I had fun playing through Marvel Ultimate Alliance 3. With the Marvel IP less muddled and the simplicity of this deal between Marvel and Nintendo, I'd love to see another with enhancements in tow.
A couple of stripped back features aside, Marvel Ultimate Alliance is a great series revival that should keep new and old fans busy for quite a while. With DLC coming later this year, it will only get better.
Ultimate Alliance 3 works great as fan service. It finds a good balance between "hack and slash" gameplay and RPG elements, yet combat mechanics are too simple.
Review in Spanish | Read full review
Marvel Ultimate Alliance 3 retains much of the formula that made the original games the best of their genre.
A superheroic beat'em up that may have been better with a more complex fighting mechanics or a bit more of ambition throughout the whole proposal, although it manages to be fun for a while.
Review in Spanish | Read full review
The thing that I kept saying to myself when playing Ultimate Alliance 3 is that if this wasn't a Marvel game with such beloved characters and familiar story lines it would be a bad game. A great coat of paint does raise the average for Marvel Ultimate Alliance 3, but its roots are a rote beat 'em up that shows off all its tricks in the first couple of hours and wears out its welcome well before the credits roll.
At times Ultimate Alliance 3 becomes a little repetitive, but Team Ninja have crafted a likeable scrapper that sets out to entertain, and succeeds in doing just that.
It succeeds most as a tribute to Marvel. Its giant roster offers a great variety of heroes. And while the gameplay is simple, it can still be satisfying with some cool cinematic moments and boss fights that I won't spoil for you here.
Marvel Ultimate Alliance 3: The Black Order is the ultimate comic book power fantasy. From its empowering gameplay mechanics which evoke the heroism in the game's iconic characters to its event comic-styled storyline and presentation, there is a lot for Marvel fans to enjoy here. While the moment to moment gameplay more than justifies the price of admission, when taking a step back, certain facets of the game's inherent design knock it down a few pegs--but not enough to dissuade me from giving this game a solid recommendation for the comic fans in the room.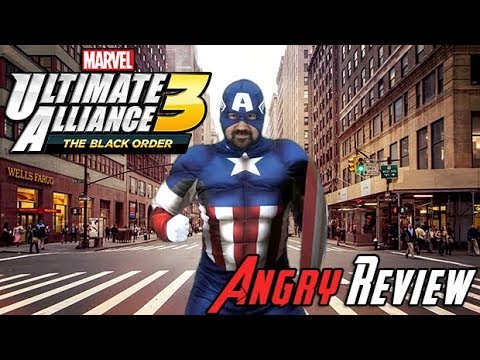 There is plenty here for Marvel and non-Marvel fans to enjoy.